"How Do People Do This?"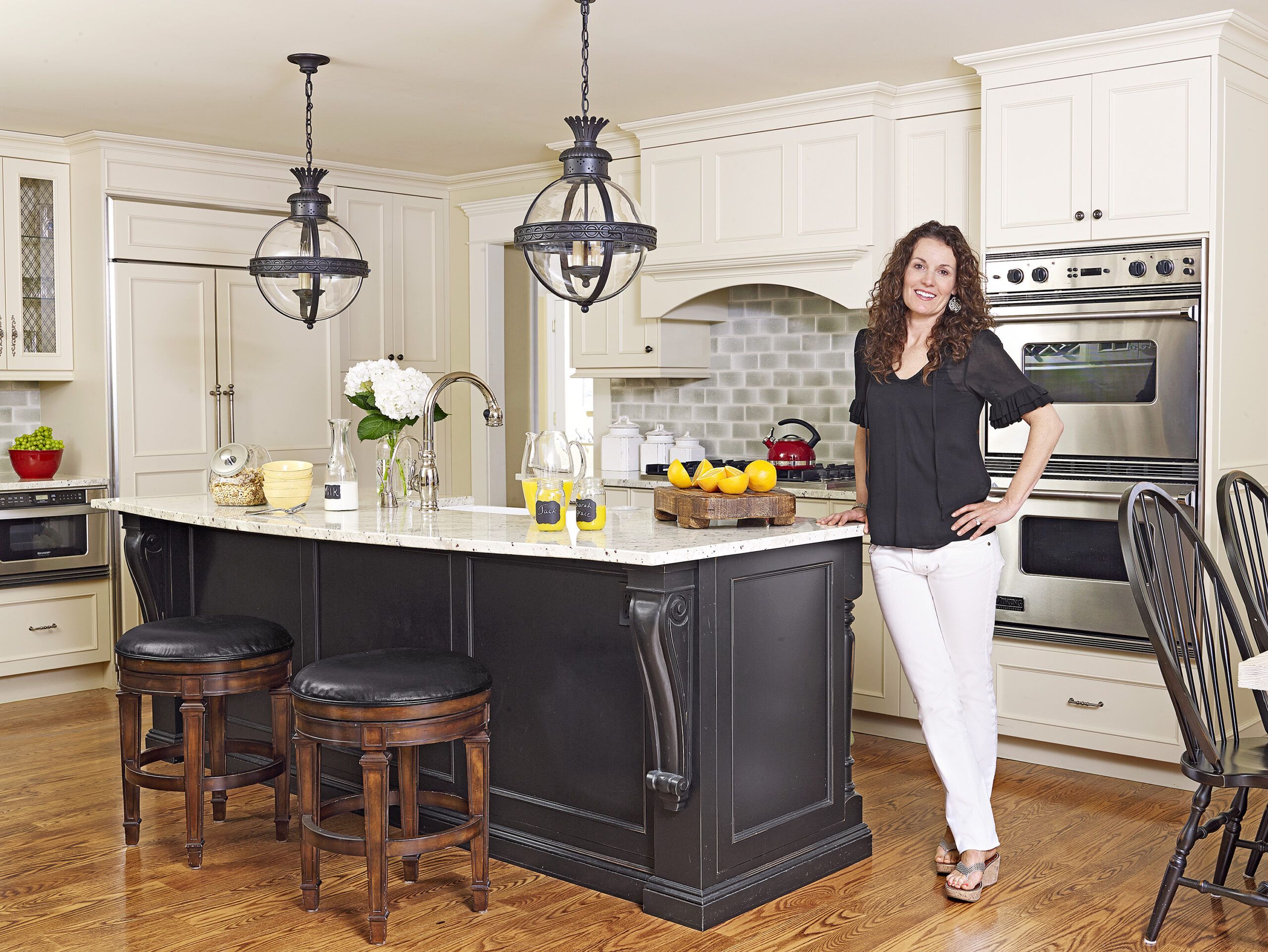 Being able to read a room is like having a third eye. One glance and you know exactly where the sofa belongs—and exactly how it should look. Add three scrupulously proportioned accent pillows, a perfect color palette, an area rug or two, a few cool light fixtures, and maybe some Roman shades, and boom, you're done. Time to take a look at the dining room.
Or maybe you're happier reading a book.
Or hitting your head against the wall. "I would spend hours at Houzz," says self-described visually challenged homeowner Suzanne Butler, referring to the popular website and evoking a scenario that many readers will find familiar. "All I wanted was something I could copy, but nothing was remotely possible in the space I had, and I thought, How do people do this? Three million pictures, there should be something! I cannot do this; I'll just paint—that's when we called her."
Shown: Suzanne Butler liked the kitchen that came with the house, but it needed pendant fixtures. When the ones she picked out weren't right, she turned to an interior designer, who made one of many fixes. "After being through this process," Suzanne says, "I truly believe you either have an ability to visualize what something will look like or you don't."
Pendant lights: Visual Comfort. Stools: Frontgate
Decor Therapist to the Rescue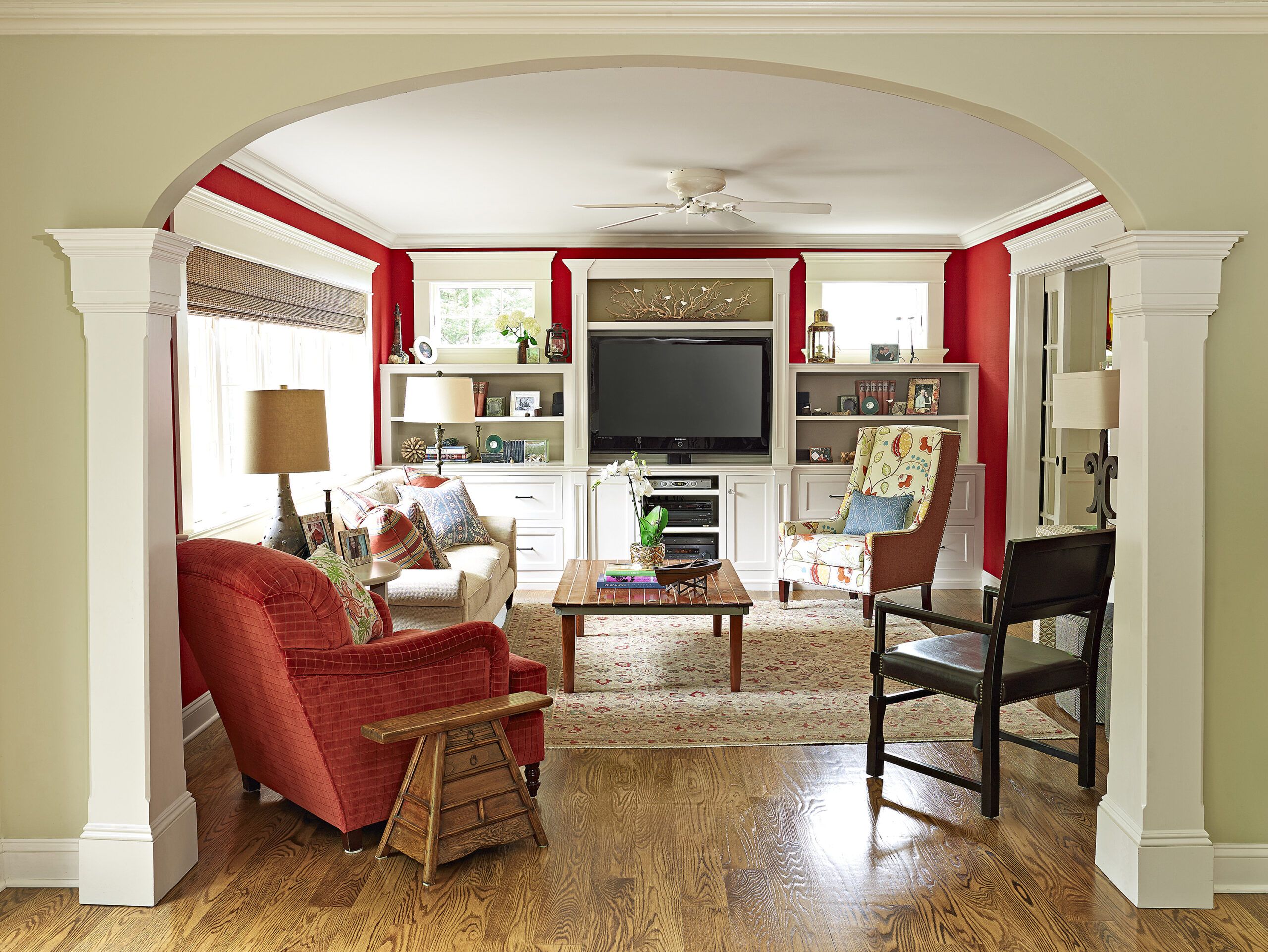 The voice on the other end of the line belonged to Jules Duffy, an interior designer in Madison, New Jersey, who also qualifies as a decor therapist, sounding board, project coordinator, and creative repurposer—as in, "The wallpaper you picked out before I got here is a little jarring, but we can work with it."
"Many times homeowners come to me when they are stuck," says Duffy, whose supportive demeanor and proven portfolio put her clients at ease. "They've made some purchases but they are having a difficult time, and furnishings are not inexpensive." Paralysis sets in; the living room never quite gets done. Referring to a certain red-accented beige-ish oriental rug that had crept into the home of Suzanne and her husband, Don, she says simply, "We found a way through that."
Shown: The family room serves as an escape for the busy household. Calibrated doses of red add warmth, along with plush seating and a rug that everyone was worried would never work.
Sculpture over television: Stiles in Clay
Fine on the Outside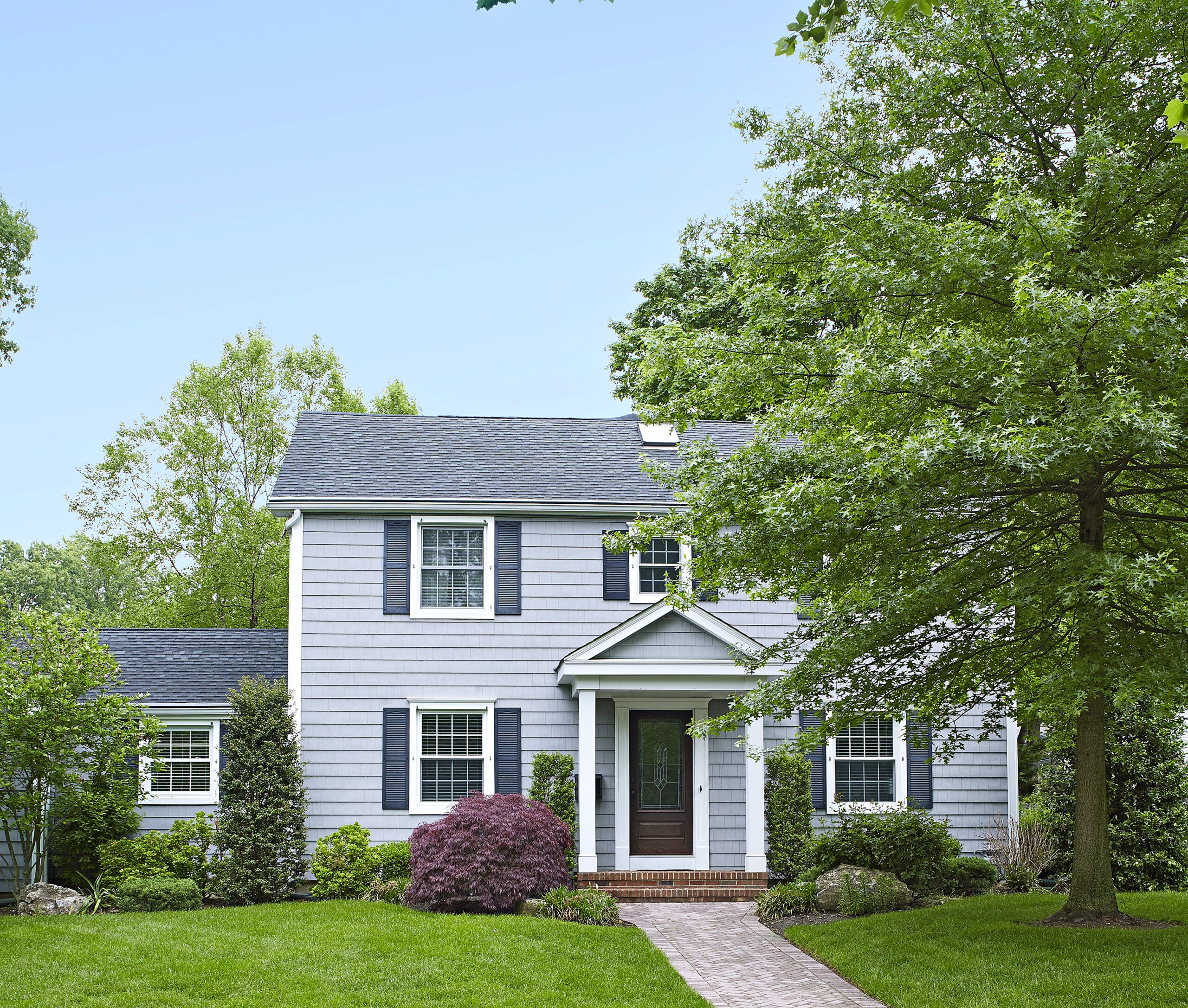 The house, a 1950s Colonial Revival, in Fair Haven, New Jersey, was in good shape when they bought it. It came with an updated kitchen and pleasing elements like an inviting arched passageway between the kitchen and family room. But the living spaces felt unfinished and impersonal—the rooms didn't really hang together. The master suite was dated and cramped, with a micro bath and a boxy bedroom so tightly fit, Suzanne drolly recalls, "if someone came to the front door they could look up the stairs and see laundry piled on our bed." Enlisting the help of a three-person team, the homeowners laid claim to one room at a time.
Moving Up From a Starter House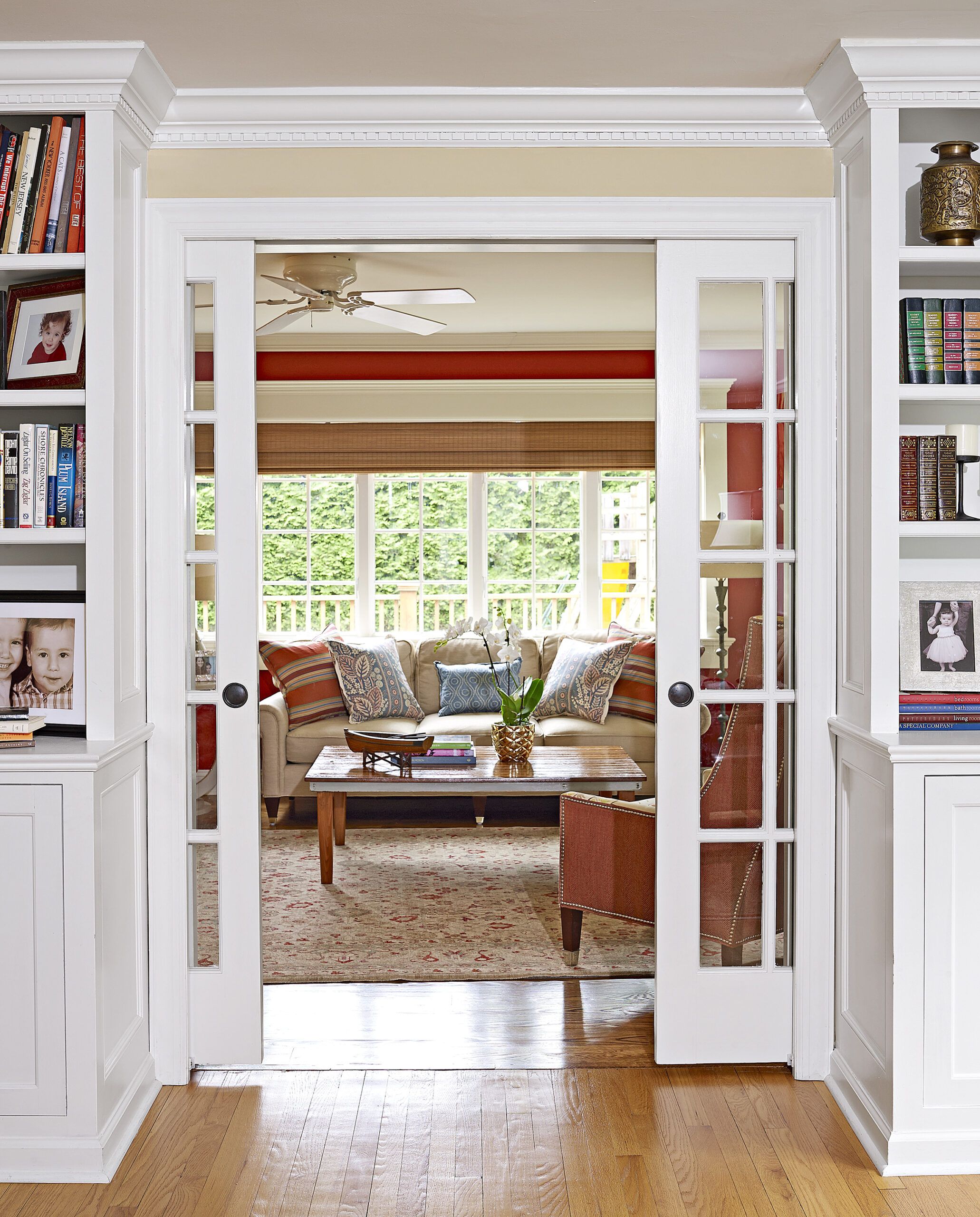 The couple had met, married, and merged their various furnishings at a starter house in Wayland, Massachusetts, and moving to the New Jersey suburbs, Suzanne says, gave them a chance to furnish their first "real" house. "The children were 2 and 4, and we had a very brief time to decide—we practically bought it online," Suzanne says. "But we got very lucky, because we love the house and the neighborhood."
They couldn't say the same about the contents of their moving van, or about the few things they acquired in the flush of new-home-itis.
Shown: The family room's striking wall color is balanced by built-ins and pocket French doors painted pure white.
Design Tips Welcomed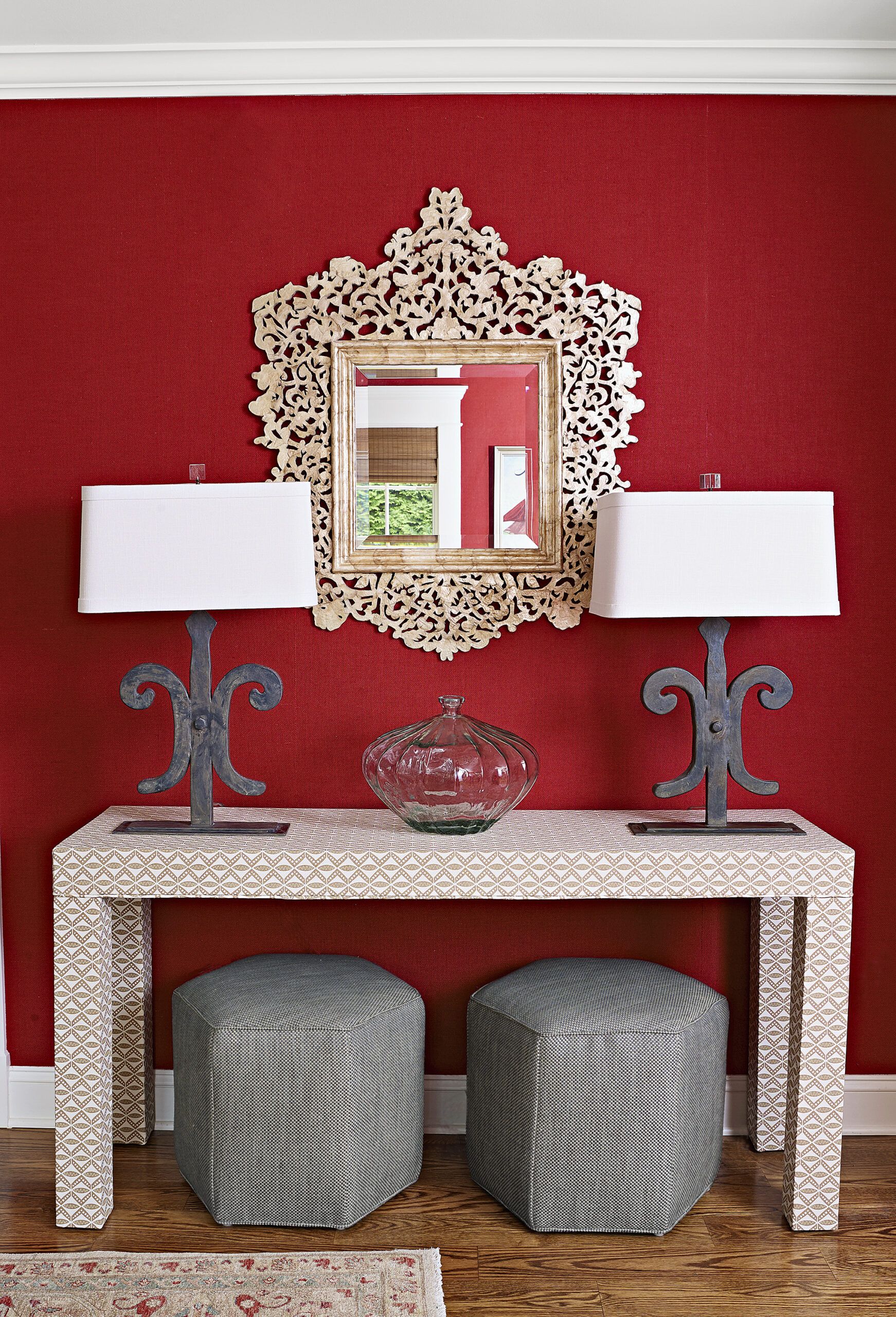 "We wanted to update and bring some freshness to the house and also preserve the integrity of the look," Suzanne says reasonably. But then there was that rug, along with two upholstered island stools that had also caused buyer's remorse. Plus a pair of pendant fixtures to go over the kitchen island, which, once out of the box, "didn't look right at all," Suzanne says.
In fairness, she had tried soliciting design tips from another mother at the playground, whose high-design cupcakes she had admired, and it's hard to get the best selection when you're scouring showrooms with a restive 2-year-old boy.
Shown: A custom console table in the family room is wrapped in patterned fabric.
Lamps: Arteriors Home. Mirror: Made Goods
Family-Friendly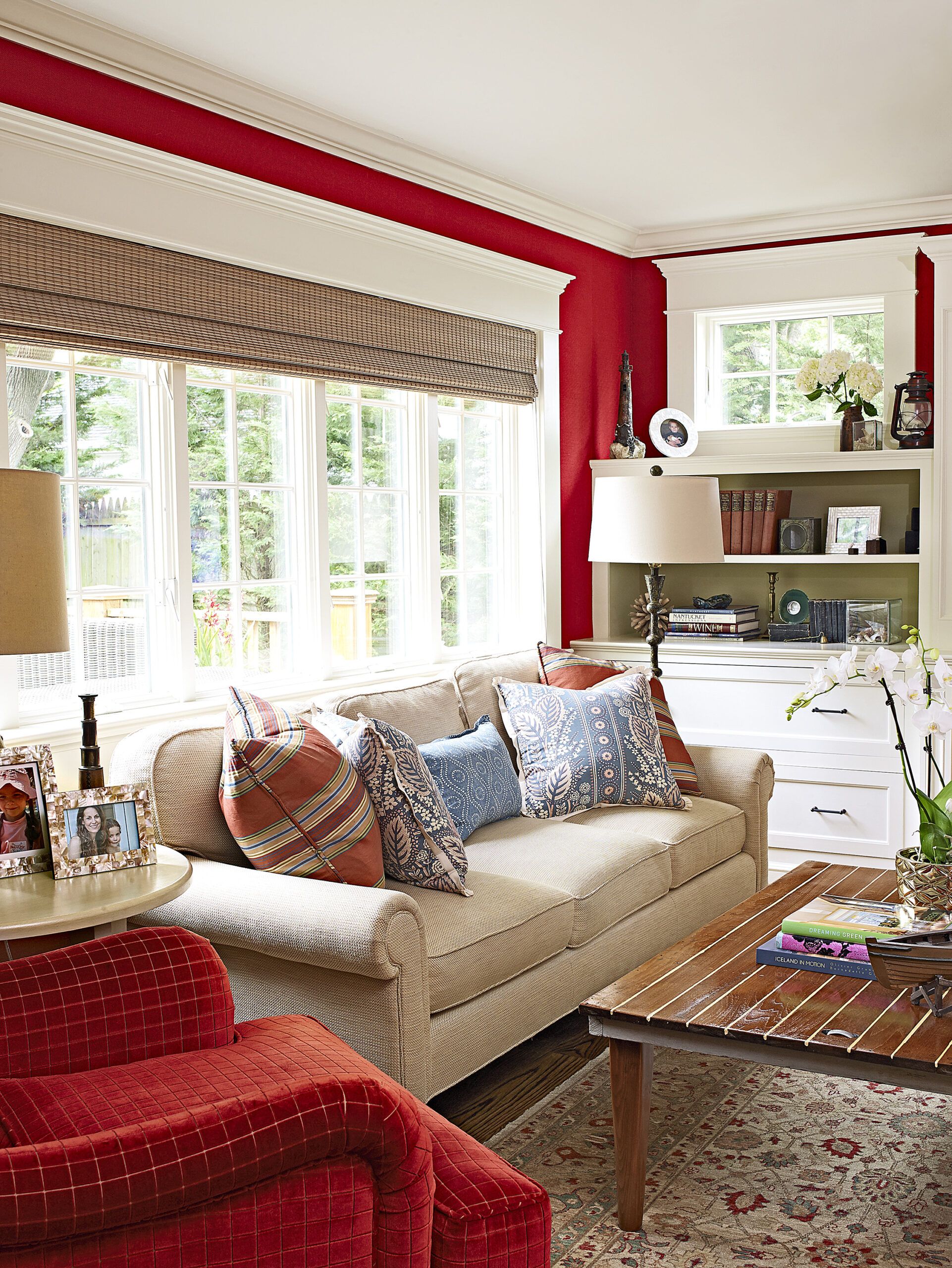 "'Help!' is probably what I started with," Suzanne says of her first call to Duffy.
Duffy took up the question of the pendant fixtures then turned to the family room, a gathering spot blessed by a row of windows on one wall and period-style built-ins on another. With so little exposed wall space, Duffy felt safe suggesting a deep-red wall covering. Its texture would add dimension, giving the room, as she puts it, "a singular personality without making it feel too heavy." And incidentally, the scheme made the problem rug look intentional, allowing it to stay.
Shown: The family room came with a row of sunny windows and a wall of period-inspired built-ins. Interior designer Jules Duffy, mindful of the homeowners' love of the seashore, designed a coffee table that incorporates a salvaged boat hatch.
Wall covering: Phillip Jeffries. Upholstery fabric: Kravet (trade only)
Dining in Style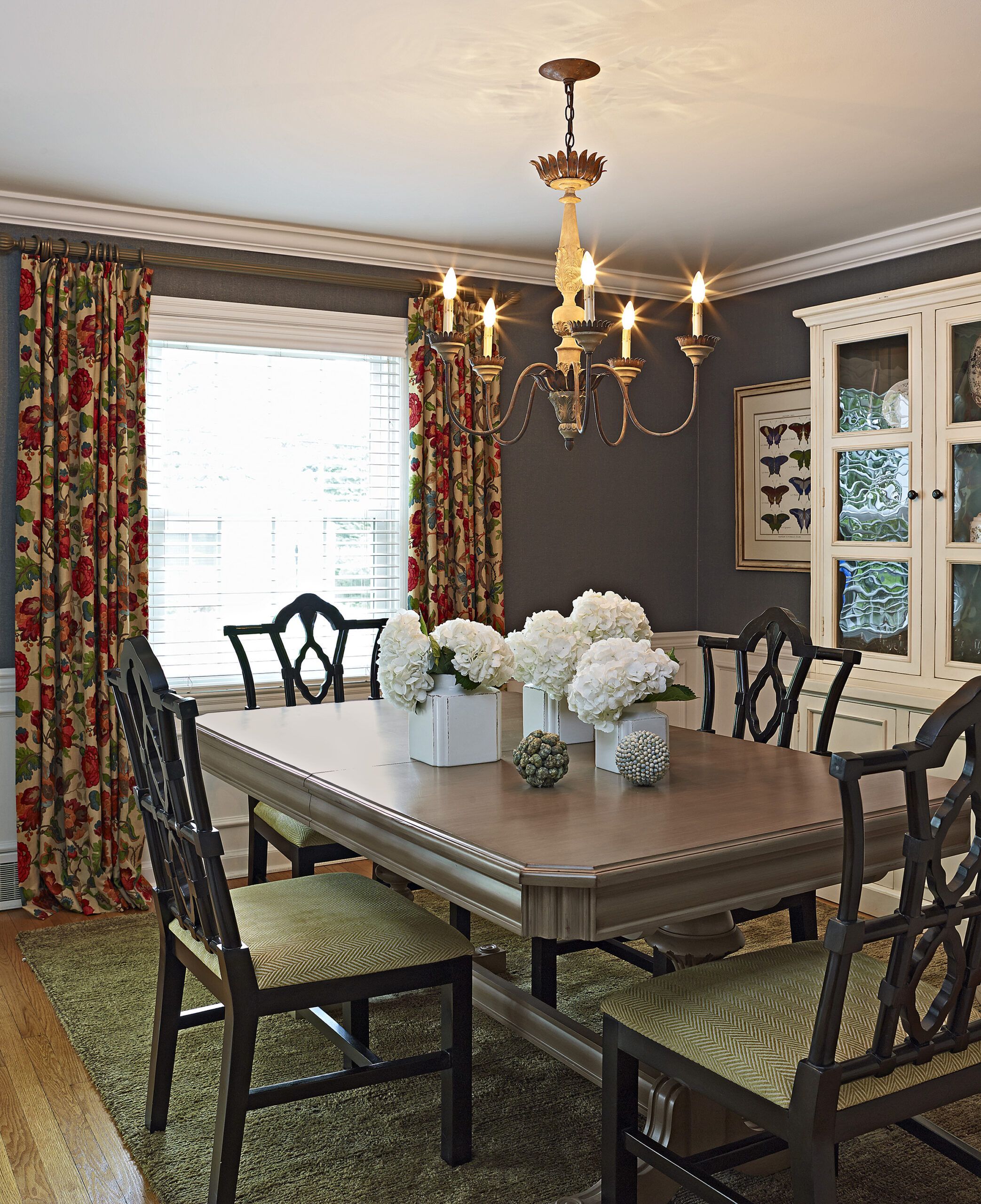 Ditto in the dining room, where an unloved kitchen table seemed suddenly at home among polished finishes like richly patterned full-length curtains, a candelabra chandelier, and another textured wall covering, this one offering a subtle metallic sheen. Period-inspired chairs and a plush rug complemented the look.
Chairs: Noir. Wall covering: Phillip Jeffries. Rug: Jaipur Living. Customized hutch: Redford House
Breakfast Nook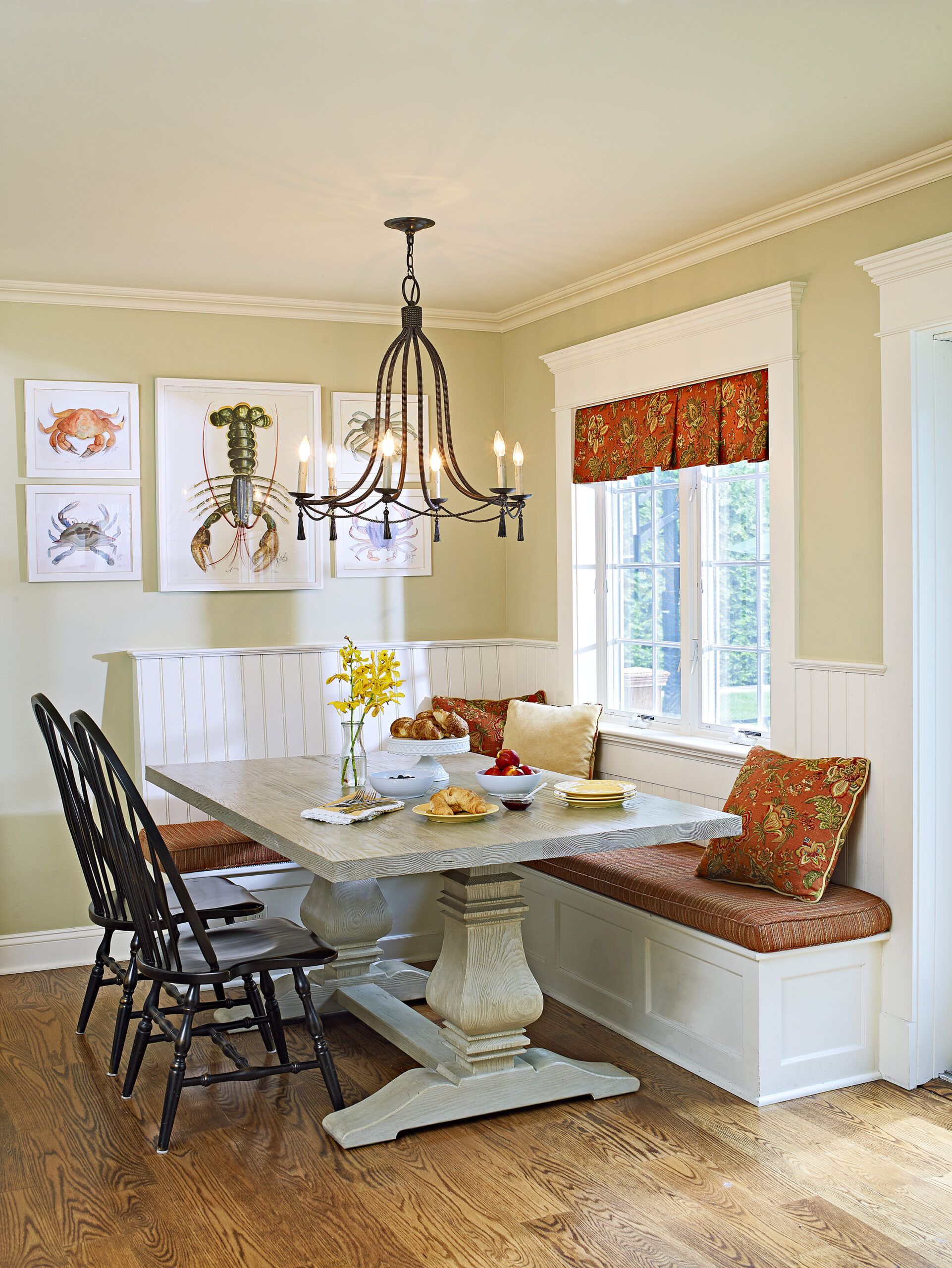 A light-filled eating nook at the far end of the kitchen allows kids to do homework within socializing range of the cook. Finished with durable beadboard and stain-resistant fabrics, the gathering space is designed for hard knocks.
Table: Tritter Feefer. Chandelier: Currey & Company. Banquette fabric: Osborne & Little
Shoes Off, Please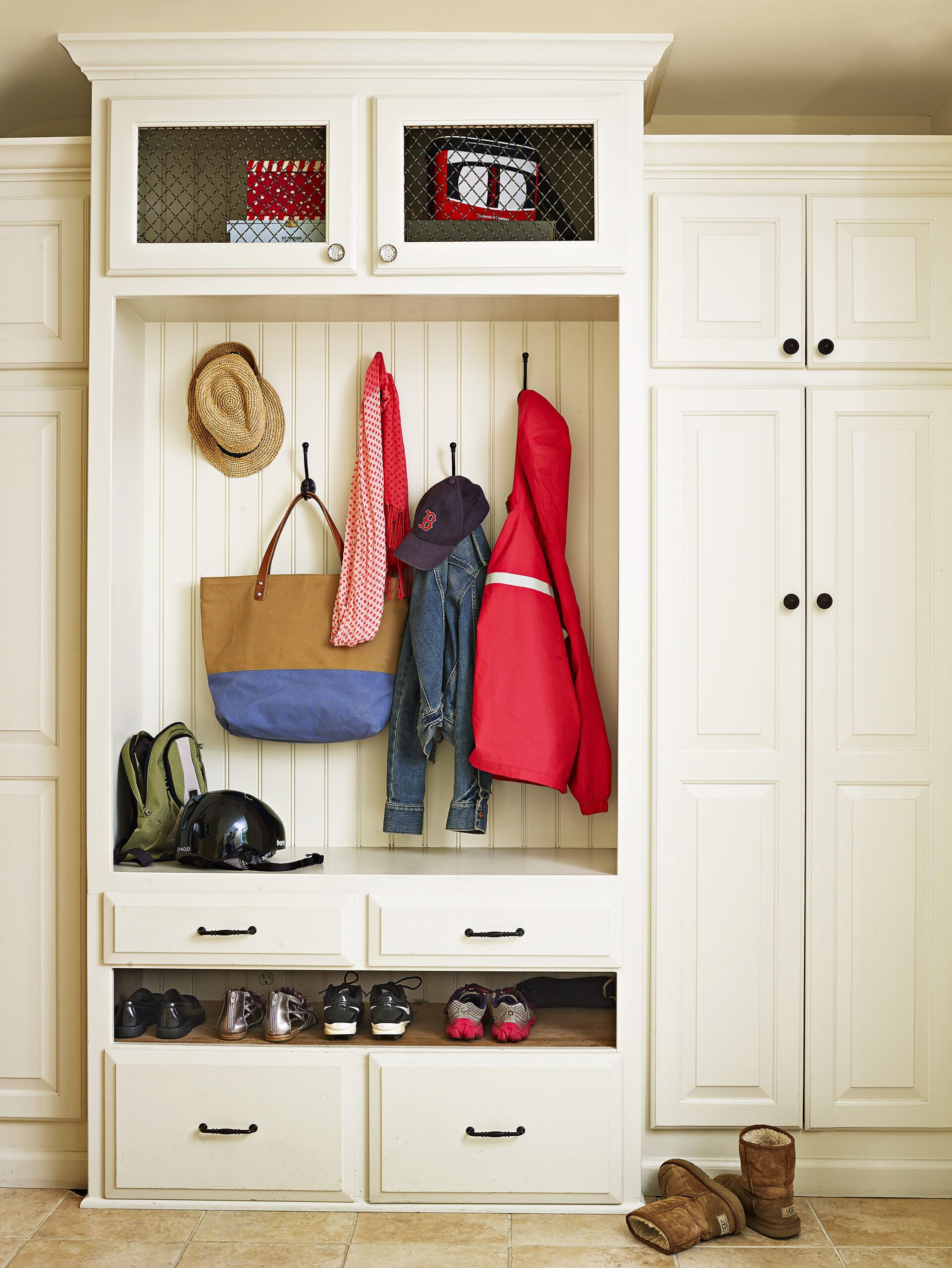 In one corner of the kitchen, a mudroom area provides plenty of storage with its built-in drawers and cabinets.
Moving Forward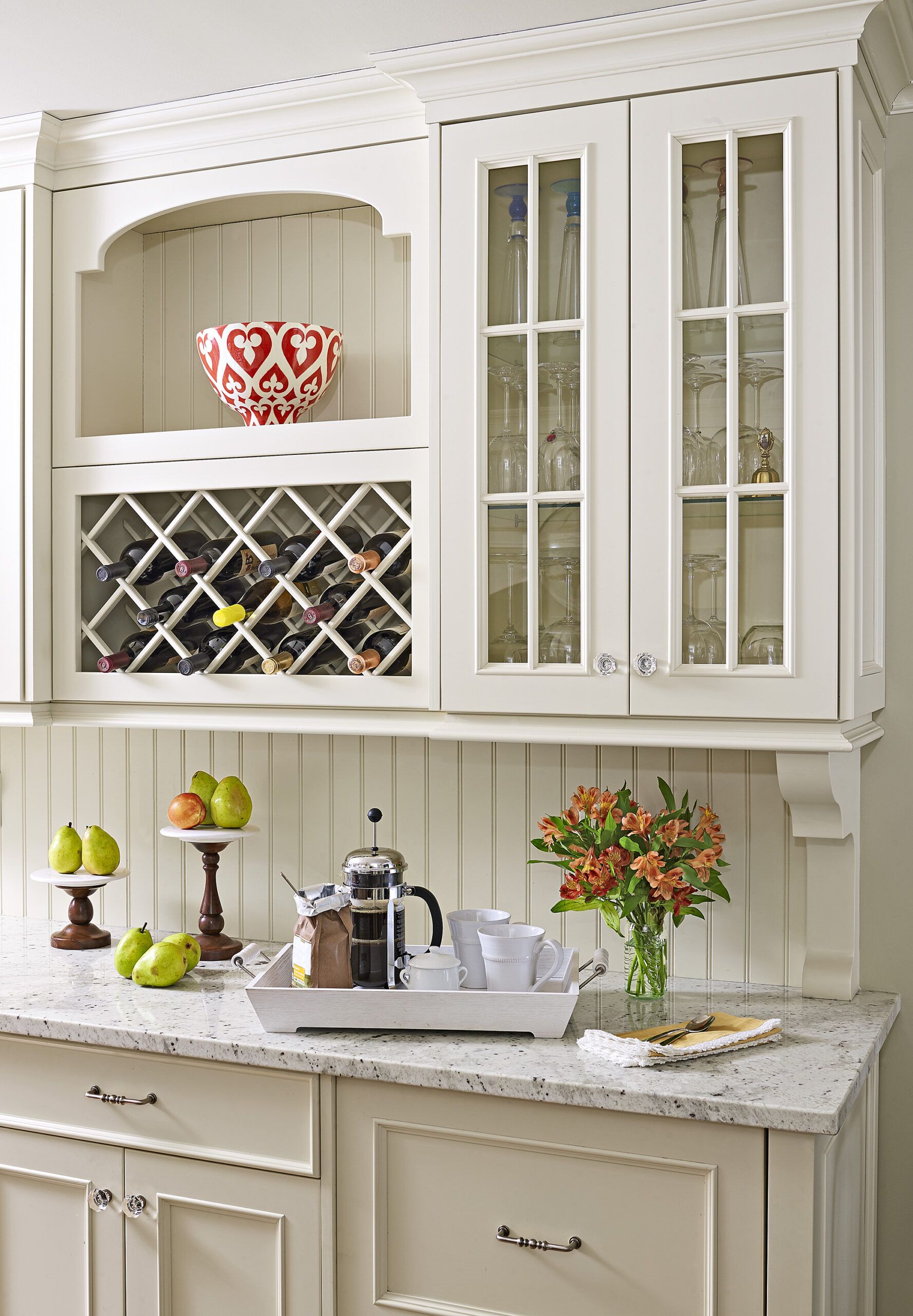 With the weight of decision-making redistributed, the homeowners were ready for bigger things, and two years later they expanded the team to include architect Maxine Giordano and general contractor Dale Marcelli, both of whom found the homeowners primed to move forward with minimum second-guessing. "They were open to ideas, with no preconceived notions, and that made it so much easier," says Giordano.
Shown: Marble countertops, a beadboard backsplash, and glass-front cabinets with divided panes reinforce the Colonial Revival's traditional look.
A Grand Master Suite to Relax In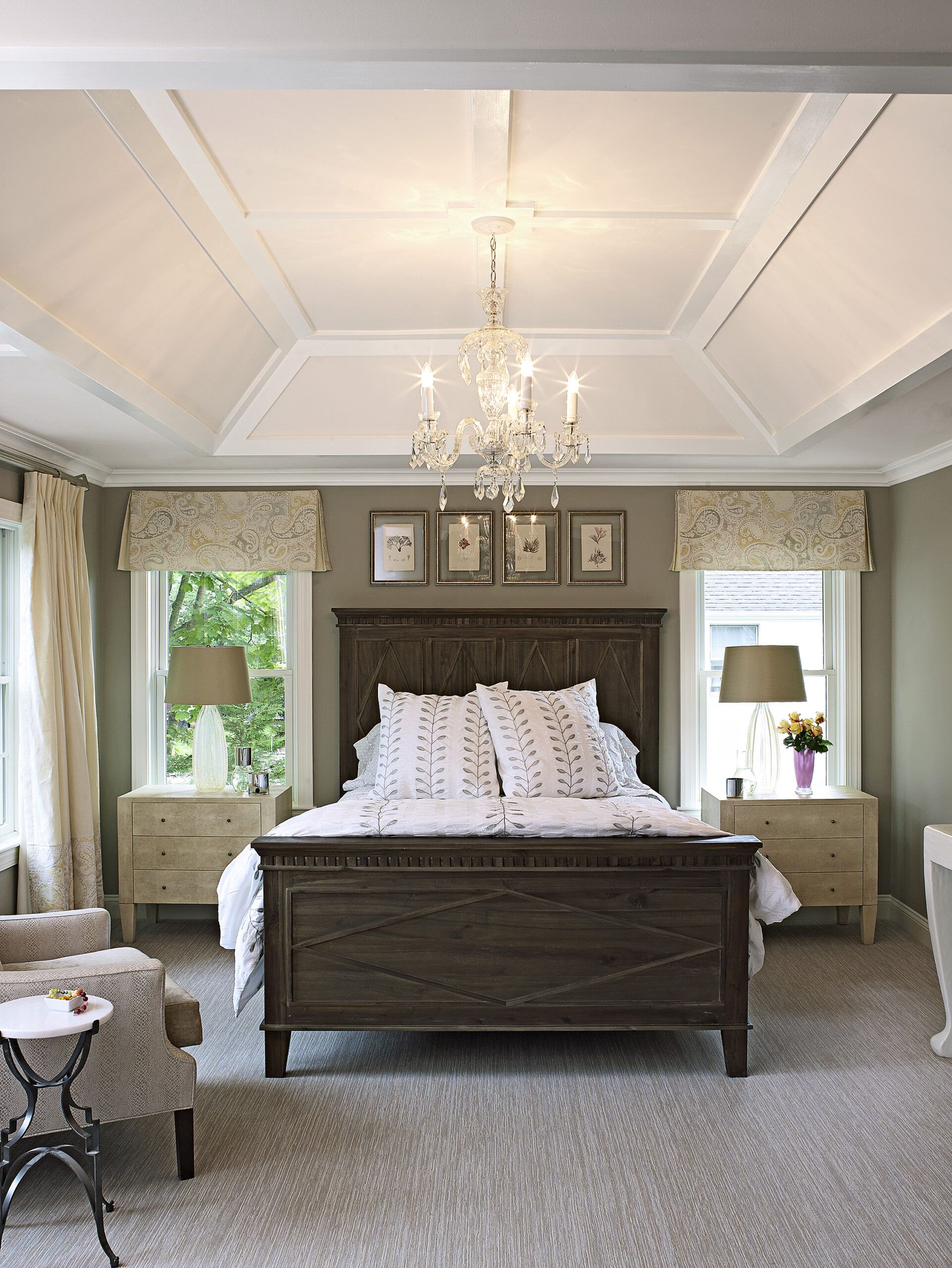 The happily copacetic team hammered out a plan to capture space above the existing one-story addition while also gutting the old master suite, yielding 100 square feet to rebuild and furnish from scratch. They laid out a swank suite, its bedroom topped by a lofty tray ceiling finished with trim in keeping with the rest of the house. "With a master suite you want to get a little luxury out of it," says architect Maxine Giordano. "When there's an attic above it, it's an opportunity to get extra space, so it's not just a larger children's bedroom."
The bed, moved away from the door for a more private feel, now stretches out between two windows, and the bath is down a "hall" of facing walk-in closets. "Everything feels just a little bit bigger," Giordano says. Lots of white trim "keeps it traditional, while the couple extra feet of height makes it grander." Soft neutrals, wall-to-wall carpeting, and symmetry add to the serene feel.
"It's clean and fresh and there's plenty of room," says Suzanne. "I can really relax in here—it's where I want to hang out after the kids are in bed."
Bed: Four Hands. Bedside tables: Made Goods. Carpet: Bloomsburg Carpet/Silver Creek
Airy Bath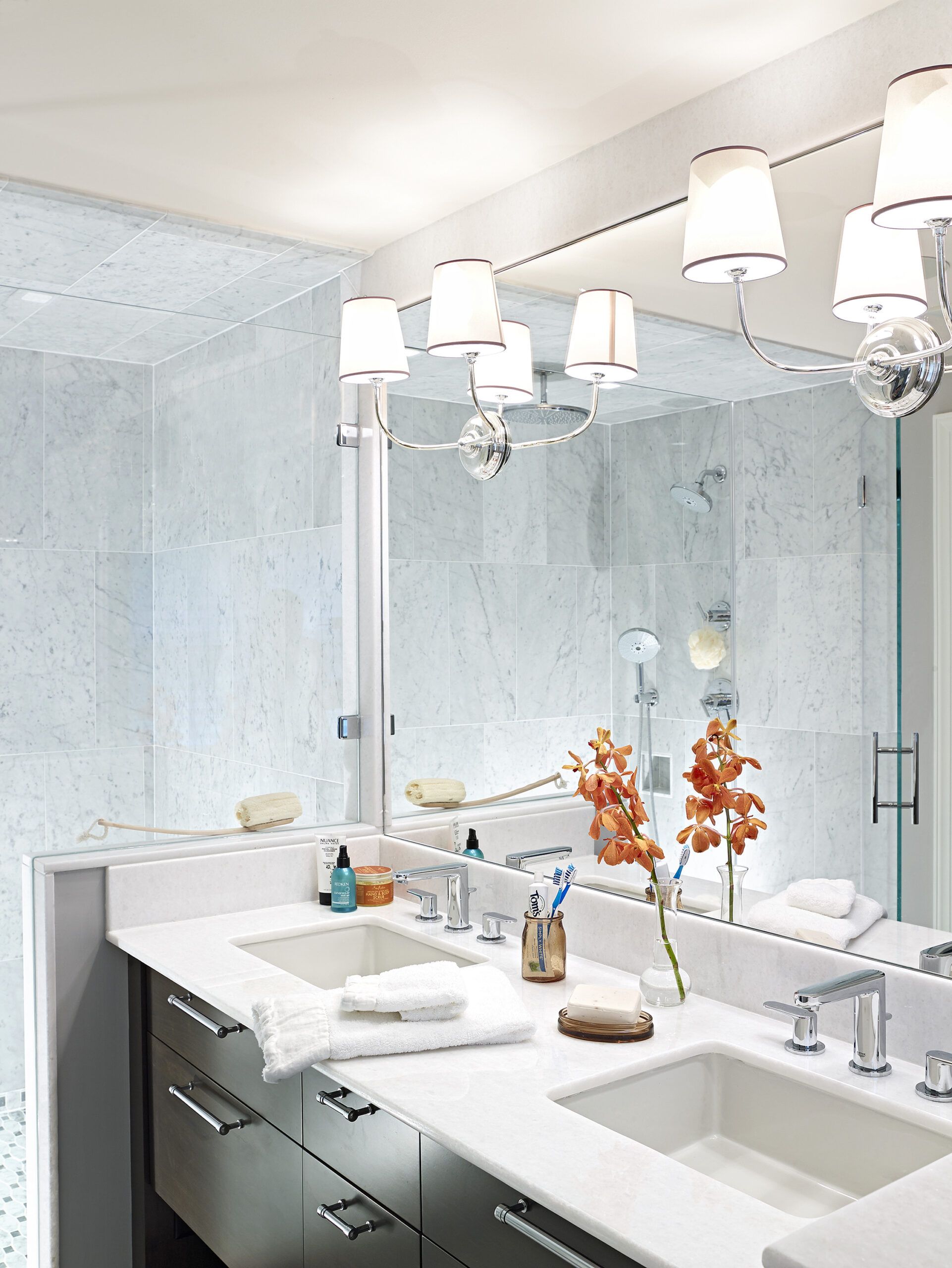 To accommodate the new space, Marcelli had to engineer a shift in the ridgeline of the roof, sliding in longer rafters before rebuilding a third of the roof. He was delighted to find framing for the floor already in place—the previous owners had clearly planned to add on in much the same way—so construction was relatively painless.
He says a big help was having nice people to work with. "They were actually fun," he says of the homeowners, adding, with no irony, "It really helped that Mrs. Butler is so great about making decisions." That hasn't always been her forte, of course. Credit the couple's new-found confidence—and a little boost from their favorite pro.
Shown: The design team created a sight line from the bed to the bath's mirrored wall and sconces over a sleek double vanity; the medicine cabinet is off to the side.
Sconces: Visual Comfort. Custom vanity: Fabricated by Ideal Kitchens, Point Pleasant Beach, NJ
Floor Plans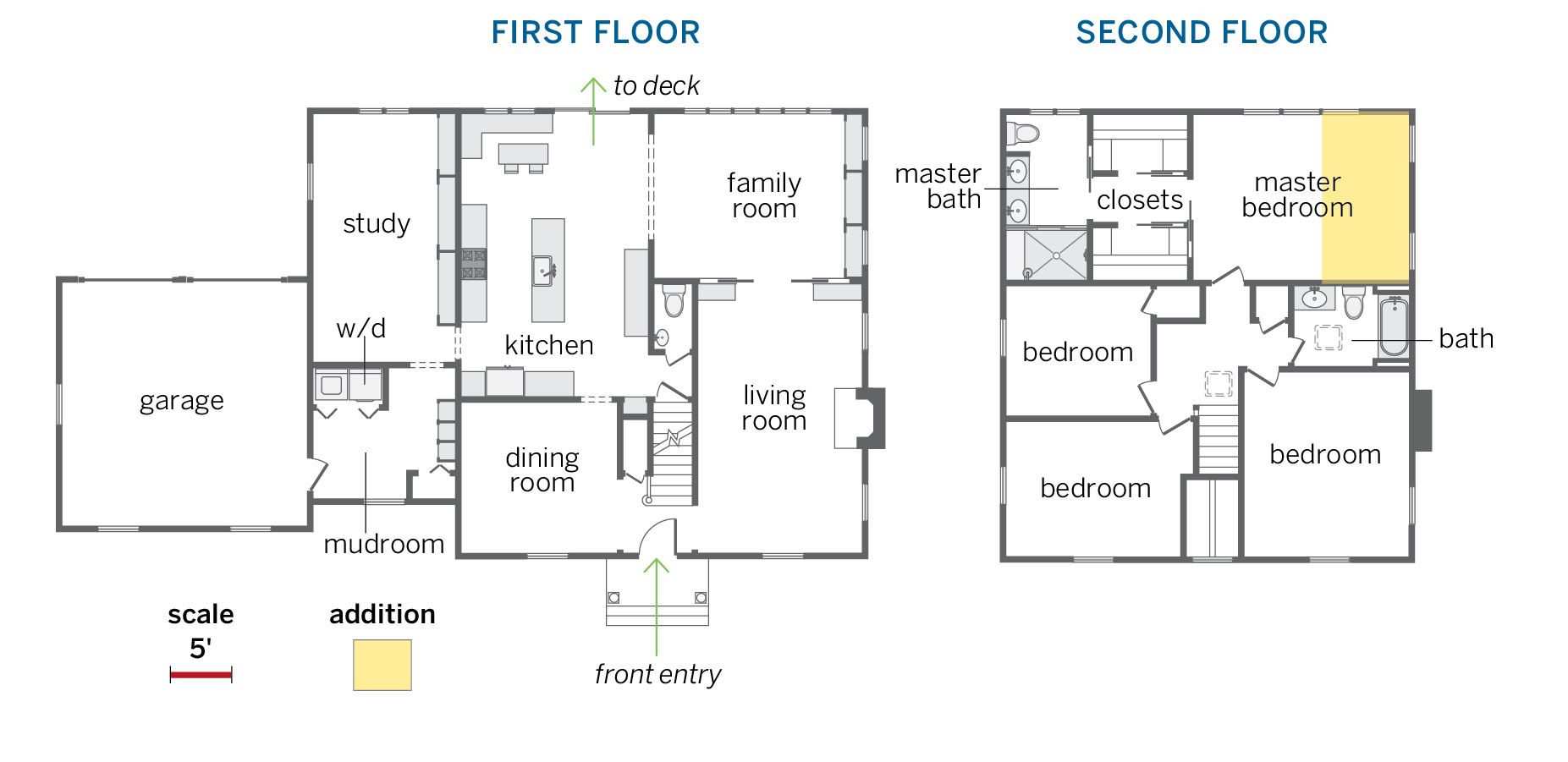 The 1956 house came with four bedrooms, two-and-a-half baths, and a one-story bumpout in back that the previous owners had added to enable a good-size family room. This latest redo added 100 square feet upstairs over the bumpout, for a total of about 3,000 square feet, allowing a master suite with matching walk-in closets. In the process, the hall bath lost a window and gained a skylight.
Interior designer: Jules Duffy Design, Madison, NJ
Architect (master suite): Maxine Giordano, Middletown, NJ; 732-391-3905
General contractor (master suite): C & D Marcelli, Fair Haven, NJ; 732-842-6733