An 1896 Queen Anne, Updated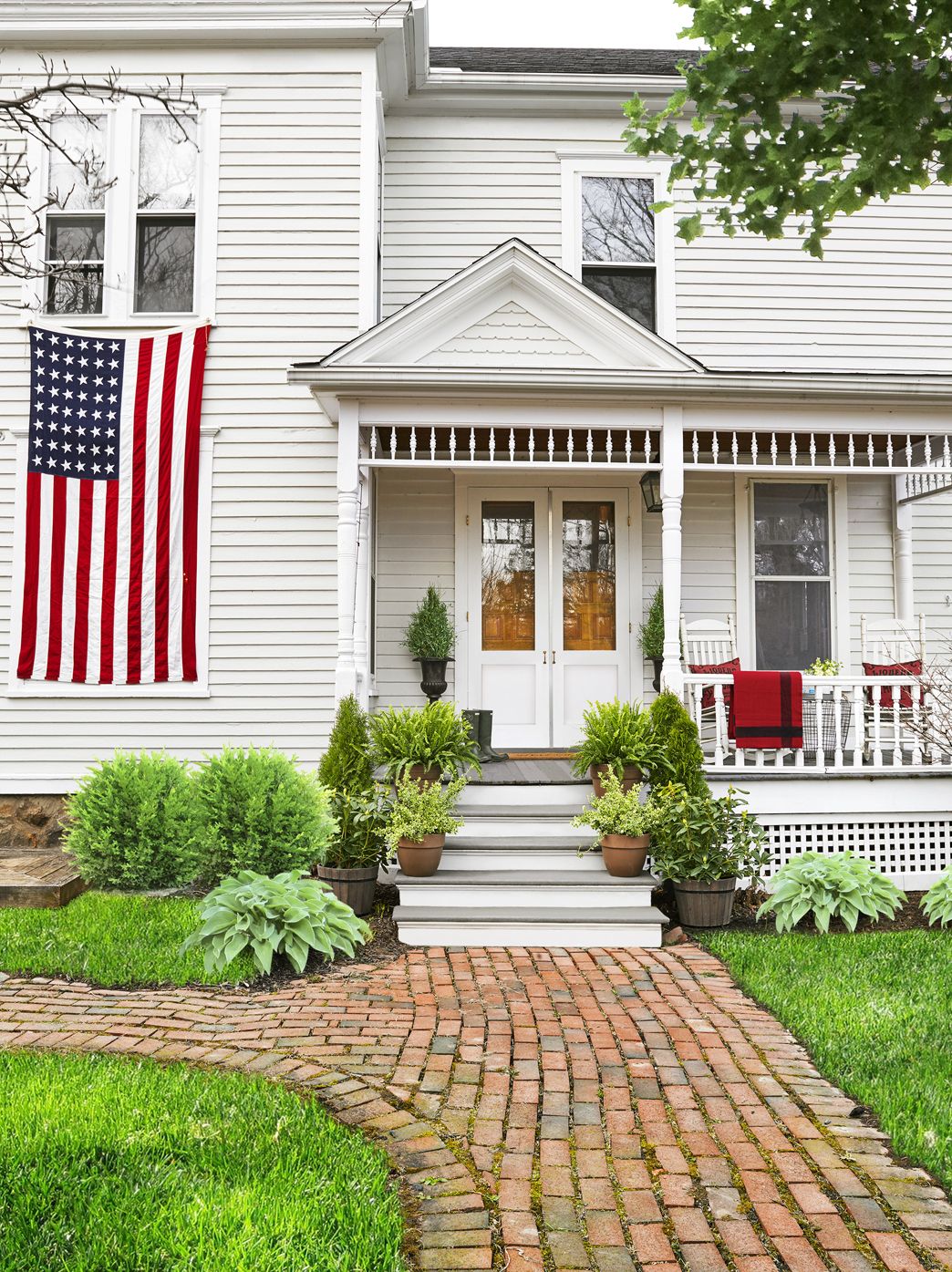 Some projects quickly fade from memory, while others remain so fresh they can be summoned by two choice words. "Oyster crackers," says builder Lloyd Bennett, recalling his crew's shorthand for work on a certain farmhouse. "We had 'em in our tool belts for months after."
Not the edible ones—the little porcelain hex tiles used for floors. Bennett and his crew spent days trimming and laying them in Marc and Shelly Kennedy Strang's kitchen, where they joined a hunky hutch as signifiers of period style. "Shelly's very artistic—she had us make 'rugs' with strips of black inlaid in the middle of white," Bennett continues. "It was tricky for sure, especially in an old, lumpy house."
Shown: The Strang family's updated 1896 Queen Anne.
Designer and general contractor: Marc and Shelly Kennedy Strang; construction and carpentry: Lloyd E. Bennett Construction, Skaneateles, NY; red throw: Woolrich; porch plants and landscaping: Dickman Farms, Auburn, NY.
They Bought the Farmhouse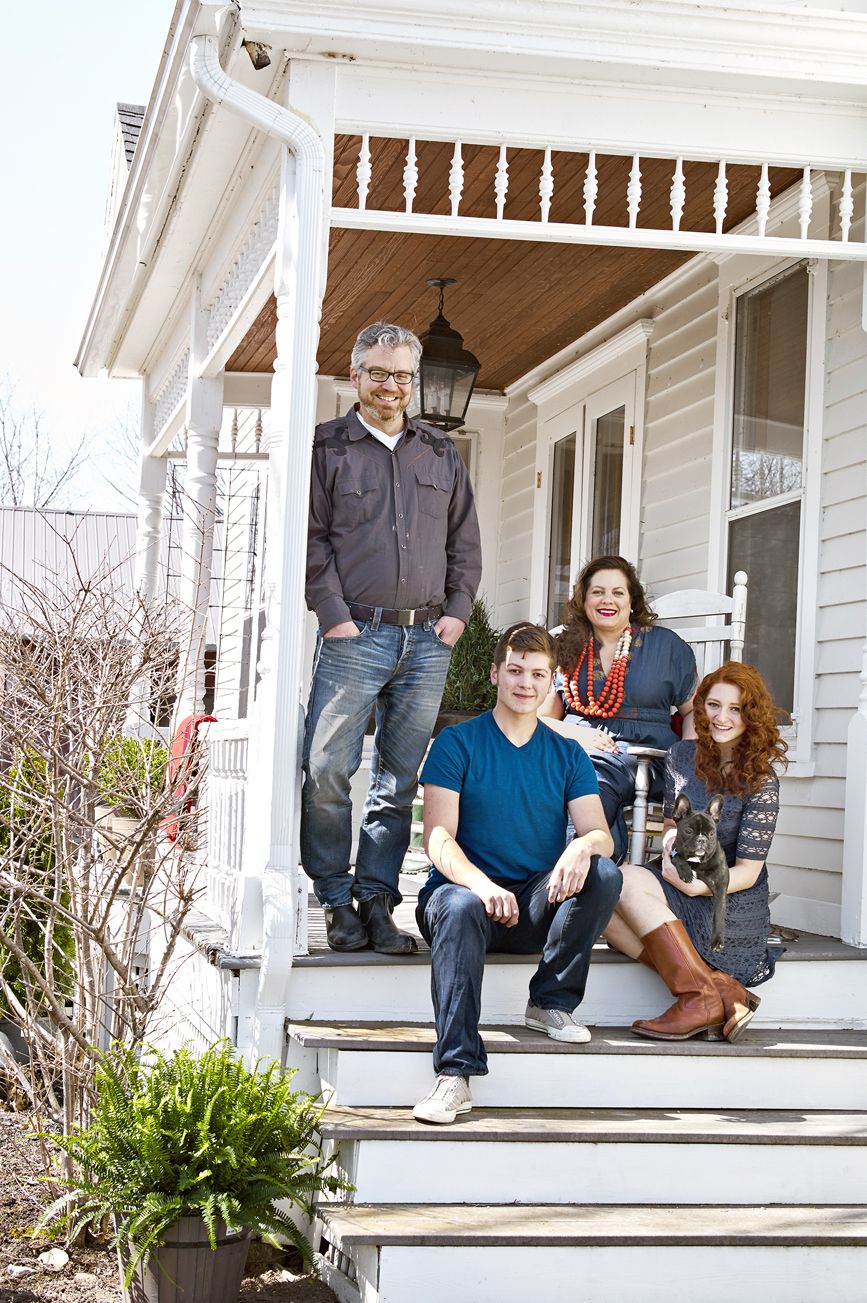 Smoothing out lumps is something of an avocation for the Strangs, who tackled their first house, a 1912 brick bungalow in Chicago, fresh out of art school while watching This Old House and raising two young kids. After moving to Shelly's hometown, Skaneateles ("skinny atlas"), in New York's Finger Lakes region, they fixed up a 1950s house and a smaller, pre–Civil War number that became Shelly's studio.
Then, four years ago, the two got serious and dove into their biggest project so far: converting a four-bedroom, three-and-a-half-bath pile into a more cogent, more comfortable home—while camping out in semifinished rooms and picnicking with family and friends in a drafty barn.
Shown: Meet four renovators with an eye: homeowners Shelly Kennedy Strang, who runs her own wall-art and home-decor studio; her husband, Marc, who works in marketing and designed and built the cupola on their renovated barn; daughter Chloe, 18, a future fine arts major; and son Clark, 17, an amateur blacksmith.
Exterior paint: Benjamin Moore's Vapor Trails.
Handsome Chevron Paneling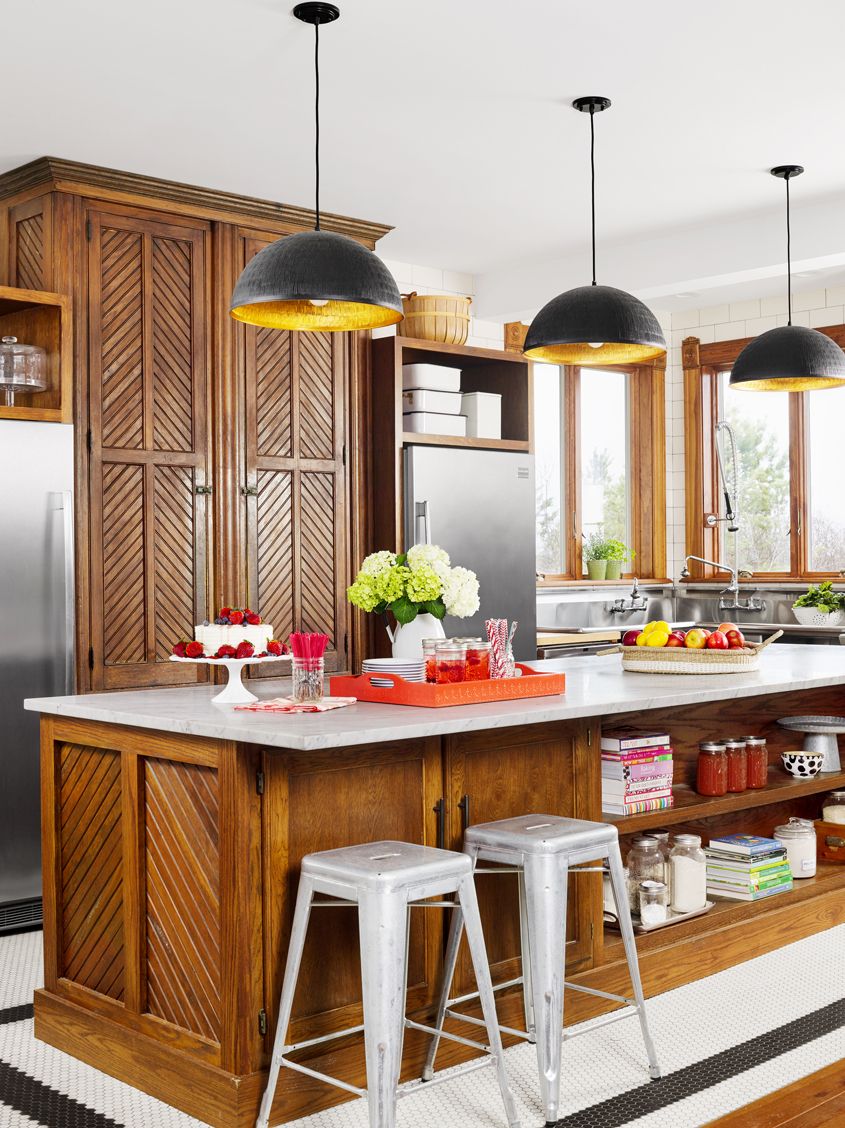 The house, which sits on land originally parceled out to Revolutionary War veterans, came down through four generations before doing a stint as a B&B. "Because I grew up in the area, I had loved the house my entire life," says Shelly. Marc adds, "It was a classic old farmhouse with a great location, near Skaneateles Lake—everything we were looking for." But it was priced too high, at least at first, and only after sitting idle for two years did it finally become theirs.
The house came with baggage: rooms rejiggered to accommodate overnighters; an unfinished, uninsulated attic; lots of floral wallpaper. But porches beckoned, much of the old pine flooring and woodwork was intact, and that oversize chevron-patterned hutch in the kitchen really grabbed Shelly's eye. Then there was the even older barn, a big, faded-red emblem of early America—buyer's bait once you got past the fact that it showed every one of its 144 years. (More on that barn later.)
Shown: In the renovated kitchen, the original ceiling-height hutch is now flanked by separate refrigerator and freezer columns. The new storage island boasts similar chevron-patterned end panels and sits on a hex-tile "rug."
Paint: Farrow & Ball's Wimborne White; refrigerator and freezer: Frigidaire; countertops: Roma Tile & Marble, Syracuse, NY; pendant light fixtures: (discontinued) JCPenney; floor tile: Merola Tile.
Commercial-Style Fixtures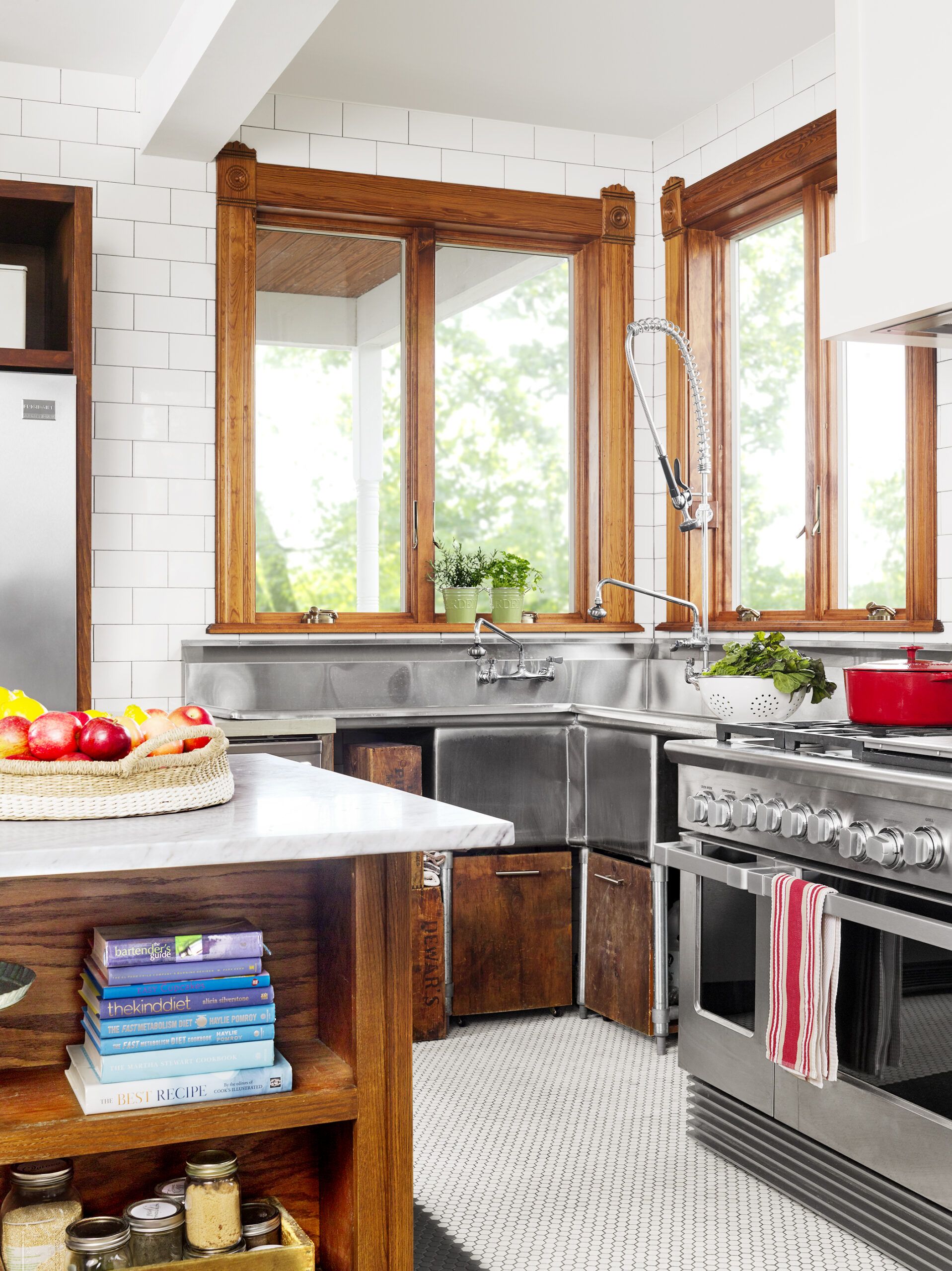 The house's rear entry, preferred by all over the more formal front, opened right into the kitchen, with its 1980s finishes and no room for outerwear. "Shoes would pile up, there was no place to hang coats, and our boots left big puddles," Shelly says. The couple drew up plans for a two-story rear addition plus a one-story bumpout to enlarge the kitchen.
With adjacent interior space annexed as well, the kitchen is now a cook's haven, with a supersize range and triple-basin sink straight out of a commercial kitchen. (Home chef Marc, who once worked in a restaurant kitchen, doesn't fool around: Last year, with daughter Chloe's help, he placed in the top 10 in a national gingerbread-house competition.) The stalwart hutch still holds court, but it's been joined by a 12-foot island, the floor beneath it beefed up to handle the weight of its honed-marble top.
Range: DCS; sink and faucet: AB Restaurant Equipment.
Original Woodwork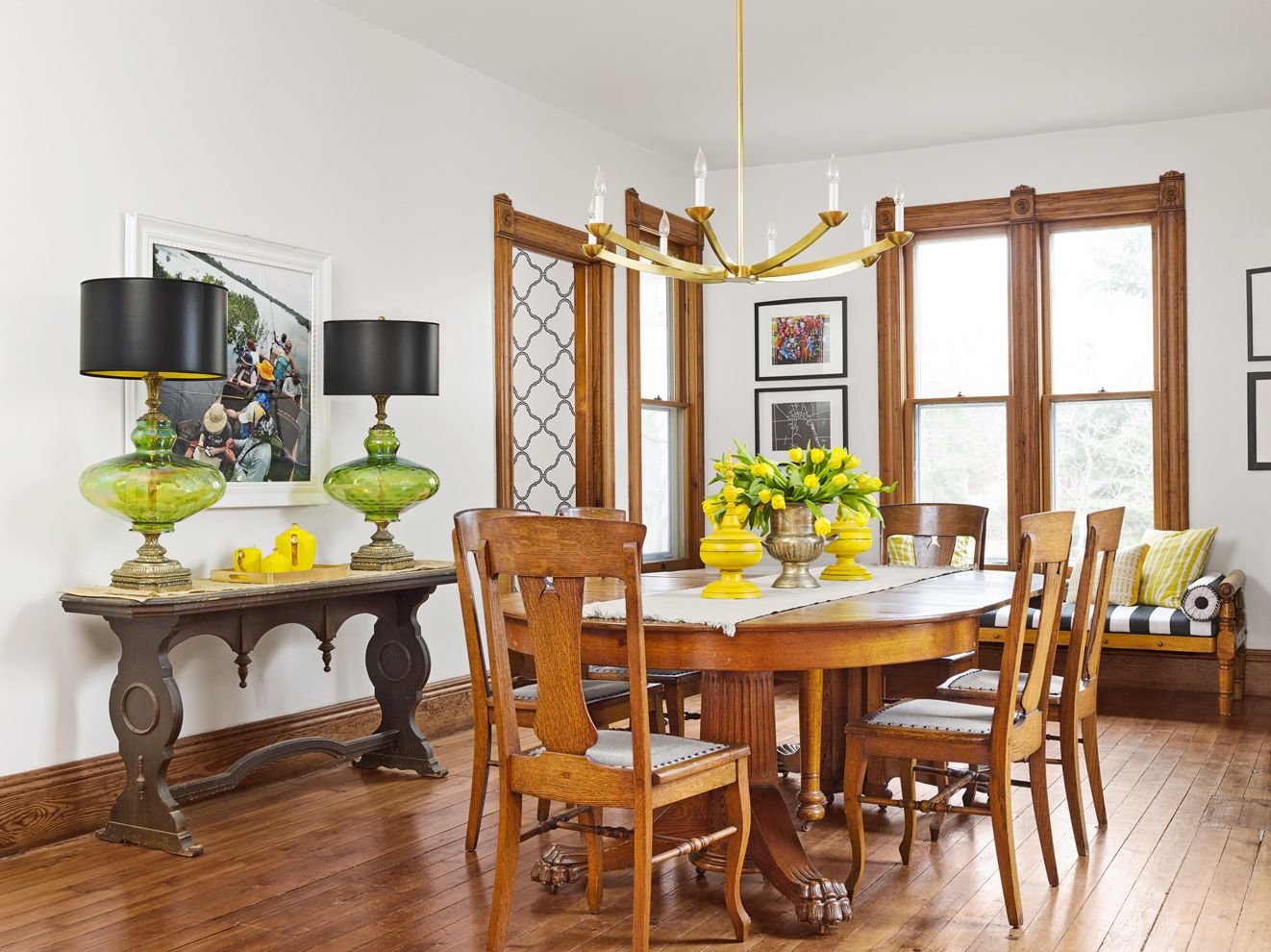 Previous owners had updated the plumbing and electricity, but now radiators came out in favor of zoned, forced-air heat. Also lost to the house's HVAC history was an outmoded chimney, which the crew hauled away in 5-gallon buckets—or rather, jettisoned, Bennett says amiably, "out every window that we could throw it out of."
Shown: Warm-white walls balance the reddish tint of the original woodwork and flooring in the dining room.
Paint: Farrow & Ball's Wimborne White; wallpaper (hallway): Brewster; chandelier: Mitchell Gold + Bob Williams; custom lampshades: Fenchel Shades.
New Master Suite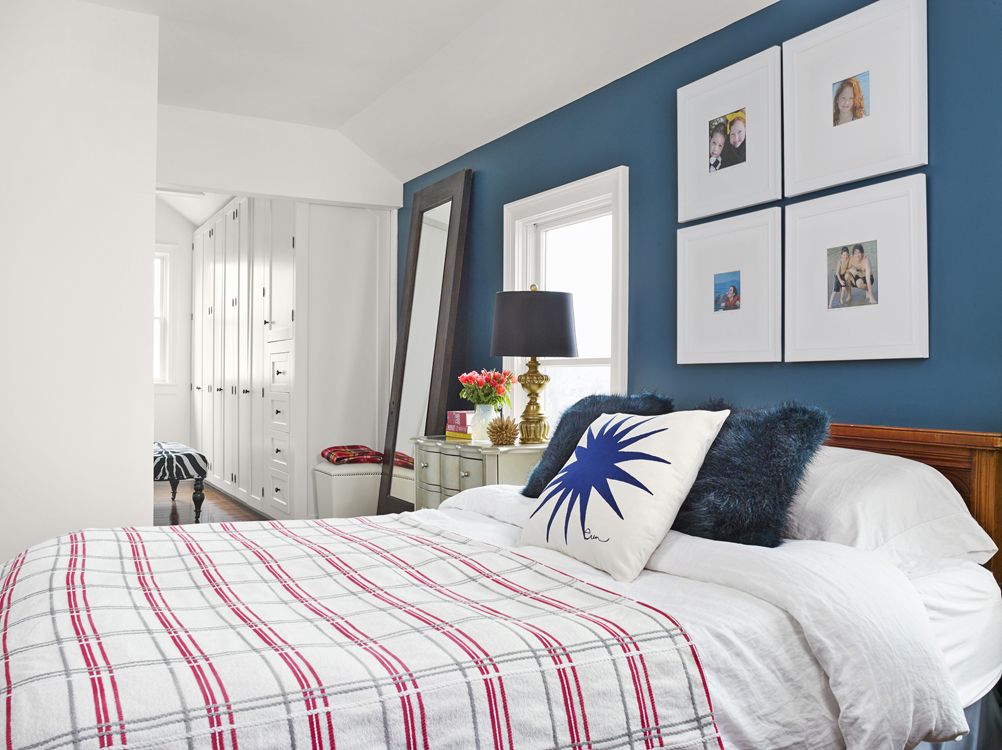 Upstairs, the couple excised two baths, turned a bedroom into a laundry room, and added a master suite (shown) whose open dressing area has ceiling-high built-ins.
Paint: Farrow & Ball's Stiffkey Blue; Starburst pillow: Erin Flett.
Period Appeal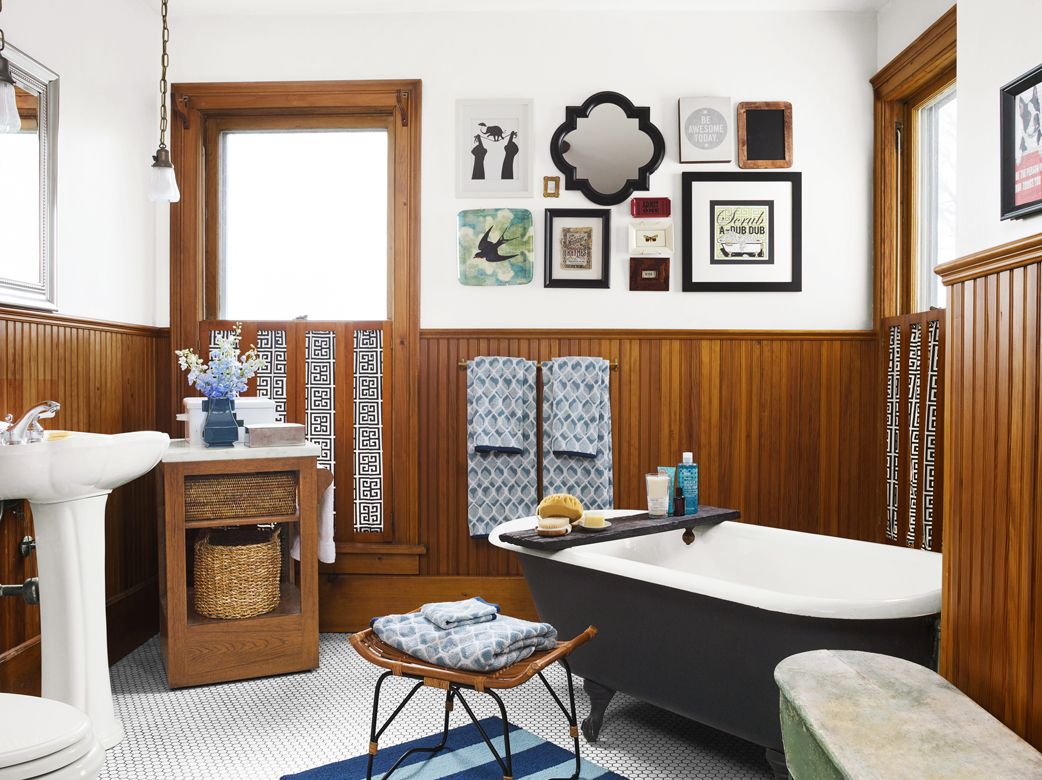 The existing hall bath kept its original cast-iron tub, wainscoting, and hex-tile floor. The homeowners stripped floral wallpaper off the upper walls and replaced the fabric in the shutter frames.
Paint: Farrow & Ball's Wimborne White; black-framed artwork: Drooz Studio.
Salvaged Door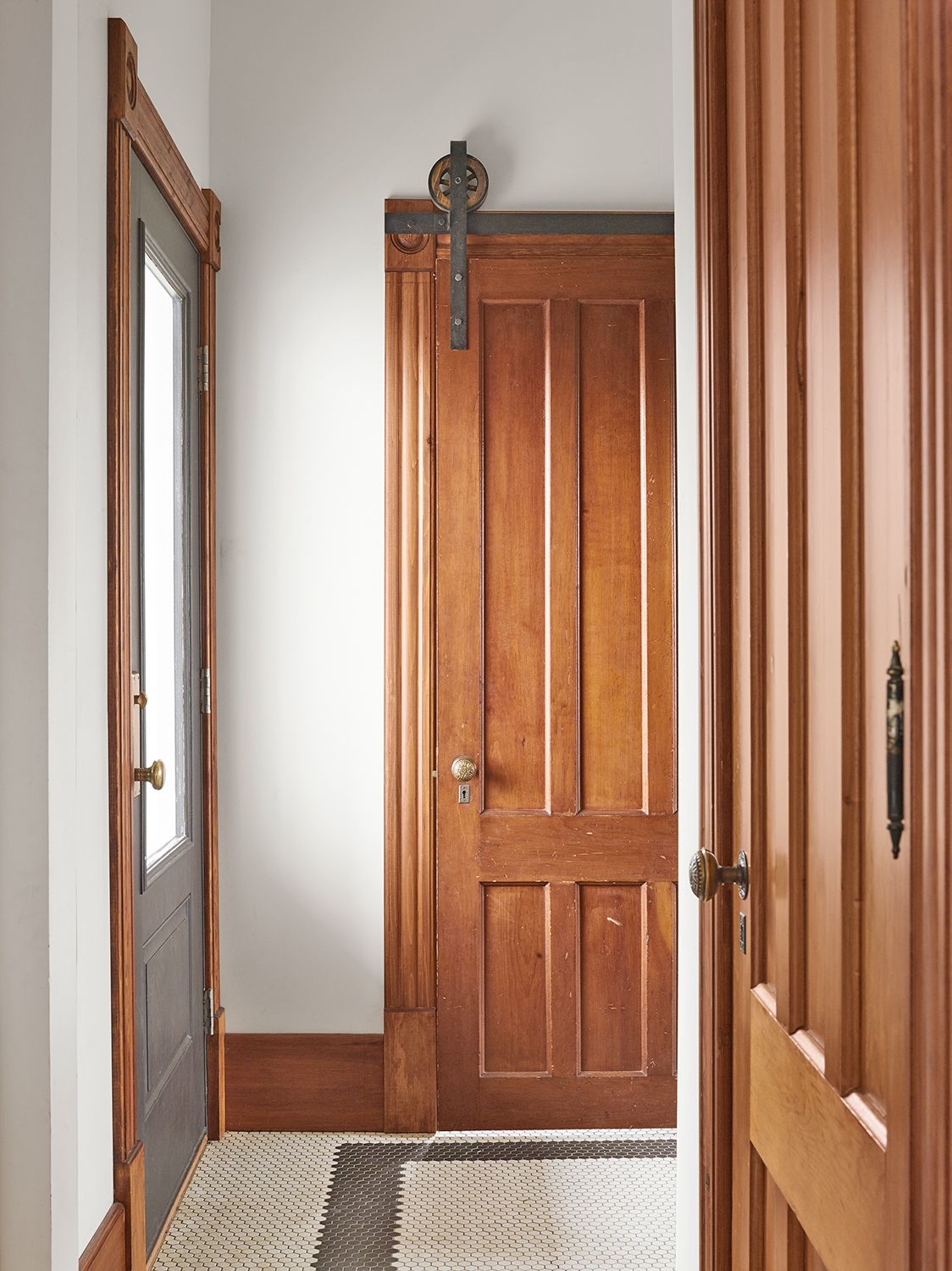 The new rear addition holds a hallway with a hex-tile "rug" and a salvaged door that slides open, barn-door style, to reveal a new pantry. The door on the right opens to the original basement.
The "Ladies' Parlor"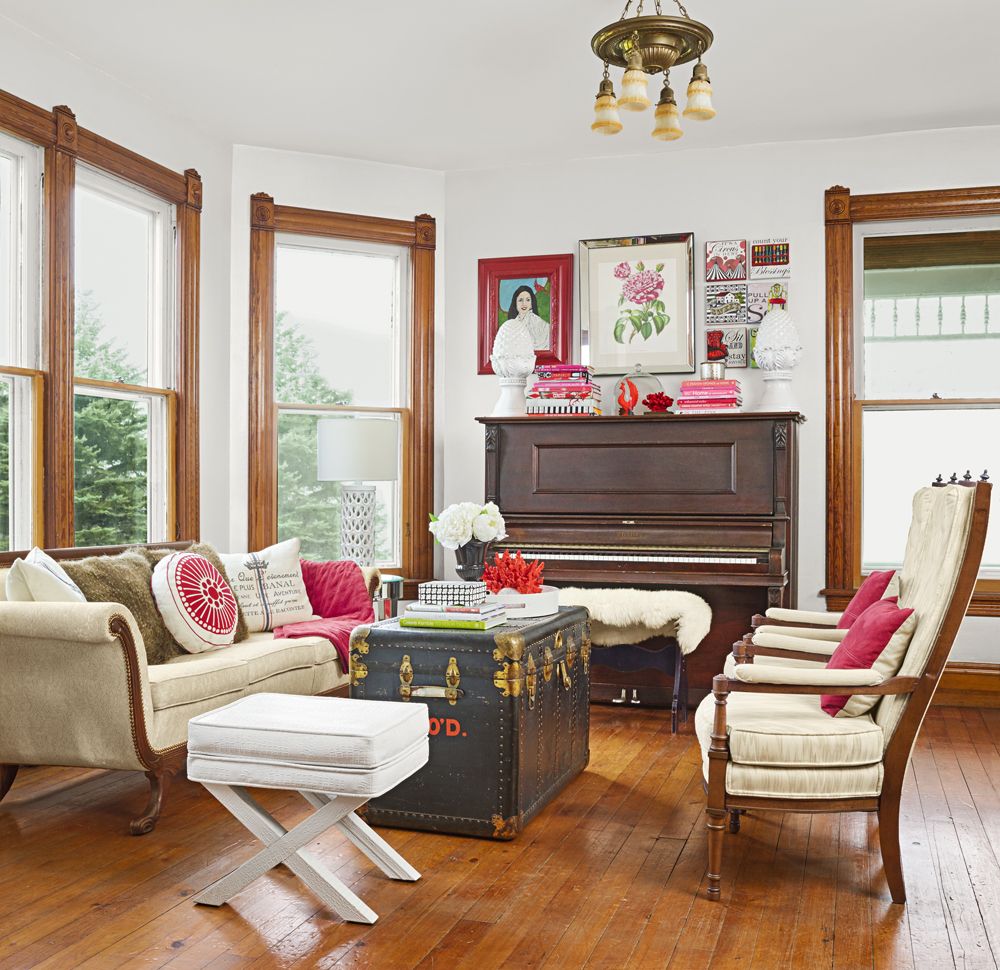 The street-facing side of the house stayed as it always was, with bedrooms stacked over twin parlors. "We call one the ladies' parlor and the other the whiskey room," says Shelly.
Not that friends and family disperse by gender, age, or inclination. Most times, Marc notes, you'll find everyone in the kitchen. Lorded over by that ancient hutch and made accommodating by the new island, it's now equal parts period-faithful and modern-day-functional—just as the new owners planned it.
Shown: The ladies' parlor, intact since the 1890s, doubles as a music room.
Red circle pillow: Erin Flett; paint: Martha Stewart Living Precious Metals Specialty Finish (discontinued color), Home Depot.
Rescuing the Barn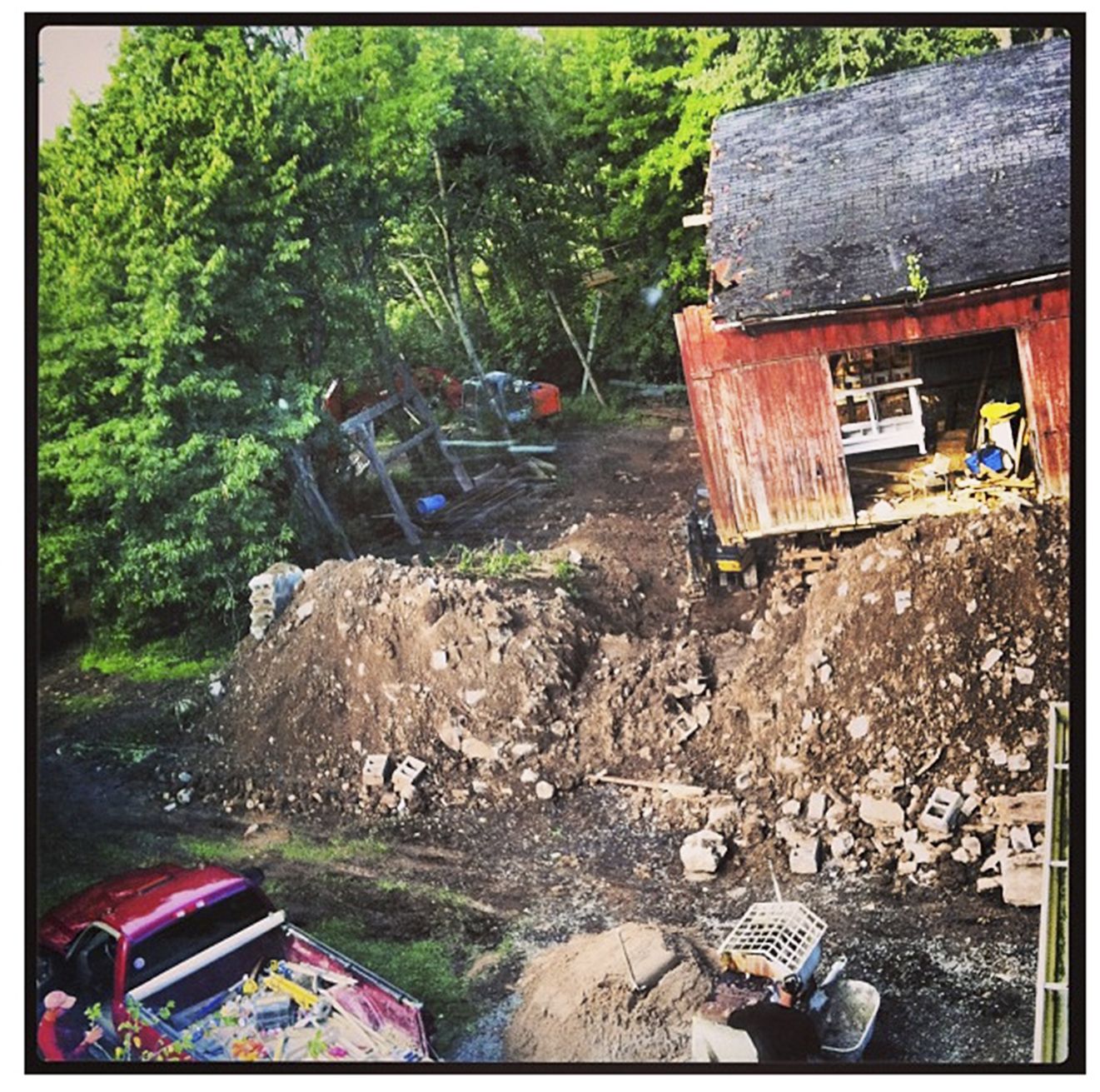 Barn lovers are special people, not always rational. As soon as Marc and Shelly had dispatched a few must-dos around the house, they trained their sights on the creaky 30-by-60-foot structure behind it. Built into a hillside so livestock could enter the lower level at one end while hay was delivered upstairs at the other, the so-called bank barn was now a squat for squirrels and mourning doves.
To save it, they realized, they would have to dismantle it. Marc spent that first summer pulling up the floorboards and organizing them in piles. A crew took off the siding, board by board, leaving a skeleton, then lifted one of the end walls with a crane and put it aside. "We wanted to keep as much as possible on the inside because there were hand-hewn timbers," Shelly says. The roof had to be peeled off, and a third of the barn was so damaged it had to be chopped out of the middle and trashed.
Now, how to make the two ends meet?
Homeowner-Guided Barn Excavation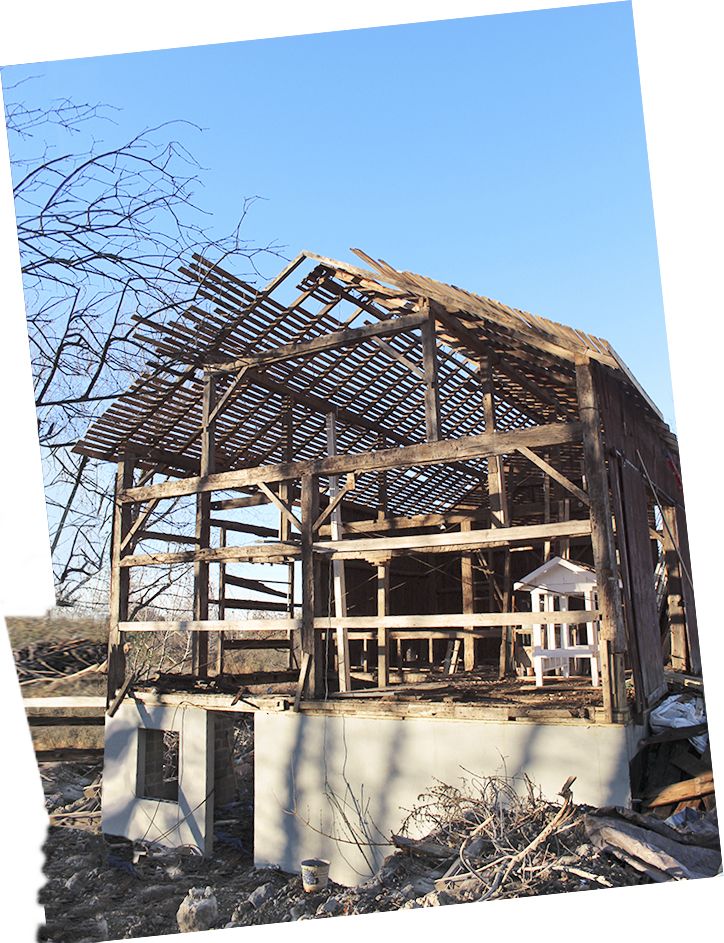 The barn crew jacked up the frame, balanced it on cribbing, and kept that loose wall dangling long enough to pour a 30-by-40-foot concrete foundation and reinforce the below-grade sections of wall. Then the dangler was shimmied into its new place.
The floorboards were good, but underneath "it was just shot," Bennett says. "Half logs, dimensional lumber, a lot of add-ons over the years, put together poorly." Joists and subflooring went in, Marc put back the floorboards, and the siding went back up.
While Marc helped oversee excavation, and the pouring of the new foundation and below-grade walls, he was building the barn's new cupola from reclaimed windows—it's seen here, sitting on the floor at right.
Refreshed Barn: After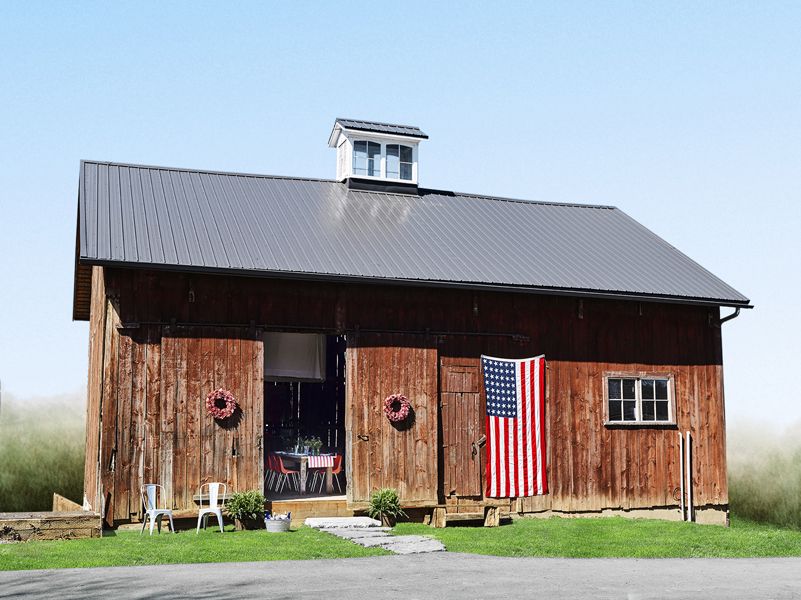 Once the work was done, it looked as if nothing had happened, though the shiny new standing-seam roof is a bit of a giveaway. And that's how a mid-19th-century bank barn, once headed for a salvaged-lumber dealer, was turned into a family party space.
And the downsizing delivered a nice payoff: Because the land is a Frisbee's throw from the lake, there are storm-water management rules on how much can be made impermeable. Less barn meant the couple could expand their house more than they'd expected.
Living History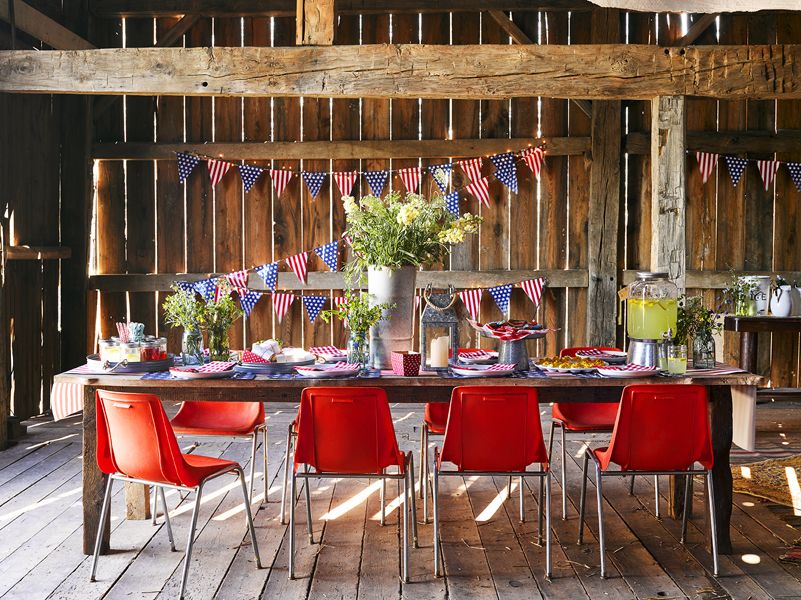 Though it's been plunked on a new foundation, the old barn still has its original beams, floorboards, and siding.
The Bar is Open
But despite its welcoming appearance, the barn isn't exactly a year-round party space. The original siding fits so loosely, says Shelly, that off-season "the snow blows in."
Floor Plans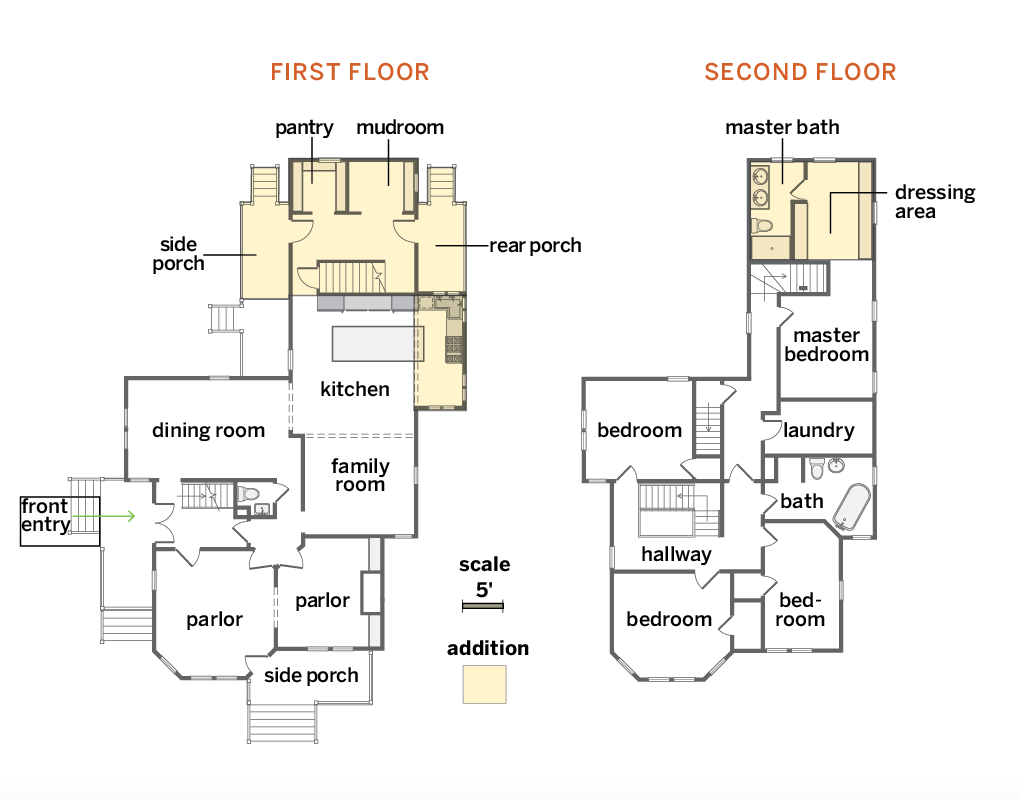 A two-story addition and a one-story bumpout added 508 square feet to the 3,180-square-foot 1896 farmhouse. Walls came down to enlarge and open up the kitchen, and bedrooms and baths were rejiggered on the second floor. The attic, not shown, was also semifinished.