"Modest" Clapboard Queen Anne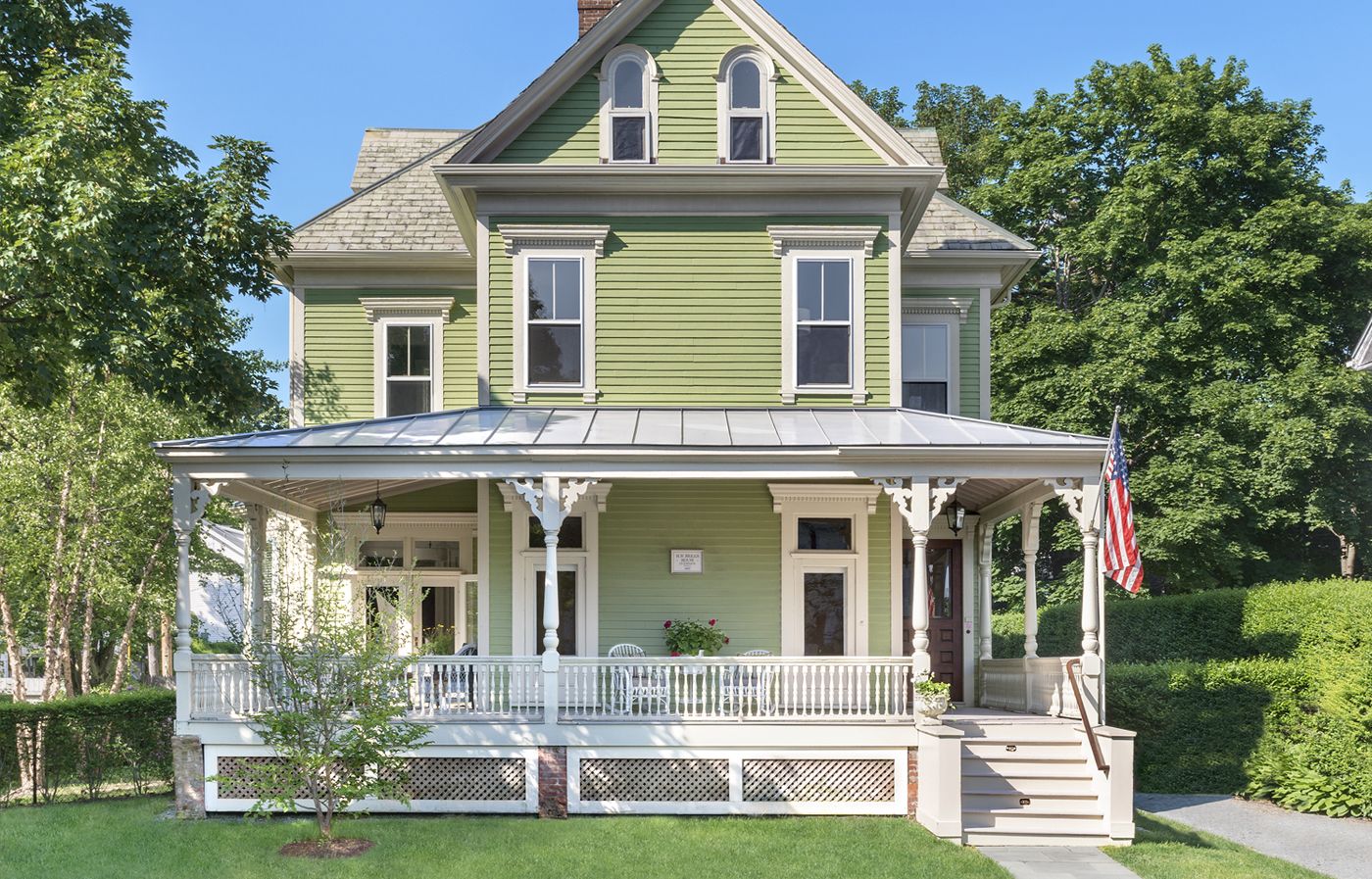 At the ripe old age of 377, Newport, Rhode Island, has seen its share of architectural fads. It is chockablock with flat-faced 17th-century colonial buildings, sustains a collection of chic Greek Revivals, and, thanks to the Gilded Age, when folks like the Vanderbilts threw up one little getaway after another, boasts Victorian-era "cottages" like The Breakers, which comprises 70 rooms and 125,339 square feet.
Shown: The 1887 house had held onto its original clapboard siding, along with the foyer's stained-glass windows, stamped-bronze ceiling, herringbone floorboards, and bronze radiator enclosures.
Architect: Gale Goff
Interior designer: Kirby Goff
General contractor: Edward Lacross; 401-440-7202
Rebuilt Front Porch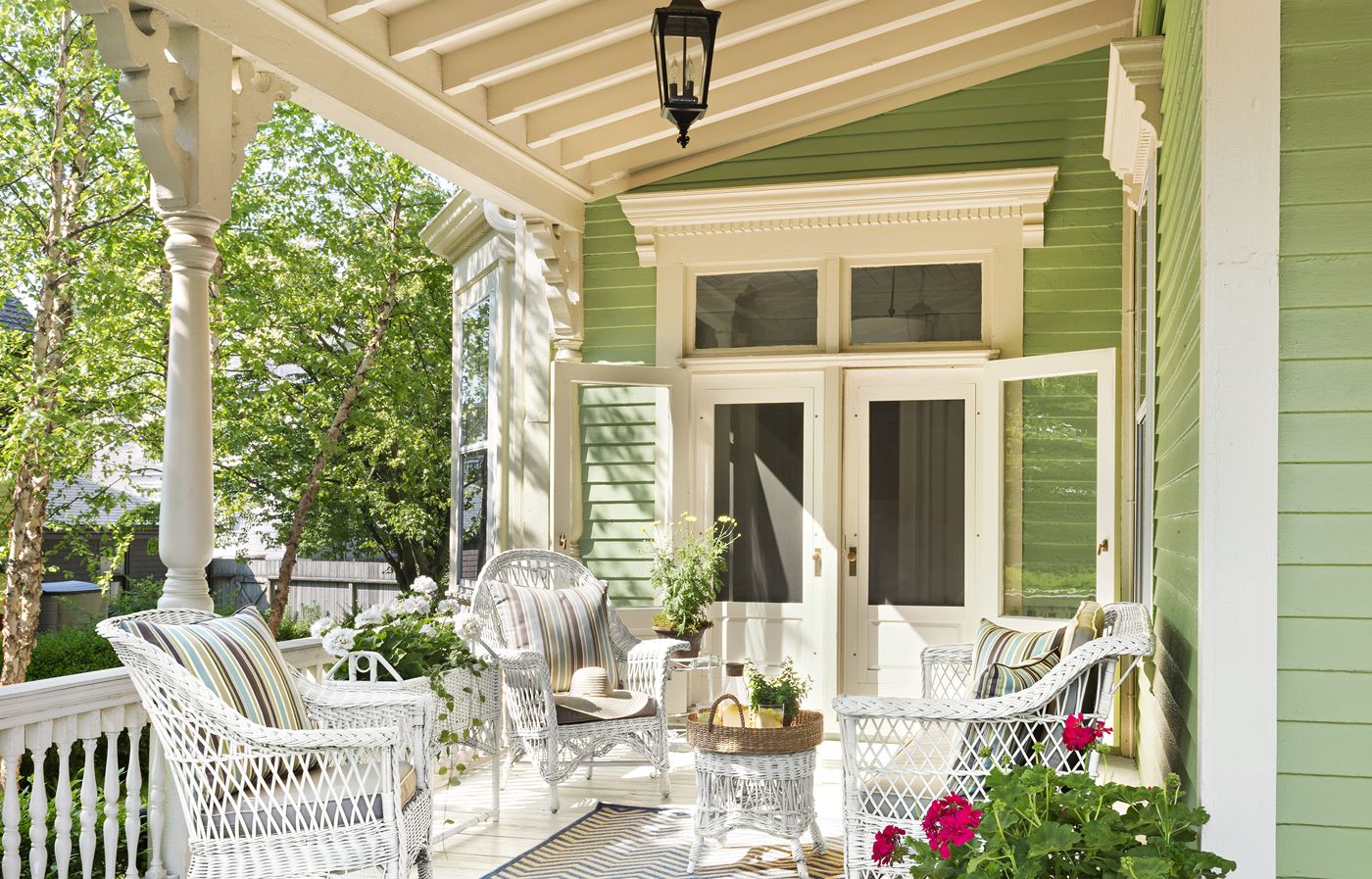 This is a story about a Newport house that transcends time and location. Built in 1887, the clapboard Queen Anne, at a mere 4,200 square feet, practically qualifies as modest. More interesting, each first-floor room opens to the outdoors, with windows and doors designed to maximize air and light. "It's a feature of the South," notes Gale Goff, who first saw the house after her husband, Peter, a voracious reader of real estate listings, suggested they take a look. "Southerners built big openings because they had to ventilate without air-conditioning."
Shown: The front porch was rebuilt with rafters and floorboards matched to what was there. A double set of French doors keep the house snug.
Paint: Sherwin-Williams custom blend (siding)
Ceiling light: The Home Depot
Stained-Glass Windows in the Foyer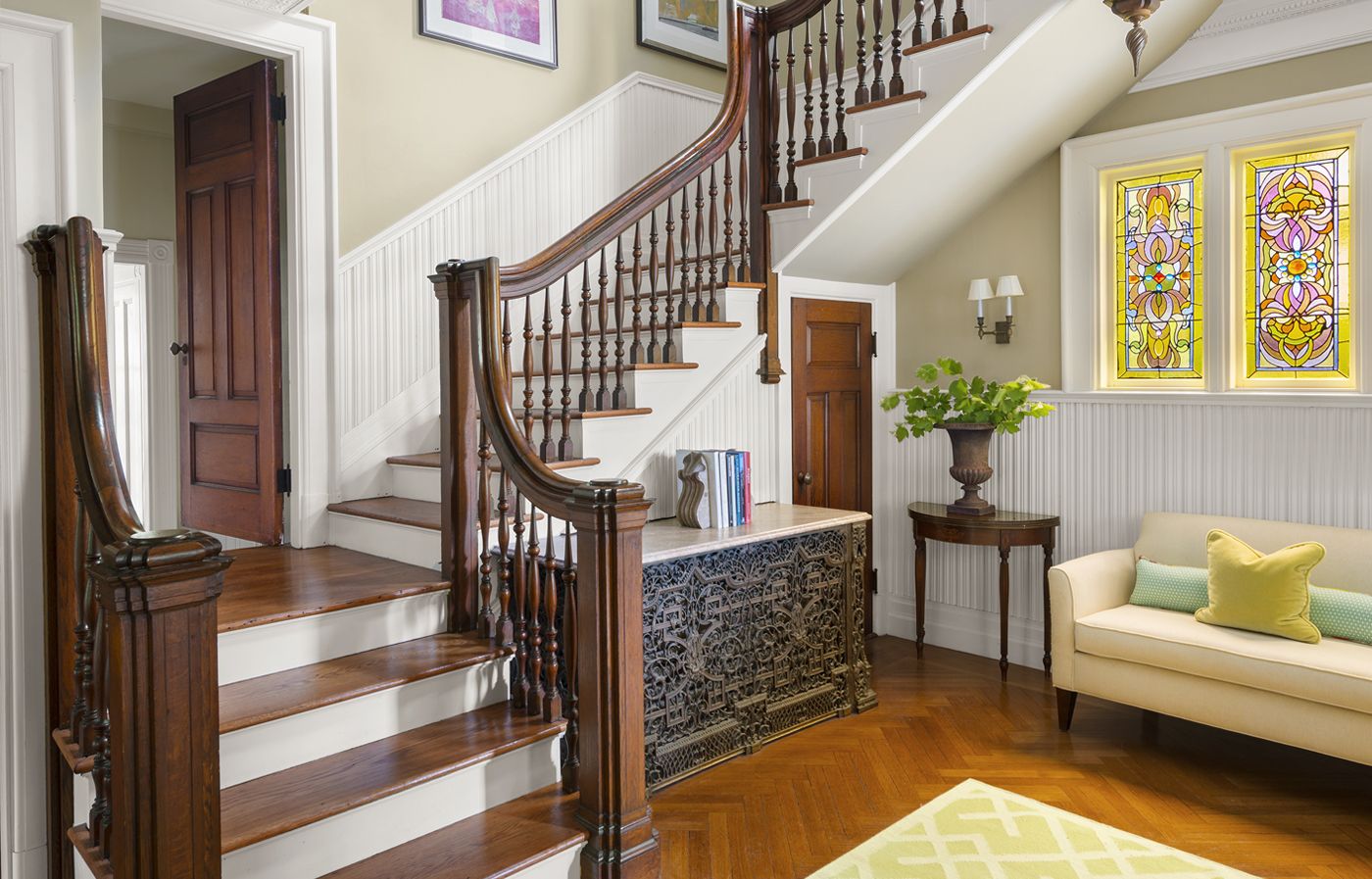 Described by the local historical society as having been designed by a local architect for a local merchant, the house may have borrowed its flavor from others built nearby in the 1830s, when Southerners headed north, bringing along their breezy style.
Shown: The new owners cleaned and polished the ornate stair railing and let the stained glass guide the choice of paint colors for the free-flowing first floor.
Paint: C2's Bristle
Connected Rooms for Flow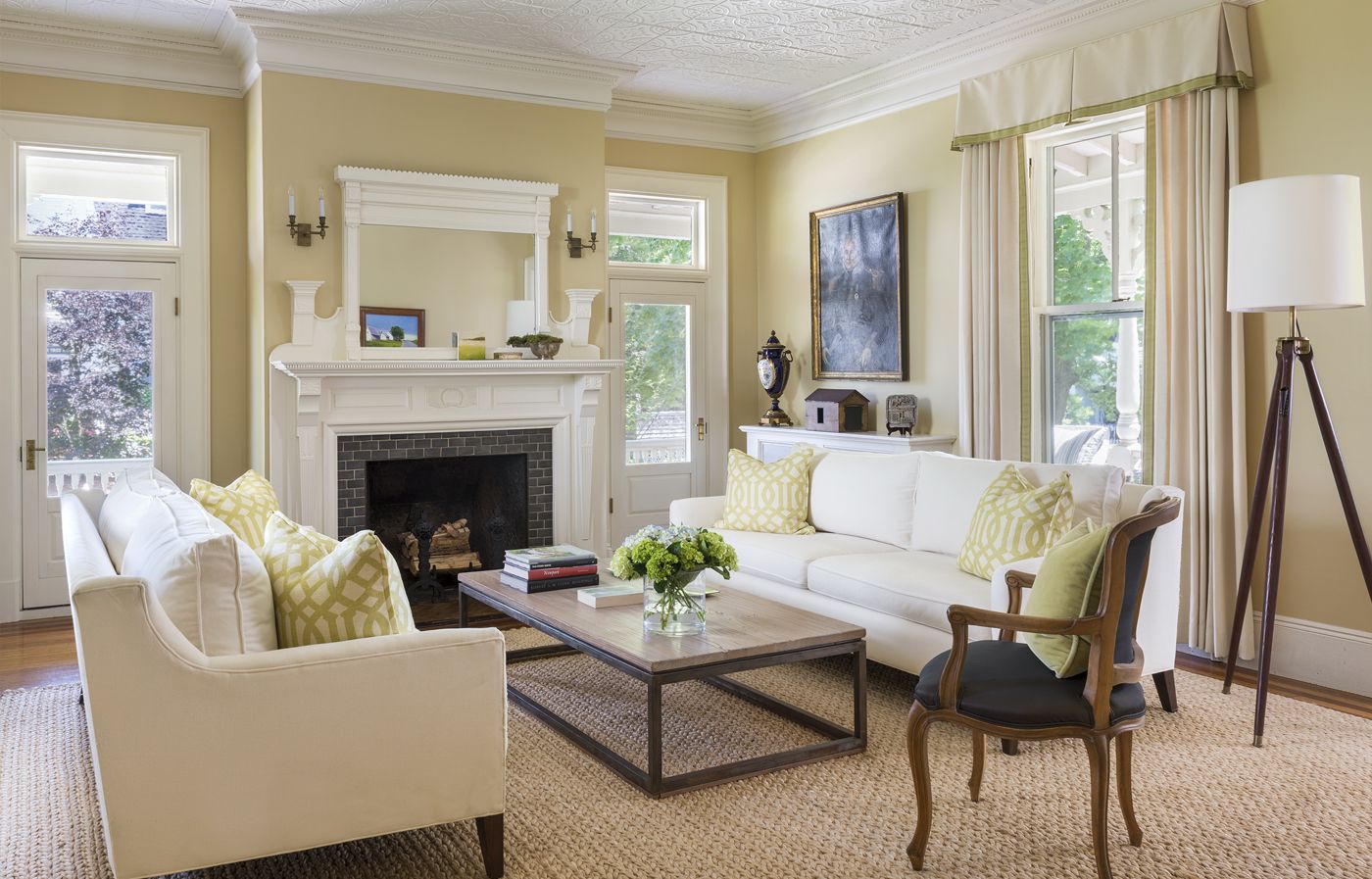 Whatever its inspiration, the Queen Anne, with its free-flowing layout, has a surprising openness, which Gale, an architect, and her daughter Kirby, an interior designer based in nearby Providence, reinforced during a thoughtful top-to-bottom redo.
The two, who both trained at the Rhode Island School of Design, say it was mainly a matter of channeling the Queen Anne's true spirit. "All the rooms connect, and there's something very welcoming about that," Kirby says. "If you fling open all the doors you are on the porch or in the yard, which also makes the rooms feel bigger."
Shown: French doors opening to the outside enhance the sense of space in the living room and the den.
Sofas: Pottery Barn
Paint: C2's Sierra (walls)
Rug: Merida
Coffee table: The Cottage
Floor lamp: Visual Comfort & Co.
Curtain fabric and patterned pillow fabric: Schumacher
Curtain trim: Samuel & Sons
Woodwork Worth a Second Look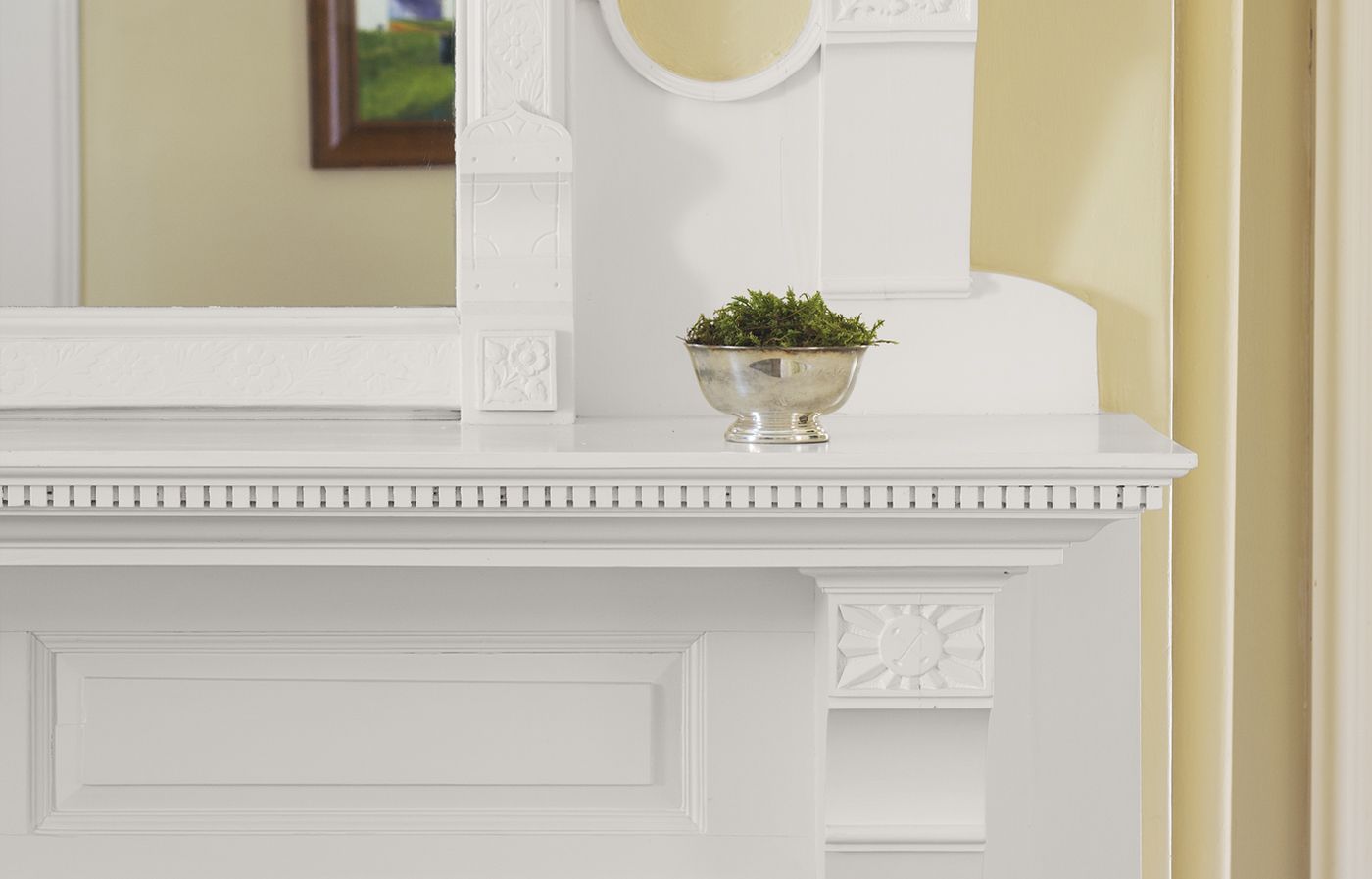 Unlike the 19th-century new-money crowd that made Newport famous, the Goff family has deep roots in the state. In one symbolic twist, when the couple needed floorboards for their Newport kitchen, they went to a mill that had salvaged heart pine from a warehouse in Providence—previously owned by Peter. The wood went full circle.
Shown: Creamy-white paint brings out the detail in the living room woodwork.
Handsome Den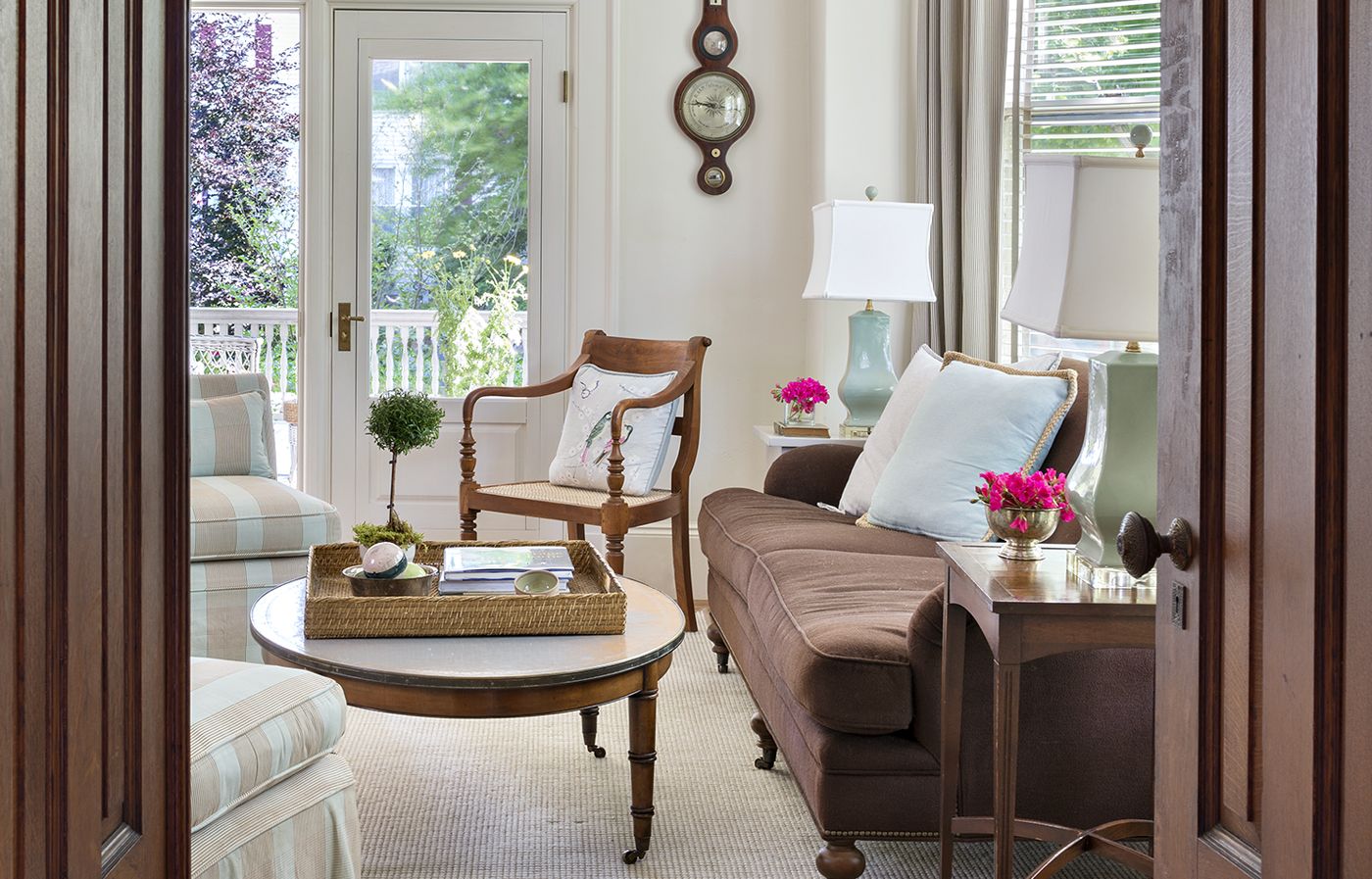 But that's getting ahead of the redo, which began with a family walk-through shortly after the house changed hands. The rooms were ghostly, with windows cloaked in heavy velvet and trim the color of dead beetles. The wiring was 19th-century knob-and-tube. To reach the sunroom, you had to climb three steps over a radiator, then through a window. It sounds unbelievable, but there are photos.
Sofa (custom): PJ Bergeron, Inc.
Curtain fabric: Dessin Fournir
Blinds: Smith & Noble
Salvaged Door for a Home Bar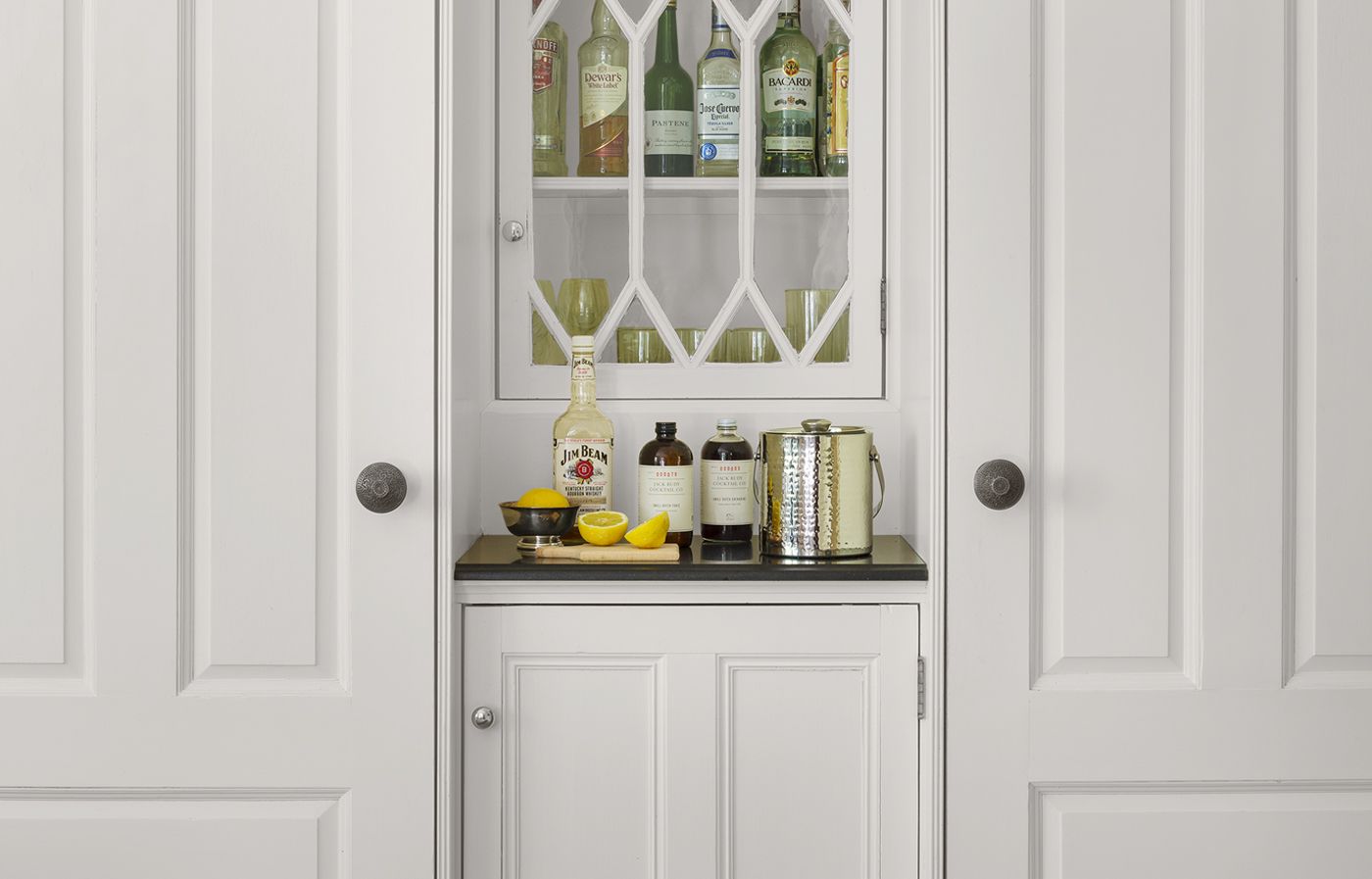 "We all happened to be in Newport at the same time," recalls Kirby, one of four grown kids, so they trooped over together. "It was very, very dark. My nephew, who was 6, was terrified—he thought it was creepy."
Two family members knew differently. "My mom and I kept looking at each other; we knew this was a phenomenal house that just needed a lot of love," Kirby says. "We immediately started talking about how we wanted it to look."
Shown: A new bar area in the den incorporates a glass door salvaged from the homeowners' previous house.
Heirloom Furniture for the Dining Room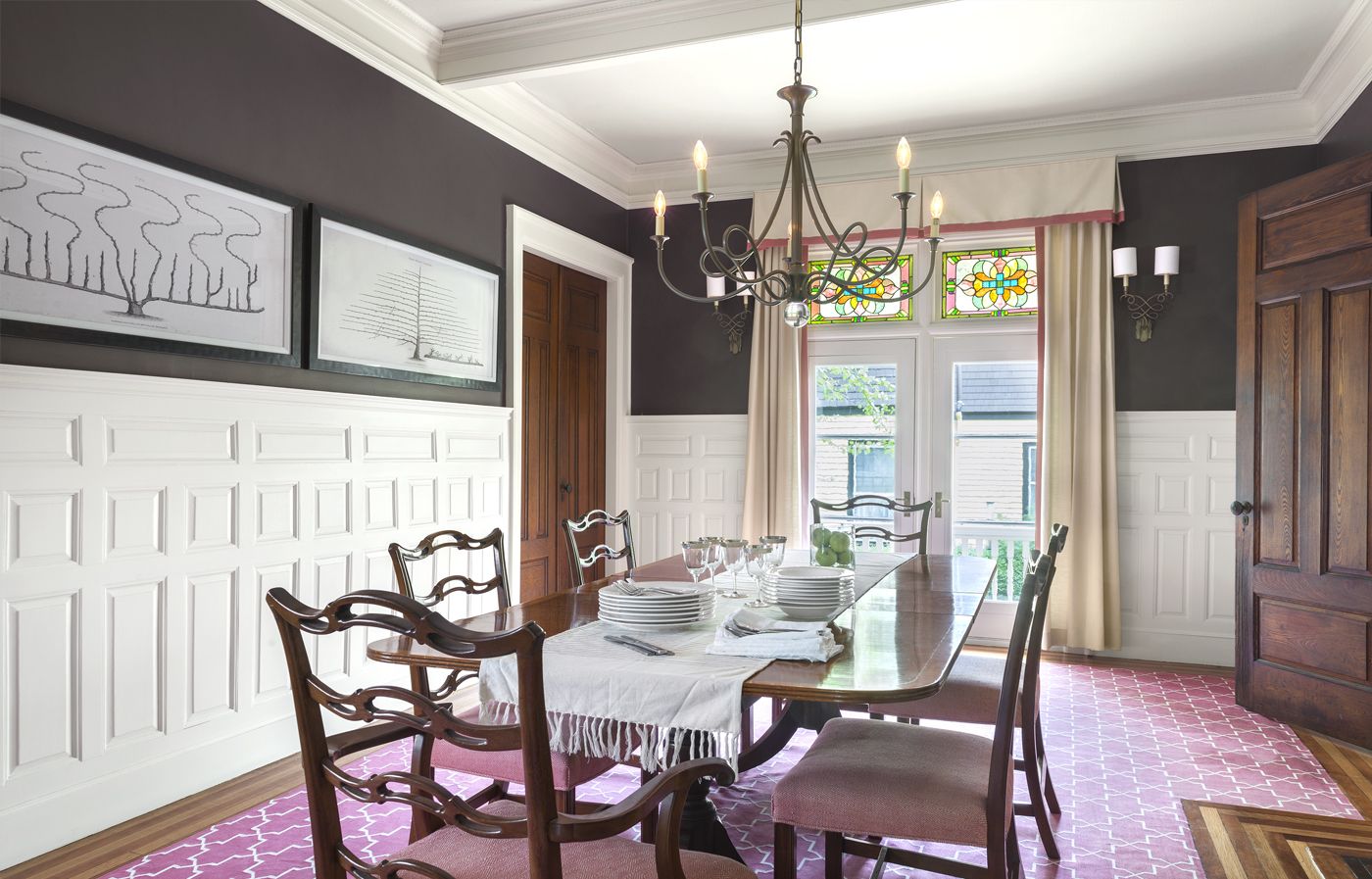 When they got outside, Gale says, they realized they had almost missed the "very small, dark, and incredibly antiquated" kitchen in back. The second floor held four bedrooms and a single bath, but no master suite. A separate apartment on the third floor needed work.
But "my mom is a doer," Kirby points out, not easily daunted when she sees, for example, one room replacing two. "When we were growing up, Dad would come home and she would have knocked down a wall—she's very hands-on and knows what she likes!"
Shown: The house's original stained glass drove the palette for the dining room, which plays pink off gray-brown. The dining set is a family heirloom.
Paint: Pratt & Lambert's Tobacco
Rug: Madeline Weinrib
Artwork: Natural Curiosities
Curtain fabric: Fabricut
Ornate Mantel in the Dining Room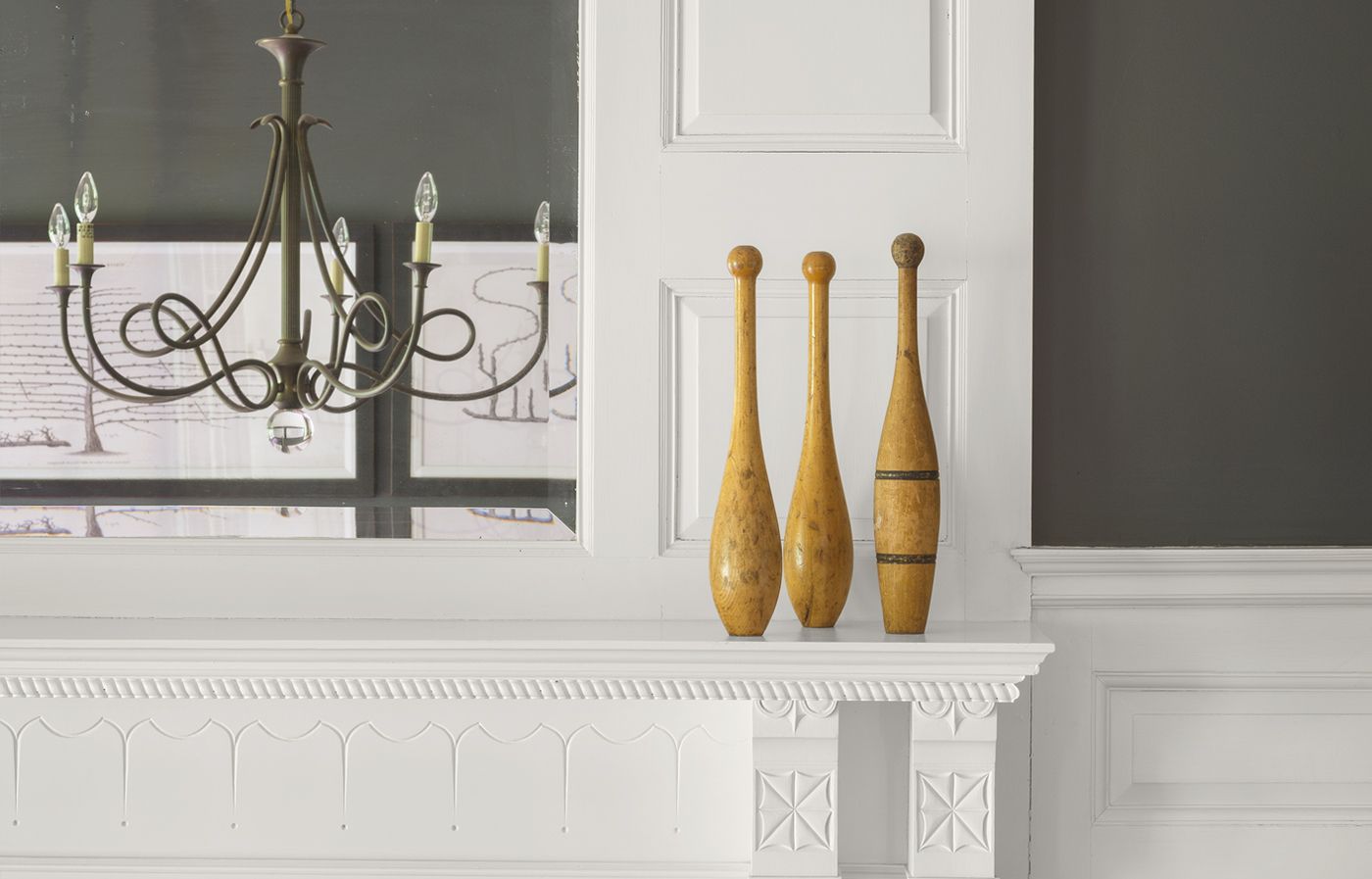 The couple sold their former, smaller place nearby, and could have had an affair with the rangy, rundown Queen Anne just long enough to give it new life. Most empty nesters, after all, opt to scale down. Now it looks like they'll never leave.
Helping to make this turnaround possible was Ed Lacross, a seasoned GC who had worked with Gale on other projects. Asked about his first impressions, he recalls the exterior as an intense evergreen, with a wraparound porch that had lost half its girth during a tree-tossing storm—it would have to be rebuilt. Lacross laughed when asked about the slapdash sunroom hanging off the back, saying, "It was the first thing the bulldozer took down."
Shown: A period-style chandelier in the dining room is reflected in a mirror over the ornate mantel.
Sconces and chandelier: Visual Comfort & Co.
Kitchen Designed Around an Island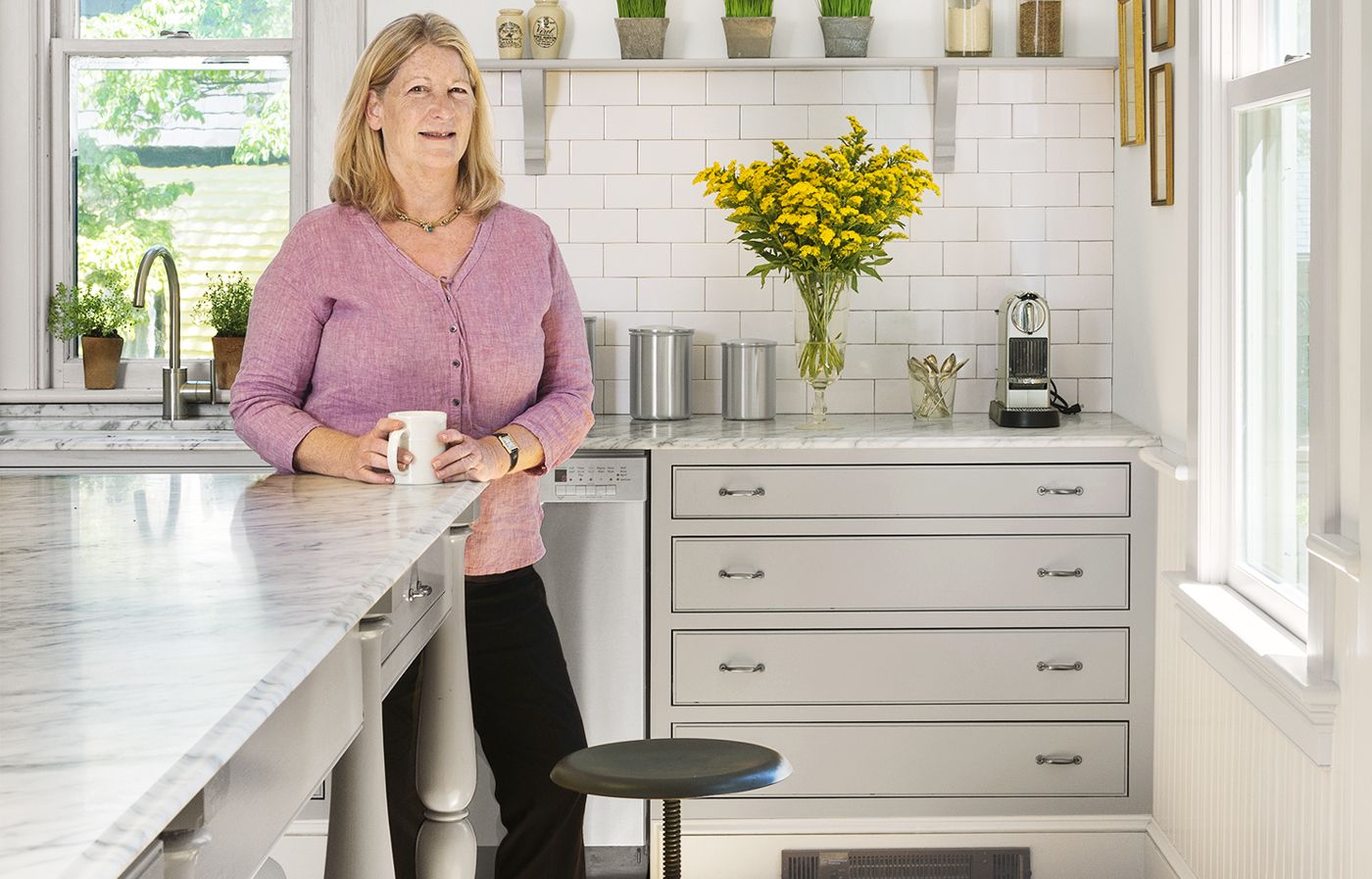 The kitchen and a first-floor bath would need major surgery too. Upstairs, Gale had in mind converting two bedrooms to a master suite, and the third-floor apartment would have to be renovated. But the infrastructure was sound, Lacross says, right down to many of the pipes and much of the woodwork, save its worn finish. He also took note of an amenity that had been rare for Newport when the house was built: central heating. The cast-iron radiators worked fine; two were tucked inside lovely old marble-topped bronze enclosures.
Shown: Homeowner Gale Goff designed the 9-foot-plus island with function in mind. Subway tile and an industrial-style pendant light fixture evoke 19th-century workspaces.
Tile: Daltile
Pendant: Restoration Hardware
Stools: Wisteria
Windows: Marvin
Flooring: Northeast Millwork; 401-624-7744
Countertops: Allied Flooring and Stone; 401-624-4477
Paint: Benjamin Moore's White Mountains (walls)
Kitchen Island with a Handy Secret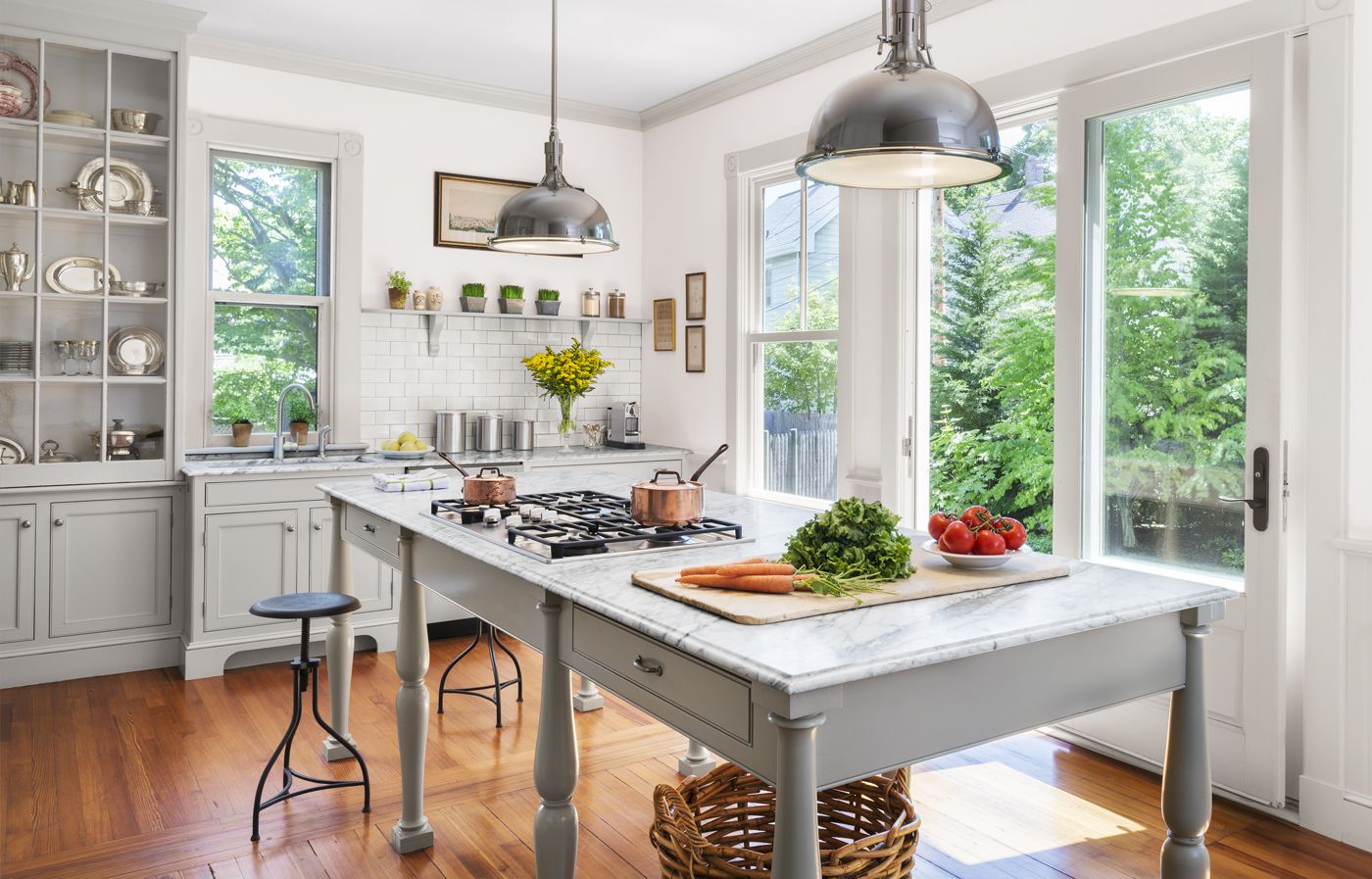 One notable challenge was the kitchen, which would soon have more period style, along the lines of the hardworking white-tiled cook spaces you see in historic mansions, only with fewer game birds and more natural light. "We were inspired by the big scullery kitchens in Newport, with huge tables and walls clad with tile," says Kirby. "They were made for working, but they are still beautiful in their utilitarian honesty."
Shown: The kitchen island has a marble top and lanky legs made from salvaged pilasters; two of the legs hide gas and electric lines.
Paint: C2's Archival (cabinets)
Cabinet fronts: Maple Craft USA
Pulls: Brass Works
Cooktop: Miele
Faucet: Danze
Tranquil Master Bedroom
To bring in needed light, and to connect the kitchen and backyard, Gale punched openings in the south-facing exterior wall; to gain space, she took down walls—no surprise—to merge three small rooms, making way for a worktable-like island nearly 4 feet wide and more than 9 feet long. It's big enough for more than one cook plus guests to gather around. In a genius move, Gale had Lacross ream out two of its legs and fit them with gas and electrical lines, allowing a cooktop embedded in the island to appear magically unmoored.
Shown: Soft shades of blue, yellow, and ivory help warm up the master bedroom.
Paint: C2's Noodle (walls)
Bed: Pottery Barn
Heirloom Secretary in the Master Bedroom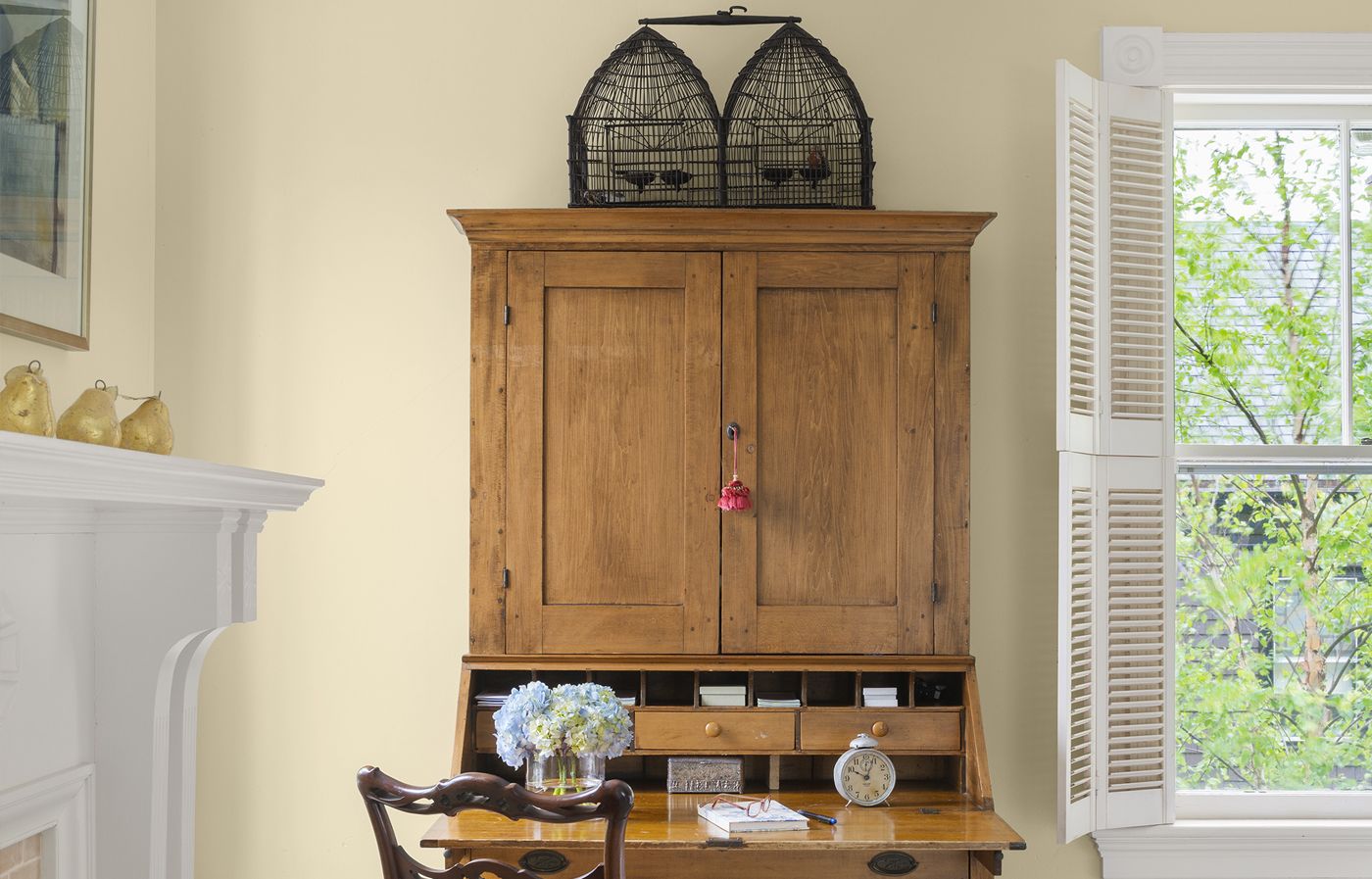 The cabinets are an artful mix of artisanal and ready-made. One set incorporates doors pulled from the original pantry. Lacross built others "on the wall," as Gale puts it, as would have been done in the 1880s, but in this case with prefab doors, drawer boxes and face fronts, and glides ordered on the Internet.
Once construction was well under way, Kirby began commuting from Providence, paint colors and fabric swatches in hand. "She basically came up with a general scheme—it was her idea to carry colors from room to room—and then we narrowed it down," Gale says, adding, "She knows me pretty well and she knows what I like. She definitely proposed what she wanted, and there were minor things that we debated, but for the most part I gave her free rein."
Shown: A vintage birdcage sits atop an heirloom secretary in the master bedroom.
Salvaged Doors as Medicine Cabinets in the Master Bath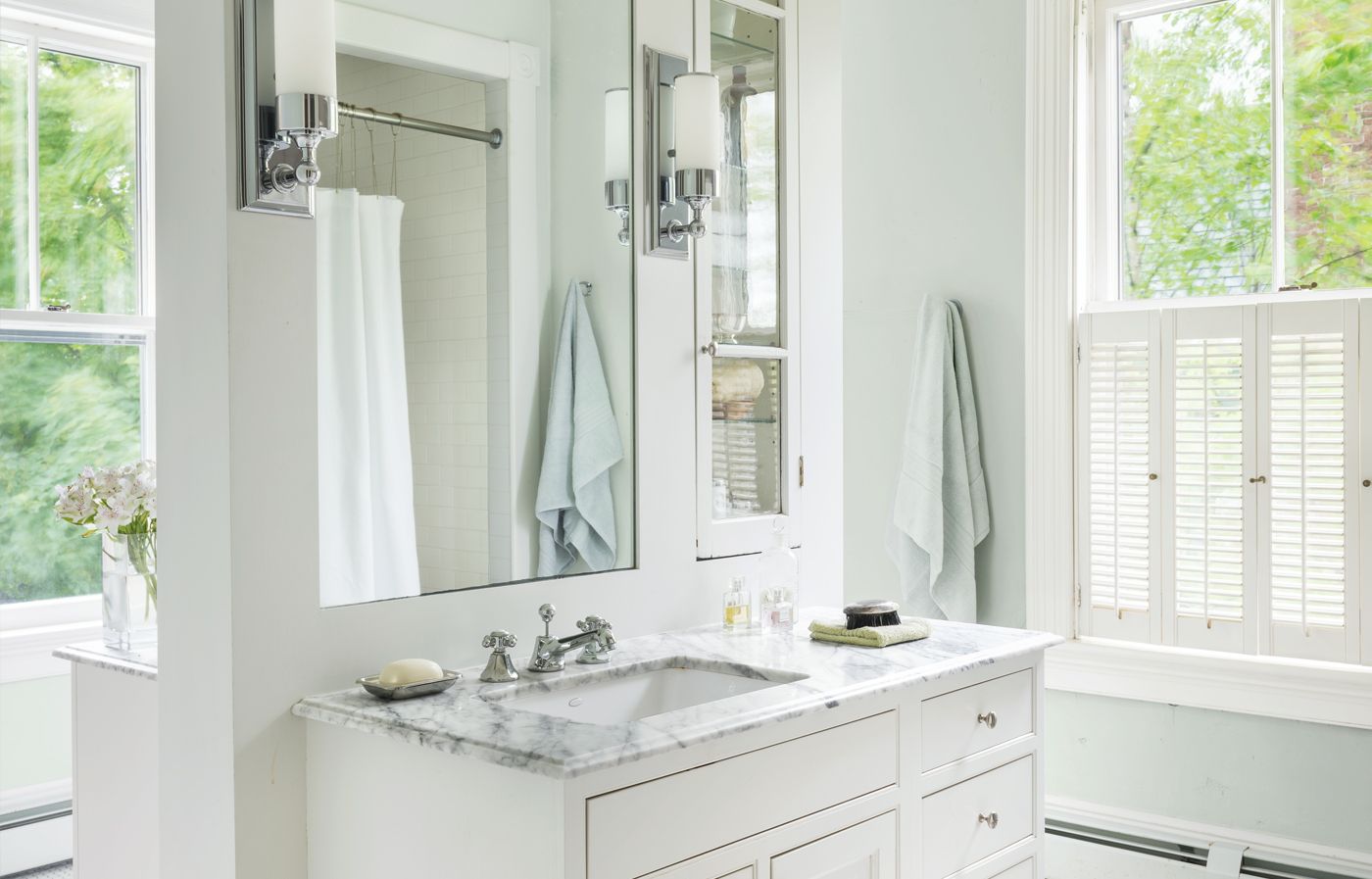 If you're wondering where Peter was during all this, he was saving his energy for finishing touches, a subject he has strong feelings about, Kirby notes. At one point the two women decided the yellow they'd picked for the dining room should really be a dramatic dark brown, so they climbed ladders and did the job themselves. "Dad kept coming down the stairs saying, 'No no, I don't like it!' He was threatening to call the painters!"
Shown: The new master bath has back-to-back vanities and built-in medicine cabinets made from salvaged glass doors.
Paint: C2's Salt Water (walls)
Tile: American Olean
Faucet: Sigma
Sinks: Kohler
Sconces: Restoration Hardware
Inviting Guest Bedrooms
But it ended well. Once curtains were hung, rugs unrolled, and furniture arranged, Peter could see how the palette reinforced the natural flow, one of his favorite things about the house. "When it was all done, I loved it, and I understood how it fit in with the overall design scheme," he says. "They know what they're doing."
Shown: Guest bedrooms are invitingly serene.
Headboard: Wisteria
Bedding: Pine Cone Hill
Soothing Pale Neutrals in a Guest Bedroom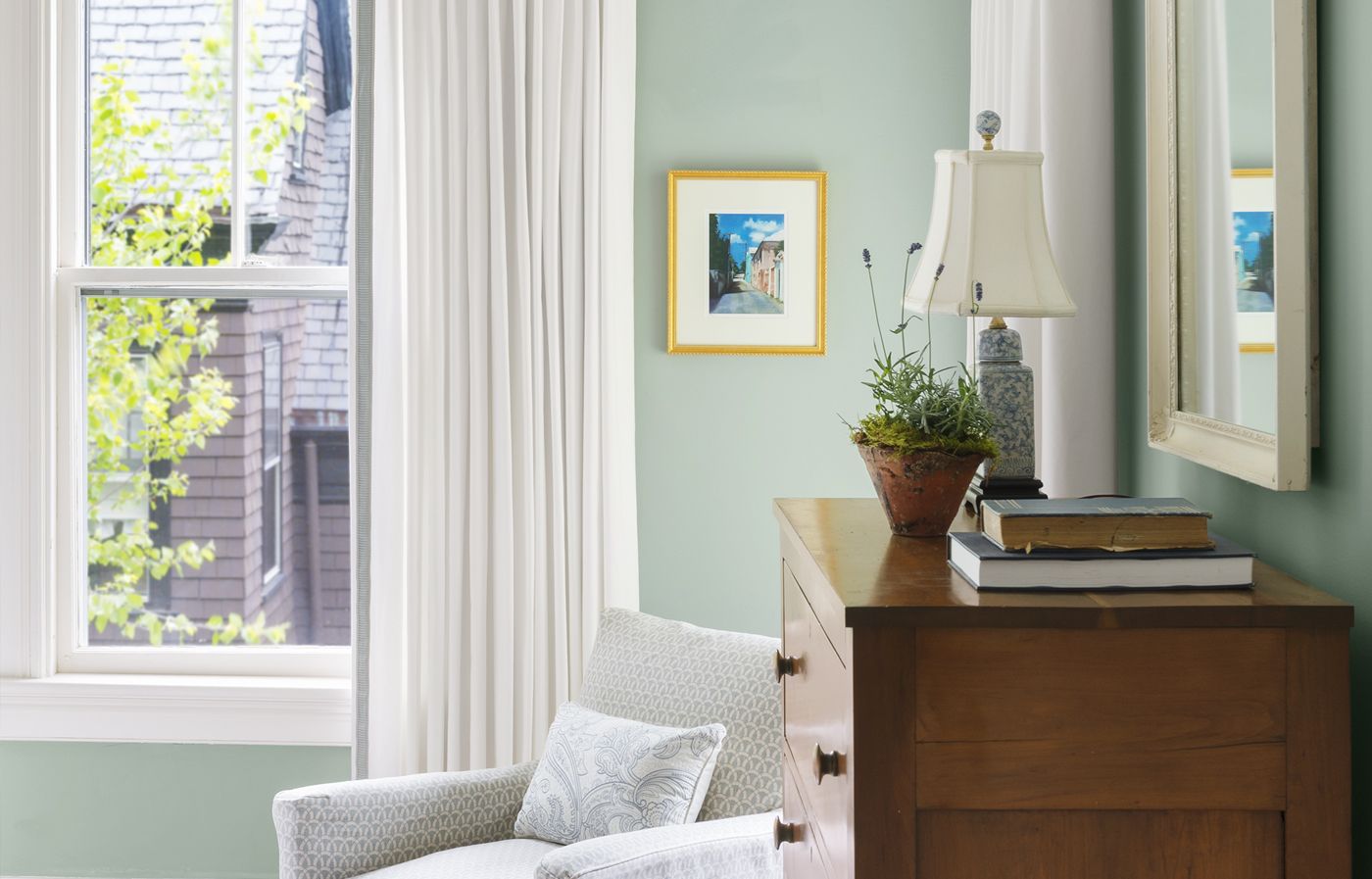 But it ended well. Once curtains were hung, rugs unrolled, and furniture arranged, Peter could see how the palette reinforced the natural flow, one of his favorite things about the house. "When it was all done, I loved it, and I understood how it fit in with the overall design scheme," he says. "They know what they're doing."
Floor Plan: First Floor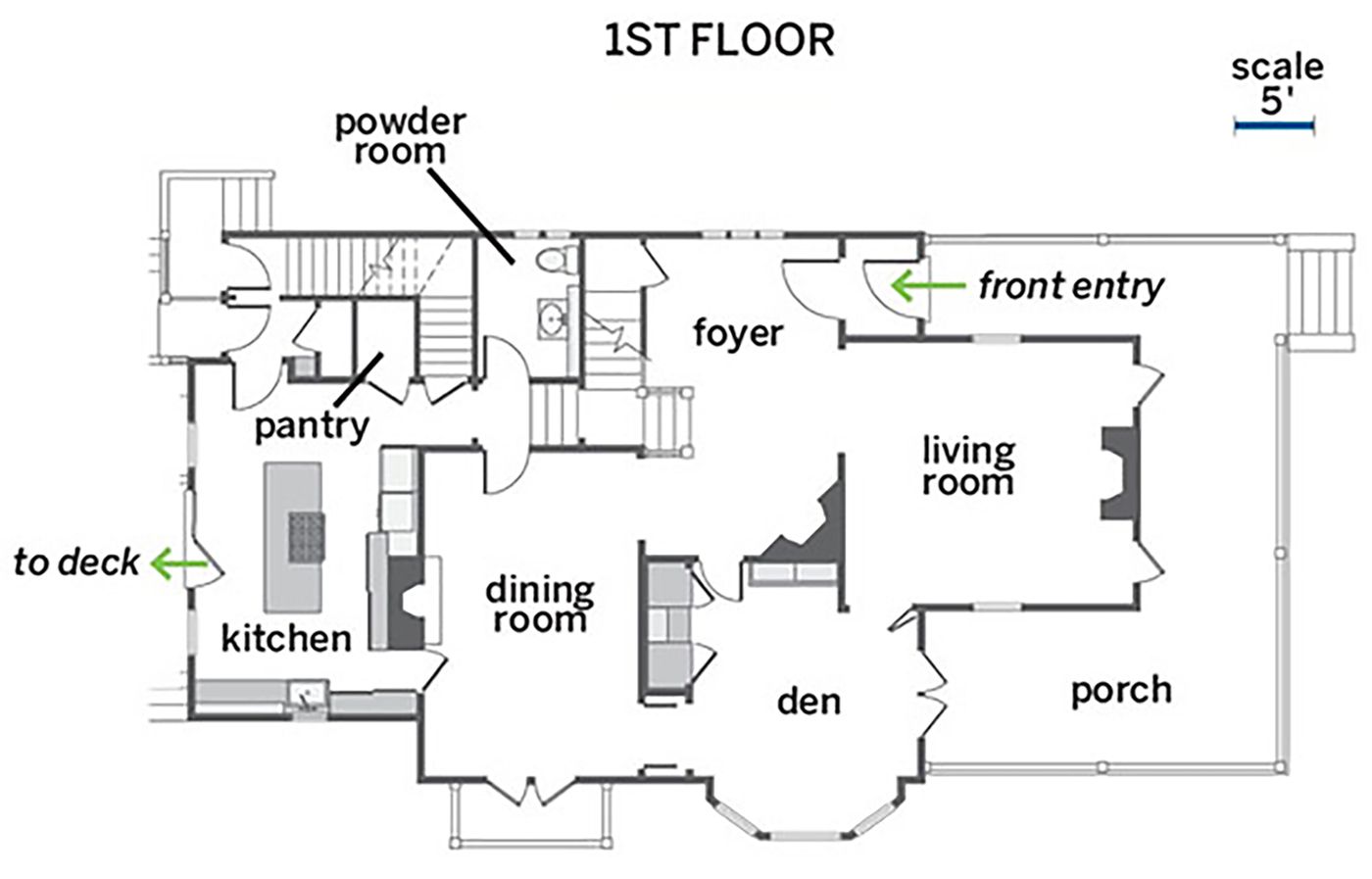 During the redo of the 4,200-square-foot house, the homeowners took down a tacked-on sunroom and rebuilt the porch. They merged three rooms to create a kitchen, turned the first-floor bath into a powder room, and annexed one of four bedrooms to make a master suite.
Floor Plan: Second Floor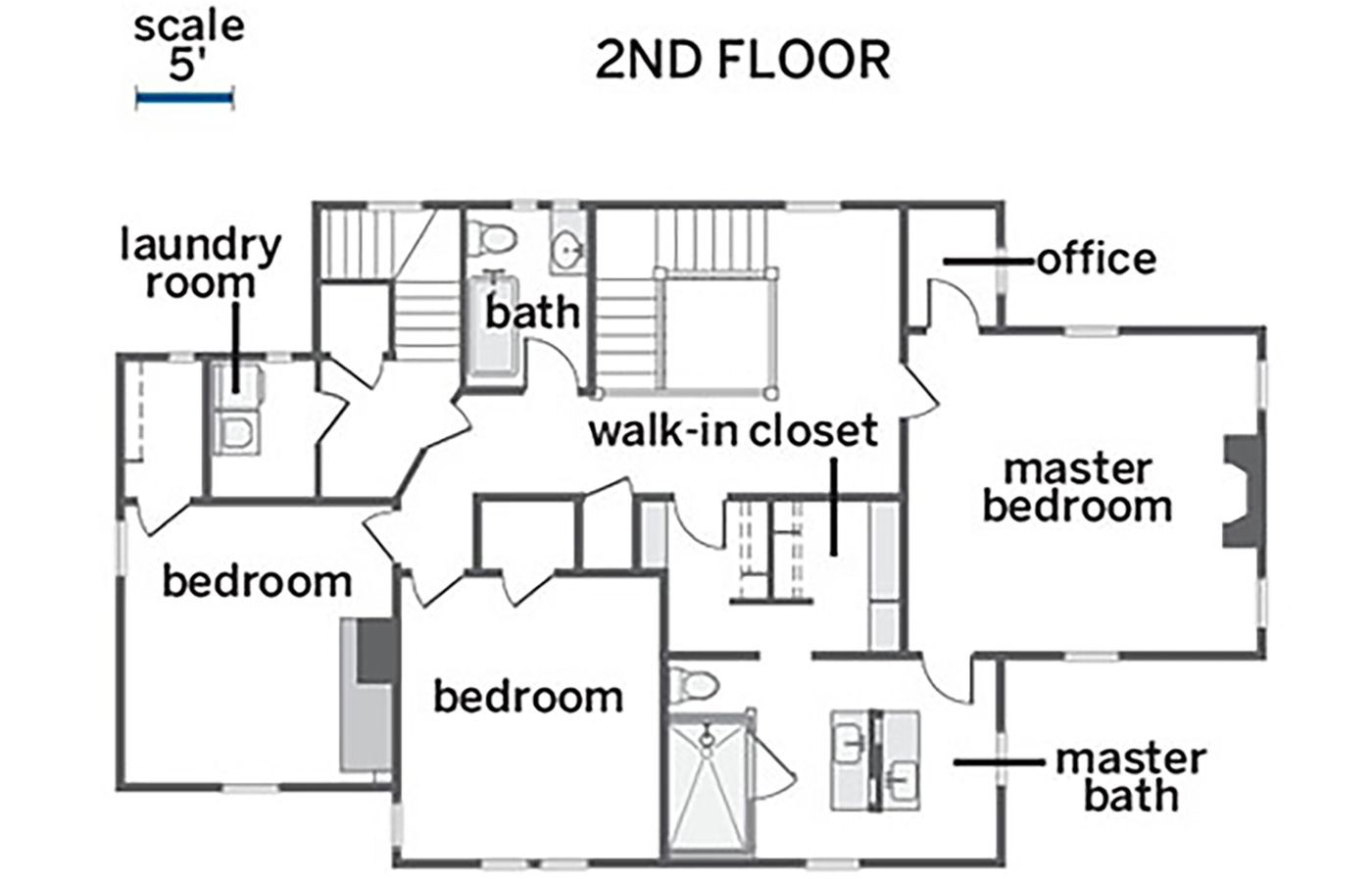 An existing third-floor apartment, not shown, was also renovated.