A Forever Home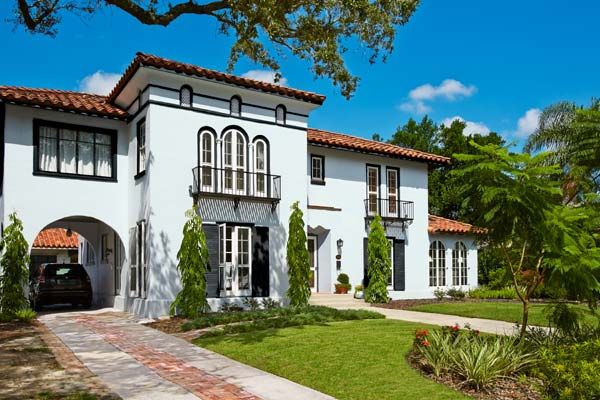 "It was pitch black in there," Aimee Spencer says, recalling the first time she tried to poke her head into her family's new home. Operative word: tried. "The vegetation was way too close." And once she'd thrashed through it, she saw that "the draperies and shades had dry-rotted off their rods and rollers," she says. "There were layers of pet hair." It was hard to see the flooring for the fleas; one of the absentee owners had given a crowd of feral cats the run of the place, suggesting that he was not quite sold on the idea of making a sale.
"That house is not a good idea," the Realtor said, speaking from a safe distance.
Shown: Sandblasted, painted, and sprung from its jungle, the house now qualifies as a keeper.
Hidden Potential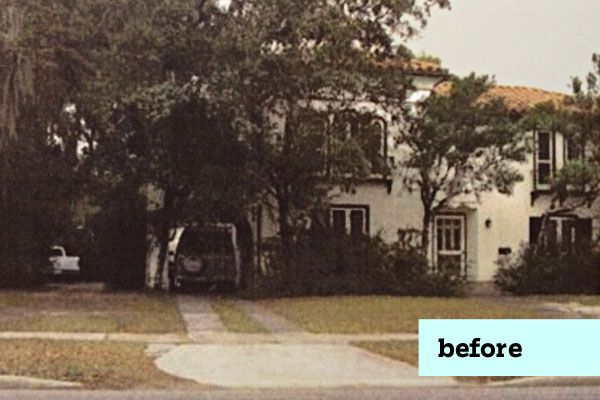 Luckily, Aimee and her equally game husband, Michael, had eyes only for what hadn't been ruined: 9-foot-4-inch ceilings trimmed with crown molding, arched French doors with dainty locksets and glass knobs, and generous rooms in a compact, free-flowing plan. The three-bedroom, two-and-a-half-bath house had lost its bearings since springing up in central Florida about 90 years ago, but it had retained so many windows, you could almost feel the cross-ventilation—assuming you could get them open.
Shown: The 1920s Mediterranean Revival was eyed as a teardown.
DIY Family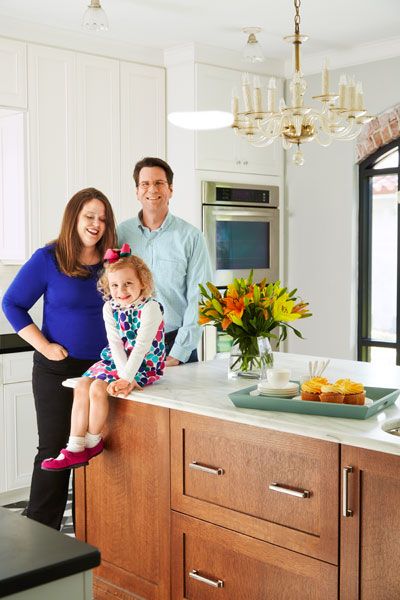 "The house had good bones and was begging to be rescued," says Aimee, in the anthropomorphizing manner of old-house champions. "It was on nearly three city lots in a desirable ZIP code, so most people saw a teardown."
Shown: Homeowners Aimee and Michael Spencer, here with daughter Ava Grace, 4, did much of the work themselves.
Unusual Archway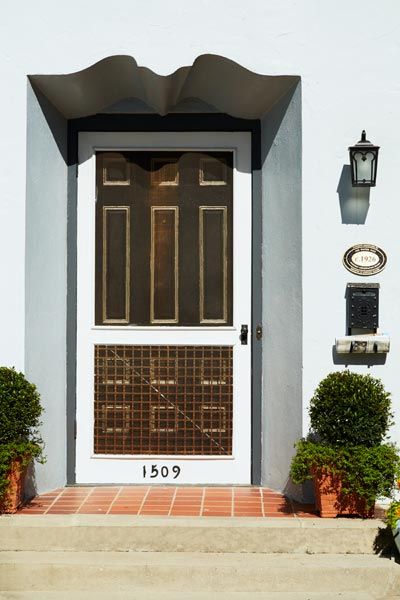 Michael had been scouting for a place near his new job when he spotted this one, sitting back from the road in Orwin Manor, a 1920s subdivision straddling the border of Orlando and Winter Park. A rhythmic array of windows punctuated the facade, some small, some arched, some doubling as French doors, many still framed by thin lines of black paint.
Shown: The front entrance held on to its unusual archway and original door, lantern sconce, and quarry-tile stoop.
Eclectic Details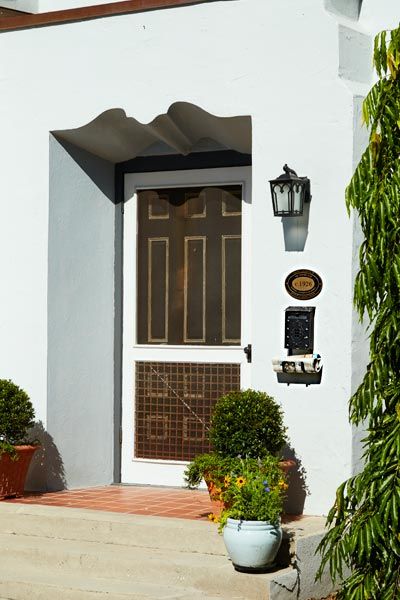 While the exterior was dingy, the front entrance had held on to its ornate archway and original screen and entry doors, sconce, and quarry-tile stoop. Red-clay roof tiles, iron balconies, an arched porte cochere on one side and a sun-flooded "Florida room" on the other: The stucco-on-concrete-block confection was a triumph of Mediterranean Revival style with hints of Italian Renaissance—and, truly, they don't make them like that anymore.
Shown: The stucco is now a custom pale blue.
Saving the Original Charm
While the house had escaped various remodeling crazes unscathed, the wiring was scary, the baths lacked hot water, and the front door no longer had a knob. Filthy carpets covered the heart-pine flooring upstairs, and the oak floorboards downstairs couldn't be saved. Miscellaneous car parts and lawn equipment—former owners had been in the yard-care business—filled the garage and rusted in the underbrush.
"Our Realtor thought we could do much better. She practically cried during closing," Aimee recalls.
Shown: The master bedroom kept its original Juliet balcony.
Period-Style DIY Bath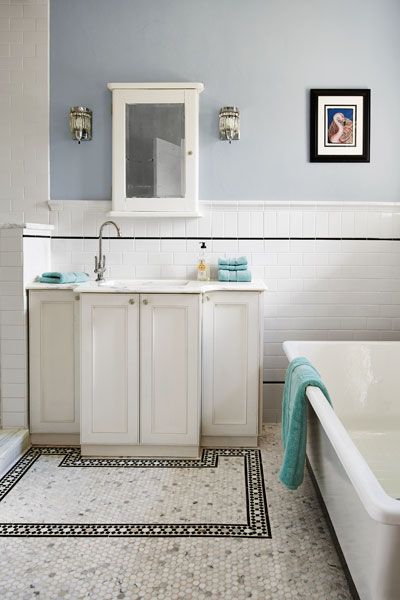 By then the couple had bid good-bye to their former house, packed up their young daughter, and moved into a short-term rental. That meant they had keys to a new house but only five months to turn it into a home.
The two plunged in, filling three 20-yard dumpsters with abandoned furniture, shattered plaster, and mind-boggling mounds of debris. As the old bones emerged, the couple liked what they saw. The only area that needed major work was around the kitchen. The two baths upstairs would have to be gutted, but not a big deal, says Aimee, a cheerful woman with a lilting voice. "Michael is a project manager at SeaWorld—moving a toilet, to him, does not involve a lot of emotion."
Shown: The master bath has a new layout and period-inspired finishes, including a vintage medicine cabinet and a freestanding cast-iron tub.
Budget-Minded Kitchen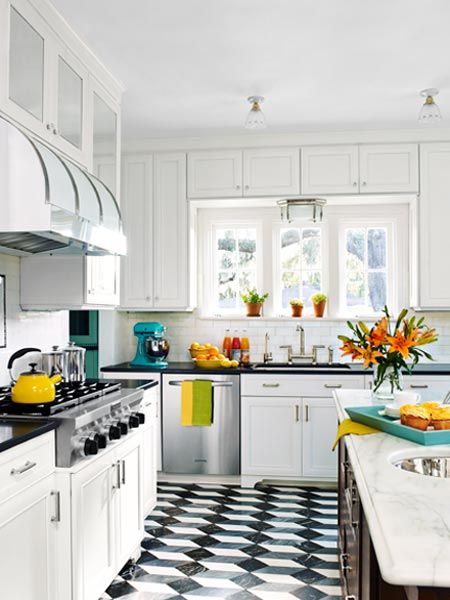 The couple shared the job of general contractor. Aimee balanced savings and splurges while scouring for salvageable materials, remaking the basement and closet light fixtures with shades found on eBay and installing them in the kitchen.
Shown: Home-center cabinets and salvaged subway tile take a backseat to a floor of honed marble tile, custom cut to create a stunning three-tone pattern with nearly invisible grout lines.
Salvaged Ceramic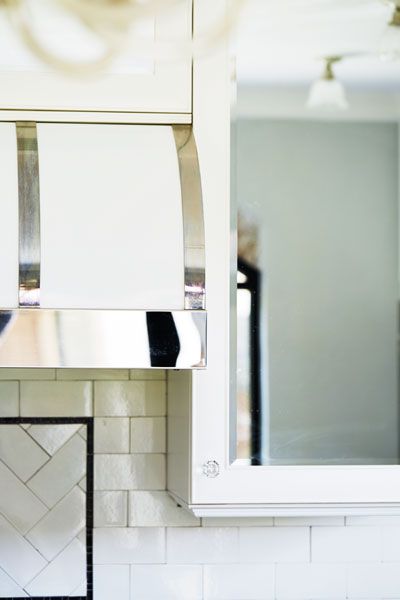 When workers threw chimney bricks into the dumpster, she climbed inside to retrieve them. "As long as I was in there, I thought I'd bang off the mortar," she says. "That's how I broke my thumb." The bricks now line a walkway. Subway tiles pried from bathroom walls became the kitchen backsplash. "I even reused towel bars," she says.
Shown: Subway tiles pried from the bathroom walls became a kitchen backsplash. New pencil tile frames the inset.
Restored Historic Details
Rather than replace the windows and doors, the couple shipped them off to a workshop nearby, where they were steam-stripped, reglazed, and primed: "Ten sets of French doors, 12 double-hungs, and 30 casements," says Aimee. "And not all at once, because that would make it hard to secure the house and still see what we were doing." Michael put them back in, using a fishing-line trick he picked up on YouTube to avoid fraying sash cords as he fed them down their channels.
Shown: Three sets of restored French doors flood the high-ceilinged dining room and its new oak flooring with light.
Vintage Appeal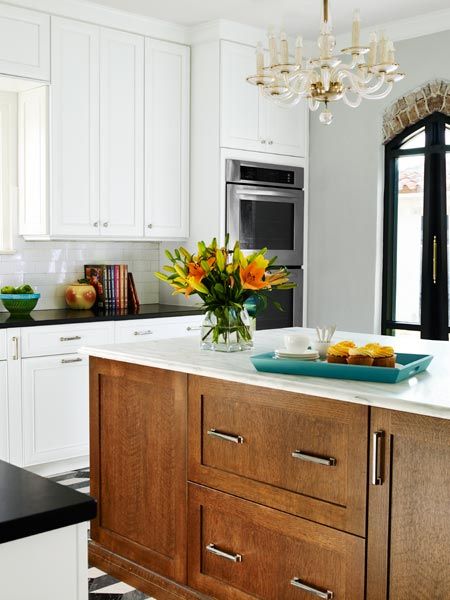 It was hard to find subcontractors sympathetic to their way of doing things. Aimee grilled four roofers before one agreed to work with the tricky half-barrel tiles. She nearly came to blows with a tile setter who could not wrap his mind around the rectified edges and patterns found in century-old subway stations. Then there was having to persuade the plumber and carpenter to lay pipes in open channels that could be hidden by three-piece crown molding in the kitchen.
Shown: During massive replastering, a ribbon of brick, seen at right, was left exposed. The chandelier over the marble-topped island was a $100 vintage-store find.
Old-World Influence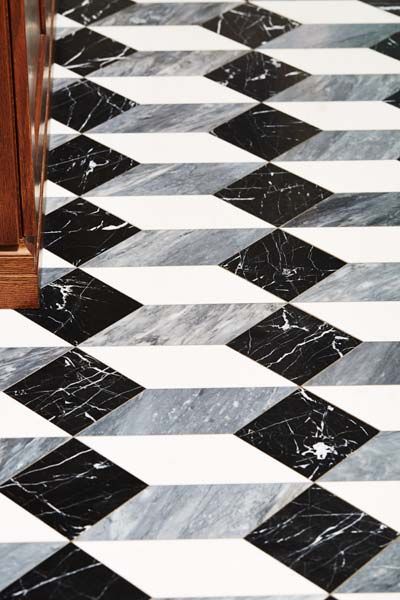 More complicated was laying a tricolor kitchen floor in a pattern that evokes old-world artistry. This meant honing batches of marble tile that had too much shine and persuading a tile cutter to turn 12-inch squares into smaller rhomboids and squares, then rectifying any eased edges and reassembling the pieces on netting.
Shown: The honed-marble floor was made from tiles that were cut into rhomboids and squares and reassembled to trick the eye.
Architectural Accent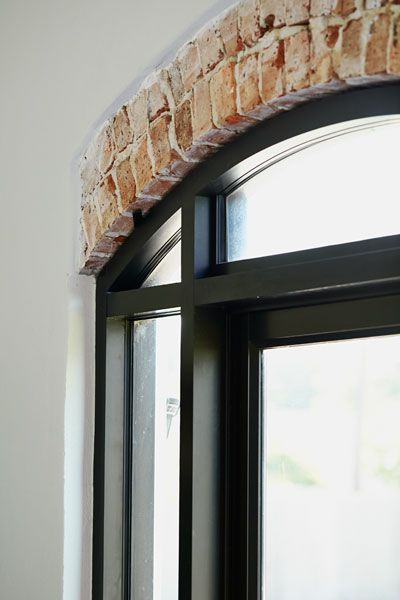 To speed things along, Aimee volunteered to trim excess netting from the back of each assembly, a project temporarily suspended after a subfloor caved under the weight of a tile-laden pallet, trapping one of her feet. Michael came running with a power saw just as a cement mixer overloaded the feeble wiring and the lights went out.
Shown: Exposed brick adds a bit of rough-hewn texture over an arched opening in the kitchen.
Smart Kitchen Design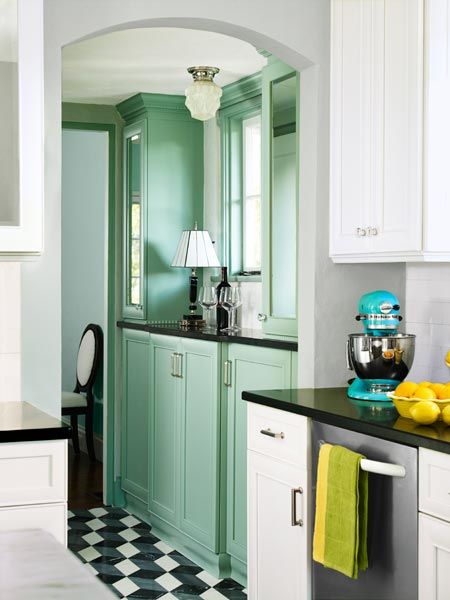 As a seasoned homeowner and self-taught designer, Aimee paid attention to details, springing for an enameled range hood with steel trim rather than one of painted wood, for example, because "wood is hard to keep clean over a cooktop, and all-metal would have been too industrial."
Shown: The new butler's pantry has beveled-mirror cabinet fronts to match those surrounding the range and an arched opening replicated from existing ones.
Custom Touches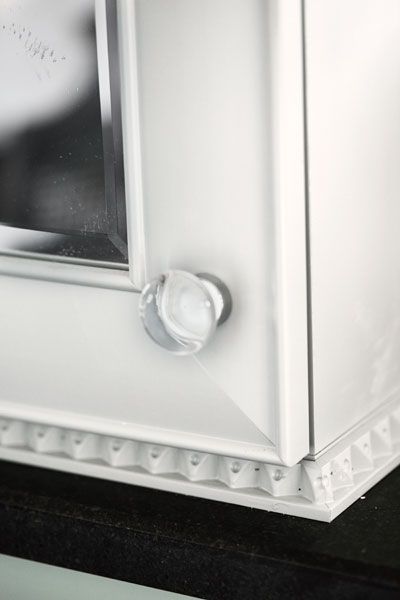 She customized home-center cabinets with mirror insets "to reflect the afternoon sun; it helps make the space seem larger and keeps it from being too white."
Shown: Bands of trim, along with light-reflecting glass knobs and mirrored fronts, add charm to cabinets.
The Sunroom
They hired help to install heating and cooling, winterize a sleeping porch, insulate and replaster walls, sandblast the stucco, and tear out those ragged trees. Remarkably, the whole project got done in just five months and landed an award from the Florida Trust for Historic Preservation.
Shown: The sunroom, aka the Florida room, has its original crank-open windows and a painted concrete floor.
Breezy French Doors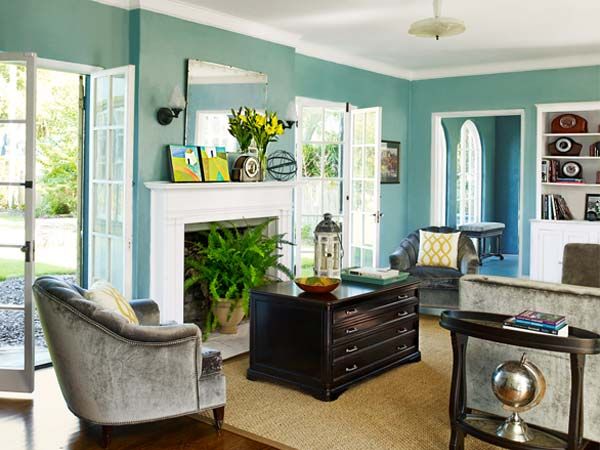 Today the house is an updated version of its original proud self. When the family gathers in the kitchen or the Florida-meets-Mediterranean sunroom, it's hard to believe this is the same place that almost made their Realtor cry. "I fell in love with it when I saw the original listing," says Aimee. And all that work was worth it. "We'll never move again—even if we wanted to, nothing else would suit us as well."
Shown: Like the rest of the house, the living room was designed to maximize cross-ventilation, with doors opening in the back as well as the front.
Floorplan: First Floor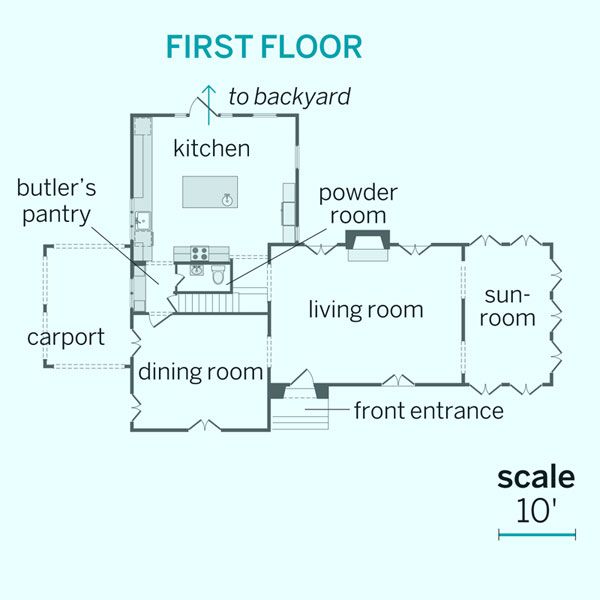 The redo increased the square footage slightly, to 2,896 square feet; reworked the kitchen area to eliminate a chimney, absorb a small porch, and open up the space; and relocated the powder room.
Floorplan: Second Floor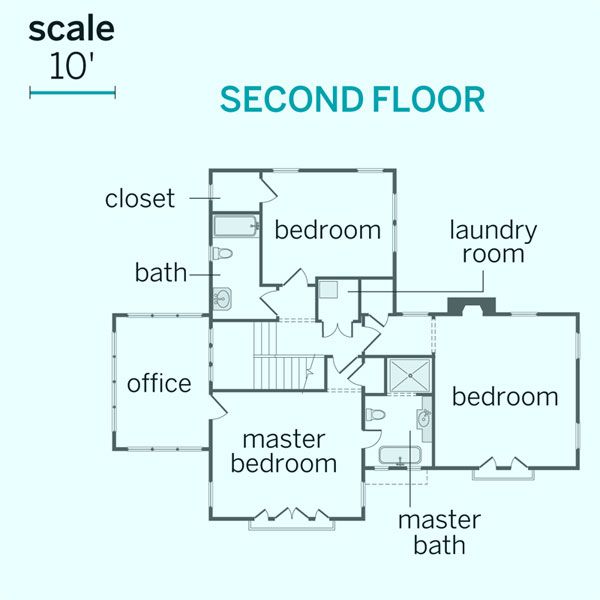 Upstairs, one bath was enlarged and became part of the master suite, and a sleeping porch became a year-round office.