A New Beginning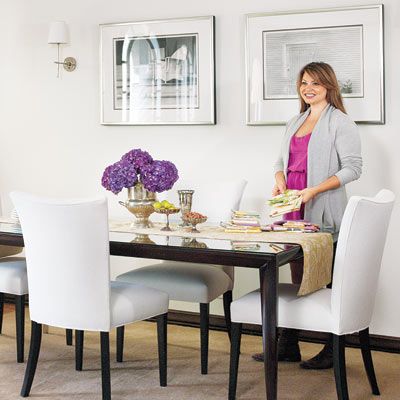 Starting from scratch may be everyone's decorating fantasy, but most people have to work with what they've got. Take empty-nesters Trish and Tom Rump, who turned to designer Kelly Keiser to update the staid Mediterranean-style interior of their new San Francisco home. Graced with original arched windows, passageways, and niches, the place also came with hardwood floors, an elaborate fireplace, and a remodeled kitchen too new to redo.
Shown: San Francisco interior designer Kelly Keiser helped update this home with pale colors and modern accents.
Lightening Up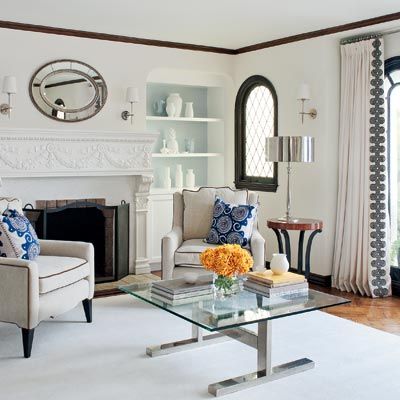 With their kids grown and on their own, Trish found herself drawn to white rugs and fragile porcelain collectibles. Jettisoning the existing dark finishes and iron sconces and working with some pieces the couple owned, Keiser introduced a pale palette and a smattering of contemporary items, like a chrome lamp and glass-top table, balancing them with soft draperies and cushy pillows. Periwinkle paint helps the pottery pop, and carpet bound into area rugs shows off the refinished oak floors. "The result honors the architectural uniqueness of the place," says Keiser, "while giving it a lighter, more modern feel." One part Mediterranean, you might say, and two parts well-furnished empty nest.
Shown: Dark upholstery piping and drapery trim help wood moldings blend into a lightened-up scheme.
Bold Bouquet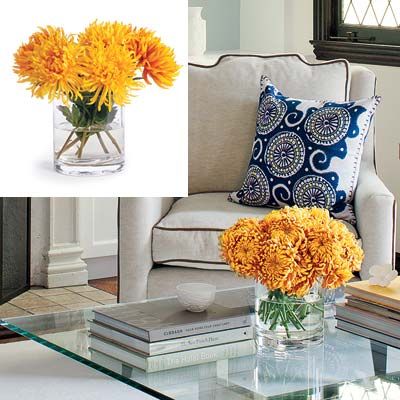 Bronze mums add rich color; plant some to snip yourself.
About $17.50; kingsmums.com
Curvy Legs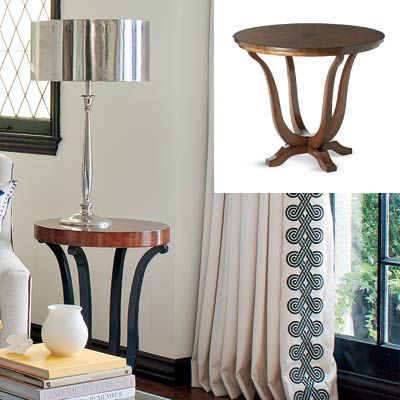 The Ginger Bowed Leg Table in American gumwood with walnut inlay has neoclassical lines.
About $748; danambrosehome.com
Shapely Vessels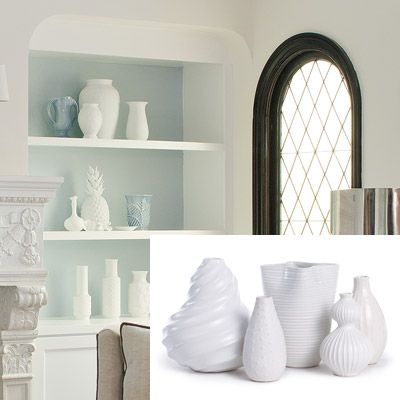 From left: Medium Spiral, $75; jonathanadler com. Färm, $3; ikea.com. Pinch, $78, and Acapulco Diffuser, $68; jonathanadler com. Mini Ceramic Bowling Pin, $8; westelm.com
Light Reflector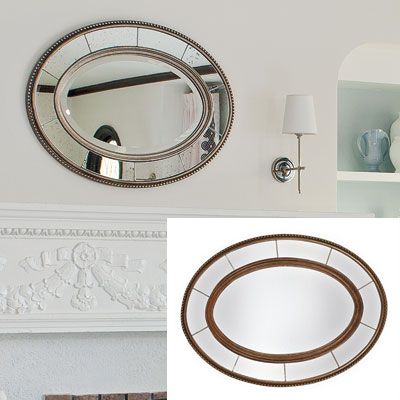 This beaded mirror was inspired by an antique.
About $295; shadesoflight.com
Graphic Pillow Covers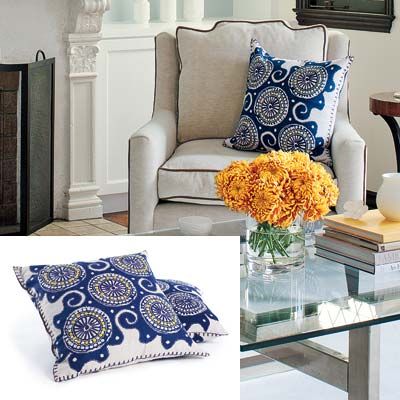 The navy mandala pattern has yellow embroidery on one side.
About $100 each; kellykeisersplendidinteriors.com
Silver Lamp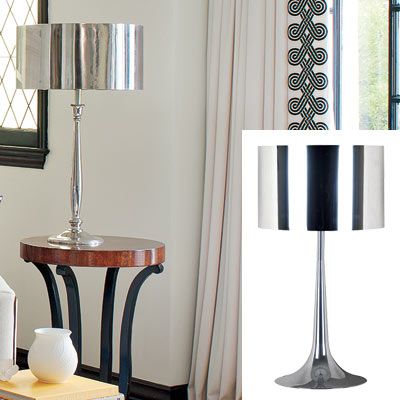 Kenroy Home's Keystone lamp echoes the chrome coffee table.
About $106; csnstores.com
DIY Drapes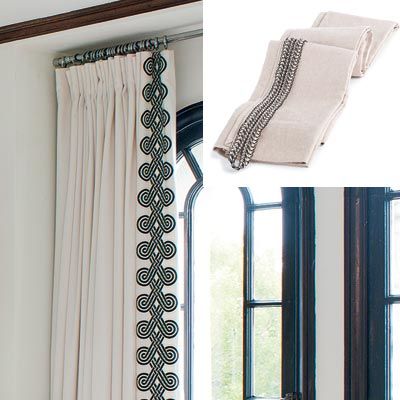 Dress up simple curtains with trim.
Peyton Drape, $79 per panel; potterybarn.com. Ivory and black braid, $5.98 per yard; mjtrim.com
Neat and Neutral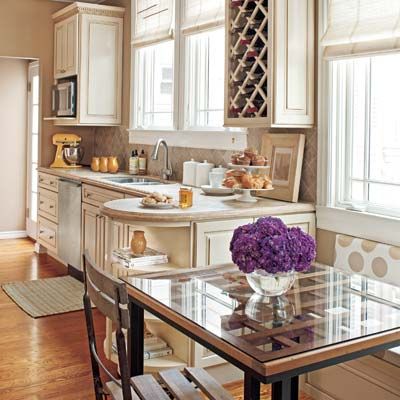 The kitchen boasts ample workspace and generous cabinets; glass fronts and a wine rack echo the home's vintage windows.
Pop of Color
Mustard, gold, and egg-yolk yellow accents enliven the miles of taupe.
Sunny Stoneware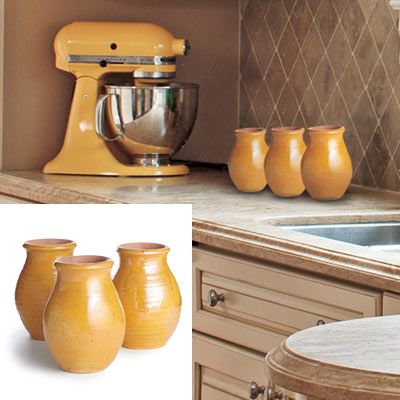 Earthenware jars add a welcome dose of color and texture.
About $14 each; potterybarn.com
Smart Spray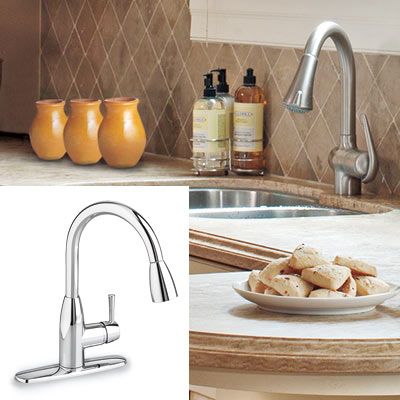 The Fairbury chrome pull-down faucet makes cleanup a cinch.
About $108; homedepot.com
Stylish Storage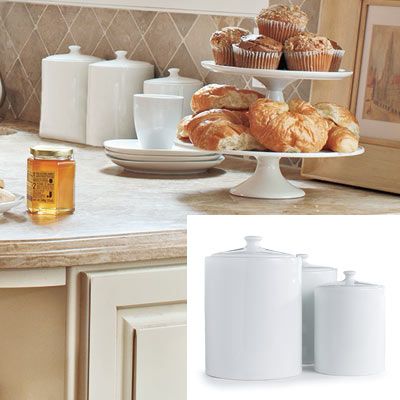 The lids on these porcelain canisters are ringed with rubber to keep dry goods extra fresh.
About $9-$13; crateandbarrel.com
Golden Whip
Parked on the countertop, this classic stand mixer delivers a round-the-clock dose of sunny color.
About $300; shopkitchenaid.com
Woven Mat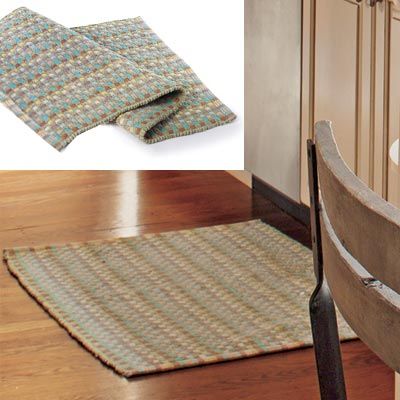 Soft shades on a patterned rug add warmth underfoot.
About $25; harvesthomestores.com
Fun Fabric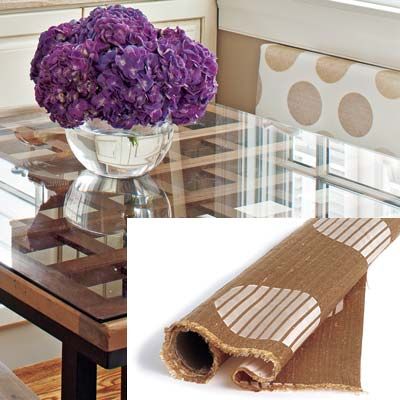 Gold and cream polka dots cheer up kitchen seating.
About $159 per yard; kravet.com
Elaborate Cabinetry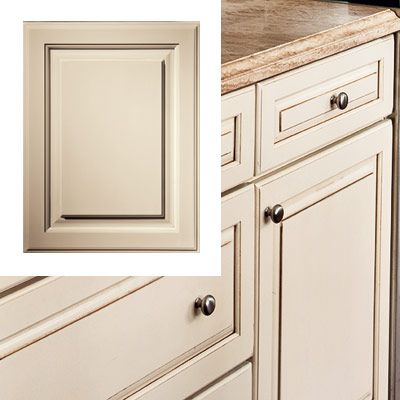 Painted and glazed doors with detailed raised panels dress up the work zone.
Custom colored door, starting at about $125; plainfancy.com
Cooking Tools
Spatulas and pastry brushes double as color accents.
About $9-$14; surlatable.com
French Oven
A black knob and yellow enamel lend a classic look to Le Creuset cast iron.
About $270; cooking.com
Pop of Pattern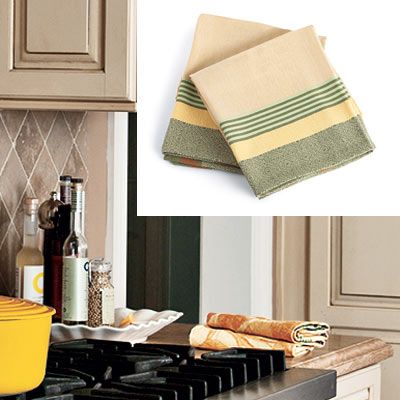 Gold-and-green towels make dish drying a little brighter.
About $18; williams-sonoma.com
Day Dreaming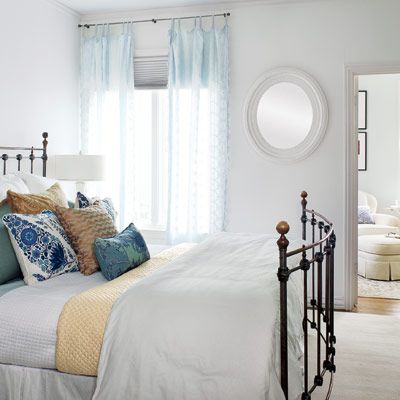 Rich golds, ethereal blues, and acres of white create a dreamy bedroom scene while a graphic black-iron bed keeps the bedroom grounded.
Light Diffuser
Embroidered linen gives these pale blue Olivia panels a pleasing drape.
About $304 each; bellanottelinens.com
Plush Pillows
Flax, gold, and dusty-blue cushion covers enliven the room with color and pattern. Bloom, Jute Braid, and Alessandra Floral, $29-$39 each; potterybarn.com
Looking Glass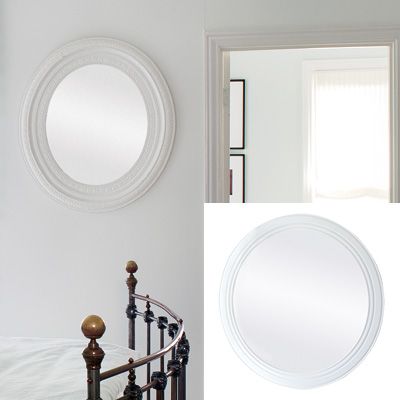 The Chelsea Round Mirror echoes the room's trimwork.
About $149; pbteen.com
Luxe Coverlet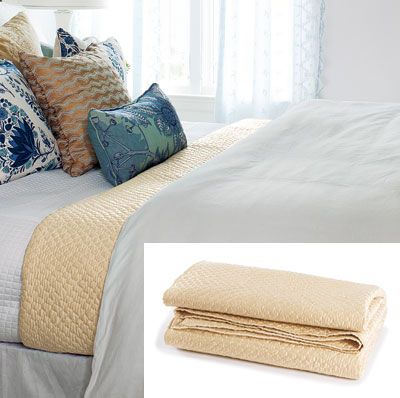 The textured polysilk Lexington Quilt picks up the palette's golden tones.
About $139; westlem.com
Sound Sleeper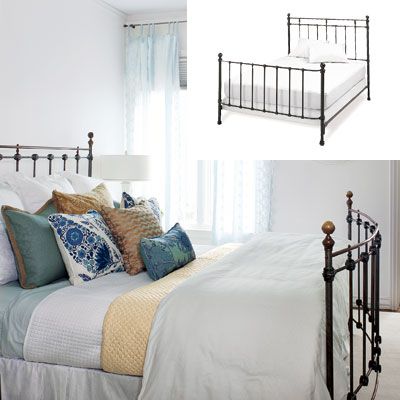 The Cottage Iron Bed has a bow front and finial-topped posts.
About $599; llbean.com
Sage and Lavender Bath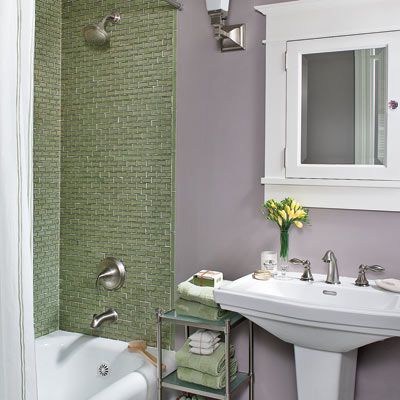 Sage-green tile and lavender-gray walls make for a soothing scheme in a streamlined bath.
Up Lighting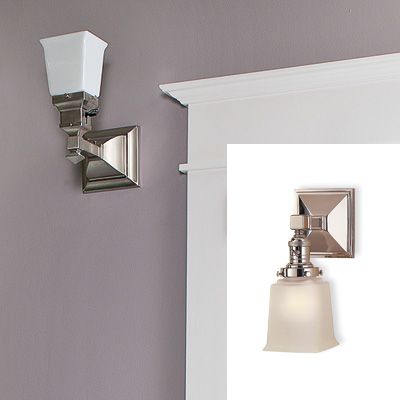 The Boston Square Sconce gives off a flattering glow.
About $210; circalighting.com
Arc Faucet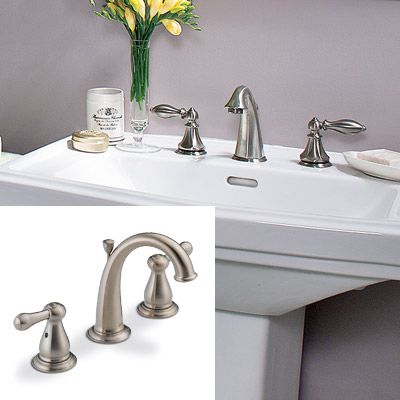 Delta's Leland spout has an updated traditional look.
About $237; homedepot.com
Tub Tile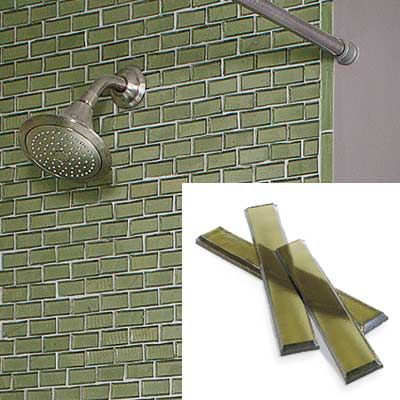 Laid in a brick pattern, rectangles of sage-green glass create a soothing surround.
About $45 per square foot; annsacks.com
Stowaway Zone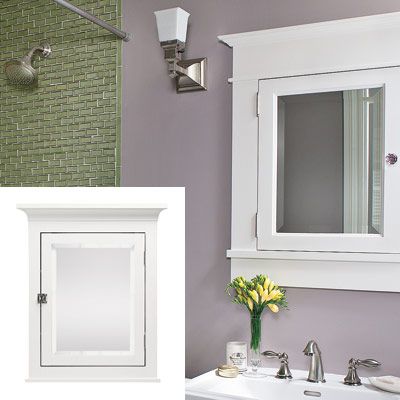 The Cartwright wall-hung medicine cabinet boosts bath storage.
About $229; restorationhardware.com
Classic Basin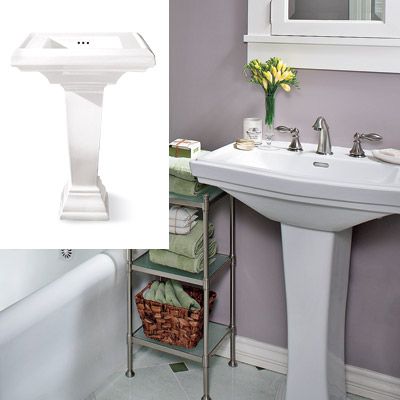 American Standard's Town Square Pedestal sink has graceful lines and an airy look.
About $364; homedepot.com
Splash Guard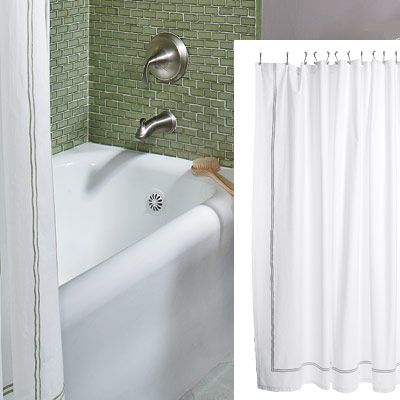 The Italian Hotel Satin Stitch Shower Curtain's tailored trim won't fade or bleed.
About $79; restorationhardware.com