Fresh Faced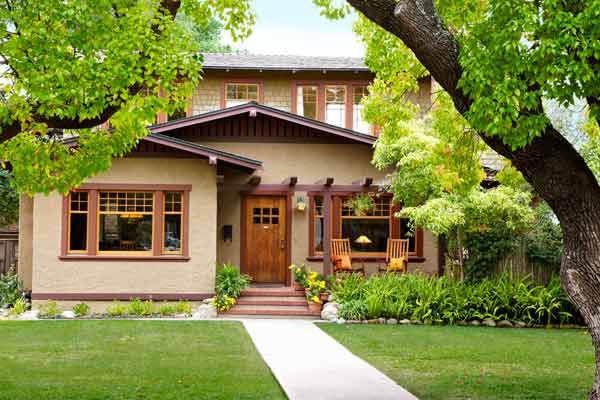 Ripping up floors, yanking out windows, wrestling with vent ducts, sleeping in dust, eating out of a plug-in frying pan—hey, "it makes a house your own," says Pierre Rademaker, the brawn behind the redo of the house he shares with his wife, Terri, in San Luis Obispo, California. "It means you own it, emotionally….There's something primal about creating your own shelter. You can't really delegate it."
Easy for him to say. An irrepressible DIYer with a helper-enabler of a spouse, Pierre doesn't mind crouching over yellowed linoleum adhesive and scraping until his arm practically falls off—or the floor cries uncle. Asked what it was like to strip layers of paint off pitted, nearly century-old brick and Douglas fir, the couple wax philosophical. "It was stylish to paint woodwork white in the 1930s," Pierre says graciously. Terri adds, both of them laughing, "Unpainting it is a lot of work!"
Shown: With its pergola, exposed rafters, and grid-pattern lights, the house was just right for a couple with a zeal for period details. New siding matches the original pebbly stucco.
Surprise Find on a Drive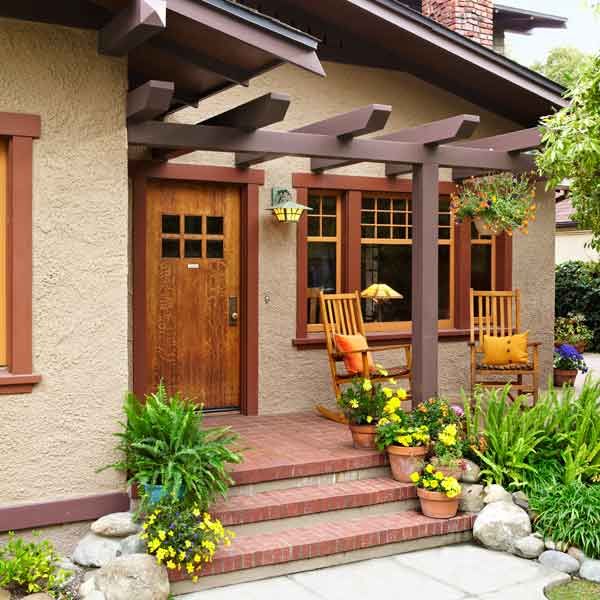 The two long ago earned their tool belts. At 15, early achiever Pierre ripped out his parents' kitchen while they were visiting Europe. More recently, he and Terri renovated a ranch house, where they raised their kids.
At that point, most couples would relax. But in time they began craving the ideal empty nest—something compact and a little needy, with history and character, within walking distance of town. They found it one day while driving down a street lined with an architectural walking tour's worth of older homes: a Craftsman-Prairie mix hiding behind a For Sale sign. "I yelled 'Stop!'" Terri says. "Literally."
Paint: 6102 Portabello and 7509 Tiki Hut (cement finish); Sherwin-Williams. 8366 Heartwood and 7786 Contemporary Maple (trim); Frazee
Roof shingles: GAF
Shingle stain: Sagebrush; Cabot
Exterior plaster: Leroy Richards, Morro Bay, CA; pirateplastering.com
Perfect Fit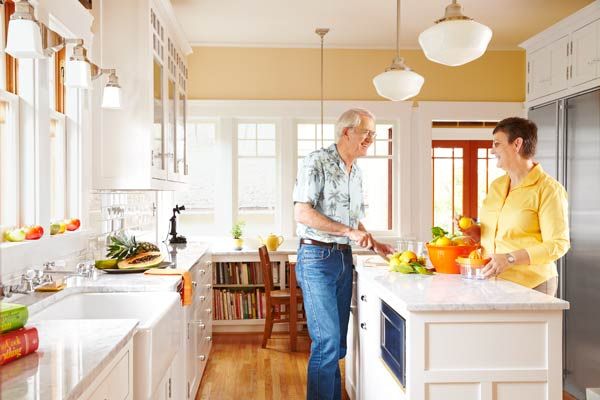 They backed up and took a look. The house was in iffy shape, with newish siding that hadn't worn well, and it was also overpriced. But the place, with its early version of an open plan, radiated potential. Built in 1915 by William J. Smith, who had a hand in the construction of William Randolph Hearst's San Simeon estate, it had held on to its original low-pitched gables, exposed rafter tails, windows with upper divided lights, and quartersawn-oak front door. In an unusual, charming touch, the second floor stepped back, as if to say, "This cross-gabled house is but a bungalow."
Shown: Pierre and Terri Rademaker flank the island prep space, which doubles as a landing spot for items from the wide stand-alone fridge. To ensure smooth traffic flow around the sink, they shaved 5 inches off the countertop depth and recessed the dishwasher 4 inches into the wall.
Paint: 7743 Cupola Yellow; Sherwin-Williams
Refrigerator: Liebherr
Microwave: GE
Nimble New Cook Space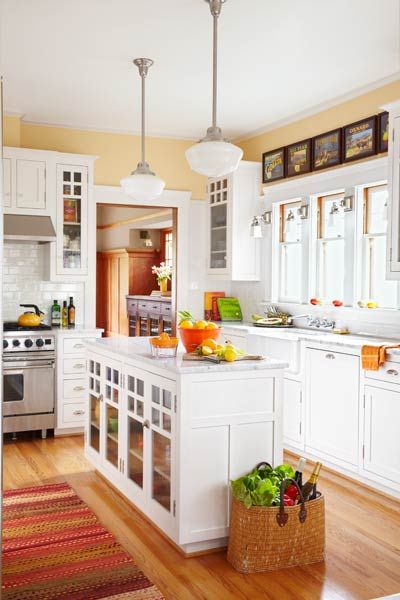 "We made a bid, which was rejected," Terri says, "then a few months later went back. This time they accepted it if we took the house 'as is.'" As in: needing new plumbing, wiring, roof—you know the rest.
Shown: Other period touches—shallow countertops, a wall-mount faucet—mingle with the latest appliances, including a leggy six-burner range and a paneled dishwasher.
Range: Jade Range
Range hood: Kobe Range Hoods
Light fixtures, pulls, and knobs: Rejuvenation
Sink: Shaws; rohlhome.com
Faucet: Chicago Faucets
Kitchen Cabinets With Craftsman Style
Soon enough, they were moved in and up to their elbows in paint-bubbling heat guns, chemical pastes, and infrared blistering devices. "You want something that can handle lead paint safely," Pierre says. "It isn't quick."
Shown: The kitchen island's glass-front cabinets echo the home's Craftsman windows.
Cookbook Nook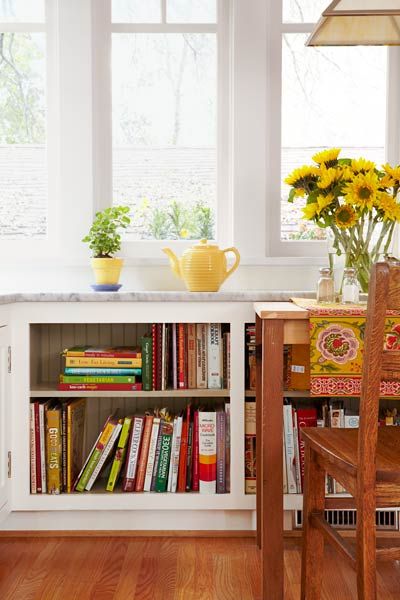 The original floor plans were long gone, but Pierre was able to suss them out, partly by studying old building permits. Previous owners had enclosed a screened porch and added a laundry room and bath at the rear and a first-floor bedroom on one side. The one-story additions were vintage 1950s, and the new owners saw no reason to save them. However, they also saw no reason to shrink the existing footprint, deciding instead to rebuild the additions and cap them with a new master suite.
Pierre did all the framing, reworking roof angles and intersections. He leaned a bit on Terri for help with insulation and drywall, then did all the painting, while agreeing to hand off tilework to seasoned pros.
Shown: Homeowner Pierre Rademaker built open shelves at the sunny end of the kitchen and added a small table away from the cooking zone, so guests and grandchildren can settle in without getting underfoot.
Beneath All That Paint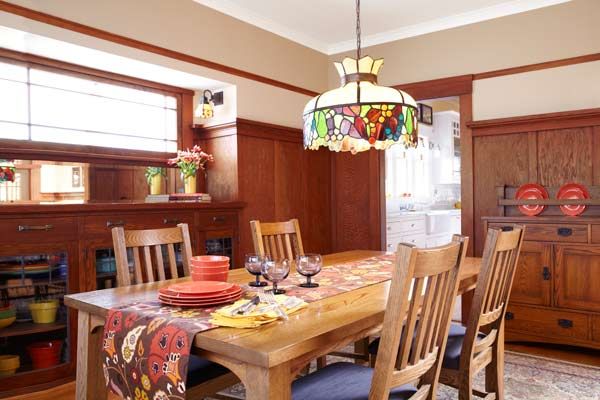 The couple took a similar period-sensitive yet practical approach to the kitchen, a sorry spot that needed new everything, plus a bit more room for two to cook. While a pro made and installed the cabinets, they did all the demolition and design. "We picked up 18 inches by removing most of a chimney that once served a wood-burning stove," says Pierre, who dragged a six-burner range into the old stove's place, funneling the vent-hood duct up to the roof through the chimney's remains.
Shown: After launching a stripping, sanding, and staining campaign, the homeowners were able to reveal the dining room's original woodwork. They added the leaded-glass doors to the built-ins, matching them to the window.
Paint: 8192 Graceful Gold (main walls) and 8193 Winter Garden (upper walls); Sherwin-Williams
Tableware: Pier 1
Accenting The Grain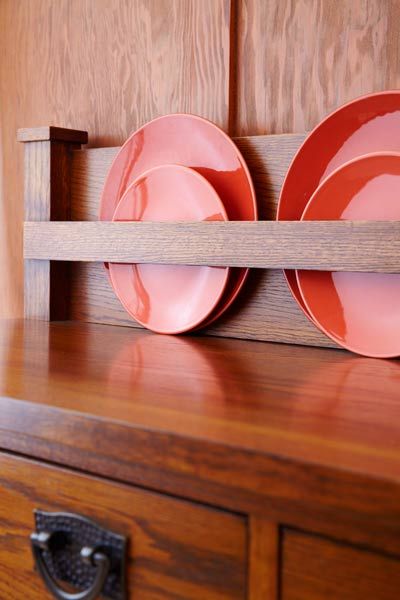 The quest for space didn't stop there. To make room for an extended run of cabinets and countertop on the sink wall, the couple took out a room-dividing peninsula. Then they "thinned out" the counter by 5 inches, which meant having to carve a recess in the wall for the dishwasher. "In the 1920s, counters were only 18 to 20 inches deep, which explains the invention of the wall-mount faucet," Pierre notes.
All of that left enough space for a narrow island, which in turn provided a landing spot for loading and unloading a 48-inch-wide fridge on the facing wall.
Shown: Pumpkin-colored place settings bring out reddish undertones in the new oak sideboard.
At Ease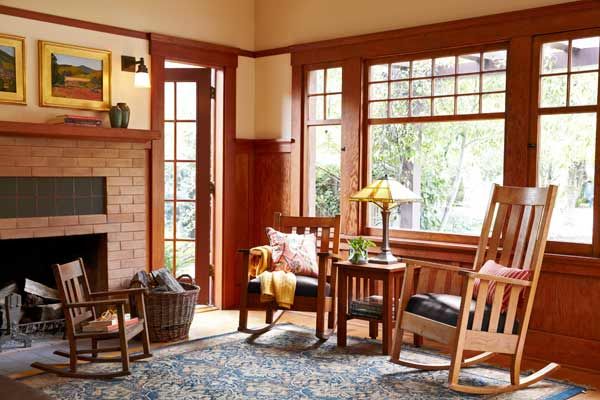 For Pierre, who runs a graphic-design firm, the kitchen's inch-by-inch redo meant sacrificing weekends and evenings for six long months. "We had very simple meals," Terri says. "We put the old fridge in the dining room, and I had a Crockpot and an electric frying pan." She pauses, thinking back. "We had to wash dishes in the upstairs bathtub. That was the worst, bending over that tub."
After the grout finally settled, "Our first meal was Thanksgiving," Pierre recalls. "The plumber was walking out as the guests were walking in."
Shown: Before adding period-style furnishings and lighting their first set of logs, the owners had to strip paint off the brick mantel and have a crew take apart the chimney and firebox, which had suffered from decades of settling.
Room With a View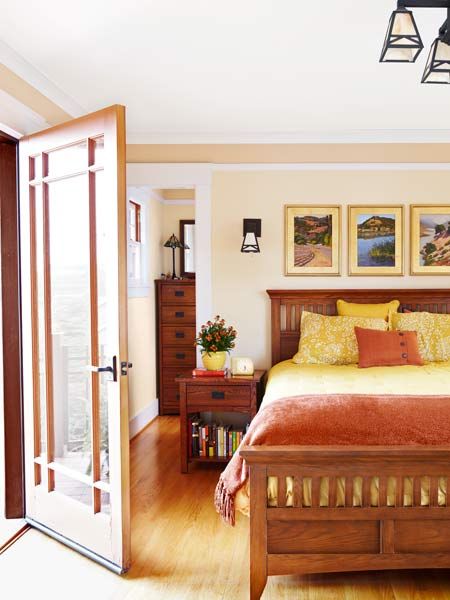 The couple's preservation-minded labor was sweetened when the town awarded the house historic status, yielding a roughly two-thirds cut in their property taxes.
By then the two had been breathing construction dust for nearly six years. As they had made their way from wainscot and fireplace restoration to pedestal-sink selection and bedroom-closet configurations, "We slept in every room, including the dining room," Terri says.
Shown: The compact master suite opens to a balcony overlooking the backyard. A walk-through closet has openings on each side of the bed.
Paint: 6350 Intricate Ivory (lighter wall color), 6358 Creamery (darker wall color), 7006 Extra White (trim); Sherwin-Williams
Light and Bright Master Bath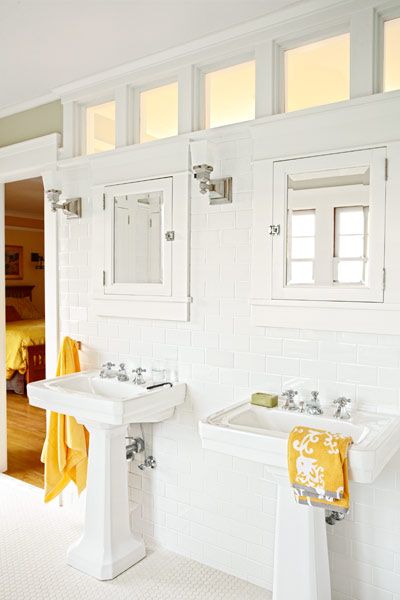 With their tax savings, they were able to turn attention to the exterior. They rebuilt an existing back patio, adding a deck, and built a new patio in front. Pros replaced the roof, and Pierre reshingled the second floor. A plasterer gave the first-floor siding a rough-textured "pebble dash" cement finish matched to a scrap of original siding found under a porch.
The artisanal update was done with reverence for the original builder, not to mention a time when building materials were meant to last. "Solid 1-by-12 sheathing under the plaster, beautiful old-growth timber—it blows me away," says Pierre.
Shown: The period-inspired master bath is set up for parallel morning rites under a clerestory that channels light into a windowless stairwell.
Sinks: St. Thomas Creations
Faucets: Chicago Faucets
Leafy Tubside Views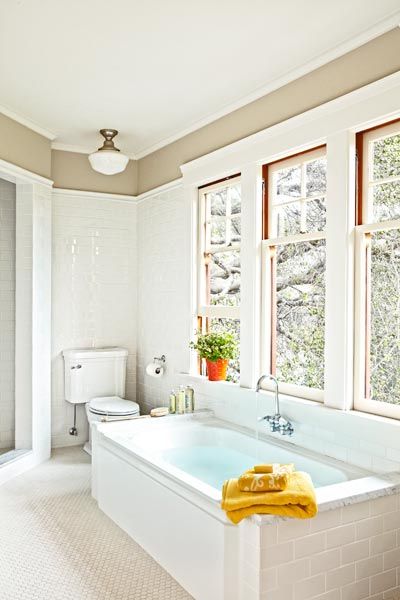 No wonder the couple winced when it came time to hang a flat-screen. "We couldn't abide putting it over the fireplace," says Pierre, perhaps recollecting the weeks they'd spent scouring the brick. So they hid it in the former den.
Shown: Oversize windows on the facing wall deliver not only daylight but also leafy tubside views.
Paint: 8181 Maison Blanche; Frazee
Tub: KOHLER
Outdoor Room
Bit by bit, the little bungalow had become the perfect nest. But forget enshrining a period piece. While the Craftsman idea may date back a century, with its clean lines and compact, open feel, Pierre notes, "it's pretty much what we want today."
Shown: During a whole-house redo, the owners rebuilt a front patio with doors that open from the living room and home office. Layers of greenery and a smooth tile floor play off the rough-textured "clinker brick" and stone of the restored fireplace.
Floor Plan: First Floor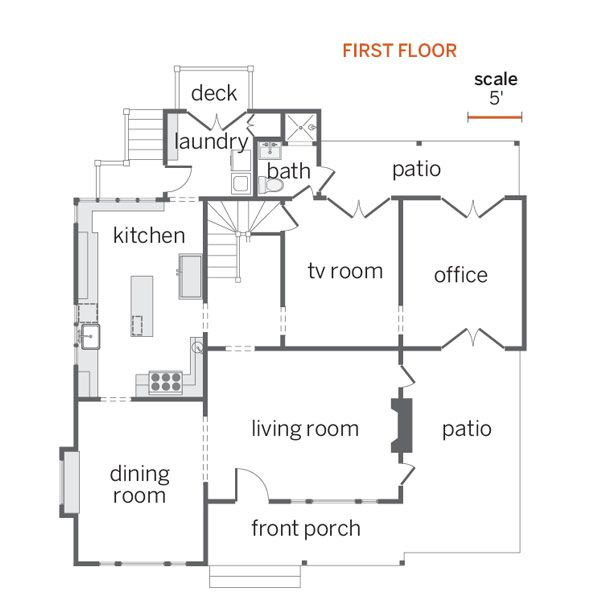 During the whole-house redo, two small first-floor additions, dating to the 1950s, were rebuilt and capped with a new master suite, yielding a total of 1,890 square feet.
Floor Plan: Second Floor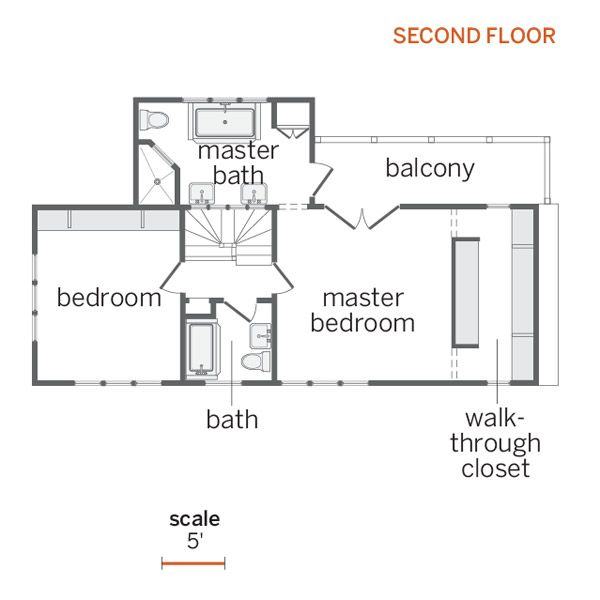 The homeowners rebuilt the kitchen and baths and reworked the bath and laundry area on the first floor. They also added a balcony, a front patio, and a deck.