DIYer's Delight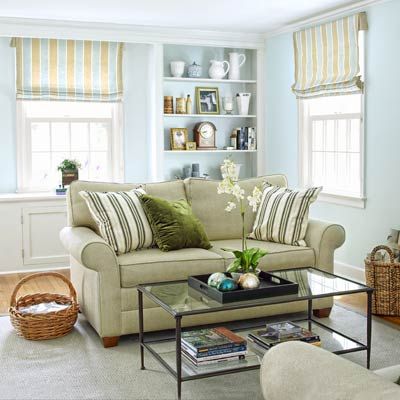 Anyone can find a house that's already "done." Much harder is finding a house in just the right state of neediness—well built, well preserved, and aching for a redo. "The baths were original, the kitchen had its old metal cabinets—the front entry still had a nook for the telephone!" says Jim Zembruski, recalling the first time he and his wife, Sharyn, took a close look at their 1938 Colonial Revival.
Nothing terrible had been done to the house, last inhabited by a 99-year-old woman whose parents were its first owners. Actually, not much had been done at all, which meant that for all its charm and good proportions, the little house came with a big honey-do list. Perfect! "When we were looking to move, I wanted a project," says Jim.
Shown: As part of a measured whole-house makeover, the owners of this 1938 Colonial Revival hid the living room built-ins' quaint valances behind more tailored trim and installed new flat-panel doors and exposed hinges.
Good Bones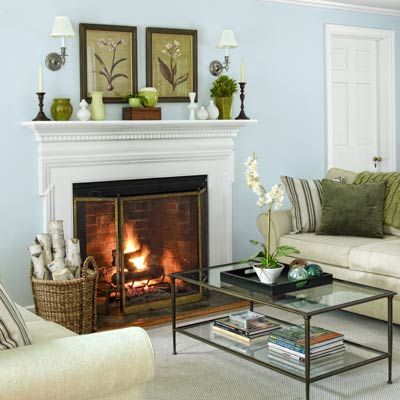 Sharyn, on the other hand, required a little convincing. She'd been drawn to the house because it was on a desirable lot on a desirable street in Easton, Connecticut, easy distance from Jim's job at a marketing and communications firm. She also appreciated its sturdy construction, which Jim ascribes to the quality of the wood and craftsmanship when it was built. "It needed a lot of work, but everything was in great shape," he recalls, without irony.
Shown: The living room fireplace has new brushed-nickel sconces and a hassle-free gas-burning insert.
Hidden Beauty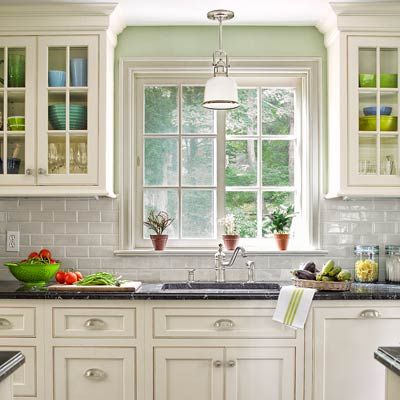 Still, "it took some getting used to," says Sharyn, recalling the house's old-fashioned size and overall state: mangy yard, dated baths, vintage laminate-and-rusty-metal kitchen, and only 1,800 square feet, not including the unfinished basement and attic. It was a bit of a comedown after the sprawling, newly built house nearby where they'd raised their kids.
As if to argue its case, the house came with its 1938 hand-lettered blueprints, complete with drawings of built-ins to hold linens, tableware, books, and collectibles. Like the plaster walls and oak floors, these charming pre-closet-system organizers still stood ready to serve.
Shown: Light-reflecting finishes add dimension to the narrow space.
The Possibilities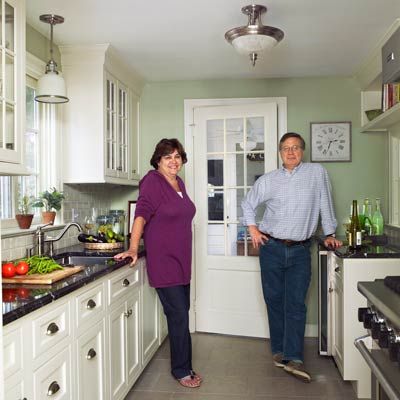 The couple talked about an addition but worried, Jim says, that it might "look like it had been bolted on in back." And anyway, with their daughter in college and their son practically out the door, weren't they preparing for a new life as empty nesters? Sharyn, an accountant, concluded that it was "the perfect-size house for the two of us, and with less expense."
Shown: Homeowners Sharyn and Jim Zembruski flank the door to the breezeway, which channels light into the room.
Personal Must-Haves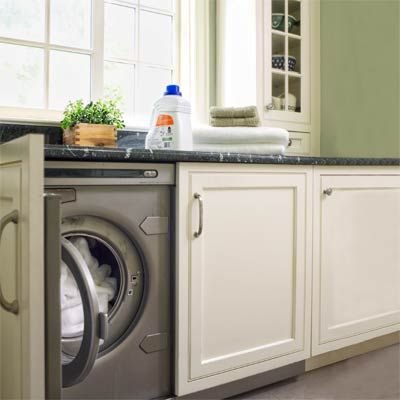 Best of all, "we could make it what we wanted," Jim recalls, and that turned out to be an enhancement of what it had been all along—plus a few concessions to personal taste, practicality, and the times. A first-floor laundry area was high on their list, along with a Viking range and a wine fridge. In terms of finishes, Jim says, "we wanted the house to look as close to period as possible, but not so strictly that we wouldn't buy something we liked because it was 10 years off."
Shown: The washer and dryer hide behind cabinet doors in the former breakfast alcove, which now serves as an extension of the kitchen.
Embracing the Layout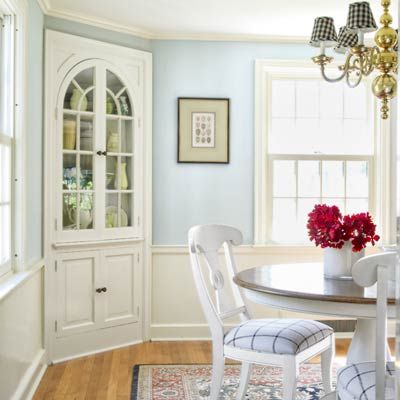 They could live with the existing layout, complete with a narrow galley kitchen and a single bath upstairs. Both baths as well as the kitchen needed updating, as did the living room built-ins, which had survived the years with Hansel-and-Gretel-style trim. The logical spot for Sharyn's office, the guest room, lacked storage and desk space, and landscaping was nil, aside from a ragged, sun-blocking rhododendron that hid the pretty, porch-like breezeway. Worse, the house, a classic 1930s energy guzzler, leaked air like crazy.
Shown: The original three-corner cupboard was revived with semigloss paint, and the original oak floors were refinished with polyurethane.
Patience Under Construction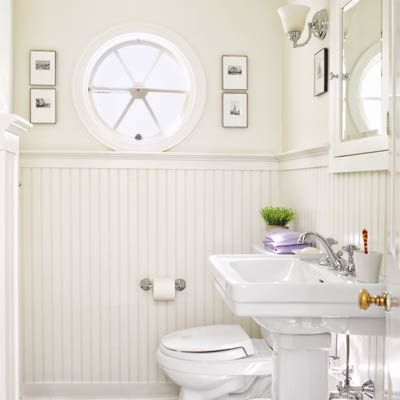 The next conversation was about Jim serving as their general contractor and their renting another place until the dust settled. "I said, 'I'm not moving twice, it's too traumatic,'" Sharyn recalls. "So we lived here and worked around ourselves—and always made sure one bathroom was functioning."
A visit to the town's building department revealed that the most recent permit had been pulled 15 years earlier, when the previous owner upgraded the wiring and installed central air, piping it inefficiently through existing heating ducts. The couple decided to create a second zone by installing an air handler and additional ductwork in the attic. To cut drafts and increase comfort, they would have to replace the windows and pump spray-foam insulation into the exterior walls.
Shown: The adjacent bath's beadboard wainscot is another Jim touch.
Efficiency at Work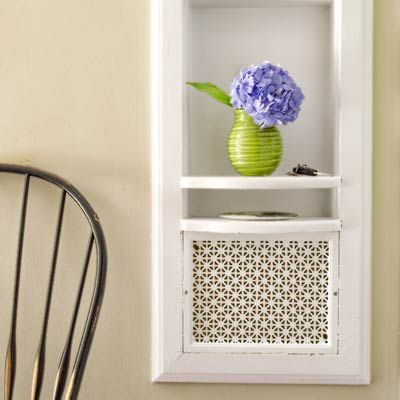 Time to line up a few subcontractors.
"There's skill-set hard and manual-labor hard, and I have learned to live with my ability," says Jim of his sweat-equity calculations. Insulation, plumbing, and other tricky infrastructure? No, thanks. But he will take on projects that involve a ladder, even if halfway up it he may wonder why. "The cupola was probably the hardest job we tackled, in terms of skill and endurance," he says, referring to the day he and son Drew scrambled onto the garage roof, erected scaffolding so that they wouldn't have to work at an angle, struggled to cut through two layers of roofing, installed plywood sheathing to create a flat, stable surface, and then hauled the cupola into place.
Shown: The old front-hall telephone nook, with a perforated metal panel to screen the ringer, retains its role as a conversation piece.
Period-Style Upgrades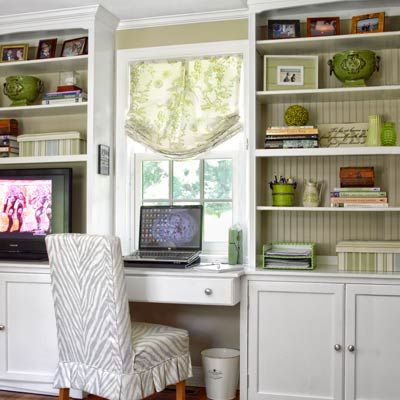 Rebuilding the drawers in the built-in linen hutch was a bear, while replacing the cabinet doors and molding in the living room was, well, nearly a breeze. "A good lumberyard has scraps of trim you can play with," notes Jim, who enjoyed figuring out which combinations worked best.
Shown: Jim used stock cabinets and trim to create custom built-ins in the home office.
Endless To-Dos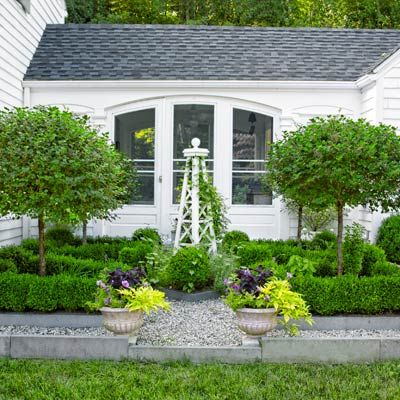 Pros replaced the windows, stripped and repainted the cedar shake and clapboard siding, repointed the chimney, hung custom garage doors, and installed counters, tile, and plumbing in the kitchen and baths. They also ended up having to mitigate radon and reduce moisture in the basement when tests revealed slightly elevated levels of both. After two years, the redo was done—but not really, of course. The couple is still toying with insulating the breezeway and upgrading its single-pane windows and French doors. "And then we could put in electric baseboard heat…," Jim muses.
Shown: The breezeway now opens in front onto a professionally designed formal garden with dwarf lilac standards and boxwood flanking a tuteur trellis threaded with clematis and morning glories.
The Breezeway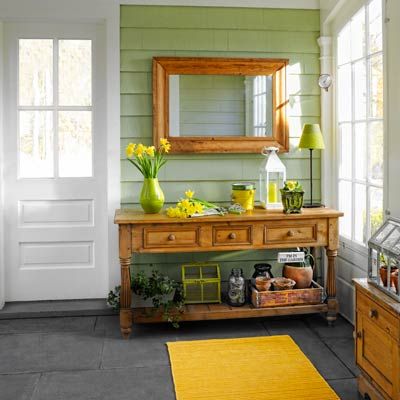 Says Sharyn, at one time the household skeptic, "The breezeway is now my favorite part of the house. I must walk through it twenty times a day." She adds, "We'll never be done—and we love it."
Shown: The breezeway between the kitchen and the garage kept its existing windows while gaining a bluestone floor.
Floor Plans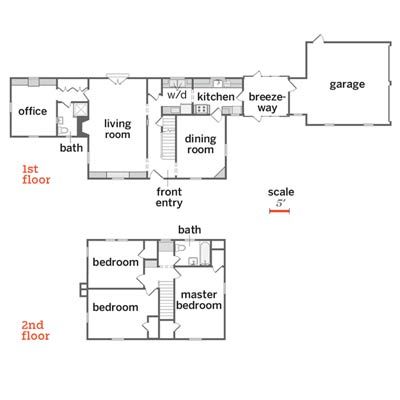 The redo preserved the Colonial Revival's cedar siding and the original 1,800-square-foot layout. On the first floor, the guest room became an office, the breakfast alcove became an extension of the kitchen (with hidden laundry machines), and doors came out to create better flow from the kitchen to the living room.
Homeowner's DIY Tips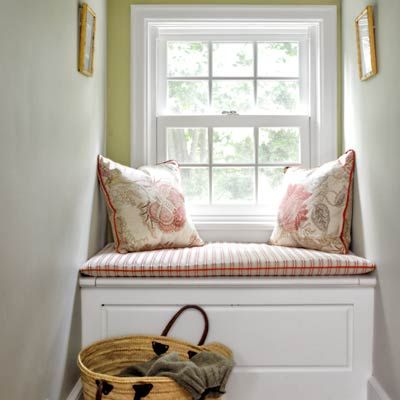 As a seasoned DIYer who knows his way around a lumberyard, homeowner Jim Zembruski also knows a thing or two about serving as his own general contractor. Here, he shares some of his hard-earned wisdom.
1. Do your homework. "Before you hire a subcontractor, learn as much as you can about what's involved, including each step, the cost of materials, and the time required. One plumber told me he wanted $1,000 for flexible tubing—that's crazy. The more you understand, the better you can communicate. I picked up a lot by watching the instructional videos at thisoldhouse.com."
Shown: Jim improved the original second-floor window seat by lining it with cedar.
Communicate Well & Choose Wisely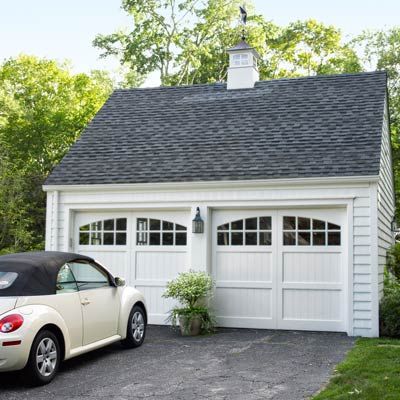 2. Talk it out. "Have an intelligent conversation about the bid. Ask how it was arrived at. Sometimes the highest bid is actually the best."
3. Get into the details. "Spell out your expectations so you won't have disagreements halfway through. Ask the guy who's hanging the cabinets how he's going to do it and which materials he plans to use. You'd be surprised how many people use drywall screws for everything."
4. Choose your DIY projects wisely. "I know my limits—I can't do plumbing or install granite countertops. But I knew I could work alongside our subcontractors, whether it was demolition, yard work, or refurbishing storms and screens. I've learned to choose small DIY projects that make a big difference, like painting and adding crown molding. The wainscoting in the downstairs bath—that was a Saturday morning."
Shown: He and son Drew climbed the garage roof to cut a notch and install the cupola; pros hung the custom doors.
Save When Possible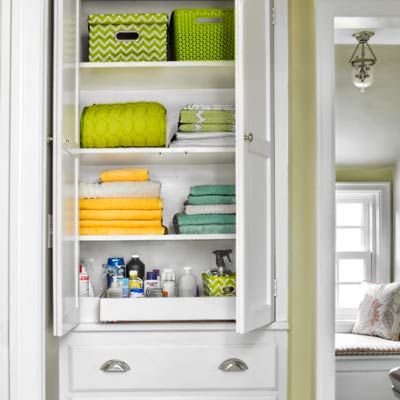 5. Ask how much you'd pay yourself. "We were ready to hire a crew to hang our shutters, but they wanted $250 a window—not unreasonable, but for that price, I figured I could do it myself." Others might be daunted by 18 windows, but not Jim. "Less time than I expected," he says.
Shown: Jim painstakingly added framing to the linen hutch, rebuilt its drawers and glides, and added a rollout shelf for bath products.