Respecting a House's Integrity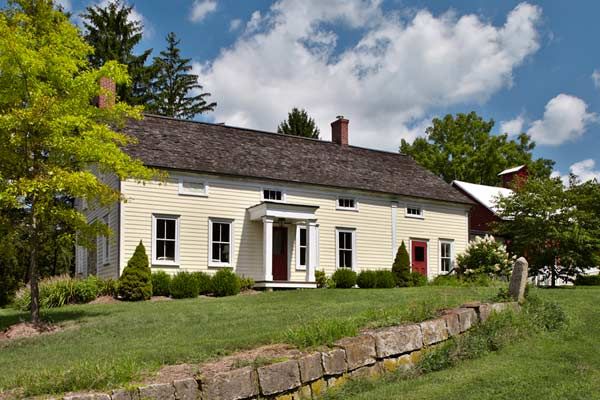 Houses aren't built to be museum pieces. Tastes change, new materials come along, and each owner gets to decide whether the place needs an extra bath—or a helipad. So it's best not to approach a newly acquired house with kid gloves and a fear of change, right?
Well, that depends, suggests Lynn Lillian, who played a leading role in the renovation of her family's farmhouse, in Warwick, New York. No way she'd move the kitchen back to the basement, where, conceivably, it was gathering smoke around the time George Washington passed through town. And she wasn't going to cover up the dining room's original hand-hacked beams, which a previous owner had exposed to great effect. At the same time, "we didn't want the integrity of the house to be compromised," she says. "We didn't want to move walls or take them down or put in a cathedral ceiling." In designing her 21st-century kitchen, she asked her architect, Jeff DeGraw, "What would the original farmers have done?"
An interesting question, as it turns out.
Architect and kitchen designer: Jeff DeGraw, DeGraw & DeHaan Architects, Middletown, NY
General contractor and cabinetmaker: David Bartnowksi, Warwick, NY; 845-987-0067.
Front-Door Catchall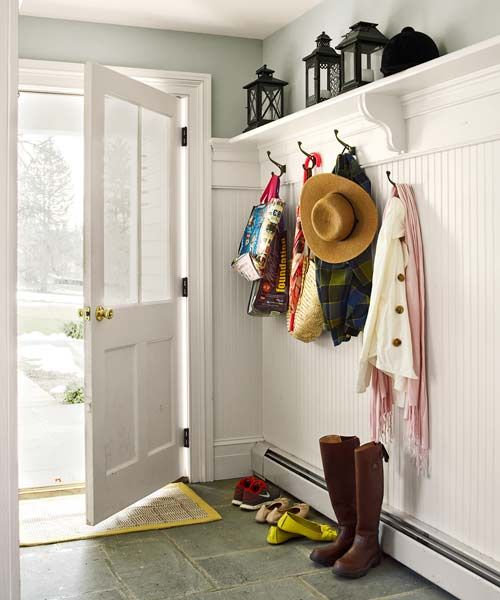 Rooted in a town known for its apple fests and onion fields, the five-bedroom, three-bath house had clearly withstood repeated assaults before Lynn and her husband, Mitch, bought it on impulse 25 years ago, when they were young filmmakers up from Atlantic City, New Jersey, for the day. The local historical society pegged the house to the late 18th or early 19th century, but no one knew when the original fireplace and chimney had disappeared, the main stairs and front windows had acquired their post-Colonial proportions, and a porch had wrapped itself around the front. Or why the 2,900-square-foot house had three front doors.
Which leads to a related question If authenticity is your goal, which of a home's hoary redos do you aim to preserve?
Shown: The new mudroom, with its boot-friendly bluestone floor and hooks and shelf for coats and hats, channels guests, kids, and pets alike toward the room-for-all kitchen.
Hooks: Restoration Hardware
Paint: Benjamin Moore
Cottage Hutch, Commercial Range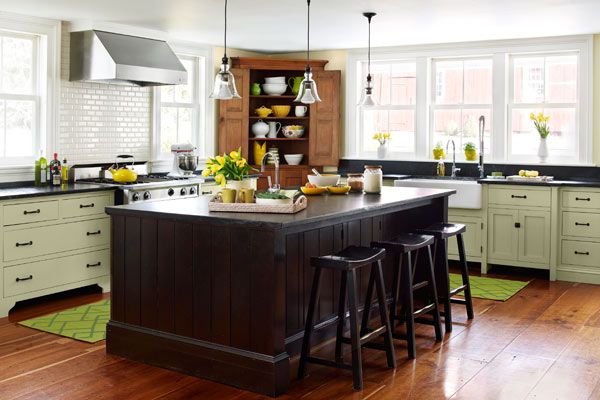 One thing seemed clear: After years in the drafty old place, the latest homeowners were ready to put their own stamp on it. "The kitchen was so tiny, you couldn't unload the dishwasher without blocking the door," Lynn recalls. "There was no place to put your boots. Life got lived in only one part of the house because there was no flow." On the second floor, the layout was so awkward that you had to walk from one bedroom through another to get to the main stairs.
No longer clueless 20-somethings who had bought the place before checking out the dirt-floor basement or the local schools, the couple now had three kids, a passel of pets, and a busy social life, much of it revolving around the stove. They loved the original plaster walls, the atmospheric creaks and sags, the fun of telling friends that they owned an 18th-century "birthing room." But, to paraphrase the name of a movie Mitch was working on at the time, something had to give.
Shown: By adding on in back, the homeowners—serious cooks and avid entertainers—were able to create a generous gathering space with finishes that celebrate both pro function and traditional unfitted-kitchen style.
Pendant lights and barstools: Pottery Barn
Countertops: M. Teixeira Soapstone
Sink: Rohl
Faucets: Dornbracht
Flooring: Antique and Vintage Woods
Added on to Over Time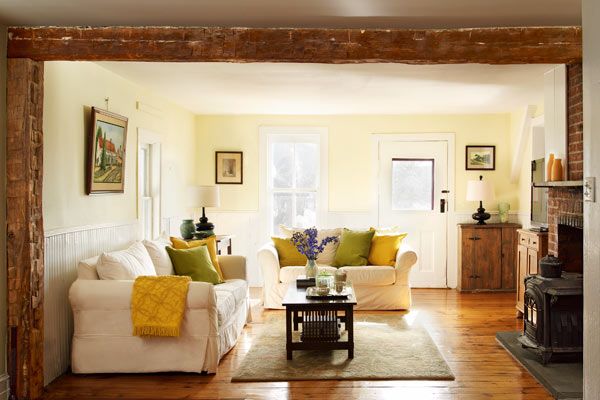 "One of those awful snowstorms spurred us to go visit Jeff," Lynn says. "It caused the porch to start separating from the house." What's more, they needed upgrades to the roof, the insulation, and the heating and cooling systems, plus new baths, possibly a mudroom, definitely a bigger kitchen, more privacy upstairs, maybe even a master suite. "It started out as an addition out back," says Mitch, "and just grew."
Ignoring an important rule—Friends don't let friends hire friends—the couple brought in not only next-door neighbor DeGraw but also their longtime buddy in common, general contractor David Bartnowski.
DeGraw drew up plans for the addition and for fixes aimed at opening up traffic lanes upstairs and down—and immediately began to tinker with them. "It was such a wonderful old house," he says tactfully. "I wanted to get the right fit and scale and not overwhelm it."
Shown: The addition that holds the family room went up in the 19th century atop a dirt subfloor with tree limbs for joists. The wainscoting is early 1900s, and the exposed beams were added during a mid-20th-century "update." But, says architect Jeff DeGraw, "we can't figure out when or why they put in that door," now painted red on the outside.
Sofas: Pottery Barn
Coffee table: Stickley, Audi & Co.
A Blend of New and Old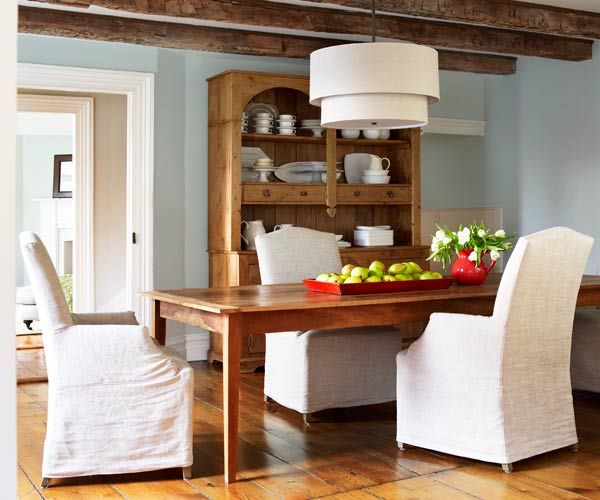 Bartnowski felt the same way, sort of. But he saw no point in romanticizing what he found while peeling off the aluminum siding and poking around the dry-laid stone foundation. "When we started the renovation, we had a meeting and I said there were major structural problems," he recalls. "The mudsills were rotted. One whole post was gone. The previous owners hadn't taken good care of the house. That was its history." Maybe, he suggested, it was time for a tasteful burial.
Silence.
A few days later, Lynn called back. She and Mitch had given it a lot of thought—and voted for resuscitation instead.
Shown: The dining room has centuries-old floorboards and hand-hewn beams, a new hutch made from salvaged pine, and a table built by homeowner Mitch Lillian.
Chandelier and chairs: Restoration Hardware
Windows and doors (addition): Marvin
Refreshed Front Parlor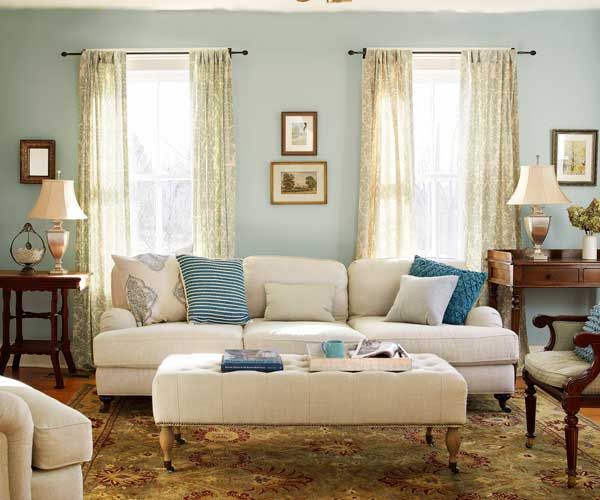 So Bartnowski and his crew began outside, inching their way around to expose the framing and its frailties. They used oak wedges to expose and repair the mudsill and stabilized 8- and 10-foot sections with crossbeams before tying the sections together. "We couldn't level the house, so we straightened it," he says.
It was frustrating work. "We coulda had a D8" (as in a Caterpillar bulldozer) went the crew's running joke.
Weeks turned into months. Insulation went up alongside new framing and cedar siding, old windows were repaired, and the rear addition was wiggled into place.
Shown: Soft colors and fabrics bring out the warm wood tones of the vintage furniture and original pine flooring.
Curtains: Waverly
Sofa, chair, and ottoman: Restoration Hardware
Rug: Pottery Barn
Brighter Master Bedroom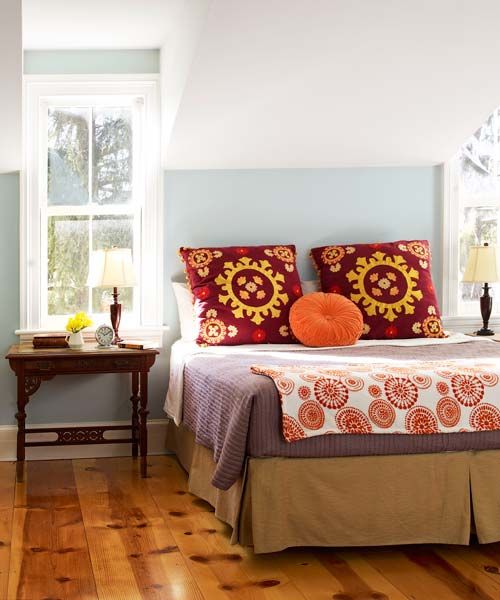 To create a subtle dividing line between the oldest part of the house and a portion believed to date to the mere 1800s, DeGraw added a pilaster in the front facade. "We tried to respect the chaos," he says.
The wraparound porch did depart this earth. It was making the house dark, and Lynn and DeGraw figured that, at only 100 or so years old, it was relatively new and not right for what was originally a center-hall Colonial.
And so began a back-and-forth effort to reflect what felt right for the house and for its newest owners, from a smaller, more architecturally appropriate portico out front to a splendid copper-roofed mudroom bumpout on the side.
Shown: The new dormered master suite brings in light through windows matched to existing double-hungs.
Soothing Master Bath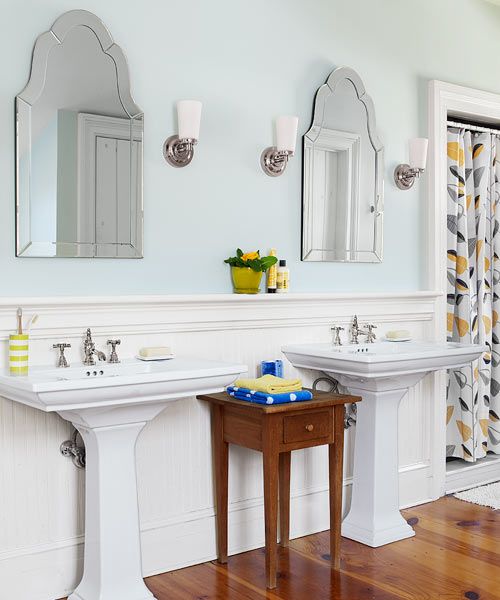 In terms of finishes, the tight-knit team found itself walking a wavy line between all new and ye olde. Take the kitchen, which occupies the addition's first floor. With its gleaming range, to-the-ceiling subway tile, and nearly 650 square feet, it's hardly Colonial-quaint. At the same time, it has a fireplace, along with a traditional low ceiling, country-store bin pulls, and wide floorboards with visible square nail holes. Local carpenters built the cabinets and painted them on-site, the old-fashioned way, so "it didn't look like a cardboard box opened up and cabinets came out," as DeGraw puts it.
That said, he was startled when Lynn, thinking like a farmer with no thought of fitted upper cabinets, announced she was going to break up two runs of base cabinets with an antique corner hutch.
DeGraw balked. So did Bartnowski—and his normally can-do carpenter, Ray Knapp. "None of us wanted it," declares Mitch.
Lynn simply ignored them all and personally assisted in the hutch's installation. "I'm very happy with it," she says. And guess what: Now, so is everyone else.
Shown: Curvaceous mirrors, a freestanding table, and new pine flooring reinforce the mix of period style and contemporary function.
Sinks: Kohler
Mirrors: Lowe's
Sconces: Restoration Hardware
Fresh Vintage Styling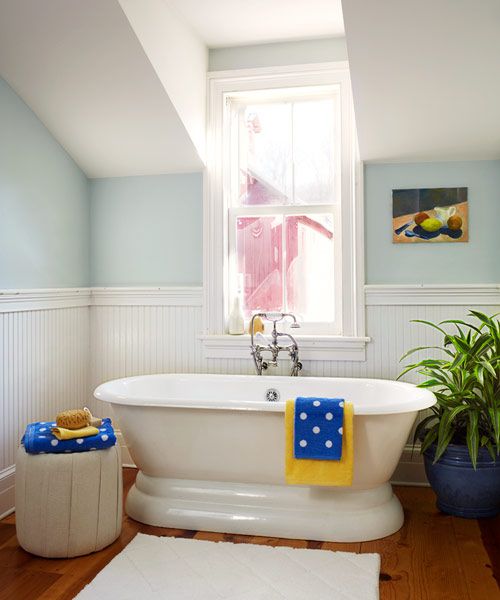 Together, Lynn and DeGraw decided the new portico didn't look quite right and jumped in the car to tour the area before knocking on a stranger's door, taking measurements of her entry porch, and returning home to have crew members yank off, cut down, and reattach the porch they'd just built. Lynn did another U-turn after driving around the countryside for five days, her mason in tow, identifying the right type of stone for the new fireplace. When it was halfway up, she and DeGraw realized it looked…wrong, and they persuaded the stoic mason to take it down and switch to brick. "I like to say architecture is an awful lot like cooking," DeGraw says. "You start with a recipe but you tweak it."
Nearly two years of this—never mind living in a construction site to which Mitch would return after exhausting stints on location—might try the ties that bind best friends. But the team remains tight. Today even Bartnowski sees the romance in preserving what's there, when you can. "With every recession, there are crafts and craftsmen that are lost, that you're really not going to see again," he says. "So it's good that there are people who place a value on history and the uniqueness of a house and are willing to do what it takes to keep that intact."
As for Mitch, he confesses that he still has days when he wonders if they could have saved money by building a more energy-efficient house from scratch. "But the feel of the house," he says, referring to the aura of a long life, well lived, "that's what I feel good about."
Shown: The vintage-style tub faces twin pedestal sinks.
Tub: Sunrise Specialty
Floor Plan: Farmhouse First Floor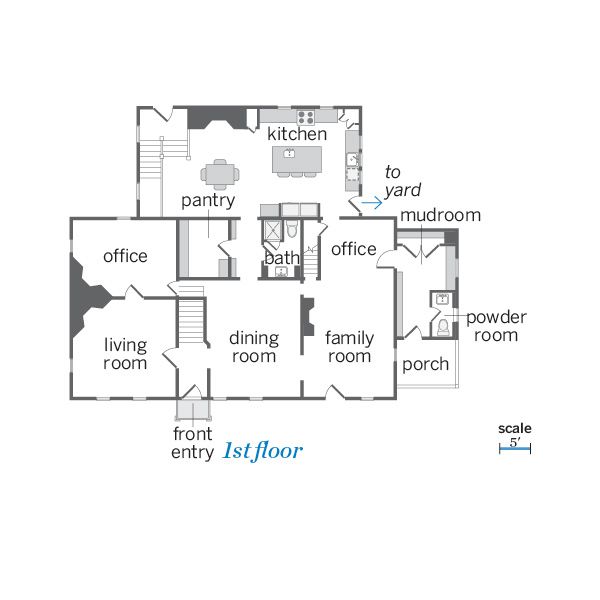 The house, just steps from a former dairy barn, gained two fireplaces and 1,800 square feet with a mudroom-powder-room bumpout and a rear kitchen addition that has a master suite upstairs.
Floor Plan: Farmhouse Second Floor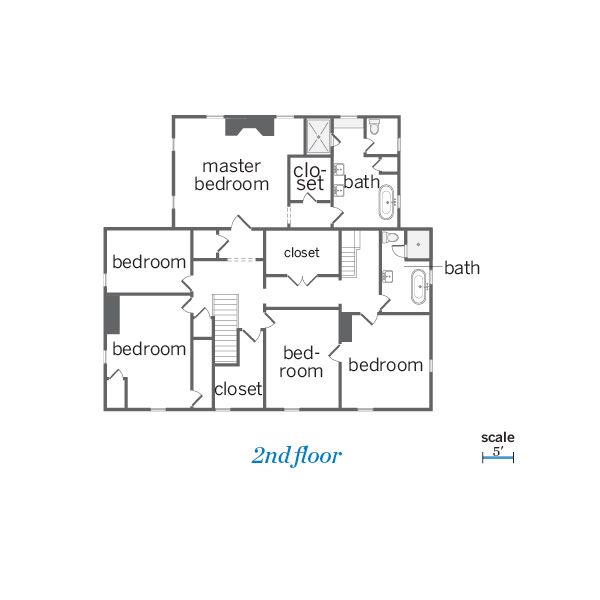 The portico is also new, as is a pilaster in the facade delineating a 19th-century addition that now houses the family room. Along with new baths, the rejiggered second floor gained better flow.