Jaw-Dropping Jack-o'-Lanterns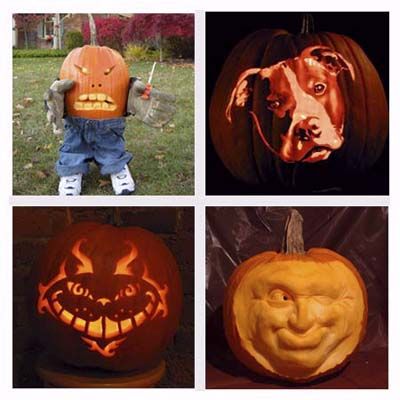 It's that time of year again! The kids are back to school, leaves are changing color, and there will soon be no shortage of pumpkins for carving. This year, we challenge you to ditch the old triangle eyes and carve yourself a masterpiece. Why? It could win you $500 in the TOH Pumpkin Carving Contest.
Not convinced you can crank out one of these grand gourds? Pro carver Jason Green of Karvd.comdidn't think he could do it either. "When I was halfway through my first carving, I almost scrapped the whole thing," he said. "The thing about these carvings is that until they're lit up, they can look just plain strange." But, with a steady hand, the right tools, and a bit of patience, you could easily create show-stoppers like the ones shown here.
Take a look at this gallery of inspirational creations, complete with the top-secret tips of some of the world's best pumpkin carvers.
Clockwise from top left: "Angry Kid" by Tom Nardone of ExtremePumpkins.com. Nardone used props and power tools to make this humorous piece; "Isaboo" by Gene Granata of MasterpiecePumpkins.com. Granata was asked to create this carving of Rachel Ray's dog for display on the set of her talk show, The Rachel Ray Show; "Expressive Pumpkin Face" by Scott Cummins of PumpkinGutter.com. Cummins preserves his detailed carvings with ice baths when the pumpkins are not on display; "Cheshire Cat" by Ryan Wickstrand of ZombiePumpkins.com. Wickstrand created this last year as part of a series of carvings inspired by the characters of Alice in Wonderland. Displayed in the carver's front yard, the pieces were accompanied by large tea pots and oversized mushrooms.
"The Predator" by Ray Villafane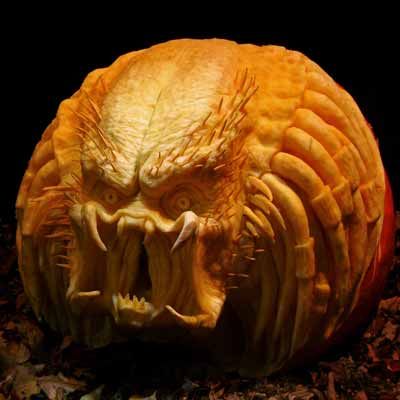 Ray Villafane, the Michigan-based sculptor of his namesake company Villafane Studios, looks forward to working with the medium of the season every year. This 3D carving, which wraps around most of the gourd, took about 5 hours to complete. Villafane used an assortment of tools, including pottery ribbon loops and a paring knife for finishing touches.
"Zipperface" by Ray Villafane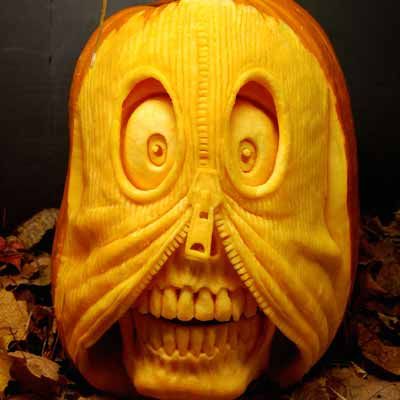 Sculptor Ray Villafane, who can complete a simple face carving in as little as 30 minutes, has one tip for aspiring 3D carvers: "Pick a good, thick-walled pumpkin." Want to get your hands on one of these for your entry? Better get friendly with the carver, who says that he, "just carves, takes pictures, then gives his masterpieces away to friends."
"Something Fishy" by David LaRochelle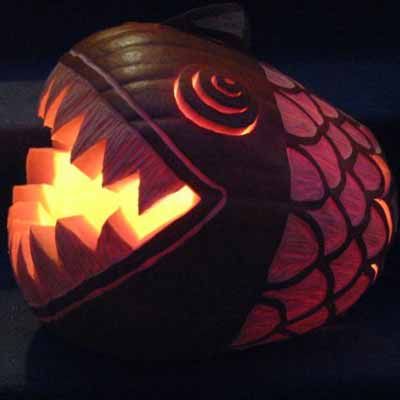 As a kid, David LaRochelle raised pumpkins at a friend's farm and sold them in his front yard at Halloween. "I never dreamed that someday I would be interviewed on national television shows as a professional pumpkin carver!"
LaRochelle, an author and illustrator based in White Bear Lake, Minnesota, tipped this gourd on its side and carved gills and eyes using a linoleum scraper. It took three hours to complete.
"The Sunburst" by David LaRochelle
"I drew my design on tracing paper, then transferred it by taping the paper to the pumpkin and pricking along the lines with a pin," LaRochelle says of this carving. He used a linoleum cutter to scrape away the outside flesh and lit the piece with several large white Christmas bulbs tucked inside. It took about 3 hours to create.
"The Scream" by Jason Green
Jason Green, a freelance graphic designer in Boston, found that his technology know-how lends itself nicely to pumpkin pattern-making. What started as an experimental self-portrait carving became Karvd.com, where Green showcases his work and offers custom carving services.
This pumpkin, inspired by Edvard Munch's "The Scream," was Green's second carving. It took 10 hours to complete using a standard pumpkin-carving saw and an X-Acto knife. "It was something I made while in college, so the only display it really had was in front of my dorm room," Green said. Now this carver is so hooked to the craft that he carves watermelons in the summer, when pumpkins are out of season.
"The Elephant" by Scott Cummins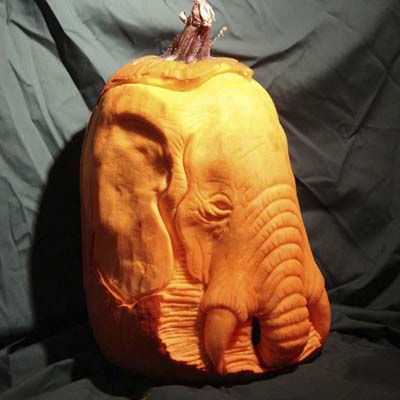 Cummins of PumpkinGutter.com uses peeling knives, sharpened ice-cream scoops, and wood and clay carving tools to create 3-D carvings from 2-D reference images. He may be best known for his George W. Bush pumpkin, which was posted by a fan to our messageboards.
According to Cummins, a junior high school teacher in Perryton, Texas, most of his designs take about two hours to carve. This one features a bottom opening instead of a traditional top lid.
"Mr. Moon" by Brad Miller
Miller's site, CarvingPumpkins.com, offers loads of pumpkin carving patterns and tips, but his users may not know that he's a bit of a "celebrity carver" in his own right. Miller was commissioned to carve a likeness of former Partridge Family star Danny Bonaduce into a Funkin for a Halloween yacht party. Bonaduce's response to the carving? It was "off the hook."
This pattern was "inspired by the old Mr. Moons you used to see on Halloween cards, and it was carved using Speedball linoleum cutters and small pumpkin carving saws," Miller explains.
Download Miller's exclusive TOH pattern, Scary Second Empire House.
"The Werewolf" by Stoney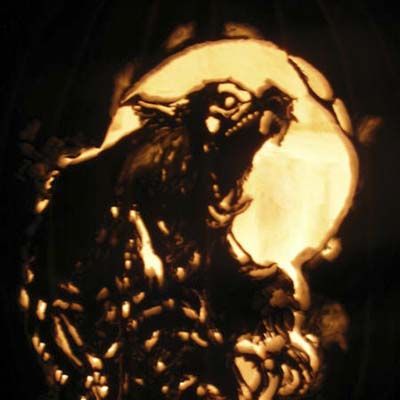 Stoneykins.com, run by a carver known in the biz simply as Stoney, caught our eye when he showcased his detailed carvings on our messageboards. "Each year, I carve around 100 pumpkins and give demonstrations at Linvilla Orchards, in Media, Pennsylvania," he says. His website features over 100 free patterns. This carving was done on an artificial pumpkin using a Dremel rotary tool.
Download Stoney's exclusive TOH pattern: Creepy Queen Anne.
"Mars Attacks" by JP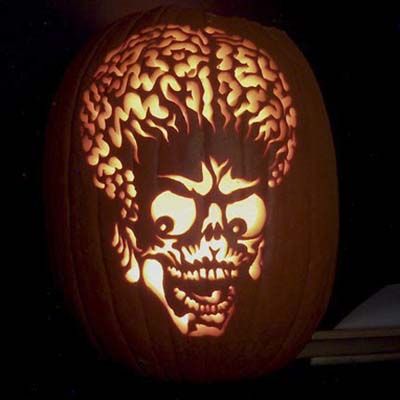 JP, a California-based carver, used a homemade saw to create this design. "My carving saw is made of a #12 scroll saw blade that is cut roughly in half. Then, I fasten that into an X-Acto knife handle," he explains.
This carving took more than four hours to create and was proudly displayed on JP's driveway, along with eight other carved pumpkins for Halloween. Despite the difficulty level of this pattern, it was one of the most popular designs at JamminPumpkins.com
"The Skull" by Tom Nardone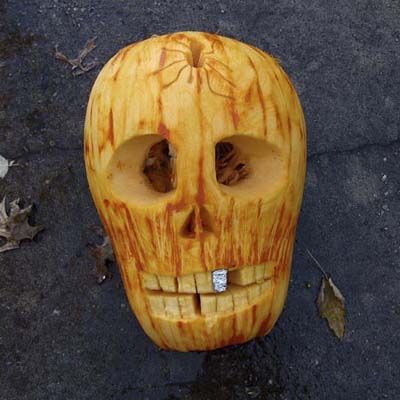 Tom Nardone, of Hazel Park, Missouri, is the author of two books on pumpkin carving and the webmaster of ExtremePumpkins.com. His non-traditional carving style—he relies on the most basic carving skills, power tools, and interesting (if not slightly disgusting) designs—especially appeals to the DIY set. A couple of favorites: "The Puking Pumpkin" and "The Cannibal Pumpkin."
For this carving, Nardone used a rasp to shave the top layer of skin off of a pear-shaped gourd. Then he used his jigsaw and Dremel rotary tool to carve out the details. "My desire to use power tools on pumpkins comes from a need to get to it," says Nardone, who can complete a carving in as little as 10 minutes.
"The Magic Castle" by Gene Granata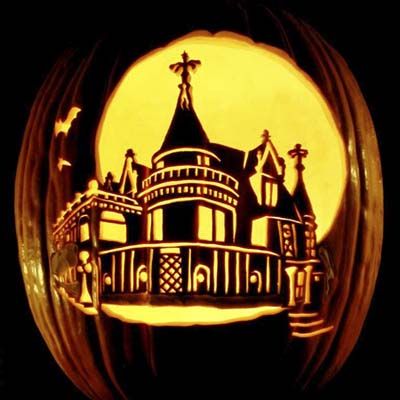 Award-winning carver Gene Granata of MasterpiecePumpkins.com started calling pumpkin carving a "business" to justify the excessive amount of time he was spending on his year-round hobby. This carving was inspired by The Magic Castle in Hollywood, California—a place Granata remembers fondly. "It was an exclusive magicians-only gathering place that my father-in-law performed at," he says.
This piece was completed on an artificial pumpkin with a Dremel rotary tool, X-Acto knives, and precision saws. "I also had an air compressor handy to clear away the carving dust," says Granata.
"Frankenstein" by Ryan Wickstrand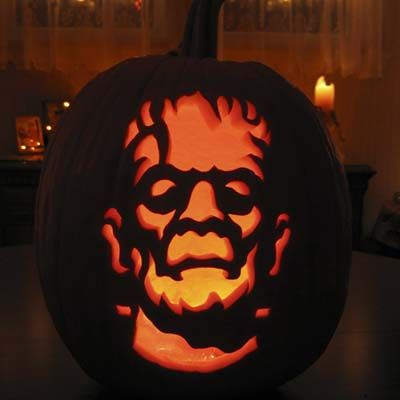 New Haven, Connecticut, carver Ryan Wickstrand of ZombiePumpkins.com studied graphic arts but, "It wasn't until 2001 that I realized I could combine my love of art and pumpkins by creating my own pumpkin patterns," he says. His site is home to over 100 patterns in a searchable archive, so you can find just the zombie pumpkin you're looking for.
Unsurprisingly, this pattern is one of Wickstrand's most popular. "This is the perfect carving to display with a green LED pumpkin light inside," he says. It's the first in a series of classic monster patterns that includes "The Bride of Frankenstein," "Dracula", and others.
READY TO ENTER THE TOH PUMPKIN CARVING CONTEST? Click here.