The Other Pumpkin Techniques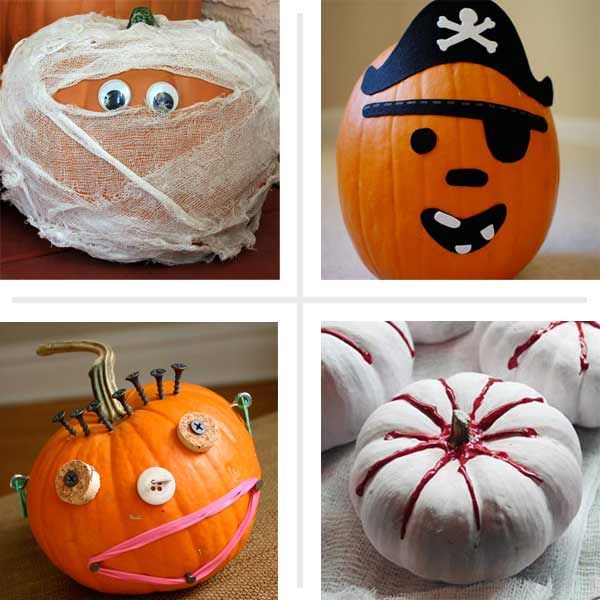 We're not saying that the entries in This Old House's annual Pumpkin Carving Contest aren't worth oohing and ahhing over. But not everyone is as slick with the carving tools as some of our master craftsmen. If you're a little wary of working with sharp objects—or you just can't stand the feel of pumpkin guts—there are ways to get crafty with your gourds using alternative methods. Gauze, puffy paint and junk drawer items are all fair game while creating a Halloween masterpiece, and we're here to show you the 19 spoofy, funny, or cute pumpkin ideas we've gathered from around the Internet. Read on to see our favorite ways to decorate pumpkins without carving.
Painted Rainbow Pumpkin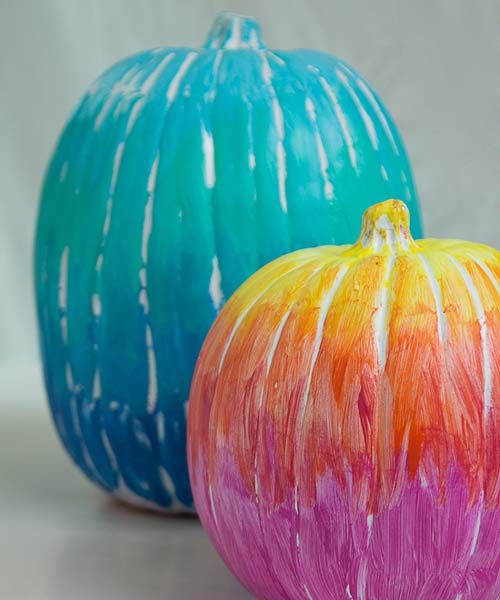 Paint your pumpkin—real or fake—in rainbow hues as a colorful palate cleanser for the good ol' traditional jack-o'-lantern. Start with a white pumpkin, or paint yours white, and then paint on three colors, blending them together where they meet. Feel free to get messy with this; part of the charm is the visible brushstrokes.
See the full pumpkin DIY on Papery & Cakery.
Spider's Nest Pumpkin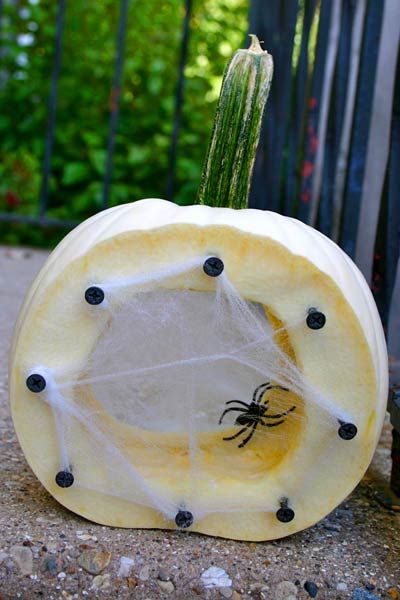 This DIY is sure to be a hit with kids that like to play with bugs, though the plastic creepy crawlies shown here are always preferable to the real deal. Slice an inch off opposite sides of a real pumpkin, and core the middle. Use some drywall screws to stretch faux spider webbing, then suspend a toy spider in it.
See the spider from all angles and get the full DIY on Family Chic by Camilla Fabbri.
Glitter Pumpkin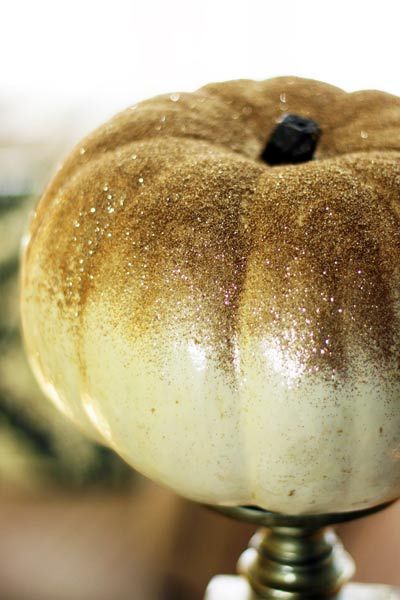 Let your pumpkins work overtime by using them as Thanksgiving centerpieces, too. Paint faux pumpkins with glue, then roll or dip them in fall-toned glitter.
See more glitter pumpkins and a video tutorial on Fab Housewife.
Pumpkin Lace Covers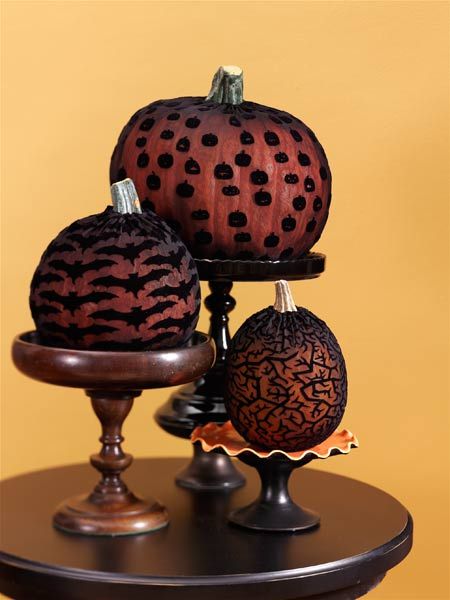 Create elegant but macabre pumpkins in a flash with these stretchy lace-fabric pumpkin covers from Martha Stewart.
About $15, Michaels Arts and Crafts stores
Bloody Mini Pumpkins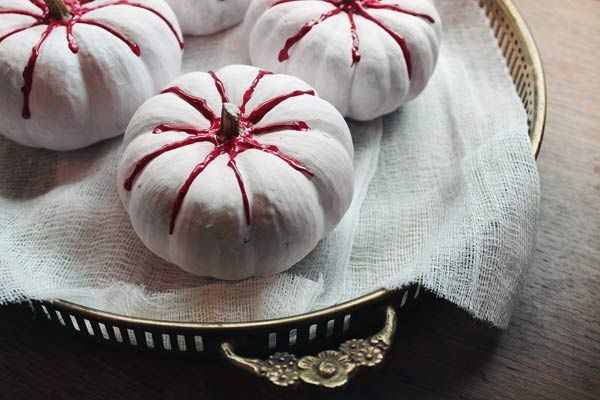 Pumpkin guts may be orange, but these ghoulish mini pumpkins are bloody fun. Stock up on fun-sized pumpkins, coat them in white paint, and squeeze blood-red puffy fabric paint in their creases.
See more horror movie-worthy pumpkin details on Almost Makes Perfect.
Button Pumpkin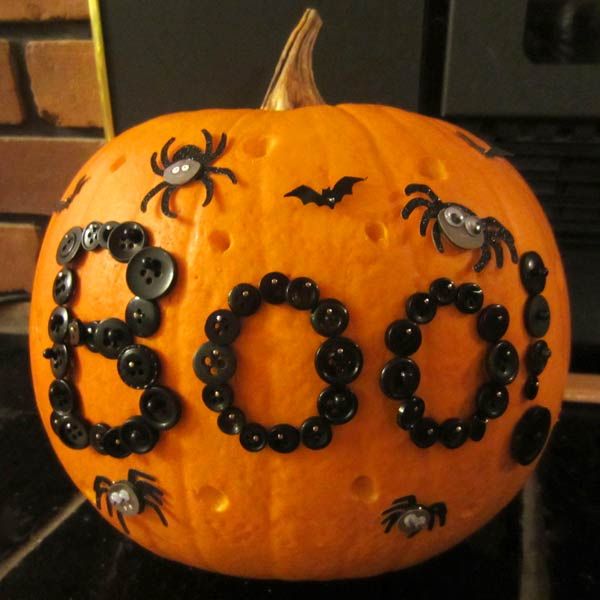 Raid your sewing box for this boo-tastic pumpkin idea. Spell out a Halloween word or phrase with buttons, following a printable template. And never fear: Sacrificing your craft supplies arsenal to the pumpkin gods isn't necessary. Just attach the buttons with straight pins so you don't have to throw them away with your rotten pumpkin when the trick-or-treating is over.
See the whole pumpkin DIY on Busted Button.
Mummy Pumpkin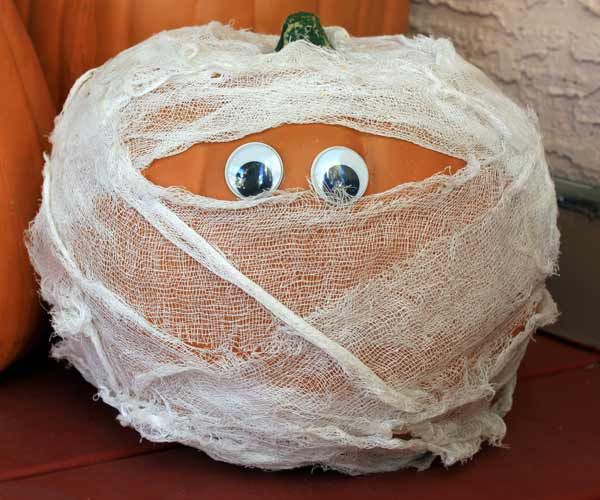 Wrap up this adorable little mummy in a cinch with a length of gauze and a pair of craft-store googly eyes.
See the full pumpkin DIY on Canadian Nickel Scrap'n.
Furniture Nail Pumpkins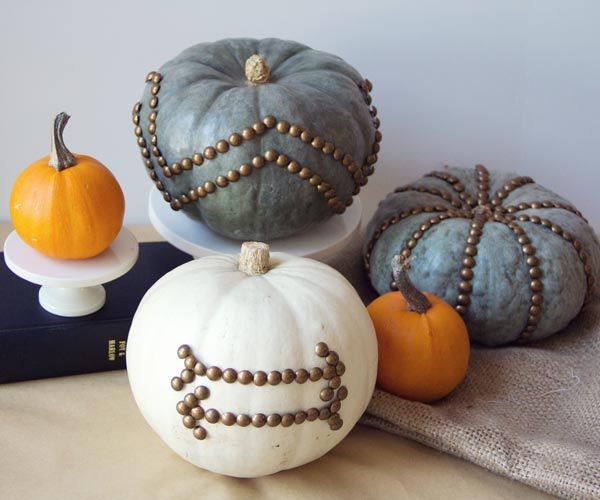 Grab the extra brass upholstery nails from your last chair makeover project and leave the hammer behind. Simply push the nails into the pumpkins' surfaces to create interesting patterns.
Get a detailed view of all the pumpkin designs on Lovely Indeed.
Starched Doily Pumpkin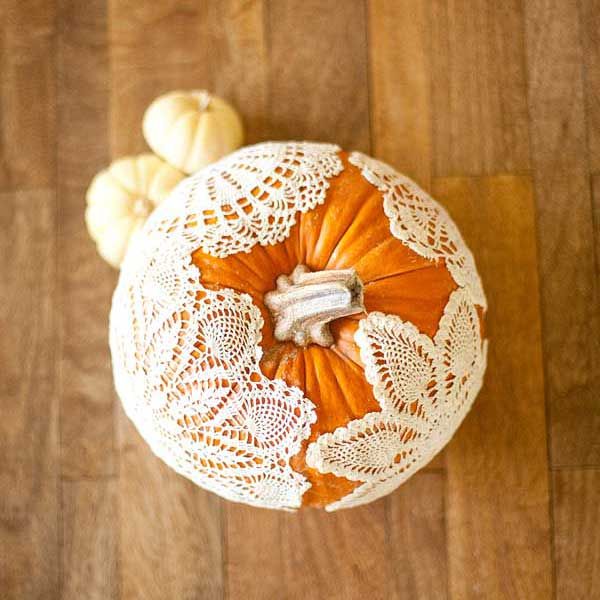 If you'd rather swear off candy for life than decorate your home in depressing black for Halloween, put some old doilies to good use. Dip the doilies in a bowl of liquid starch to make them stick to the pumpkins; peel them off, wash them, and stash them away when you're ready to move on to another holiday.
See more views of the doily-decked pumpkin on Allyson Baker Design.
Junk Drawer Pumpkin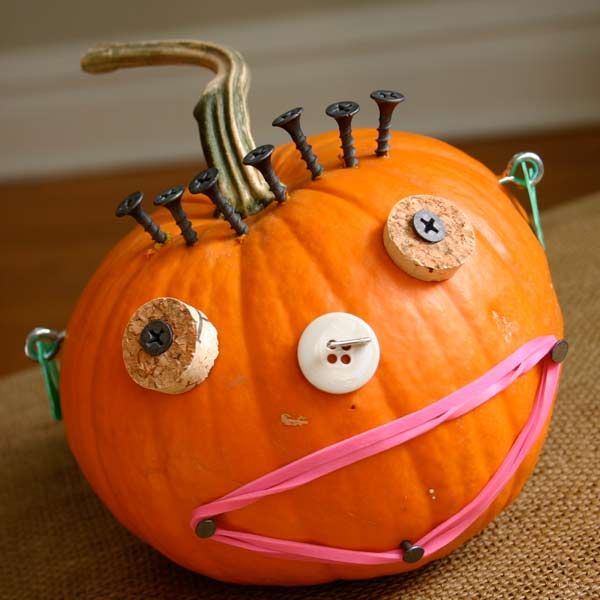 If you have small kids you'd rather not have around big knives, let them raid the junk drawer instead. They can use some of its contents to make goofy faces on pumpkin surfaces—the more creative, the better!
See other junk drawer pumpkins on Family Chic by Camilla Fabbri.
Pumpkin Pirate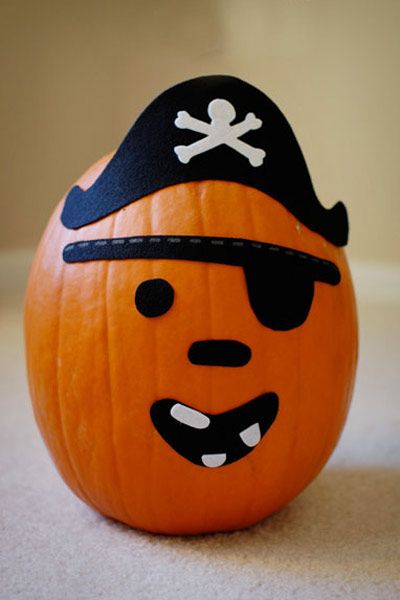 Avoid making a mess with the kids with easy-to-attach felt decorations. Find templates online or freehand your own, cut them out from black and white felt pieces, and attach them to the pumpkin with glue and toothpicks.
See the other cute felt pumpkin creations on A Small Snippet.
Metal Robot Pumpkin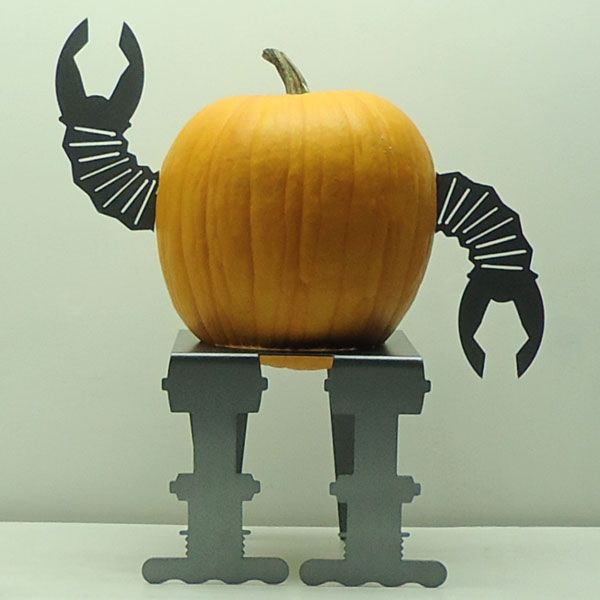 Bring some industrial style to this year's gourd via handmade metal ornaments from Knob Creek Metal Arts. Other snazzy pumpkins add-ons include bat wings, monster hands and deer antlers.
About $20 for arms and about $50 for legs
Check out other metal accessories to dress up a plain pumpkin.
Yarn Rosette Pumpkin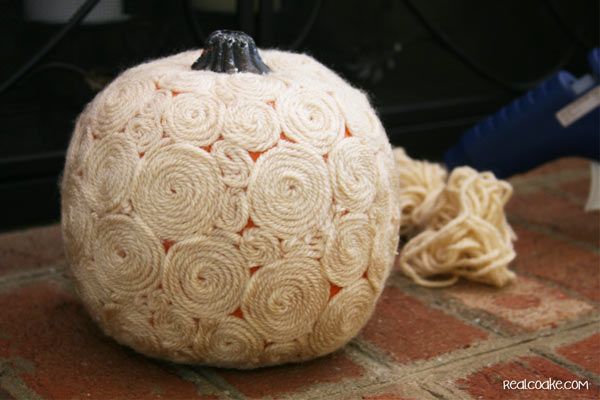 An intricate centerpiece-worthy pumpkin is within reach using your craft leftovers. Arm yourself with a glue gun and yarn scraps to pretty up a pumpkin with these simple spiral rosettes
See how to perfect those spirals on The Real Thing with The Coake Family.
Faux Pumpkin Planters
Make your favorite fall flowers pop in a saturated orange planter. Cut the top off fake craft store pumpkins and plop in flowers for a piece that looks great on its own or on top of seasonally appropriate black urns.
Get all the details for this creepy curb appeal DIY from I Heart Nap Time.
Lollipop Pumpkin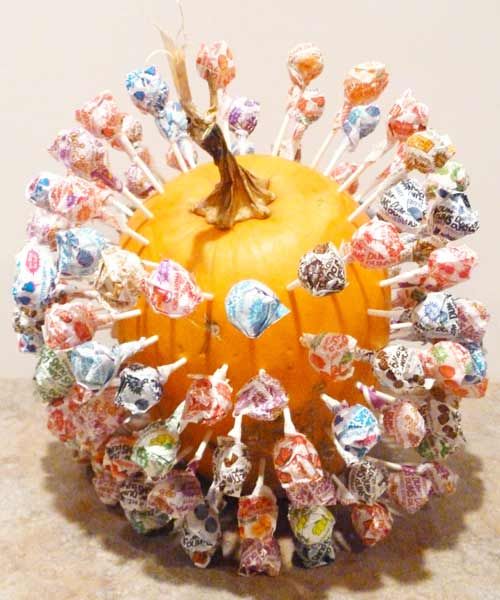 Disguise unsightly spots on a discount pumpkin by using it as a lollipop holder for trick-or-treaters or party guests. You can use—or skip—the drill for this one.
See more details of the easy DIY from Simply Designing with Ashley.
Monogram Pumpkin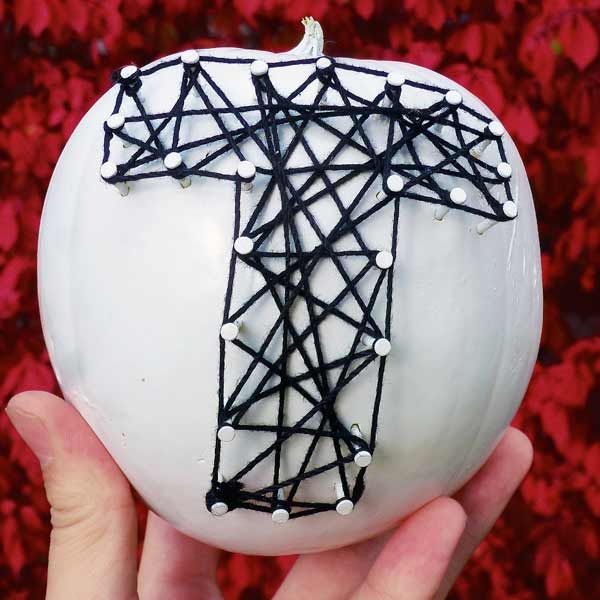 Don't give neighborhood pumpkin thieves a chance to reap from your crafty non-carving ways. Create a fancy monogram that's all your own with a template, small nails, and yarn.
Get the full tutorial on the yarn wrapping—including close ups—on Know and Tell Crafts.
Tissue-Paper Pumpkins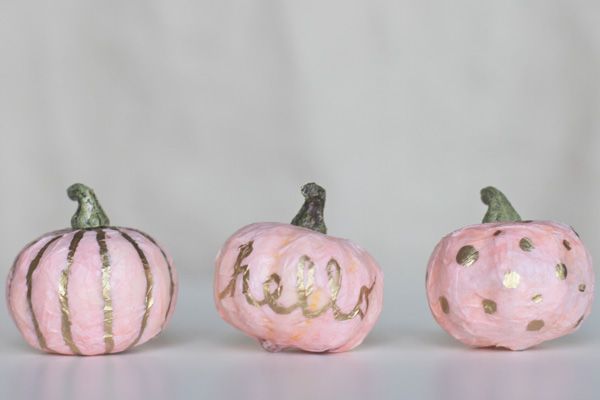 Skip the knife—and paint—this time around and go for the glue to make some Halloween magic happen. Layer tissue paper on mini pumpkins and finish them off with paint-pen messages.
See more fun variations of this pumpkin DIY on Paper & Stitch
Spiral Yarn-Wrapped Pumpkin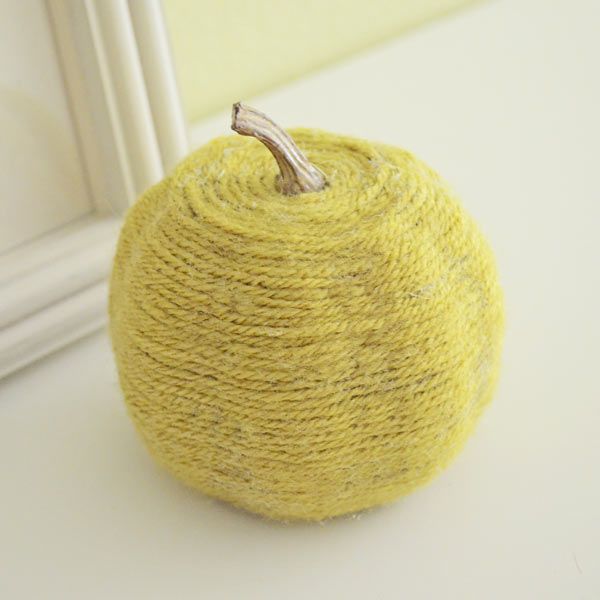 A little texture goes a long way: Craft glue, yarn, and some wrapping patience is all it takes for this simple, chic decoration. For a great centerpiece, wrap several small pumpkins in coordinated colors of yard and display them in a large bowl
See mid-wrapping and other yarn pumpkin ideas on Two Shades of Pink
Chalkboard Paint Pumpkin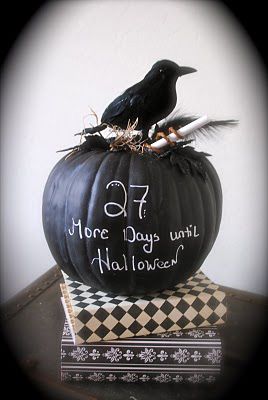 Finally, a reason to use the dregs from that chalkboard paint project! The possibilities for chalk decoration are endless, but we really like this Halloween countdown calendar idea.
See more chalkboard paint pumpkin stylings on Paper Princess Studio.