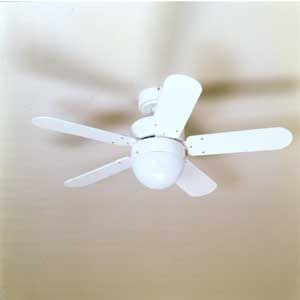 Ceiling fans look sharp and produce a welcome cool breeze on hot summer days. But a recent study of 400 homes by the Florida Solar Energy Center found that ceiling fans actually increase energy bills if they aren't used properly.
The study found that homeowners weren't turning their air-conditioning thermostats up when they turned on their ceiling fans. As a result, it took about 15 percent more energy to cool the house.
But your fans can save you as much as 20 percent on your energy bills. Here's how: When using a ceiling fan, turn your A/C thermostat up 3°F. The room will be warmer, but with the fan making the warm air seem cooler, you won't experience a loss in comfort. To optimize energy savings, be sure to turn the fan off when you leave a room.
Assuming you don't have pets that wander throughout the house, you can do all that with a motion-sensor wall switch that automatically turns the fan on and off when you enter and leave a room. Finally, to maximize cooling during the dog days of summer, relocate fans directly above sitting and sleeping areas, or place couches, chairs, kitchen tables and beds directly beneath fans.