Products & Services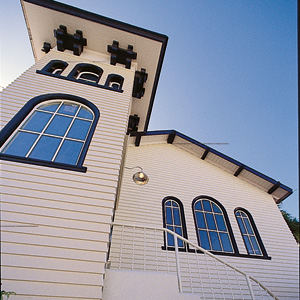 Browse all the products and services used on this project house, sorted either by category for all episodes, or by individual episode to find a resource used in a particular show.
This Old House does not endorse any product or service mentioned within this Web site.
Design
Architect

Contractor:
Chambers + Chambers Architecture & Interior Design
68 Sycamore Ave
Mill Valley, CA 94941
tel. "415-381-8326"


Model Builder

Contractor:
Graphic Blade
1275 Minnesota St
San Francisco, CA
tel. "415-641-7224"


Lighting Designer

Contractor:
O'Connor Associates
211 N 13th St, 8th Floor
Philadelphia, PA 19107
tel. "215-988-9200"
fax. "215-988-9008"

Episode 1726
Side Trip

Contractor:
Marin County Civic Center
Civic Center Concessions and Tours Office
3501 Civic Center Dr
San Rafael, CA 94903
tel. "415-499-6646"


Floor Refinisher

Contractor:
Floors Only of San Francisco
755 Monterey Blvd
San Francisco, CA 94127-2231
tel. "800-219-1740 or 415-239-2399"


Security System

Fingerprint
Supplier:
Alert Security Systems
1232 Monte Vista Ave # 3
Upland, CA 91786
tel. "909-946-5787"

Manufacturer:
Identix Inc.
510 N. Pastoria Ave
Sunnyvale, CA 94086


Audio System

Lifestyle 20 Music System
Manufacturer:
Bose
100 The Mountain
Framingham, MA 01701-8863
tel. "508-879-7330"


Doors

Interior
Manufacturer:
Bend Door Co.
PO Box 5248
Bend, OR 97708-5248
tel. "541-385-1422"


Range & Hood

HD142
Manufacturer:
Thermador Corporation
5551 McFadden Ave
Huntington Beach, CA 92649
tel. 800-656-9226


Microwave

KCM125E
Manufacturer:
KitchenAid
Benton Harbor, MI 49022
tel. 800-422-1230


Floor Stain

Minwax Polyurethane in Satin sheen
Manufacturer:
Minwax Company
14 Industrial Park
Flora, IL 62839-9700


Lighting Designer

Contractor:
O'Connor Associates
211 N 13th St, 8th Floor
Philadelphia, PA 19107
tel. "215-988-9200"
fax. "215-988-9008"


Lighting Supplier

Installer:
Wiedenbach-Brown Co.
1485 Bayshore Blvd, #456
San Francisco, CA 94124
tel. "415-468-5222"


Light Fixture

8172BK, wide beam spread lens on 6000 track
Manufacturer:
Lightolier
631 Airport Road
Fall River, MA 02720
tel. 800-217-7722

Installer:
Wiedenbach-Brown Co.
1485 Bayshore Blvd, #456
San Francisco, CA 94124
tel. "415-468-5222"


Rolling Ladder

No. 1 Rolling Ladder, roll type No. 210
Manufacturer:
Putnam Rolling Ladder Co., Inc.
32 Howard St
New York, NY 10013
tel. "212-226-5147"
fax. "212-941-1836"


Vacuum

Backpack Site Vacuum
Manufacturer:
Pro-Team Inc.
PO Box 7385
Boise, ID 83707
tel. "800-541-1456"


Hardware Store

Manufacturer:
Ace Hardware San Francisco
3545 California St
San Francisco, CA 94118-1707
tel. "415-751-5767"


City Inspectors

Contractor:
Dept. of Building Inspection
1660 Mission St
San Francisco, CA 94103


Shower Door Glass

Manufacturer:
S.A. Bendheim Co. NYC
122 Hudson St
NY, NY 10013
tel. "800-835-5304"


Shades

Manufacturer:
Hunter Douglas Window Fashions
39 East 51st St
New York, NY 10022
tel. 800-937-7895
fax. 212-891-0200


Dishwasher

DW246
Manufacturer:
Thermador Corporation
5551 McFadden Ave
Huntington Beach, CA 92649
tel. 800-656-9226


Built-in Refrigerator

KSSP48MFS
Manufacturer:
KitchenAid
Benton Harbor, MI 49022
tel. 800-422-1230


Lighting Controls

Lutron
Manufacturer:
Installer:
Wiedenbach-Brown Co.
1485 Bayshore Blvd, #456
San Francisco, CA 94124
tel. "415-468-5222"


Lamps

H7-1-15F-3C-DD
Manufacturer:
Installer:
Wiedenbach-Brown Co.
1485 Bayshore Blvd, #456
San Francisco, CA 94124
tel. "415-468-5222"


Floor Finish

Minwax Wood Finish in Ebony and Jacobean
Manufacturer:
Minwax Company
14 Industrial Park
Flora, IL 62839-9700


Washer

Maytag Neptune
Manufacturer: