Products & Services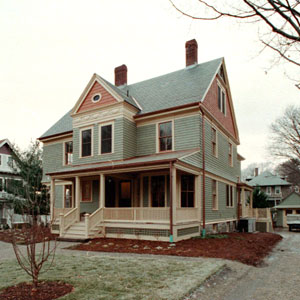 Browse all the products and services used on this project house, sorted either by category for all episodes, or by individual episode to find a resource used in a particular show.
This Old House does not endorse any product or service mentioned within this Web site.
Electrical
Futureproof Wiring Network

Residential FutureProof Interactive Network
Manufacturer:
IES, Inc.
6583 South Cottonwood St, 300 West
Murray, UT 800-903-4237
tel. "801-263-1300"

Episode 1819
Showerhead

K-9505-CP, MasterShower, 3-way, polished chrome
Manufacturer:
Kohler Co
444 Highland Drive
Kohler, WI 53044
tel. 800-456-4537


Faucet

K-14502-CP, Provence, polished chrome
Manufacturer:
Kohler Co
444 Highland Drive
Kohler, WI 53044
tel. 800-456-4537


Washer and Dryer

Neptune
Manufacturer:

Plumbing Contractor

Contractor:
Trethewey Bros. Plumbing and Heating
4280 Washington Street
Roslindale, MA 02131
tel. 617-325-3283
fax. 617-325-7586


Stained Glass

Manufacturer:
Anderson Glass Arts
548 Tremont St
Boston, MA 02116
tel. "617-357-5166"
fax. "617-350-6209"


Light Fixture

Low Voltage Recessed Lighting
Manufacturer:
Lightolier
631 Airport Road
Fall River, MA 02720
tel. 800-217-7722

Installer:
Wolfer's Lighting
A division of Standard Electric Co.
103 North Beacon St
Allston, MA 02134
tel. "617-254-0700"


Lighting Controls

Grafik Eye programmable controls/dimming system
Manufacturer:
Installer:
Wolfer's Lighting
A division of Standard Electric Co.
103 North Beacon St
Allston, MA 02134
tel. "617-254-0700"


Stove

EB984-611
Manufacturer:
Gaggenau USA Corporation
425 University Ave
Norwood, MA 02062
tel. "781 255 1766"
fax. "781 255 0437"

Installer:
Clarke Distribution Corp
tel. 800-842-5275


Kitchen Backsplash

Hand-made Chamoix tile, 4x4
Manufacturer:
Heath Ceramics
400 Gate 5 Rd
Sausalito, CA 94965
tel. "415-332-3732"
fax. "415-332-3204"


Ceiling Speakers

Manufacturer:
SpeakerCraft
1650 Seventh St
Riverside, CA 92507
tel. "800-448-0976"
fax. "909-787-8747"


High-speed Internet Cable Service

Contractor:
MediaOne Express
Riverbend Business Park
6 Campanelli Dr
Andover, MA 01810
tel. """978-683-5500, ext. 2079"""


Cleaning Service

Contractor:
Surfaceworks Inc.
125 Walnut Street
Building C
Watertown, MA 02472
tel. 617-926-7633
fax. 617-926-3289
Contact: Diane Savarese


Decorative Painter

Contractor:
Julia Clay
Medusa Studios
59 Candlewood Rd
Ipswich, MA 01938
tel. "978-356-8753"


Period Glass

Installer:
S.A. Bendheim Co. NYC
122 Hudson St
NY, NY 10013
tel. "800-835-5304"


Stainless Steel Sink Unit

Manufacturer:
Weiss Sheet Metal
210 Bodwell St
Avon, MA 02322
tel. "508-583-8300"


Marble

Manufacturer:
United Marble Fabricators


Butcherblock Countertop

End-grain
Installer:
Michigan Maple Block Co.
PO Box 245
Petoskey, MI 47790
tel. "616-347-4170"


Conversion Varnish

Lily Guardsman Woodcoating
Manufacturer:
Raybern Company
88 New Britain Ave
PO Box 687
Rocky Hill, CT 06067
tel. "800-826-9961"


Wood Floor Protection

Dura Runner Plus
Manufacturer:
Protective Products International
1205 Karl Ct, Suite 116
Wauconda, IL 60084
tel. "800-789-6633 or 708-526-1380"
fax. "847-526-1380"


Wallpaper Installer

Supplier:
John M. Gravallese
PO Box 543
Lexington, MA 02421
tel. "781-862-2679"


Toilet

P22100-00-AD, Hampstead Nickel silver
Manufacturer:
Kohler Co
444 Highland Drive
Kohler, WI 53044
tel. 800-456-4537


Microwave

Sharp
Manufacturer:
Sharp Electronics Corp.
1 Sharp Plaza
Mahwah, NJ 07430
tel. "201-529-8200"

Installer:
Clarke Distribution Corp
tel. 800-842-5275


Refrigerator

632SS
Manufacturer:
Sub-Zero
tel. 800-222-7820

Installer:
Clarke Distribution Corp
tel. 800-842-5275


Dishwasher

DW246US
Manufacturer:
Thermador Corporation
5551 McFadden Ave
Huntington Beach, CA 92649
tel. 800-656-9226

Installer:
Clarke Distribution Corp
tel. 800-842-5275


Cooktop

GPS486-GDS
Manufacturer:
Thermador Corporation
5551 McFadden Ave
Huntington Beach, CA 92649
tel. 800-656-9226

Installer:
Clarke Distribution Corp
tel. 800-842-5275


Range Hood

PHE48HQS
Manufacturer:
Thermador Corporation
5551 McFadden Ave
Huntington Beach, CA 92649
tel. 800-656-9226

Installer:
Clarke Distribution Corp
tel. 800-842-5275


Showerhead and arm

P21431-00AD, Hampstead, Nickel Silver
Manufacturer:
Kohler Co
444 Highland Drive
Kohler, WI 53044
tel. 800-456-4537


Bath/Shower Valve Trim

P22117-XX-AD, Hampstead, Nickel Silver
Manufacturer:
Kohler Co
444 Highland Drive
Kohler, WI 53044
tel. 800-456-4537


Tank lever

P70036-00-AD, Hampstead, Nickel silver
Installer:
Kohler Co
444 Highland Drive
Kohler, WI 53044
tel. 800-456-4537


Sink

K-3341, Undertone/Lyric
Manufacturer:
Kohler Co
444 Highland Drive
Kohler, WI 53044
tel. 800-456-4537


Strainer

K-8801-CP, Durostrainer, polished chrome
Manufacturer:
Kohler Co
444 Highland Drive
Kohler, WI 53044
tel. 800-456-4537


Shower Arm

K-9512-CP, Master Shower, Chrome
Manufacturer:
Kohler Co
444 Highland Drive
Kohler, WI 53044
tel. 800-456-4537


Handshower Kit

K-9500-CP, Master Shower, Polished Chrome
Manufacturer:
Kohler Co
444 Highland Drive
Kohler, WI 53044
tel. 800-456-4537


Shower Wall Elbow

K-9513-CP Maser Shower, Polished Chrome
Manufacturer:
Kohler Co
444 Highland Drive
Kohler, WI 53044
tel. 800-456-4537


Bath tub

K-722-0, Memoirs, white
Manufacturer:
Kohler Co
444 Highland Drive
Kohler, WI 53044
tel. 800-456-4537


Drain

K-7161-AF-CP, Clear-flo , polished chrome
Manufacturer:
Kohler Co
444 Highland Drive
Kohler, WI 53044
tel. 800-456-4537


Rite-Temp Valve

K-305-KS
Manufacturer:
Kohler Co
444 Highland Drive
Kohler, WI 53044
tel. 800-456-4537


Toilet seat

K-4653-0, French curve, white
Manufacturer:
Kohler Co
444 Highland Drive
Kohler, WI 53044
tel. 800-456-4537


Bath Tub

K-715-0, Villager, white
Manufacturer:
Kohler Co
444 Highland Drive
Kohler, WI 53044
tel. 800-456-4537


Automatic Washer Shut-Off Valve

Manufacturer:
Watts Regulator Company
815 Chestnut Street
North Andover, MA 01845
tel. 978-688-1811


Lighting Designer

Contractor:
Doreen Le May Madden
Lux Lighting Design
170 Needham Street, Suite 2
Newton, MA 02464-1508
tel. 617-234-0014
fax. 617-243-0018