Products & Services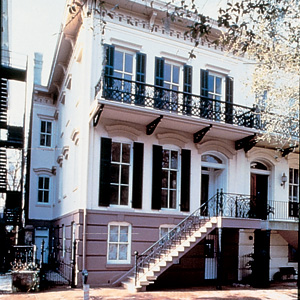 Browse all the products and services used on this project house, sorted either by category for all episodes, or by individual episode to find a resource used in a particular show.
This Old House does not endorse any product or service mentioned within this Web site.
Flooring
Heart Pine Flooring

Installer:
Authentic Pine Floors, Inc.
4042 Hway 42
PO Box 206
Locust Grove, GA 30248
tel. "800-283-6038 or 770-957-6038"


Floor Finish

Mega waterborne polyurethane
Contractor:
BonaKemi USA, Inc.
14805 E Moncrieff Pl
Aurora, CO 8001
tel. "800-872-5515"

Episode 1526
Side Trip

Contractor:
Pulaski Monument
The Savannah Monuments Project
428 Bull St
Savannah, GA 31401
tel. "912-238-3288"


Security System

Caretaker Plus
Supplier:
Security Systems of Savannah
709 E 65th St
PO Box 22157
Savannah, GA 31403
tel. "912-354-8739"

Manufacturer:
Interactive Technologies, Inc.
2266 North Second St
North St. Paul, MN 55109
tel. "800-777-5484"


Electrician

Contractor:
M. L. Sloan Electric Co. Inc.
2323 Rowland Ave
Thunderbolt, GA 31404
tel. "912-352-0110"


Chandeliers

Installer:
World Imports
Georgia Lighting
530 Fourteenth St, NW
Atlanta, GA 30318
tel. "800-282-0220 or 404-875-4754"


Lighting Designer

Contractor:
Ferguson Enterprises Inc.
1275 Chatham Parkway
Savannah, GA 31405
tel. "912-234-2211"


Appliances

Manufacturer:
Jenn-Air Co.
403 West 4th St North
Newton, IA 50208
tel. 800-536-6247


Dust Stop Stair Corners

Contractor:
Antique Hardware & Home
19 Buckingham Plantation Dr
Bluffton, SC 29910
tel. "800-422-9982"


Concrete Repair Epoxy

AboWeld 55-1
Manufacturer:
Abatron, Inc.
5501-95th Ave.
Kenosha, WI 53144
tel. "800-445-1754"


Interior Designer

Contractor:
Randolph Rowe
Mr. Rowe has passed away


Wrap Party Catering

Contractor:
Have Pots WIll Travel
No current address available


Granite Countertops

Manufacturer:
Creative Stone Accesories
140 E Centra l Junction Dr
Central Industrial Park
Savannah, GA 31405