Products & Services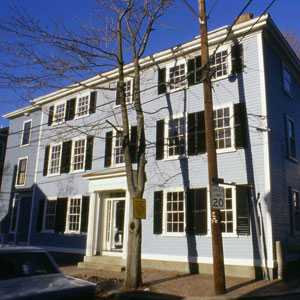 Browse all the products and services used on this project house, sorted either by category for all episodes, or by individual episode to find a resource used in a particular show.
This Old House does not endorse any product or service mentioned within this Web site.
Bathroom
Vanity

Cabico
Supplier:
Moynihan Lumber, Inc.
82 River St
Beverly, MA 01915
tel. "978-927-0032"
fax. "978-927-8668"

Manufacturer:
Cabico
Chemin's Way
Mill Ayer's Cliff, Quebec, Canada J0B1C0
tel. "819-838-5889"
fax. "819-838-5612"

Installer:
G & G Associates
56 Newton Rd
Plaistow, NH 03865
tel. "603-382-5122"


Tile

Supplier:
Joe Ferrante
Ferrante Tile Co.
10 Linwood Ave
N. Reading, MA 01864

Installer:
Shep Brown and Associates, Inc.
24 Cummings Park
Woburn, MA 01801
tel. "617-935-8080"


Pedestal Sink

Manufacturer:
Kohler Co
444 Highland Drive
Kohler, WI 53044
tel. 800-456-4537

Episode 1518
Decorative Floor Painter

Contractor:
Julia Clay
Medusa Studios
59 Candlewood Rd
Ipswich, MA 01938
tel. "978-356-8753"


Countertops

Manufacturer:
Fireslate 2 Inc.
47 Hamel Rd
Lewiston, ME 04240
tel. "800-523-5902 or 207-784-8746"
fax. "207-786-2211"


Carpet made from recycled plastic

Enviro-Tech
Manufacturer:
Image Industries Inc.
PO Box 5555
Armuchee, GA 30105
tel. "800-722-2504 or 706-235-8444"


Historic Carpet

Manufacturer:
J. R. Burrows & Co. Historical-Design Merchants
393 Union St
PO Box 522
Rockland, MA 02370
tel. "781-982-1812"


Side Trip

Contractor:
Woodward Grosvenor & Co. Ltd.
Stourvale Mills
Green St
Kidderminster, Worcestershire, England DY10 1AT
tel. """011-44-1562-820020,"""
fax. "011-44-1562-820042"


Alarm System

Manufacturer:
Wayne Alarm Systems
424 Essex St
Lynn, MA 01902-3624
tel. "781-639-000"


Appliances

Manufacturer:
KitchenAid
Benton Harbor, MI 49022
tel. 800-422-1230


Reproduction Furniture

Manufacturer:
Henkel-Harris Co. of Virginia
184 Capitol Ln
Winchester, VA 22602-2437
tel. "540-667-4900"
fax. "540-667-8261"