Products & Services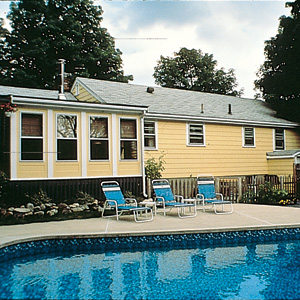 Browse all the products and services used on this project house, sorted either by category for all episodes, or by individual episode to find a resource used in a particular show.
This Old House does not endorse any product or service mentioned within this Web site.
Siding, Shutters & Trim
Vinyl Siding

Supplier:
Ron Cahill
No current address is available

Manufacturer:
Wolverine Technologies
PO Box 860
750 E Swedes Ford Rd
Valley Forge, PA 19482
tel. "800-521-9020"

Installer:
Kerber Building Products
18 Lonergan Rd
Middleton, MA 01949
tel. "978-777-4303"

Episode 517
Lumber

Installer:
Furman Lumber Inc
32 Manning Rd
PO Box 130
Billerica, MA 01821
tel. "800-THE-WOOD or 978-670-3800"


Whirlpool Bath

Manufacturer:
Owens-Corning Fiberglass Corporation
Owens-Corning World Headquarters
Owens-Corning Parkway
Toledo, OH 43659-0001
tel. 800-GET-PINK or 419-248-8000


Plumbing And Heating Contractor

Contractor:
Trethewey Bros. Plumbing and Heating
4280 Washington Street
Roslindale, MA 02131
tel. 617-325-3283
fax. 617-325-7586


Tile

Manufacturer:
American Olean Tile Co
111 Plymouth St
Mansfield, MA 02048
tel. "508-337-2700"


Vinyl Siding

Supplier:
Ron Cahill
No current address is available

Manufacturer:
Wolverine Technologies
PO Box 860
750 E Swedes Ford Rd
Valley Forge, PA 19482
tel. "800-521-9020"

Installer:
Kerber Building Products
18 Lonergan Rd
Middleton, MA 01949
tel. "978-777-4303"


Plumbing Fixtures

Manufacturer:
American Standard
P.O. Box 6820
1 Centennial Plaza
Piscataway, NJ 08855-6820
tel. 800-442-1902


Shelving

Manufacturer:
Space Saver Shelving Company
No current address is availble


Mirror

Manufacturer:
National Plate Glass
216 McGrath Highway
Somerville, MA 02143
tel. "617-523-5315"


Greenhouse Windows

Manufacturer:
Pella Corp
102 Main St
Pella, IA 50219
tel. "515-628-1000"


Pulldown Stairs

Manufacturer:
"Roto" Skylight Co
No current address is available


Furniture

Living Home Collection
Manufacturer: