Products & Services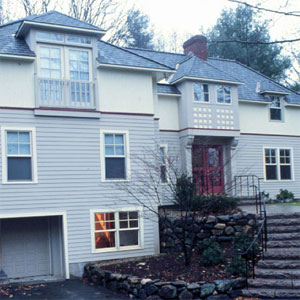 Browse all the products and services used on this project house, sorted either by category for all episodes, or by individual episode to find a resource used in a particular show.
This Old House does not endorse any product or service mentioned within this Web site.
Siding, Shutters & Trim
Engineered Trim

Prime Trim
Manufacturer:
Georgia-Pacific Corporation
133 Peachtree St, NE
Atlanta, GA 30303
tel. 800-BUILDGP or 404-652-4706


V-groove Cedar Siding

Manufacturer:
Harvey Industries, Inc.
400 Main Street
Waltham, MA 02451
tel. 781-899-3500


Redwood Clapboards

Contractor:
California Redwood Association
405 Enfrente Dr
Suite 200
Novato, CA 94949
tel. "415-382-0662; 888-CALREDWOOD"
fax. "415-382-8531"

Episode 1220
Cherry Panelling

4'x8' sheets
Manufacturer:
States Industries, Inc.
29545 Enid Rd East
PO Box 7037
Eugene, OR 97401
tel. "800-626-1981 or 541-688-7871"


Painter

Contractor:
Unicorn Painting Co.
No current address is available


French Doors

Marquis with plastic Wrap On Glazing
Manufacturer:
Morgan Manufacturing
PO Box 2446
Oshkosh, WI 54903-2446
tel. "920-235-4361"


Mirrors

Manufacturer:
Banner Glass Shelmar
tel. 781-245-1206


Wallpaper Hanger

Wallpaper

KW6022, KW6012B, and KW6002B, K&W Kids Vol. III
Installer:
Waltham Wallpaper & Paint Corp.
591-3 Main St
Waltham, MA 02452
tel. "781-893-3732"


Security System

Supplier:
Lexington AlarmSystems, Inc.
9 Alfred Circle
Bedford, MA 01730
tel. 800-870-4204
Contact: Tina Myers

Manufacturer:
ADEMCO Manufacturing
No current address is available


Front Door Hardware

Contractor:

Combination Screen and Storm Doors

Manufacturer:
Combination Door Co.
1000 Morris St
PO Box 1076
Fond du Lac, WI 54936-1076
tel. "920-922-2050"


Carpet Installer

Contractor:
Nigohsian Carpet and Rug Co., Inc.
57 Crawford St
Needham, MA 02494
tel. "781-444-7847"


Carpet

Manufacturer:
Karastan Bigelow
240 Peachtree St NW
Atlanta, GA 30303
tel. "404-521-1890"


Iron Railing Fabricator

Contractor:
DeAngelis Iron Work, Inc.
305 Depot St
PO Box 350
South Easton, MA 02375
tel. "508-238-4310"


Plumbing Fixtures

Manufacturer:
American Standard
P.O. Box 6820
1 Centennial Plaza
Piscataway, NJ 08855-6820
tel. 800-442-1902


Hardware

Interior doors
Manufacturer:
Paul Decorative Products
810 East 136th Street
Bronx, NY 10454
tel. "718-784-2244"


Appliances

Manufacturer:
Whirlpool Corporation
2000 N. M-63
Benton Harbor, MI 49022-2692
tel. 269-923-5000


Blind Installation

Contractor:
Arlington Door & Window
Burlington, MA 01803
tel. "781-272-1195"


Glass Shower Doors

Manufacturer:
Banner Glass Shelmar
tel. 781-245-1206


Shower doors

Manufacturer:
Century Shower Door, Inc.
250 Lackawanna Ave
West Patterson, NJ 007424
tel. "800-524-2578"
fax. "973-785-0777"


Iron Railing Galvanizer

Contractor:
Duncan Galvanizing
69 Norman St
Everett, MA 02149
tel. "617-389-8440"


Security System Installer

Contractor:
Lexington AlarmSystems, Inc.
9 Alfred Circle
Bedford, MA 01730
tel. 800-870-4204
Contact: Tina Myers