Products & Services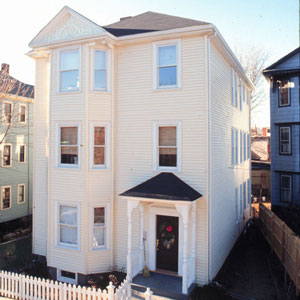 Browse all the products and services used on this project house, sorted either by category for all episodes, or by individual episode to find a resource used in a particular show.
This Old House does not endorse any product or service mentioned within this Web site.
Building Resources
Dumpster

Contractor:
Browning-Ferris Industries
22 Nightingale Ave
Quincy, MA 02169
tel. "617-471-7900"


Aerial Lift

Installer:
Shaughnessy Crane and Aerilift
346 D St
South Boston, MA 02127
tel. "617-268-3000 or 617-268-8995"


Sandblasting Equipment

Manufacturer:
Coleman Powermate Compressors
118 W Rock St
Springfield, MN 56087
tel. "507-723-6211"

Episode 1018
Checkerboarding

Contractor:
Trudi Stefan
Carousel Crafts
No current address is available


Stencilling

Contractor:
Chelle Pitts
No current address is available

Manufacturer:
Stencil Ease
7 Center Rd W
Old Saybrook, CT 06475-4053
tel. "860-395-0150"


First Floor Furniture

Bob Timberlake Collection
Manufacturer:
Lexington Furniture Industries
3301 Highway 85
Lexington, NC 27292
tel. "336-357-7939"


Second Floor Furniture

Manufacturer:
Pier 1 Imports
301 Commerce St #600
Fort Worth, TX 76102-4106
tel. "817-878-8000"


Third Floor Furniture

Manufacturer:
Bernhardt Furniture Corp
1839 Morganton Blvd SW
Lenoir, NC 28645-5338
tel. "828-758-9811"


Sheets And Towels

Manufacturer:
JP Stevens & Co Inc
No current address is available


Accessories

Fall 1990 Collection
Manufacturer:
Conran's Habitat
Nationwide


Mattresses

Installer:
Mattress Discounters
425 Boylston St
Boston, MA 02116-3315
tel. "617-437-6633"


Cork Wallcovering

Vistacene colored bulletin board cork
Manufacturer:
Expanko Cork Co
PO Box 384
1139 Phoenixville Pike
West Chester, PA 19380
tel. "610-436-8300"


Carpet

Manufacturer:
Karastan Bigelow
240 Peachtree St NW
Atlanta, GA 30303
tel. "404-521-1890"


Shades

Duette
Manufacturer:
Hunter Douglas Window Fashions
39 East 51st St
New York, NY 10022
tel. 800-937-7895
fax. 212-891-0200