Products & Services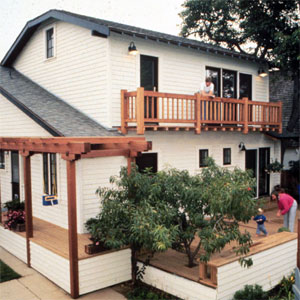 Browse all the products and services used on this project house, sorted either by category for all episodes, or by individual episode to find a resource used in a particular show.
This Old House does not endorse any product or service mentioned within this Web site.
Contractors & Services
Electrician

Contractor:
Escalera Electric
No current address is available


Plumbing And Heating Contractor

Contractor:
George Brazil
George Brazil 24 Hour Services
3022 N Hesperian St
Santa Ana, CA 92706-1163
tel. "714-541-9753"


Waste Removal

Contractor:
Browning Ferris Industries Inc in California
800 Cacique St
Santa Barbara, CA 93102
tel. "805-965-5248"


Concrete Pumping

Contractor:
Eldon J Smith Co
No current address is available


Landscape Architect

Contractor:
Castleberg Associates
430 E Carrillo St
Santa Barbara, CA 93101-1402
tel. "805-965-3063"


Landscape Contractor

Contractor:
Plowboy Landscapes Inc
2190 N Ventural Ave
Ventura, CA 93001-1343
tel. "805-643-4966"


Soil Ammendment

Contractor:
Agromin Co
1501 S Las Posas Rd
Camarillo, CA 93012-8525
tel. "805-482-8749"

Episode 724
Building Materials

Installer:
Santa Barbara Mill & Lumber Co
No current address is available


Lumber

Redwood
Manufacturer:
California Redwood Association
405 Enfrente Dr
Suite 200
Novato, CA 94949
tel. "415-382-0662; 888-CALREDWOOD"
fax. "415-382-8531"

Installer:
County Lumber
PO Box 4776
Santa Barbara, CA 93140
tel. "805-966-3181"


Power Tools

Manufacturer:
Makita USA Inc
1565 Winchester Blvd
Campbell, CA 95008-0501
tel. "408-379-0377"


Roof Shingles

Fiberglass
Manufacturer:

Landscape Architect

Contractor:
Castleberg Associates
430 E Carrillo St
Santa Barbara, CA 93101-1402
tel. "805-965-3063"


Electrician

Contractor:
Escalera Electric
No current address is available


Fiberglass Wall Covering

Manufacturer:
Regal of Scandinavia
No current address is available