Products & Services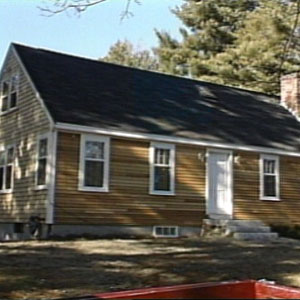 Browse all the products and services used on this project house, sorted either by category for all episodes, or by individual episode to find a resource used in a particular show.
This Old House does not endorse any product or service mentioned within this Web site.
Contractors & Services
Architect

Contractor:
J Scott Finn
Design Associates
432 Columbia St
Cambridge, MA 02141
tel. "617-661-9082"


Architectural Historian

Contractor:
Sara Chase
Society for the Preservation of NE Antiquities
185 Lyman St
Waltham, MA 02452
tel. "781-891-1985"


Masonry Contractors

Contractor:
Capuano Construction
48 Slayton Rd
Melrose, MA 02176
tel. "781-665-2260"


Plumbing And Heating Contractor

Contractor:
Trethewey Bros. Plumbing and Heating
4280 Washington Street
Roslindale, MA 02131
tel. 617-325-3283
fax. 617-325-7586


Gas Line Installation

Contractor:
Boston Gas in Boston
1 Beacon St
Boston, MA 02108
tel. "617-742-8400"

Episode 604
Lumber

Installer:
Furman Lumber Inc
32 Manning Rd
PO Box 130
Billerica, MA 01821
tel. "800-THE-WOOD or 978-670-3800"


Dumpster

Installer:
Browning-Ferris Industries
22 Nightingale Ave
Quincy, MA 02169
tel. "617-471-7900"


Windows

Installer:
Brockway-Smith Company (BROSCO)
tel. 800-225-7912


Staplers

Manufacturer:

Masonry Contractors

Contractor:
Capuano Construction
48 Slayton Rd
Melrose, MA 02176
tel. "781-665-2260"


Microlaminated Trusses

Manufacturer:
Trus Joist MacMillan Ltd
200 E Mallard
Boise, ID 83706
tel. "208-364-1200"


Trusses

Installer:
Friend Lumber & Building Centers
4 Adams Street
Burlington, MA 01803
tel. 781-273-1335