Products & Services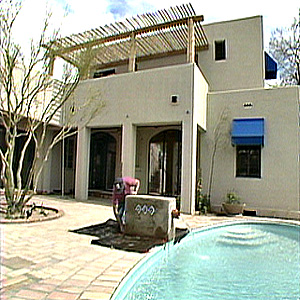 Browse all the products and services used on this project house, sorted either by category for all episodes, or by individual episode to find a resource used in a particular show.
This Old House does not endorse any product or service mentioned within this Web site.
Contractors & Services
Architect

Contractor:
Bob Barnes
No current address is available


General Contractor

Contractor:
John Mechem
Earth & Sun Adobe
132 S Nina Circle
Mesa, AZ 85210-8444
tel. "480-844-8134"


Sandblaster

Contractor:
Bladlow's Sandblasting Service
Glendale, AZ 85301
tel. "602-252-0044"


Landscape Contractor

Contractor:
Hubbs Landscaping
No current address is available


Landscape Architect

Contractor:
Steve Martino & Associates
3336 N 32nd St
Phoenix, AZ 85018
tel. "602-957-6150"

Episode 625
Side Trip

Contractor:
Rosson House
Heritage Square
6th St and Monroe
Phoenix, AZ 85003
tel. "602-262-5029"


Crane

Installer:
Arizona Hydro Crane
4545 W Van Buren St
Phoenix, AZ 85043
tel. "602-242-4681"


Interior Millwork

Manufacturer:
Anderson & McQuaid Millwork
170 Fawcett St
Cambridge, MA 02138
tel. 800-640-3250


Substrate Cement Material

Durabond
Manufacturer:
USG Corp
125 S Franklin St
Chicago, IL 60606
tel. 800-874-4968

Installer:
Monarch Tile
5545 W Latham St #1
Phoenix, AZ 85043-1617
tel. "602-352-0301"


Windows

Manufacturer:
Hurd Millworks Co
575 South Whelen Ave
Medford, WI 54451
tel. "715-748-2011"


Doors

Manufacturer:
Hurd Millworks Co
575 South Whelen Ave
Medford, WI 54451
tel. "715-748-2011"


Tile

Mexican
Supplier:
Pete Talbot
No current address is available

Installer:
Mexican Tile Co
2222 E Thomas Rd
Phoenix, AZ 85016
tel. "602-954-6271"


Landscape Contractor

Contractor:
Hubbs Landscaping
No current address is available