Products & Services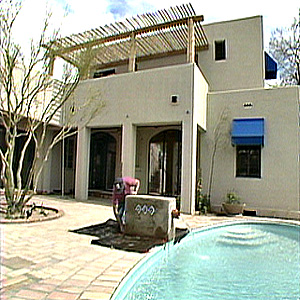 Browse all the products and services used on this project house, sorted either by category for all episodes, or by individual episode to find a resource used in a particular show.
This Old House does not endorse any product or service mentioned within this Web site.
Contractors & Services
Architect

Contractor:
Bob Barnes
No current address is available


General Contractor

Contractor:
John Mechem
Earth & Sun Adobe
132 S Nina Circle
Mesa, AZ 85210-8444
tel. "480-844-8134"


Sandblaster

Contractor:
Bladlow's Sandblasting Service
Glendale, AZ 85301
tel. "602-252-0044"


Landscape Contractor

Contractor:
Hubbs Landscaping
No current address is available


Landscape Architect

Contractor:
Steve Martino & Associates
3336 N 32nd St
Phoenix, AZ 85018
tel. "602-957-6150"

Episode 622
Ready Mix Concrete

Installer:
Tri City Ready Mix
No current address is available


Temporary Fencing

Installer:
American-Rent-A-Fence
2502 N 27th Ave
Phoenix, AZ 85009
tel. "800-336-2322"


Waste Removal

Contractor:
Waste Management of Phoenix
300 S 19th St
Phoenix, AZ 85009
tel. "602-257-1313"


Adobe

Installer:
OId Pueblo Adobe Co
9353 N Casa Grande Hwy
Tucson, AZ 85743
tel. "520-744-9268"


Side Trip

Contractor:
Casa Grande Ruins National Monument
Casa Grande Ruins
Coolidge, AZ 85228
tel. "520-723-3172"