Products & Services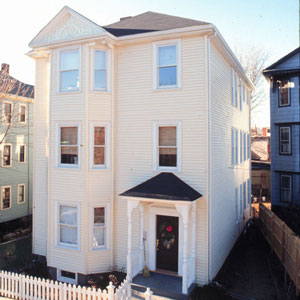 Browse all the products and services used on this project house, sorted either by category for all episodes, or by individual episode to find a resource used in a particular show.
This Old House does not endorse any product or service mentioned within this Web site.
Contractors & Services
General Contractor

Contractor:
Lopes Construction
No current address is available


Lead Paint Inspector

Contractor:
South Shore Lead Paint Testing Inc
541 Pleasant St
Weymouth, MA 02190-2660
tel. "781-337-5546"


Lead Paint Removal

Contractor:
Middlesex Lead Inspection & Removal
No current address is available


Lead Poisoning Specialist

Contractor:
Dr. Michael Shannon
Children's Hospital
300 Longwood Avenue
Boston, MA 02115
tel. "617-355-6000"


Plumbing and Heating Consultant

Contractor:
Richard Trethewey
tel. 781-320-9910


Kitchen And Bath Designer

Contractor:
Glenn Berger
Acton Woodworks Inc
2 School St
Acton, MA 01720
tel. "508-263-0222"


Community Development

Contractor:
Dorchester Bay Economic Development Corp
594 Columbia Rd #302
Dorchester, MA 02125-3436
tel. "617-825-4200"


Plumbing And Heating Contractor

Contractor:
Richard Trethewey
tel. 781-320-9910


Plastering Crew

Contractor:
Mannion Wallboard and Plastering
No current address is available


Landscape Contractor

Contractor:
Leo's Landscape Nursery Inc.
561 Walnut St
W Bridgewater, MA 02379-1012
tel. "617-586-6790"


Youth Volunteer Group

Contractor:
City Year
285 Columbus Ave
Boston, MA 02116-5114
tel. "617-451-0699"


Floor Sanding

Contractor:
Jeff Hosking
Hosking Floor Refinishing and Home Improvement
456 Lincoln Rd
Walpole, MA 02081
tel. "508-668-8315; 617-326-2898"


Floorcloth Artist

Contractor:
Marylou Davis, Inc
Contact: Maggie Kean


Checkerboarding

Contractor:
Trudi Stefan
Carousel Crafts
No current address is available


Stencilling

Contractor:
Chelle Pitts
No current address is available

Manufacturer:
Stencil Ease
7 Center Rd W
Old Saybrook, CT 06475-4053
tel. "860-395-0150"

Episode 1011
Sandblasting Equipment

Manufacturer:
Coleman Powermate Compressors
118 W Rock St
Springfield, MN 56087
tel. "507-723-6211"


Magnetic Featherboard For Table Saw

Grip-Tite
Manufacturer:
Mesa Vista Design
4800 Rockaway Blvd NE
Rio Rancho, NM 87124-7010
tel. "505-892-0293"


Side Trip

Contractor:
Model Home: Sekisui Heim
Sekisui Chemical Co Ltd
4-4 Nishitenma 2-chome
Kita-Ku, Osaka, Japan, 530-8565
tel. "06-6365-4122"