Products & Services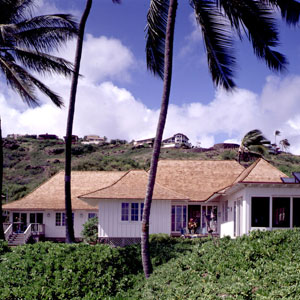 Browse all the products and services used on this project house, sorted either by category for all episodes, or by individual episode to find a resource used in a particular show.
This Old House does not endorse any product or service mentioned within this Web site.
Contractors & Services
Architect

Contractor:
Dan Moran
560 N. Nimitz Hwy #125d
Honolulu, HI
tel. "808-524-7004"


General Contractor

Contractor:
Ching Construction
730 Moowaa St #D
Honolulu, HI 96817
tel. "808-842-1844"


Electrician

Contractor:
Pierre Jaffuel
Techno Electrical Enterprises
500 University Ave Suite 2204
Honolulu, HI 96826
tel. "808-947-2726"
fax. "808-947-2729"


Roof Contractor

Contractor:
Wilkinson Shake Roofing, Inc.
225A N Kalaheo Ave
Kailua, HI 96734
tel. "808-235-1777"


Structural Engineers

Contractor:
JAI Allison LLC
1128 Nuuanu Ave, Suite 203
Honolulu, HI
tel. "808-536-2108"


Fumigation Service

Contractor:
Hauoli Fumigation Co
650 Kakoi St
Honolulu, HI 96819-2014
tel. "808-836-0272"


Painter

Contractor:
Tom McCall Interiors, Exteriors
322 Iliwahi Loop
Kailua, HI 96734
tel. "808-254-3718"


Landscape Architect

Contractor:
Loriann Gordon Landscape
737 Bishop St #1530
Honolulu, HI 96817
tel. "808-524-3900"


Decorative Painter

Contractor:
Angela Adams Designs
2 Atlantic St
Portland, ME 04101
tel. "207-761-0552"

Episode 1322
Red Cedar Shingles

CCA-treated
Manufacturer:
Wesco Cedar, Inc.
105 E Hilliard Ln
PO Box 40847
Eugene, OR 97404
tel. "800-547-2511 or 541 688-5020"
fax. "541-688-5024 FAX"

Installer:
Cedar Shake & Shingle Bureau
PO Box 1178
Sumas, WA 98295
tel. "604-462-8961"
fax. "604-462-9386"


Shingle Underlayment

Cedar Breather 3-D Nylon Mesh
Manufacturer:
Benjamin Obdyke Inc
tel. 800-523-5261


Fall-arrest Roof Safety System

"Skyhook" anchorage system
Manufacturer:
Guardian Metal Products, Inc.
4050 Auburn Way N # 4
Auburn, WA 98002-1391
tel. "253-854-5877"


Sliding Doors

Manufacturer:

Side Trip

Contractor:
SS Kainalu
Matson Navigation Co
1411 Sand Island Pkwy
Honolulu, HI 96808
tel. "808-848-1211"


Windows

Manufacturer: