Episode Descriptions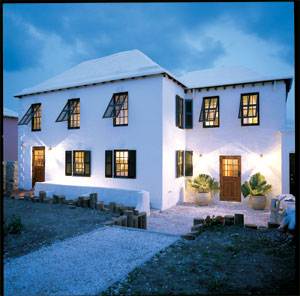 Season 25: Bermuda
The Bermuda House
This project premieres on PBS
February 12, 2004
Programs #2319-2326
Program #2319
With their course set for historic and sunny Bermuda, host Kevin O'Connor and master carpenter Norm Abram set sail aboard the "Island Raider" in search of a winter project house. They are met by Mayor E. Michael Jones, who decks them out in Bermuda shorts and shows them the best Bermuda has to offer: Fort St. Catherine, Hamilton's Front Street, and Horseshoe Bay Beach. Then, zipping through the narrow cobblestone streets of St. George's on mopeds (foreigners are forbidden to drive cars in Bermuda), Norm and Kevin arrive at Aunt Nea's Inn, where they meet potential This Old House homeowners Andrea Dismont and Delaey Robinson, local innkeepers who want to fix up a vacant and dilapidated c. 1805 Georgian on their property. The house, "Harbour View," needs a lot of work, so Kevin meets up with local architect Colin Campbell at a recently renovated home in Pembroke to see if he thinks the project is viable. Meanwhile, Norm tracks down general contractor Alan Burland at a commercial job he's running in Hamilton. Alan, an eleventh-generation Bermudian, assures Norm that he can handle the job. After weighing the pros and cons of working on a remote island 680 miles out at sea, Norm and Kevin tell Andrea and Delaey that although the renovation is going to be a challenge, This Old House is on board to help them out.

Program #2320
Host Kevin O'Connor and master carpenter Norm Abram open the show in Southampton at Gibbs Hill Lighthouse. Built in 1846, it's one of the oldest cast-iron lighthouses in the world. At 362 feet above sea level it's also the highest point in Bermuda, offering panoramic views of the island. Back in St. George's, Kevin meets architect Colin Campbell to review his design plans for the renovation and expansion of Harbour View. Norm meets fourth-generation quarry man Jonathan Cumberbatch at a quarry in Smith's parish to see how native limestone is quarried and cut into roofing tiles known as "slate". At the project house, lead mason Dilton Cann shows Norm how he's using the slate, mortar, and cement wash to repair the extensive roof damage caused by hurricane Fabian. General contractor Alan Burland and job foreman John Richardson give Norm a progress tour: the former kitchen and second floor bath have been removed, the cedar roof rafters have been exposed and reinforced, excavation for the new addition is complete, and the window frames are being replaced. Homeowners Andrea Dismont and Delaey Robinson begin stripping their old Bermuda cedar window sash by hand, using the less-toxic chemical paint stripper that This Old House used with great success in Winchester. Now all the team needs is a building permit to begin work on the addition. If the approval is delayed much longer, the job may not be finished by the time This Old House has to head back to Boston.

Program #2321
Host Kevin O'Connor and master carpenter Norm Abram welcome plumbing and heating expert Richard Trethewey to Bermuda in front of St. Peter's Church in St. George's. First built in 1612 and rebuilt in 1714, it's the oldest continually used Anglican church in the Western Hemisphere. Next door at Aunt Nea's Inn, Norm and Kevin meet homeowner Delaey Robinson to talk about the building permit, and the budget. The homeowners have omitted the second-floor addition to their guest unit, saving themselves a quarter of a million dollars. Across the street at Harbour View, general contractor Alan Burland shows Norm how he's using a steel beam to pick up the second-floor load, while lead mason Dilton Cann shows Kevin how he's building new walls of the addition out of concrete block. To see how charming an old renovated Bermuda home can be, Alan shows Norm his carefully restored c. 1750 farmhouse in Somerset. Back at the project house, master plumber Gerald Smith shows Richard how two existing cisterns, or "tanks," will collect rainwater from the roof to supply the house with drinking water. Kevin meets master electrician Noel Vanputten to see how the electrical rough-in is progressing on the old house (Bermuda stone) and the new addition (concrete block.) Although the progress may appear to be slow, Norm, Richard, and Kevin recall that, compared with time-consuming wood construction and finishes, the masonry work at Harbour View will come together quickly.

Program #2322
Master carpenter Norm Abram and host Kevin O'Connor open the show 120 feet below ground, where they're exploring the Crystal Caves of Bermuda. Back at the job site, Kevin finds project manager Alex DeCouto overseeing the prep and pour of the second-floor deck on the addition. Plumbing and heating expert Richard Trethewey meets civil engineer Keith Claridge on a neighborhood roof to see how 95 percent of Bermudians obtain drinking water: by collecting rainwater in roof catchments and cisterns known as "tanks." They visit a massive military fort turned catchment and a modern reverse-osmosis plant to see how the government supplements the water supply. Two weeks of rain might be good for the tank levels, but it's bad for the construction schedule, so job foreman John Richardson shows Norm and Kevin how work has progressed on the interior of the old house despite the rain. Then, Norm visits the general contractor's mill shop and volunteers to help out by building a cedar mantel for Harbour View's dining room fireplace.

Program #2323
Master carpenter Norm Abram welcomes general contractor Tom Silva to the island by getting him properly outfitted in the "full Bermuda." Host Kevin O'Connor finds homeowners Delaey Robinson and Andrea Dismont at Aunt Nea's Inn to see how they're managing the renovation while operating the c. 1780 guest house, and raising two young boys. They show Kevin the historic mantel they'd like Norm to replicate for their new home. Across the street at the job site, Kevin finds foreman John Richardson and lead mason Dilton Cann pouring the bond beam that will unify the structure of the new addition and bear the load of the new stone roof. While measuring for the job, Norm and Tom decide that the firebox needs to be rebuilt to accommodate the new mantel. Worried about time and resources, project manager Alex DeCouto reluctantly agrees to add the masonry work to his list. Kevin meets curator Hugh Davidson for a tour of Verdmont, a house that has not been altered in 300 years and that features an extensive collection Bermuda-made cedar antiques. Later at the mill shop in Hamilton, Tom and Norm get working on the fireplace mantel. Tom's final analysis of the job: there's still a lot to do, but as someone who's been in the hot seat before, he knows that the builders can move mountains during the last few weeks, and they're going to have to.

Program #2324
There are only three weeks left on the job, and any materials and products not already aboard a ship to Bermuda are not going to make it in time. So master carpenter Norm Abram and host Kevin O'Connor head down to the docks of Hamilton to greet the "Bermuda Islander" container ship, just in from New Jersey. Back at Harbour View, Kevin meets project manager Alex DeCouto for an update: landscaping has begun in the south court, the verandah is framed in, and the second floor walls are up. In the basement, Norm finds HVAC contractor Steven Cardoza installing a new high-efficiency heating and cooling system that uses an environmentally responsible refrigerant that won't deplete the ozone layer. Up in the kitchen, Kevin meets interior designer Michele Smith for a preview of the kitchen elevations. Then, homeowner Andrea Dismont and job foreman John Richardson show Kevin their recently discovered treasure — an 1884 gold sovereign found beneath the dining room floor. Kevin meets Dr. Ed Harris for a tour of Bermuda's Royal Naval Dockyard. Once known as the "Gibraltar of the West," Dockyard is still the largest fort in Bermuda and the largest tourist destination on the island. Kevin finds kitchen contractor Mark Henneberger unloading the kitchen cabinets that have just been cleared through customs from Canada.

Program #2325
Landscape contractor Roger Cook arrives in Bermuda, then host Kevin O'Connor and master carpenter Norm Abram meet project manager Alex DeCouto in the north court to find the scaffolding down, the old building painted, and the landscaping well underway. Inside, Alex shows Norm the new cedar French doors and oiled bronze hardware — an ideal combination for this seaside location. Kevin finds kitchen contractor Mark Henneberger finishing up the countertop install — it's a new quartz material that carries a 10-year warranty and is non-porous, two times stronger than granite, and maintenance free. In the upstairs hall, Kevin finds interiors specialist Jennifra Gray installing a faux Bermuda stone — it's a closed-cell polymer that gives the look of natural limestone without the maintenance issues or cost. Then, Alex and Norm meet tiling contractor Gene Aitkin to see his work in the boys' bathroom as well as the progress on the master bath, which has been slow due to last-minute changes and additions. In the dining room, Kevin meets painting contractor Paul Mathias for a lesson in applying a three-coat latex paint that results in a "brushed suede" decorative finish. Landscape contractor Jeff Sousa shows Roger the local flora at private nursery open only to the trade, and in a challenging (and dramatic) finished lot in Paget. Back at Harbour View, Jeff shows Roger how his crew is installing Mexican river rocks and Turkish travertine pavers to create a courtyard for two outdoor spa units. The end of the day brings the flooring installers, and this time it's Randy Stafford putting down a hand-scraped engineered floating floor in the master suite.

Program #2326
It's the day before the wrap, and host Kevin O'Connor finds homeowner Delaey Robinson believing in miracles: He's standing in his new state-of-the-art kitchen, which was a water-damaged storage room only four short months ago. He shows Kevin the stainless steel task sink, professional style range, and 48-inch refrigerator, as well as a snap-together indoor/outdoor hardwood floor for the entryway. Upstairs, Kevin finds homeowner Andrea Dismont setting up a custom closet system in the master suite. Then she shows Kevin another space saver: a stackable front-loading washer and dryer in the new laundry closet. Master carpenter Norm Abram meets exterior shutter expert Fritz Brenner to see the new pulltruded fiberglass Bermuda shutters — they're custom made, factory finished, and resistant to rot. Window treatment installer J.C. Lehren shows Kevin the interior plantation shutters going up in the master bedroom. Plumbing and heating expert Richard Trethewey shows Kevin the progress in the master bath that's really more "spa" than bathroom, featuring a soak tub, steam shower, and foot whirlpool. Landscape contractor Roger Cook meets project manager Alex DeCouto for a closer look at the swim spa, hot tub, and composite decks that have just gone in in the south courtyard. Then it's our last day in Bermuda, and interior designer Michele Smith shows Kevin the completed living room, dining room, and master suite. Up on the roof, the team assembles for a traditional Bermuda "roof wetting," a ceremony celebrating the end of the project with rum and good wishes. Making their way down to King's Square, the crew departs Bermuda, once again aboard the Island Raider, bound for Boston and the 25th Anniversary season.