Episode Descriptions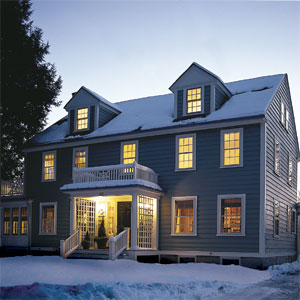 Season 24: Winchester, Massachusetts
1922 Colonial Revival
This project premiered on PBS
October 10, 2002
Programs #2201-2218
Program #2201
Host Steve Thomas recreates a homeward commute from the 1920s, returning by train to Winchester, Massachusetts, a town that retains much of its original early 1900s character. Waiting for him at the station is master carpenter Norm Abram in a classic Ford Model A "Woody." A short drive through town brings them to a 1922 Colonial Revival home in a charming neighborhood known as the "Flats." Steve steps out the back door to find new homeowner (and master gardener) Kim Whittemore pruning perennials. Their tour of the first floor reveals a tired but well-maintained house in need of updating. Meanwhile, general contractor Tom Silva, Norm and plumbing and heating expert Richard Trethewey search for trouble spots. Convinced that the home has "good bones" and needs primarily only surface work, Steve and Norm seal the deal with new homeowners Kim Whittemore and Bruce Leasure welcoming them to the This Old House family.

Program #2202
Host Steve Thomas checks in with general contractor Tom Silva and painting contractor Jim Clark, who are busy testing means by which to strip nearly 30 layers of lead-based paint from the exterior of the house. In the backyard, landscape contractor Roger Cook shows homeowner Kim Whittemore how to properly ball and burlap several trees and shrubs, moving them to safety before construction begins. Looking to enlist the help of a good architect, Steve meets project architect David Stirling, whose firm has worked on some 120 houses in Winchester; they tour a beautiful home he designed from the ground up. Later, back at the project house, they meet up with homeowner Bruce Leasure to sketch out some solutions for the master suite.

Program #2203
Master carpenter Norm Abram arrives on site to find the demo crew suspended over the roof dismantling the top of the unused kitchen chimney. Architect David Stirling and homeowner Kim Whittemore look at the latest plans for expanding the kitchen and improving flow on the first floor. Meanwhile, landscape contractor Roger Cook meets with entomologist Bob Childs to explore ways to save the property's signature hemlocks from a potentially fatal infestation of woolly adelgids, which have been attacking forests up and down the East Coast.

Program #2204
Host Steve Thomas lends carpenter Charlie Silva a hand in slowly jacking up the second floor, then general contractor Tom Silva glues and bolts reinforcing LVLs to the damaged floor joists. Plumbing and heating expert Richard Trethewey arrives to drain the heating system and disconnect the old radiators. In the kitchen, homeowner Kim Whittemore and a friend take down the chimney brick by brick. The next day, some unwanted trees are cut "up" rather than cut down, as they are chain-sawed apart and lifted piece by piece out of the backyard with the help of a large crane.

Program #2205
It's time to begin excavation on the new Kitchen foundation! ExcavaterJeff Dervin brings in a backhoe to knock down the back entry porch. In the basement, master carpenter Norm Abram and general contractor Tom Silva jackhammer through the floor to install footings for a new steel support column. Architect David Stirling presents homeowners Bruce Leasure and Kim Whittemore with a new layout for the master suite, and landscape contractor Roger Cook invites host Steve Thomas and Kim to see a nearby vintage greenhouse for inspiration.

Program #2206
Contractor Mark Dimeo uses a 30" diamond blade to cut a new doorway into the existing basement foundation. Host Steve Thomas checks in with painting contractor Jim Clark to see how a new non-toxic chemical paint stripper is working on the multiple layers of exterior paint. Architect David Stirling and homeowner Kim Whittemore discuss strategies to deal with the house's asymmetric roof dormers. Then, Steve and Kim go shopping for the new addition's windows.

Program #2207
Master carpenter Norm Abram shows host Steve Thomas the new foundation for the kitchen addition and explains how to properly anchor it to the old foundation. General contractor Tom Silva and his crew begin demolition on the rotted sections of the sun porch, and Norm explains why they should salvage the roof to save both time and money. Down the street, Steve and homeowner Kim Whittemore visit a recently renovated sun porch, kitchen and media room for design ideas. In the master suite, plumbing and heating expert Richard Trethewey lays out a plan for the rough plumbing.

Program #2208
Chimney specialist Mark Schaub meets up with host Steve Thomas in the Winchester living room and shows him why the chimney is smoking, with the help of a diagnostic "fluecam." In the kitchen, general contractor Tom Silva shows master carpenter Norm Abram and Steve how he reinforced the framing of the kitchen addition with engineered lumber and steel. Recalling the issue of the cantilevered second floor, Steve takes a look at a major renovation of perhaps the most famous cantilever in the country, that of Frank Lloyd Wright's Fallingwater. Back at the project house, Steve lends Tom and Norm a hand on the deck structure for the new sun porch.

Program #2209
Host Steve Thomas finds homeowner Kim Whittemore experimenting with Colonial Revival paint colors on the front of the Winchester house. For further ideas, they travel with building conservation specialist Andrea Gilmore to see a classic Colonial Revival that is a high expression of the style. Plumbing and heating expert Richard Trethewey plans a radiant heat solution for keeping the exterior concrete basement stairs ice-free. In a side story, Steve visits a local museum dedicated to Winchester resident and photographer Arthur Griffin, noted for his legendary work with baseball's Ted Williams, and master carpenter Norm Abram takes homeowner Bruce Leasure through a variety of roofing options to replace the house's tired asphalt shingles.

Program #2210
Host Steve Thomas arrives at the Winchester house to find a surprise in the backyard: the house to the rear is fully exposed now that the neighbors have cut down additional hemlocks. A few miles away, master carpenter Norm Abram takes a look at a real estate development success story — a 1950's ranch has been torn down and replaced by a brand new Colonial Revival handcrafted to feel like an old home. In the Winchester basement, general contractor Tom Silva shows Norm and Steve the adjustments made to help reroute traffic around the future media room instead of through it, and chimney specialist Mark Schaub uses a centrifugal hammer to break up the ailing chimney's old flue.

Program #2211
The Winchester kitchen addition is nearly complete, and general contractor Tom Silva installs the last of the new historically accurate double-hung windows on the sun porch. In the kitchen, mineral wool — an old-style insulation known for its fire resistance and sound deadening capabilities, now revamped for the residential market — is sprayed into the walls. Custom cabinetmaker Jeff Peavy lays out the design and material choices for the kitchen, and roofing contractor Tom Evarts shows master carpenter Norm Abram his crew's project: architectural asphalt for the main roof, and flat-seam lead-coated copper for the addition. Plumbing and heating expert Richard Trethewey shows host Steve Thomas the new plastic water supply lines, and the heating and cooling system, supplied by flexible 4" ducts.

Program #2212
Using a 70" tree spade mounted on a front-end loader, landscape contractor Roger Cook and arborist Matt Foti remove a healthy (but poorly located) blue spruce from a front yard in a nearby town and replant it in Winchester to begin the process of screening the backyard. To help with decision-making in the media room, host Steve Thomas and homeowner Bruce Leasure visit a house that has both a high-end theater in the basement and a more modest media room on the first floor. Back at the project house, plumbing and heating expert Richard Trethewey shows Steve three polyethylene tanks that will store 1125 gallons of harvested rainwater for reuse in the garden. Master carpenter Norm Abram takes a trip to Vermont to visit coppersmith Larry Stearns who is busy building a "This Old House" weathervane.

Program #2213
With the weather turning cooler, Steve finds painting contractor Jim Clark under pressure to finish the exterior painting. On the third floor, Norm learns that Tom is off the job having emergency knee surgery due to a recent injury. With Tom out of commission, foreman John Sheridan gives Norm an update on what's left to do. Steve joins interior designer Manuel de Santaren to see how his firm designed the living room of a similar Colonial Revival. Manuel's partner, Carolina Tress-Balsbaugh, meets Steve and homeowner Kim Whittemore at the project house to present their design ideas for our living room. Flooring contractor Patrick Hunt discovers three different species of wood flooring used throughout the house — heart pine, beech, and oak — and shows Norm how to use a router to neatly patch holes left by the old radiators. In the backyard, Steve finds that Roger has planted a small forest of spruce and white pine to provide shade and privacy.

Program #2214
Steve arrives to find Roger out front hauling away the last of the dismantled driveway. Inside, Steve finds a recovering Tom Silva, fresh from surgery and walking with a cane, but back on the job. Tom shows Steve an extruded polystyrene crown molding that is affixed only with joint compound, not nails. In the kitchen, soapstone installer Glenn Bowman shows Norm how his crew customizes soapstone counters on site. In a side trip to the Vermont woods, Glenn shows Steve how he is prospecting for deposits of soapstone in a long-abandoned quarry. In the garage, Steve finds Dave Hahn installing sectional overhead garage doors designed to look like original 1920's swingout doors.

Program #2215
Steve visits Middlesex Fells Reservation — a 3-mile by 3-mile park shared by five suburban towns North of Boston — and climbs Wright's Tower to take in the cityscape and some vibrant autumnal views. Back in Winchester, Steve helps Roger Cook and concrete contractor Syd March pour and trowel the new front walk. Custom cabinetmaker Jeff Peavey shows Steve the unique features of the newly installed kitchen cabinets. Outside, Tom shows Steve how to properly measure for storm windows. In a side story, Norm finds a custom storm window company in Connecticut that will paint aluminum storms to match any color trim. Under pressure to get the heat on down in the basement, Richard shows Steve what's new with radiant heat, and how he plans to heat three different types of floors with three distinct radiant zones. Tom and Norm carry out the architect's plan for elaborate pyramidal mahogany stairs off the sun porch.

Program #2216
With Steve away on assignment, Norm arrives to find Roger unloading and inspecting the latest delivery from the garden center. On the sun porch floor, tiling contractor Joe Ferrante shows Norm how to apply grout around the new 12-inch by 12-inch Chinese slate tiles. Meanwhile, Steve and interior designer Carolina Tress-Balsbaugh visit a boutique in Boston that has been manufacturing custom lampshades for 150 years. Things heat up in the master bath as Richard tries out the new steam shower, then shows Norm how it works. Painting contractor Jim Clark demonstrates tips and techniques for prepping and painting the interior of the house, and flooring contractor Pat Hunt installs a new floating oak floor in the master suite. In the backyard, Roger shows Kim how creative landscaping can conceal the external air conditioning condensers.

Program #2217
In the second-to-last show, Steve and homeowner Kim Whittemore test-drive the new stainless steel appliances. Norm meets fencing contractor Mark Bushway to admire the entire custom package: a driveway gate (made to look like the 1920s original) perimeter fence, arbor and pergola, and a new plastic fence post system designed to prevent insect damage and rot. Steve visits a nearby upholstery shop to see several of Kim's chairs, just shipped in from Alabama, being stripped, repaired, and reupholstered. Closet system designer Marcy Weisburgh shows Steve how she designed the master closet to accommodate both a window and a steam generator for the adjacent bathroom. Electrician Allen Gallant installs a five-arm Colonial Revival chandelier made by a mail order company that builds to order and delivers directly to the job site. Tom and carpenter Jason Wood line the walls with cost-effective built-in bookshelves, made from MDF and poplar laminate.

Program #2218
In the final show, Steve checks out the new garage storage system, including diamond-plated cabinets, toolboxes, and adaptable "gear walls." Window treatment specialist Kevin Murphy shows Steve the custom shades and drapes ordered by mail, and A/V expert Mike Smith shows him an "out of the box" media room solution that won't break the bank. Roger literally lays the groundwork for a lush new lawn next spring with a three-layer customizable grass seed mat. Norm and coppersmith Larry Stearns install a TOH weathervane atop the finished garage, while Steve test-drives some high-tech toys for the new home office. Moments before the wrap party begins, interior designer Carolina Tress-Balsbaugh reveals her multi-textured interior design for the sunroom, living room and dining room.