Episode Descriptions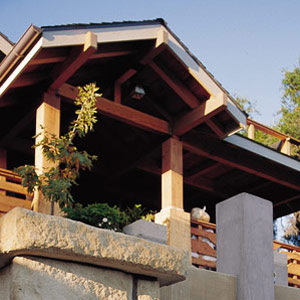 Season 21: Santa Barbara, CA
1907 Arts-and-Crafts Bungalow
This project premiered on PBS
February 5, 2000
Seven half-hour episodes; Programs #1920-1926
Program 1920
Our host and master carpenter arrive in style, by sailboat, at This Old House's winter project location: Santa Barbara. Homeowner Jan Winford has waited 25 years to expand her tiny 1907 California bungalow on a beautiful lot overlooking the city's historic downtown and the Pacific Ocean beyond. With a solid team of architect Jerry Zimmer and general contractor Steve Crawford, she plans to add a second floor master suite, expand the kitchen, and reshape the entire front facade, with an emphasis on the Craftsman style, all on a budget of $200,000.

Program 1921
The guys revisit This Old House's winter 1988 Santa Barbara project: Dave and Susan Dickenson's bungalow. Upon arrival at This Old House's current jobsite, they find the building reduced to a few walls and a forest of studs. As we learn from general contractor Steve Crawford, the building had to be deconstructed and reinforced before it could support the new addition. Richard Trethewey checks out the plastic water piping, along with a new "reversible" brass fitting system. Then we tour town with historian Neal Graffy, who reveals how a devastating earthquake in 1925 gave birth to the Mediterranean Revival city that stands today.

Program 1922
We review the progress the crew has made in reframing the expansion of the Santa Barbara bungalow. Then we check out the new garage, built to comply with city code, and the new, synthetic sandstone front walkway. We then go aboard one of the oil rigs that dot Santa Barbara's spectacular coastline to learn how the oil industry has shaped the area's economy and environment.

Program 1923
We check out the framing of the Santa Barbara bungalow's new second-story master suite—and take in its stunning views of the Pacific. Then we head off to a small art-tile kiln in nearby Ojai where Jan's Arts-and-Crafts-style backsplash, counter and fireplace tiles are being made. General contractor Steve Crawford discusses the aesthetic challenges he faces in giving the exterior an authentic historic look. City fire codes that protect against the threat of wildfire mean that he will have to use modern, non-flammable building materials such as Class A fire-rated asphalt roofing and fiber-cement sidewall shingles.

Program 1924
We check out the new custom windows, which feature cherry, wood interiors and true divided lights. Then we meet landscape architect Susan van Atta who reviews her design for the historically sensitive landscape that includes plants native to California. Then our host meets with Paul Duchscherer, design expert and author of three books on Arts-and-Crafts style, who was enlisted to ensure that the new interior and exterior colors, finishes and decorative details stay true to the home's period character. Duchscherer then takes us to the neighboring town of Ojai for a tour of a spectacular Greene and Greene home, which epitomizes American Arts-and-Crafts style.

Program 1925
The countdown to the completion of the Santa Barbara bungalow renovation begins. The elements of the new kitchen arrive, as does the magnificent oak front entrance. The focal point of the house—the fireplace—is given a wonderful facelift with handcrafted Arts-and-Crafts style tiles. And finally, we make a trek up the West Coast to a Portland, Oregon, factory that produces exact replicas of vintage lighting fixtures.

Program 1926
Homeowner Jan Winford finally realizes her dream of 25 years—the renovation of her 1907 bungalow—thanks in part to This Old House. The guys return to Santa Barbara after a couple of weeks of construction have gone by and are amazed to find Jan's bungalow transformed with classic Arts-and-Crafts style detailing. Our master carpenter congratulates general contractor Steve Crawford on squeezing an immensely ambitious project into such a limited time-frame before they both join the crew at the traditional wrap party.