Episode Descriptions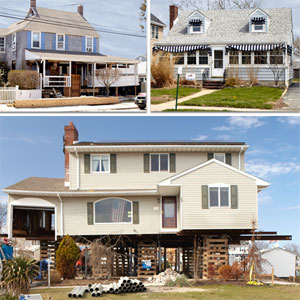 Season 33: Jersey Shore Rebuilds

This project premieres on PBS on October 3; check local listings for airtimes in your area. New episodes will also be available at thisoldhouse.com/watchtv on Sundays at 6:00 p.m.

Also available in prime time exclusively on PBS Thursdays in the first half of The This Old House Hour at 8pm ET (check local listings).
Episode 3301
Jersey Shore Rebuilds: Sandy and The Jersey Shore, Part 1 of 8
Thursday, October 3, 2013 at 1:30pm ET (check local listings)
In October of 2012, Superstorm Sandy tore through the most populated region of the United States, leaving millions without power and hundreds of thousands of homes in ruins. Some of the worst damage was sustained on the Jersey Shore, so Kevin, Norm and Richard break with This Old House tradition to introduce not one, but three different homeowners who, despite financial hardship, miles of red tape, and lots of unanswered questions, are determined to rebuild. In the barrier island town of Bay Head, Norm meets Jed and Chris Laird, whose 1880's shore cottage had to be gutted after it was flooded under three feet of seawater. Nearby on the mainland in Point Pleasant, Carlos and Maria Santos' family of six was left homeless by the storm; Kevin learns how they plan to raise their 1950's Colonial ten feet in the air to protect it from future floods. And in Manasquan, Rita Gurry tells Richard the heartbreaking story of how, after she'd just made her last mortgage payment, she took one look at the mold Sandy left inside her flooded 1940 Cape and decided to tear it down and start fresh with a new modular home. Over eight special episodes, This Old House follows these intrepid homeowners on the path to recovery - learning lessons along the way about both the pitfalls and the best practices of coastal building in a post-Sandy world.

Episode 3302
Jersey Shore Rebuilds: Drastic Measures, Part 2 of 8
Thursday, October 10, 2013 at 1:30pm ET (check local listings)
Back on the Jersey Shore, Norm meets Bay Head homeowner Thacher Brown as he leads a group of determined beachfront homeowners to pool their own resources to build a stone and sand revetment. Norm meets GC Kevin D'Anunciaçao to see how he's prepped the Bay Head house for the first of two lifts. The house-lifting contractors, led by Mitch Wilbanks, set the cribbing and thread the steel beams through the windows. They're lifting the house only four feet this time, and from the second floor structure. At the Point Pleasant project, Kevin finds homeowner Carlos Santos mired in some scheduling setbacks: the lifting crew has finally arrived but is only getting the cribbing and steel installed in the crawlspace. Richard meets up with Rita Gurry to say a last tearful goodbye to her little mold-ridden Cape as the demolition crew moves in, tears it down, and carts the debris away. Norm meets structural engineer Patrick Cronin, who explains a FEMA A zone vs. a V zone, what types of foundations and pilings are required for each, and why. We see how a house properly engineered can (and did) withstand a Superstorm like Sandy.

Episode 3303
Jersey Shore Rebuilds: Getting to Work, Part 3 of 8
Thursday, October 17, 2013 at 1:30pm ET (check local listings)
Kevin meets Special Counsel Chris Nelson on the bridge in Mantoloking NJ to hear the story of the storm that took out 200 of the 528 houses in their town, and they head out in a beach rescue vehicle to see the scale of the job ahead. Now that the Bay Head project house has been lifted four feet for repairs, builder Kevin D'Anunciaçao shows Norm the progress on the framing, how they worked around the cribbing, and the improvements they're making to the spaces on the second floor. The Point Pleasant house is finally up on cribbing, and Gary Seider shows Kevin how they'll pin it to the ground using steel helical pull-down micro-piles that screw into the soil while pulling a grout-filled sleeve with them for lateral support. Richard hears from modular home builder Anthony Zarrilli that traditional wooden piles are the cost-effective way to go for new construction: they drive the piles to the required elevation, then cut them to receive the bandboard that will support the house. Norm takes Richard to see a welcome sign of life in Bay Head—Mueller's Bakery—a Shore fixture for 100 years that is just now opening after 7 months of rebuilding from Sandy damage.

Episode 3304
Jersey Shore Rebuilds: Built for Speed, Part 4 of 8
Thursday, October 24, 2013 at 1:30pm ET (check local listings)
An icon of the Jersey Shore's beach culture, Seaside Heights is working hard to pull its Sandy-battered boardwalk up by the bootstraps by Memorial Day weekend, submerged rollercoaster and all. Kevin meets Mayor William Akers and Lou Cirigliano from Casino Pier, which was almost completely devoured by the sea, to check out the work in progress. Norm checks back to find the framing complete at the Bay Head cottage and the crew installing the new mahogany decking on the signature wrap-around porch. Back in Point Pleasant, after an update with Carlos, Kevin meets entrepreneur Nick Baker, who's importing concrete crushing machines from Italy that can turn Carlos' demolished concrete slab and foundation into useable fill for the new slab, without taking it offsite. Superstorm Sandy may have turned Rita Gurry's life upside down, but today her new modular home is being built…inside out. Richard tours the factory in rural Pennsylvania where the modules that will fit together seamlessly to make Rita's new home are being made, in less than a week!

Episode 3305
Jersey Shore Rebuilds: Lines in the Sand, Part 5 of 8
Thursday, October 31, 2013 at 1:30pm ET (check local listings)
Richard checks out the sand shoaling that now obstructs the waterways behind the barrier island, and how contractors like Buddy Young's company, brought in from Texas by the NJ DEP, are dredging the bay back to its pre-Sandy levels, cleaning the sand, and using it to replace the dune on the beach. In Bay Head, general contractor Kevin D'Anunciaçao is installing a hurricane-resistant window package and structural hardware at every juncture to help the house stand up to high winds and water. In Point. Pleasant, Carlos and Kevin find plumber Ron Eith repairing the damage and running new gas and sewer lines. Framing is underway, and interior designer Tracy Pearce and architect Dan Lynch are helping create a space that will be a worthy payoff for all of the anxiety, uncertainty and expense the family has had to deal with since Sandy. Richard meets up with builder Anthony Zarrilli to hail the arrival of the two truck-drawn modules that will marry together to form Rita's new house. Rita joins Richard to admire the almost instant progress and get a dramatic first look inside. Kevin meets nationally syndicated radio show host and Jersey Shore native Tom Kraeutler too see one of the most historic and unique spots on the Jersey Shore — the Methodist campground at Ocean Grove.

Episode 3306
Jersey Shore Rebuilds: Go With the Flow, Part 6 of 8
Thursday, November 7, 2013 at 1:30pm ET (check local listings)
Roger meets Island Beach State Park Manager Ray Bukowski to see what a barrier island looks like in its natural state. Future development that works with nature, instead of against it, will be most successful. Norm finds the Bay Head job in limbo as they wait for FEMA to revise the advisory flood maps. In Pt. Pleasant, Team Carlos has been busy: siding's being removed, hurricane strapping is going on, and with the new slab poured under the house, Kevin sees how they're building the insulated CMU 'breakaway wall' panels between the pilings. Built-in flood vents and the absence of any actual connection to the structure allow them to give way under pressure, should disaster strike again. Roger meets up with local landscaper and environmental planning guru Alex Burke, who's been in the trenches bringing back Jersey Shore landscapes since Sandy left her salty mark. We learn which plants and trees survived the onslaught of salt and sand, which didn't, and how to work toward landscape sustainability on a barrier island. Richard checks out the jaw-dropping progress on Rita's modular Cape: a month after it was set, the siding's on, porches built, mechanical connections made, and drywall, tile and finishes are underway.

Episode 3307
Jersey Shore Rebuilds: Stories from Sea Level, Part 7 of 8
Thursday, November 14, 2013 at 1:30pm ET (check local listings)
Kevin meets local surfer Sam Hammer to find out why "If you can surf Jersey, you can surf anywhere." They discuss surfing both before and after the storm; Kevin gets a lesson and tries to get up on a board for the first time! Back in Bay Head, the house has been lifted to its final height. Because they are now in a FEMA "A" zone, they are not required to do pilings, but are instead doing footings and concrete piers to support the house. GC Kevin D'Anunciaçao explains the design to Norm, and the complications of trying to pour footings at a property that's at sea level. On the Pt. Pleasant project, Kevin points out why fiber cement siding makes sense. Brian Betz shows some tricks for installing the composite decking he's provided for the project, what it's made of, and how it is going down with hidden fasteners. The icing on the cake is a cool vinyl railing system that incorporates a clear guardrail and a horizontal piece of decking as a railing cap. Not surprisingly, the first house done is the modular new house. Richard meets builder Anthony Zarrilli for a victory lap as the punch list is completed. Pre-finished golden teak flooring has been installed, and other finishes like hardware, lighting, and efficient plumbing fixtures add the final touches. Having opened the show at the ocean, we close with marine biologist Chris Wojcik and a look at the Barnegat Bay estuary, designed by nature as a beautiful, wild place that incubates most of the area's marine life. Responsible coastal development along the bay now will make it more resilient when the next storm comes

Episode 3308
Jersey Shore Rebuilds: One Year Later, Part 8 of 8
Thursday, November 21, 2013 at 1:30pm ET (check local listings)
Nearly a year after Superstorm Sandy, Norm and Kevin take stock of the recovery along the Jersey Shore, and the progress at the three projects we've been following. In Bay Head, builder Kevin D'Anunciaçao is still a few weeks away from completing the job, but homeowner Chris Laird and designer Jules Duffy are eager to show Norm a preview of how the house will look when it is finally finished. Knowing that many communities still have years of rebuilding ahead, Richard visits one of them, Mantoloking, to see how one house there survived a breach that took out a dozen surrounding houses. Kevin checks out the finishing touches on the Point Pleasant project: new garage doors to help conceal the pilings underneath the house, and a sapele mahogany front door built to withstand the elements. Inside, designer Tracy Pearce has worked serious magic with the new spaces, Carlos and Maria have managed to save their dream kitchen, and all agree they've come a long way since Sandy. In Manasquan, Richard finds landscaper Heather Aran planting some container gardens to add color to the front of Rita's new house. Inside, Rita's just about moved in—a long way from the mud-and-mold-filled house she had to tear down. While she's had to spend more money than she expected along the way, she is sitting pretty once again, surrounded by family and friends on her new deck. Roger joins Kevin, Norm and Richard for a wharfside party to celebrate the friends they've made on the inimitable Jersey Shore. From beaches, boardwalks and surfboards to house lifting, pilings and breakaway walls, it's been a wild ride and the Shore may never be the same as it was before Sandy. But three houses later, things are definitely looking up.