Episode Descriptions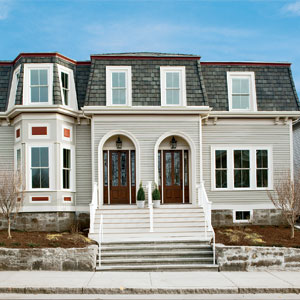 This Old House, Roxbury Project

This project premieres on PBS Saturdays at 1:30pm ET (check local listings)

Also in prime time exclusively on PBS Thursdays in the first half of The This Old House Hour at 8pm ET (check local listings).


Program #2917
Roxbury Project, Part 1 of 10
Saturday, January 30, 2010 at 1:30pm ET (check local listings)

For the second project of This Old House's 30th Anniversary Season, the crew takes on an issue that's top of mind in the country: foreclosures. Partnering with the City of Boston and local non-profit Nuestra Comunidad, they will take a foreclosed and abandoned two-family house from the 1870s, and turn it into two units of affordable housing in Roxbury, Massachusetts. Local general contractor David Lopes shows host Kevin O'Connor just how extensive the damage to the old house is, and they quickly get to work demolishing the parts that can't be saved, including a three-story rear extension, which has rotted through from roof to floor. Joining the project will be apprentices from YouthBuild Boston looking to earn jobs in the building trades. In order to recruit two young carpenters from the program to work with the crew, master carpenter Norm Abram visits YouthBuild's annual carpentry challenge. Back at the house, after more necessary demolition, certified arborist Jack Kelly and his crew arrive to remove a giant dead tree that had fallen from the project house yard onto the neighbor's garage. Renovating the house will be a great challenge, but the City feels it will make a statement of hope and respect in a neighborhood that has been plagued by foreclosures.

Program #2918
Roxbury Project, Part 2 of 10
Saturday, February 6, 2010 at 1:30pm ET (check local listings)
Master carpenter Norm Abram meets up with general contractor David Lopes to discuss problems he's encountered in the last several weeks, including major engineering challenges and a month of rain. Meanwhile, host Kevin O'Connor meets up with non-profit developer David Price to learn more about Roxbury's past and present. David explains the work that his CDC, Nuestra Comunidad, is doing to bring back parts of Dudley Square. As part of Nuestra's mission to create affordable housing, they recently held a public lottery for our project house that resulted in a qualified buyer. At nearby restaurant Merengue, Kevin meets the lucky buyer of the house, Roxbury native Lanita Tolentino, to go over her renovation plans. Back at the house, the foundation walls for the new rear addition have been poured and backfilled. Inside, David Lopes shows Norm what he's done to shore up the structure of the main house, and how he is using laminated veneer lumber to remedy a structural problem caused by the failing foundation. After extensive foundation excavation on the main house, a framing crew arrives to start raising the walls for the new addition.

Program #2919
Roxbury Project 3 of 10
Saturday, February 13, 2010 at 1:30pm ET (check local listings)
Master carpenter Norm Abram meets up with general contractor David Lopes to check out the progress that has been made on the house both outside and in. They find that there has been extensive framing work completed, but unfortunately, a great majority of the house had to be rebuilt due to the dire condition of the structure. Out front, a concrete truck arrives to pour the footing for the new front entry, which will be one of the last sections to be reframed. Up on the mansard roof, David shows Norm how he's putting down the new roof using architectural shingles made to look like the slate that would have been on the house originally. Days later, the new, energy-efficient vinyl windows have been installed, and work continues on the exterior PVC trim. Host Kevin O'Connor catches up with carpenter Ed Curet to see how he's installing the new siding, which was both pre-primed and pre-painted, saving time and money. At the end of the day, paint color consultant Bonnie Krims shows Norm how she worked with all of the modern, low maintenance materials to create a classic color scheme that is historically informed.

Program #2920
Roxbury Project 4 of 10
Saturday, February 20, 2010 at 1:30pm ET (check local listings)
Host Kevin O'Connor arrives to find the construction trailer leaving the site, making way for the landscape work to begin. The roofing and siding of the house have been completed and the paneling on the front bay window has been recreated to resemble what might have been there originally. In the basement, plumbing and heating contractor Richard Trethewey reviews the waste and water configuration of the two-family house, and meets HVAC contractor Abdul Barrie to see the new, high-efficiency two-stage hot air system he's installing. Throughout the house, spray foam insulation has been installed to keep that warm air inside. Host Kevin O'Connor visits the Fort Myers area in Florida and realizes that while foreclosures are still on the rise in Boston, the city is better off than many others in the country. Real estate agent Mark Joseph gives Kevin a look at one of the country's most foreclosure-ravaged communities, and explains how the houses there are selling quickly, but often at half their former market value. Back in Roxbury, Kevin catches up with our new homeowner, Lanita Tolentino, to see the progress she's made on selecting flooring and kitchen cabinet finishes with the help of interior designer Tricia McDonagh. Out back, master carpenter Norm Abram and general contractor David Lopes use low maintenance PVC decking and prefabricated railings to dress up the rear entrance decks.

Program #2921
Roxbury Project 5 of 10
Saturday, February 27, 2010 at 1:30pm ET (check local listings)
Despite the bitter cold, landscape contractor Roger Cook works with a group of students from YouthBuild Boston to spread soil and put down sod in the backyard. Meanwhile, fence contractor Mike McLaughlin and his crew install a PVC privacy fence along the perimeter of the yard. Inside, master carpenter Norm Abram and lead carpenter Colin Paterson are adding some period charm to the bay window area by installing custom casings and paneling. The house's existing plaster ceiling medallions were beyond repair, so Norm brings back preservation plasterer Rory Brennan to replicate them on site. Fortunately, the originals were nearly identical to the medallions from the Charlestown project years ago, so Rory mixes up some plaster and pours a new medallion from the Charlestown mold. Afterward, they install a completed casting in the front parlor. At the end of the day, the fence is nearly complete and the sod is finished, thanks to our group of intrepid apprentices.

Program #2922
Roxbury Project, Part 6 of 10
Saturday, March 6, 2010 at 1:30pm ET (check local listings)
Host Kevin O'Connor finds carpenter Zo Curet in the front parlor installing a plaster crown molding. This close reproduction of the 1870s original is a lightweight foam made with plaster and an acrylic coating which can easily be installed with nothing more than a joint compound. Homeowner Lanita Tolentino shows Kevin the colors she's considering as painting contractor Ivan Batallas paints an accent wall in the back bedroom. Master carpenter Norm Abram visits a workshop to see how the slabs for our new, eight-foot, oak front doors and sidelights are machined and pre-hung for installation as one large unit on the jobsite. Two miles down the road, Kevin visits an architectural antiques shop to find a matching marble fireplace surround for the second unit of our house. Shop owner Bill Raymer shows Kevin around and offers to donate a closely matching fireplace to the project. Back at the house, the new front doors have arrived, and lead carpenter Colin Paterson makes quick work of installing them.

Program #2923
Roxbury Project, Part 7 of 10
Saturday, March 13, 2010 at 1:30pm ET (check local listings)
General contractor David Lopes shows Kevin the progress on the puddingstone retaining walls and front entrances at our Roxbury project. Master carpenter Norm Abram travels to Dover, N.H. to see how millwork fabricator Denis Goupil and his team fabricated custom arches for the front of the house. Back in Roxbury, stone specialist Steve Torok installs a decorative antique marble fireplace surround and mantel to match the original at the house. Upstairs, Kevin finds flooring contractor Ingo Vu laying out and installing a pre-finished, solid birch floor that is hand-scraped for an aged effect. Interior designer Tricia McDonagh shows Kevin how she took cues from the panels in the bay window and the marble fireplace surround when designing the cabinetry and countertop details for the new kitchen.

Program #2924
Roxbury Project, Part 8 of 10
Saturday, March 20, 2010 at 1:30pm ET (check local listings)
Host Kevin O'Connor arrives to find landscape contractor Roger Cook on site with the landscape apprentices from YouthBuild Boston. The group is helping to spread new soil in the front yard and also to plant low-maintenance ground cover and an ornamental dogwood tree. General contractor David Lopes shows master carpenter Norm Abram the progress at the front entry and in the kitchen of the second unit. Next door, countertop fabricator Danny Puccio shows homeowner Lanita Tolentino how to clean and remove stains from her new marble countertops. Nearby, plumbing and heating expert Richard Trethewey meets Massachusetts State Representative Byron Rushing to look more closely at the historical aspects of Roxbury. Finally, Richard and David Lopes install a new tankless hot water heater in the basement of Lanita's unit.

Program #2925
Roxbury Project, Part 9 of 10
Saturday, March 27, 2010 at 1:30pm ET (check local listings)
With just one week left in Roxbury, tile contractor Angelo McRae shows Kevin how to install meshed white subway tiles with a rail cap for the kitchen backsplash. Kevin visits our Washington, D.C. project house to meet the family that moved in and see how our last venture in non-profit development turned out. Then, general contractor Tom Silva lends a hand to lead carpenter Colin Paterson, who is customizing and installing the stair treads and newel post for the new stairs.

Program #2926
Roxbury Project, Part 10 of 10
Saturday, April 3, 2010 at 1:30pm ET (check local listings)
Host Kevin O'Connor arrives to find the job nearing completion thanks to the dedication of general contractor David Lopes. Landscape contractor Roger Cook and the YouthBuild apprentices plant the final tree and spread mulch our front, while out back, fence contractor Mike McLaughlin installs the entry gate on the perimeter fence. Inside, designer Tricia McDonagh is readying the house for the wrap party, as the final light fixtures and window treatments are installed. Down in the basement, local HVAC contractor Abdul Barrie gives homeowner Lanita Tolentino a crash course on what she needs to know about the mechanicals in her basement. Boston Mayor Tom Menino stops by to see how the house turned out, and while work continues on the second unit, Lanita's unit is ready for her to move in. Upstairs, she shows Kevin the tile and fixture choices in the bathroom, and also her spacious new bedroom and walk-in closet. Downstairs, as her family arrives for the party, her grandmother gets a batch of Cape Verdean cachupa going on the new stove, as Lanita shows master carpenter Norm around her new kitchen and living spaces. Norm and David Lopes reflect on how far the house has come in eight months, and as the team gathers for the wrap party, all agree that it was a successful partnership. While foreclosures remain a problem nationally, there is one less foreclosure on this street in Boston.