Episode Descriptions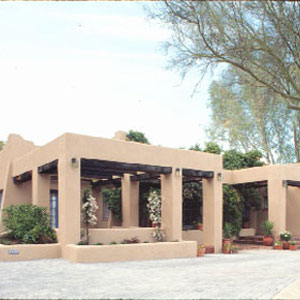 Season 18: Tucson, AZ
Project premiered on PBS
February 1997
19 Half-hour episodes; Programs #1619-1626
Program #1619
This Old House hits Tucson, Arizona, for an eight-part winter project: the renovation and expansion of Jim and Colleen Meigs' 1930 Pueblo Revival home. After an overview of Tucson's sights—tract housing, golf courses, Old Tucson Studios, the Arizona-Sonora Desert Museum, the Air Force's "Boneyard" of old planes, Biosphere 2, and the magnificent Catholic mission San Xavier del Bac—we head to the Meigs' house, where we see what the homeowners have in mind. After living there for nearly 20 years, they are pretty certain: a new kitchen, an outdoor cooking area, a finished courtyard with fountain, a media room, library, a new master suite and a new coat of stucco. Their target cost is around $150,000. As Jim is an architectural designer, we visit one of his completed houses. However, since as Jim puts it, "A lawyer who defends himself has a fool for a client," he has hired an architect for his own job—Alexandra Hayes. She shows us the model she has built for the proposed project. Then general contractor John McCaleb shows us a fine home he has just completed and checks out the problems at the Meigs' place. The crew warns Jim and Colleen about the stress they're about to expose themselves to, but there's no stopping them.

Program #1620
The show opens at Casa Cordova, one of the last remaining pieces of early Tucson. Built in 1848 within the original presidio ("walled fort") walls, the Casa is now preserved as part of the Tucson Museum of Art. At the job site, the crew arrives to find progress well underway. General contractor John McCaleb inspects termite and honeybee damage with continuing on to the new addition, whose walls are complete, put up in four days by a two-man crew using hollow building blocks made from recycled styrofoam and concrete. With rebar added horizontally and vertically and concrete poured in, the new walls achieve a remarkable R-36 rating. Then we visit the magnificent Catholic mission San Xavier del Bac, built in the late 1700s and now undergoing extensive renovations, some of which incorporate prickly pear juice! Then it's back to the house where plumber Dan LaBlue is using flexible plastic (PEX) tubing instead of copper for the building's water supply. The plastic tubing is newly approved for use in Tucson, goes in fast, is imperious to aggressive water and is perfect for snaking through the minuscule crawlspace under the house.

Program #1621
The show opens with a hike in the natural splendor of Sabino Canyon, in the northern foothills of Tucson. At the house, a crew prepares and pours a colored and scored concrete floor, a typical detail in older Arizona homes. Homeowner Jim Meigs and our host discuss design issues concerning the new powder/laundry room and outdoor and indoor kitchens, and then we visit cabinetmaker James Vosnos at his shop, where the kitchen's cabinets are coming together in Mexican mesquite. Richard Trethewey and HVAC contractor Marshall Dennington review the heating and cooling system Marshall has designed for the house, including a natural gas-powered air-conditioning unit, electronic air cleaner, humidifier, and high-function thermostatic controls. Finally, we visit Old Tucson Studios, a moviemaking mecca since the 1930s, recently rebuilt after a catastrophic fire.

Program #1622
An early morning breakfast at a traditional Mexican restaurant prepares the crew for a job site abuzz with traditional handwork and products, as well as state-of-the-art technology. Interior plaster goes up the old-fashioned way with Gilberto Chavez's crew, while we see a high-tech stucco system go on over the old adobe exterior. Contractor John McCaleb takes us to the historic colonial town of San Miguel de Allende in Mexico, a center for traditional crafts. In nearby Delores Hidalgo, the handmade terracotta tiles for the Meigs' veranda are hand made in a method nearly 300 years old. Back on site, Colleen Meigs sees the beginnings of her "endless" pool going in.

Program #1623
The show opens with a visit to the Arizona-Sonora Desert Museum, where the natural-looking environments are the result of painstaking human artistry, including the casting and construction of artificial rocks. On site, new windows have arrived, and window consultant Forrest Campbell explains their features, including true-divided-light appearance with thermal pane efficiency, custom-matched, high performance exterior paint, and, for the French doors, a one-move, three-point pin locking mechanism. Outside, the entire Meigs residence begins to get a new skin, as insulated board goes over the failed stucco, to be followed by a new fiberglass and acrylic stucco coat. HVAC installer Marshall Dennington explains why the system was broken into three separate units. In the master bath David Kelley is putting in tile and electrician Dan LaBlue is installing a steam shower unit. Finally, we check in with Shelly Kessler and her crew, who are modifying the old bedroom floor with a walnut inlay to make it fit in with the room's new look as the library.

Program #1624
Before heading to the job site, we pay a visit to the Air Force's AMARC, a vast collection of mothballed aircraft preserved in the Tucson desert for use as parts, for storage, or for destruction. At the Meigs' house, Mexican tile is going down in the courtyard, the new mesquite kitchen cabinets are in place, and we see the process of putting in poured concrete countertops, a first for This Old House. The library cabinet is the work of Tom Klijian, who has fashioned floor-to-ceiling bookshelves out of black walnut. Viewers take on a tour of Tucson straw bale houses—one finished, one under construction—with expert Matts Myhrman and builder John Woodin. Tucson is a national center of this environmentally friendly building technology. Back on site, a beautiful set of glass doors seals off the steam shower.

Program #1625
After a trip downtown to Tucson's Hotel Congress, built in 1919 and the site of John Dillinger's hideout back in 1934, we return to the Meigs' house, concrete pavers are laying the driveway—consistent in size but varied in color, they form a hard-wearing cobblestone-like surface. We inspect the outdoor kitchen's gas barbecue, while in the indoor kitchen cabinetmaker James Vosnos puts the finishing touches on the mesquite cabinetry. James Murdock puts the finishing touches on the "endless" pool, while NCAA swimmer Sean Pepper tests it out. Our plumbing and heating expert checks out the house's water treatment equipment, then takes viewers around Tucson to see the ongoing challenges the city faces in its struggle to satisfy its water needs. Our host takes a look at a new privacy glazing in the master bath—it uses a liquid crystal film and electricity to switch between transparency and opacityÑwhile the flooring contractors finish up the library floor.

Program #1626
As the Tucson project enters its final days, our host takes viewers to Biosphere 2 in nearby Oracle. Site of two experiments in self-sustained living, Biosphere 2 is now part of Columbia University's earth sciences program, serving as a laboratory for research into the effects of so-called greenhouse gases thought to be causing global warming. At the house, the finish coat of the re-stuccoing system is going on, as well as a water-based highly reflective and waterproof roof coating. We check out a termite control system that uses insect growth hormones rather than poison, then tour the Meigs' beautiful new kitchen, complete with mesquite cabinets, black concrete counters, and gleaming stainless-steel commercial-grade appliances. We find cabinetmaker Tom Klijian behind his new library shelves-cum-powder room door. On the final day, Richard Trethewey arrives to check out the master bath, with walk-in closet with custom shelving, whirlpool bath, separate toilet/bidet room and a mahogany-stained vanity designed and built by cabinetmaker John Olsen. In a tiny side room, a stackable, full-size Swedish washer/dryer system is working away nearly silently, using very little water and very little detergent. Interior decorator Anita Botthoff shows us around the living room, media room and master bedroom; we tour the landscaped courtyard; and the mariachi band strikes up for the wrap party.