Episode Descriptions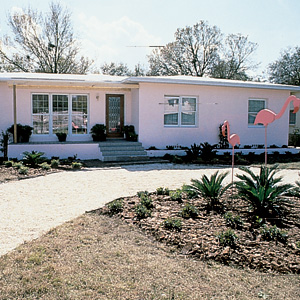 Season Seven: Tampa, FL
Tract House
This project premiered on PBS
March 1986
Four half-hour episodes; Programs #523-526

Program #523
This Old House breaks new ground as renovation of a Tampa, Florida, home begins. Our host takes viewers on a tour of the "sights and sounds" of Tampa and introduces homeowners Paul and Amelia, as well as Tampa contractor Bob Diaz, who will supervise the project. Our master carpenter pays a surprise visit.

Program #524
New "heat-shielding" windows are installed in Paul and Amelia's one-story home, and the house is inspected for termites. Rigid ductwork is installed for the new central air-conditioning system. The crew travels to Seaside, Florida, a modern residential and resort community near Panama City.

Program #525
Our host, a Miami native, visits his hometown to admire the award-winning, trend-setting work of Laurinda Spear and Bernardo Fort-Brescia of Arquitectonica. In Tampa, our host and Bob Diaz review construction of Paul and Ameila's home, with special attention to the masonry work and new solar hot water system. Work is started on the redwood deck, and an expert stucco contractor pays a visit.

Program #526
Construction is completed on Paul and Amelia's house, now graced with landscaping and a spacious redwood deck. The new "Florida room" is carpeted and a screened enclosure off the dining room is completed. Our host reviews the budget with the tired but happy homeowners, as This Old House completes its seventh season.