Episode Descriptions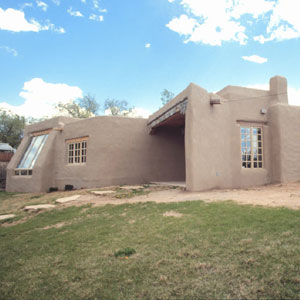 Season 11: Santa Fe, NM
1930s Adobe
This project premiered on PBS
February 1990
6 half-hour episodes; Programs #921-926

Program #921
The show travels to Santa Fe, New Mexico, for its newest project: the renovation of a traditional Southwestern adobe home. The homeowners—both artists—show us around their four-room home. Our host confers with local architect John Midyette and tours a new house in Santa Fe.

Program #922
Sharon Woods, co-author of Santa Fe Style, takes viewers on a tour of some notable local houses. At the site, adobe walls are laid and vigas (roof rafters) are set.

Program #923
Traditional kiva (beehive) fireplaces are constructed. Windows and doors are installed.

Program #924
Richard Trethewey supervises installation of an in-floor radiant heating system, small wall-mounted air conditioners and plumbing fixtures. Our master carpenter begins work on his custom-built kitchen cabinets.

Program #925
We visit the Ashfork, Arizona, yard that is supplying the flagstone flooring for the kitchen and library. Back in Santa Fe, the flagstone is laid; saltillo tiling commences; and the kitchen cabinets are installed.

Program #926
Marble countertops are installed in the kitchen, and we visit the marble finishing yard in Juarez, Mexico, where they were made. We get a tour of the finished adobe home and bid hasta luego to Santa Fe.