Episode Descriptions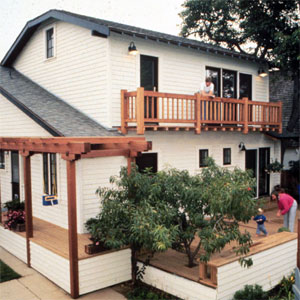 Season Nine: Santa Barbara, CA
1923 Craftsman Bungalow
This project premiered on PBS
February 1988
Six half-hour episodes; Program #721-726

Program #721
Our host takes viewers to Santa Barbara, California, to meet homeowners Susan and David and tour their 1923 Craftsman bungalow. Architect Brian Cearnal and the contractor are introduced to our host and our master carpenter.

Program #722
Our host reviews the plans for remodeling Susan and David's bungalow. Demolition of the partially finished attic begins. Our host visits the Gamble House in Pasadena, a 1908 Craftsman landmark designed by Charles and Henry Greene.

Program #723
Richard Trethewey introduces Santa Barbara heating and plumbing contractor George Brazil. Framing of the bungalow's new hip-roof dormer begins under the crew's supervision. Our master carpenter begins milling the pergola and a new stairway is being built.

Program #724
Work on the California bungalow continues with the homeowners pitching in. The crew starts shingling the new roof, and our master carpenter starts to assemble the pergola. Electrician Rudy Escalera stops by and landscape architect Grant Castleberg shows his rough design plans. Later, our host takes a tour of the Hearst Castle in San Simeon.

Program #725
Our host gives a progress report on the Craftsman bungalow project and finishing touches are put on the house as tiling is completed and a new door is hung.

Program #726
Work on Susan and David's Craftsman bungalow is completed, and our host guides viewers through the newly enlarged house, as the ninth season of This Old House draws to close.