Episode Descriptions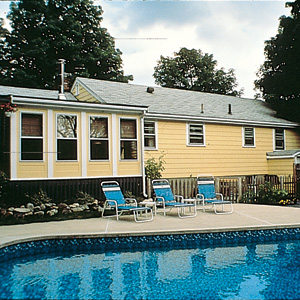 Season Seven: Reading, MA
Ranch House, Second Floor Addition
This project premiered on PBS
December 1985
Nine half-hour episodes; Programs #509-517

Program #509
The second project of the season begins: doubling the living space of a ranch house by raising the roof to create a second floor. Our host discusses the homeowners' needs and reviews remodeling plans with them, a banker explains various ways to finance home improvement, and another ranch home where similar remodeling has been completed is visited.

Program #510
The project gets underway with demolition of the existing roof and opening of the house. Carpenters race to frame and close in the new second floor to protect the structure from weather.

Program #511
Construction of the ranch house's new roof is completed, and shingling begins. Our host and the crew visit Hancock Lumber in Casco, Maine, to watch as timber is milled into dimension lumber.

Program #512
Windows are installed in the new second-floor ranch house addition, and our master carpenter discusses the pros and cons of various types of siding with an expert contractor. The Gropius House in Lincoln, Massachusetts, is the subject of a special field trip to examine the architectural origins of the American ranch-style home.

Program #513
The ranch house's new second floor receives rough electrical wiring and plumbing and a whirlpool tub is installed in the master bath. Our host leads us on an encore field trip to Acorn Houses, manufacturers of prefabricated houses renowned for appealing design and energy efficiency.

Program #514
The exterior of the second-story ranch house addition gets vinyl siding, with commentary by an expert in the field. Meanwhile, the interior of the addition is insulated and rough electrical wiring installed. Our master carpenter discusses the addition's exterior trimwork with Frank, the homeowner.

Program #515
We go on an encore field trip to Ryland Homes, Maryland-based manufacturers of prefabricated houses renowned for low cost and energy efficiency. Back at the construction site, our host and our master carpenter work with Frank to build the deck on his new second-story addition.

Program #516
Tile work is done in the master bath of the new addition, and new fixtures are installed. With work nearing completion, our master carpenter builds a staircase to the new second floor.

Program #517
Frank mills the pineapple detail typical to garrison colonials. Mary Jane and Frank give our host a tour of the newly-finished addition—complete with paint, wallpaper, and carpet—and then they review the budget.