Episode Descriptions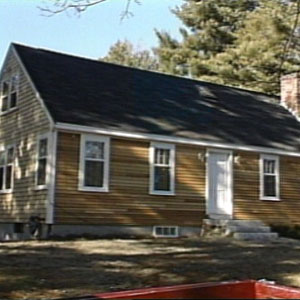 Season 8: Reading, MA
1946 Cape
This project premiered on PBS
October 1986
12 half-hour episodes; Programs #601-#612

Program #601
Our host reviews last season's projects—including the popular ranch-home makeover—and introduces the new project: the renovation of a 40-year-old Cape-style home. Homeowners Claire and John tour the house and our master carpenter surveys the project.

Program #602
Architect Scott Finn goes over plans for renovating John and Claire's Cape-style home, and demolition and excavation begin. Richard Trethewey gives advice on plumbing and heating needs; and our host takes viewers on a tour of a 200-year-old Cape home.

Program #603
The mason arrives to work on the footings and foundation of John and Claire's Cape home. Our host then takes viewers to a high-tech concrete block factory. Our master carpenter starts framing the family room addition, and our host looks at the new windows the homeowners have selected. John and Claire start planning the interior design of the new addition, while the crew begins demolition of inside walls.

Program #604
The guys review progress on the Cape renovation, and then our master carpenter shows how to cut rafters and frame the roof, which is sheathed with plywood.

Program #605
Our host reviews progress to date on the renovation of John and Claire's Cape-style home. New windows are installed, and we turn our attention to the roof, where roofing paper, snow-and-ice shield, and shingles are applied.

Program #606
Work on the Cape's mechanical systems begins, as rough plumbing, a central vacuuming system, and wiring for a home security system are installed. Our master carpenter starts the foundation for a new deck to be built at the back of the house, and the gas line is laid for the new heating system.

Program #607
Homeowner John shows our host his expertise in the fine points of blueboard. Our master carpenter works on the foundation of the new desk, and the plumber pays a visit.

Program #608
We travel to the New Yankee Workshop to see work begin on custom kitchen cabinets for the Cape home, with assistance from an expert woodworker. Our host takes a side trip to admire old-fashioned kitchen cabinets in an antique home, and homeowner John demonstrates his plastering technique.

Program #609
Custom-made kitchen cabinets are installed in John and Claire's Cape home, and Claire turns her attention to the new bathroom, where she installs tiles. Our master carpenter works on interior trim.

Program #610
Our host takes a trip to see how the synthetic marble material for the new kitchen countertops is made. Plumbing fixtures are installed in the new bathroom; a lighting consultant pays a visit; and an energy-efficient hot water heater is installed. John and Claire visit a lighting supply store.

Program #611
The Cape receives new flooring and our host visits Sweden to tour the factory where this do-it-yourself product is manufactured. The exterior of the house is stained.

Program #612
Work on John and Claire's Cape home is completed. Interior designer Bette Rosenberg leads a tour the house, with its new kitchen featuring high-tech appliances, family room, upstairs bedrooms and bath.