Episode Descriptions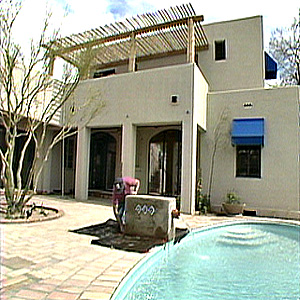 Season Eight: Phoenix, Arizona
1928 Southwestern Adobe-style House
This project premiered on PBS
March 1987
Six half-hour episodes; Programs #621-626

Program #621
This Old House visits Pioneer, Arizona, a typical "Wild West" town, and our host meets Phoenix homeowners Tom and Ellen to tour their adobe-style house. The homeowners meet with their architect and contractor.

Program #622
Our master carpenter pays a surprise visit to This Old House's Phoenix renovation project, and Tom and Ellen begin work on their Southwestern renovation project.

Program #623
Tom and Ellen's Phoenix home receives exterior insulation and flashing, as well as a typical Southwestern viga and latilla ceiling in the master bedroom for added protection from the heat. The balcony piers and staircase are finished with adobe plastering, and viewers learn how to install flagstone paving. Our host pays a visit to Frank Lloyd Wright's famed Taliesin West.

Program #624
The flat roof of Tom and Ellen's Phoenix home is protected with cold membrane roofing, and tiles are laid on the balcony. Our host takes viewers on a tour of an unusual modern "castle" on Camelback.

Program #625
Fixtures are installed in the remodeled bathroom of Tom and Ellen's Phoenix home, and the house receives energy-efficient windows. Our host checks on the progress of the new reading nook, and takes viewers on a visit to the renowned Arizona Biltmore Hotel.

Program #626
Awnings and special sun-shade screening are used to protect Tom and Ellen's Phoenix home from the southwestern heat, and balcony doors are hung. The landscape designer puts the finishing touches on the backyard pool area of this Sunbelt renovation. Our host escorts viewers on a tour of the territorial-style home, and bids a fond farewell to the charms of Arizona as the eight season of This Old House draws to a close.