Episode Descriptions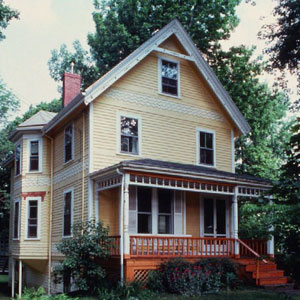 Season Seven: Newton, MA
1860s Victorian
This project premiered on PBS
October 1985
Eight half-hour episodes; Program #501-508

Program #501
Our host meets with homeowners Linda and Bill to plan the first project: a two-story addition to an 1860s Victorian in Newton, Massachusetts. The new free-standing structure—connected to the original building via skywalk—is slated to consist of a one-car garage and storage area with an interior staircase leading to a second-floor family room and home office. A member of the Boston-based Society for the Preservation of New England Antiquities (SPNEA) will be on hand to point out the historically significant features of the original house.

Program #502
Final plans for the addition are reviewed with the architects. Then we make an encore visit to the United Wrecking Company to see what gems can be culled from the Connecticut salvage yard.

Program #503
A hole is dug for the foundation of the new addition, and the slab is poured. Our master carpenter demonstrates the carpentry skills necessary for framing.

Program #504
As our host gets into the nuts and bolts of roof installation, the Victorian's homeowners learn the art of shingling. Meanwhile, our master carpenter tackles the finish work by trimming the addition's windows.

Program #505
Construction continues with the installation of the staircase. Homeowners insulate the structure and our master carpenter discusses and demonstrates the framing and installation of windows. Our host takes a side trip to Diamond Head, Hawaii, to tour new construction.

Program #506
The garage door is installed, while work on the water and heating systems for the new bathroom proceeds with rough plumbing and gas fitting. Homeowners then get a lesson in rough electrical wiring.

Program #507
Tile is installed in the new addition. On an excursion to Seattle, Washington, our host looks at a renovated hotel and visits elegant houseboats.

Program #508
Inside, final electrical work is performed in the new addition and carpet is installed, while outside homeowners nail shingles and apply stain. Completion of the project is marked by a recap of the budget, and cost-saving measures are discussed. Our host learns the art of making white cedar shingles at a mill in Quebec.