Episode Descriptions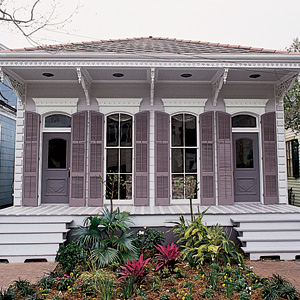 Season 12: New Orleans
1895 Shotgun Double
This project premiered on PBS
February, 1991
Eight half-hour episodes; Programs #1019-1026
Program #1019
This Old House heads south to New Orleans. The guys tour the neighborhood of Algiers Point, where Elvis and Jean Golden recently purchased their 98-year-old shotgun double, which they plan to convert to a single-family dwelling. After looking over the house and discussing the Goldens' plans, our host visits a comparable house and our master carpenter goes over the building's systems with Richard Trethewey. We then take a sights and sounds tour of the Crescent City.

Program #1020
At the house, demolition of interior walls is completed, and Elvis and the guys begin to frame up new walls and install new supporting beams. We then tour New Orleans with architectural historian Eugene Cizak.

Program #1021
Our host visits the Victorian-era Gallier House in the French Quarter, while back at the house drywall begins to go up.

Program #1022
We visit one of the sites where Mardi Gras floats are built and then head to the house, where a pest control team is taking preventative measures against termite damage. Richard Trethewey tours the city's pumping and water treatment facilities to show how rainwater is gotten rid of and drinking water obtained. Back at the house, the crew sets up staging and removes the troublesome front gutter.

Program #1023
Our host and Elvis install one of the back French doors, while Jean gets a lesson in drywall taping and mudding from a friend. We then tour Oak Alley, a stunning antebellum plantation on the banks of the Mississippi.

Program #1024
As Jean scrapes the facade, our host goes to a architectural salvage yard to search for cornices and gingerbread. Back at the house, Richard Trethewey reviews the state of the plumbing and HVAC systems with the local subcontractors. Jean pays a visit to Gerry Johnson's showroom to begin planning the Goldens' new kitchen.

Program #1025
We see progress at the house—Elvis scraping facade, Russ Casadonti laying the brick sidewalk, our master carpenter starting to shorten the kitchen window. Color specialist Louis Aubert shows us the facade paints he's chosen and takes us through his own house. The project's landscape architect and contractor discuss their plans for the front of the house.

Program #1026
The final day. Designer Teresa Stephen leads a tour of the decorated house. We see how the kitchen cabinets were installed and how floor specialists brought back the longleaf yellow pine floors.