Episode Descriptions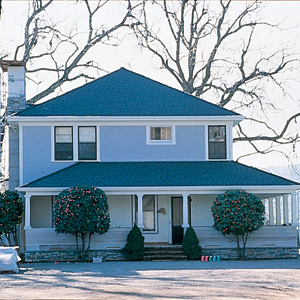 Season 16: Napa Valley, CA
This project premiered on PBS
February 4, 1995
Eight half-hour episodes; program #1419 - 1426#
Program #1419
The crew heads west to California's Napa Valley and Dennis Duffy's circa 1906 farmhouse. Essentially untouched in the last few decades, the house needs a new, larger and brighter kitchen, as well as a new roof and a reinforced foundation. To help out on the project, our host enlists noted Valley architect Jon Lail, whose residences include a shingle-style home being built on the outskirts of St. Helena. Then we check out the work of general contractor Jim Nolan, whose company renovated and rebuilt the offices, winery, and tasting rooms of Merryvale Vineyards in downtown St. Helena.

Program #1420
Work begins on the Duffy residence, with Jim Nolan's crew tearing off the back porch with a backhoe. We visit architect Jon Lail's office to see the proposed kitchen addition and are treated to a "virtual reality" walk-through of the space as constructed by computer designer David Munson of HOK Architects, a large firm that employs the technique to present and analyze its large commercial projects. Our host visits Sterling Vineyards, a remarkable architectural statement perched on a mountain at the northern end of the valley. Back at the house, the septic tank has collapsed under the weight of the backhoe, and job foreman Jeff Castille shows us the termite damage and crumbling foundation that further demolition has revealed.

Program #1421
After a period of heavy rains and flooding, Napa Valley—and the jobsite—are a soggy mess. The show opens in sandbagged downtown Napa, then head to the job, where foreman Jeff Castille and crew have spent the week levelling the kitchen area with steel beams and hydraulic jacks. Jeff shows us the water level he used. Outside, the concrete truck arrives to pump in the mix for the stem walls. Off site, our master carpenter visits a rammed-earth house being constructed on a nearby hillside. Our host checks out the condition of Dennis's roof with roofing contractor Mike McDermott, and Richard Trethewey takes Dennis to a San Francisco bath showroom to consider choices for his bathroom and kitchen.

Program #1422
The show starts with a visit to Napa Valley's oldest wooden, gravity-fed winery, home of Trefethen Vineyards. At the site, our master carpenter meets plumber George Biter, who shows his rough work, including ABS and cast iron piping. General contractor Jim Nolan describes how a large laminated-veneer-lumber beam was hoisted into place, spanning the new kitchen and precluding the need for a mid-room support post. New French doors go into the west wall of the old dining room, and our host visits the Palo Alto factory where the energy-efficient plastic film inside the glazing is made. Back on site, we check out the foundation plantings that are threatening Dennis's house, and take a look at Dennis's little vineyard. Then it's off to the other extreme of the winemaking art: Opus One, a joint venture between the valley's Robert Mondavi and France's de Rothschild family.

Program #1423
We check out the mustard plants in a vineyard near the farmhouse before heading over to a very busy jobsite. There, contractor Jim Nolan shows us the extra work that has had to be done to save the old front porch; the chimney has also been torn down. The roofing crew strips and sheathes the old roof, which has been straightened and reinforced with purlins and braces. Job foreman Jeff Castille shows us around the newly framed kitchen and we meet electrician Al Curtice, who is installing incandescent can fixtures and a fluorescent valence light around the kitchen ceiling soffit. We tour the champagne caves of Schramsberg Vineyards, while our master carpenter visits a crew who is busy digging a cave for a new winery. On site, Dennis meets with kitchen designer Paul Price to lay out the proposed cabinet footprint and choose cabinet door patterns and finishes, as well as solid surface countertops.

Program #1424
With remarkable progress at the site, we tour the exterior with Jim Nolan, seeing fir decking, trim details, traditional redwood siding and a synthetic stone facing for the foundation. Meanwhile, our master carpenter visits a nearby factory where wine barrels are made from American oak. Back at the site, our host sees the new semi-custom kitchen cabinets being installed—their features include solid-oak white-stained faces, morticed European hinges, full-extension, dovetailed, solid-wood drawers, and a two-part epoxy finish. The oak floor has been installed—quartersawn 5/16" x 2" strips with a walnut inlay—and we catch up with floor man Ron Spiteri to see how it went down. The next phase of finish work is mouldings and trim, and we see how finish carpenter Jim DePriest handles the casework around a door.

Program #1425
The show opens at Clos Pegase, a winery designed by noted architect Michael Graves. At the site, the rains continue, and so does progress. Our master carpenter follows the installation of the solid-surface countertop, while Richard Trethewey points out the important features of the new hot-water system: earthquake strapping, a circulating pump on a timer and the magnesium rod which prevents corrosion of the tank. A water softener goes in, and electrician Al Curtice installs a three-way dimmer that dims from two locations. Finally, we tour a remarkable winery property that's for sale in St. Helena.

Program #1426
The final day opens at a scenic overlook on the first clear day in a week. On site, the painters are applying the exterior topcoat, carpenters are cutting the last pieces of trim and architect Jon Lail is on-site to check out the final product. Meanwhile, Richard Trethewey shows us the utility room—a small toilet and shower room, a lavatory and a laundry with plenty of storage space. The kitchen has an island sink with water purification unit; a trash compactor; three-bowl sink with disposal; two undercounter thermal-convection ovens; a quiet dishwasher with a pause function (for turning on after people have left the room); a gas cooktop with retractable hood; and a built-in refrigerator that operates for around $85 a year. The push towards more efficient appliances and buildings began in California, and Richard meets with the chairman of the state's energy commission to learn about its programs. We see custom wood doors and brass hardware go in, then visit a stunning private wine cellar. Dennis gets a small undercounter wine storage unit. Our host sees the less-glamorous side of wine country when he meets a local winemaker on his small property. Finally Dennis and his niece hoist a flag up his new wooden flagpole. The wrap party begins, with thanks to the hard work of contractor Jim Nolan, foreman Jeff Castille and their crew, who conquered once-in-a-century rains to bring the job in on time.