Episode Descriptions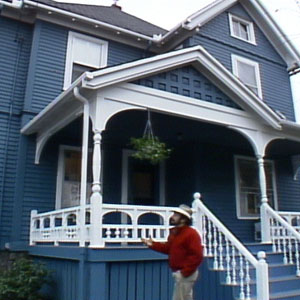 Season Seven: Melrose, MA
Attic Conversion
This project premiered on PBS
February 1986
Five half-hour episodes; Programs #518-522

Program #518
The third project of the season gets underway, as homeowners Tug and Beth begin planning the remodeling of their attic with our host. Tug and our host visit a nearby attic apartment, and our master carpenter explains what's involved in changing the structure of a roof.

Program #519
Our master carpenter prepares Tug's attic for construction. Our host takes viewers on a field trip to Cornerstones, where homeowners (and would-be homeowners) learn to be homebuilders.

Program #520
Work proceeds inside and out on Tug's attic, as the roof is shingled and skylights and windows are installed. Our host is given a special tour of New York's Trump Tower, where luxury and elegance abound.

Program #521
The nearly-completed attic renovation is ready to be insulated. Our host sets off for the Lexington Hotel in Chicago, once headquarters for Al Capone and now being renovated by Sunbow, a foundation that trains women in carpentry and other construction skills.

Program #522
Carpet is laid and finish work completed in Tug and Beth's attic addition. Our host pays a visit to admire the new living space—complete with furniture—and reviews the budget with the homeowners.