Episode Descriptions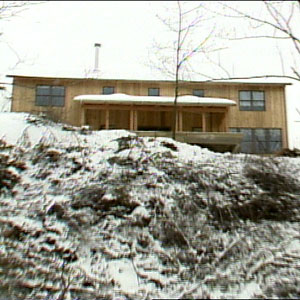 Season Eight: Brimfield, MA
Vacation Home
This project premiered on PBS
January 1987
Eight half-hour episodes; Programs #613-620
Program #613
In search of inspiration for a vacation home, our host visits Hyannis on Cape Cod to tour a beach-front home, a luxury condominium and lakeside property. The season's second project gets underway as our host tours Bob Houde's mountainside land in Brimfield, Massachusetts, and they begin to plan the building of a vacation home.

Program #614
A dowser explains the art of finding water to our host and landowner Bob Houde; a well is dug; and a surveyor goes over the fine points of a perc test. The importance of a water-quality test is explained, and our host looks at the special water pump.

Program #615
We visit a vacation home similar to the one being built in Brimfield, and the homeowner meets with architect Jock Gifford. Later, the new vacation home begins to materialize as lumber arrives and the structure is raised.

Program #616
Our master carpenter shows us how to install double-hung windows, explains skylight installation and puts a sliding glass door in the vacation home.

Program #617
Richard Trethewey pays a visit to Brimfield to discuss the vacation home's heating needs with our host and the homeowner. An exhibition in Malmo, Sweden, shows the latest designs in manufactured housing.

Program #618
The vacation home receives interior finishes such as decorative, low-maintenance plywood paneling. Viewers visit our master carpenter's workshop to watch as he builds screens for the veranda.

Program #619
An energy-efficient wood-burning stove is installed in the vacation home. Our host learns about the new water purifier. We then learn how to hang interior doors. Kitchen appliances and plumbing fixtures are installed.

Program #620
Our host takes viewers on a tour of the finished vacation home. A flooring expert shows how vinyl floors are installed and the vacation home receives various electrical finishing touches, such as smoke detectors, fans and a thermostat.