Episode Descriptions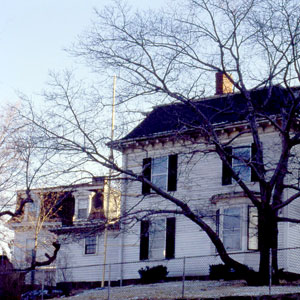 Season One: Dorchester, MA
Late 19th Century Victorian
This project premiered on PBS
October 1980
13 half-hour episodes; Programs #10101-10113
Program #10101
Our host, a Boston designer and builder, tours the dilapidated turn-of-the-century house in Dorchester, Massachusetts, that will be completely renovated in the next 13 weeks. Our host talks with a realtor and a house appraiser to determine the condition and problems of the property.

Program #10102
Renovation has begun and the carpenter has found rot in the eaves. The kitchen, one of the hardest remodeling jobs, gets some attention, and we look into the history of the home.

Program #10103
Work on the house has uncovered some unforeseen problems from the roof to the plumbing, and at the moment, the dream kitchen is a nightmare. But our host has some solutions.

Program #10104
It's time to insulate the house, remove the old furnace, and replace it with a new-energy-efficient heating system.

Program #10105
This week the ceilings are leveled and renovated. The bulkhead is repaired and renewed. Our host talks about the kitchen lighting and answers some viewer questions.

Program #10106
How are we going to heat the house? This week our host talks with a heating specialist about baseboard heating, the heating plant in the basement and the water heater. We take a look at the bedroom closets and a new kitchen skylight.

Program #10107
Plasterers, roofers, and carpenters are hard at work. The kitchen walls are plastered, the chimney get some attention, and work starts on the crumbling front porch.

Program #10108
The insulation and plasterwork are completed. The new kitchen windows are trimmed and finished. A historic preservation consultant traces the changes made in the past century in the house's exterior paint.

Program #10109
Work on the deck and its foundation is underway. Our host offers some hints on paint stripping an introduces an alternative to ceramic wall tile around a bathtub.

Program #10110
Our host walks through the grounds with a landscape designer and considers the gardening possibilities. The carpenters put on new red cedar clapboards, and the Mayor of Boston, Kevin White, pays a visit to the house.

Program #10111
Our host demonstrates how to lay a parquet kitchen floor. He speaks to a marble expert about the dining room fireplace. The bathroom tile floor is installed, and we consider home security systems.

Program #10112
The house painter demonstrates how to apply primer. Our host talks about installing an oak floor and sanding floors. A stonemason repairs the stone wall around the house, and the yard gets two new trees.

Program #10113
A look at the nearly finished product, inside and out. And the finishing touches are put on the picket fence, the deck and yard.