Episode Descriptions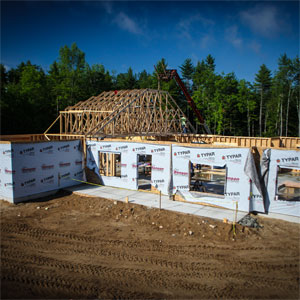 This Old House Veteran's Special House Project

This project premieres on PBS Saturdays at 1:30pm ET (check local listings)

Also in prime time exclusively on PBS Thursdays in the first half of The This Old House Hour at 8pm ET (check local listings).
Program #3424
The Veteran's Special House Project | Colonial Roots, Part 1 of 3
Thursday, May 14, 2015 at 8pm ET (check local listings)

Over three special episodes, This Old House is partnering with Homes For Our Troops (HFOT) to build a house—from the ground up—for one Army veteran and his family, as a way to highlight the heroes who have given so much for their country. In 2003, while on his first deployment to Iraq, SSG Matt Dewitt and his battalion came under attack, leaving Matt with devastating injuries that resulted in the amputation of both arms. We meet Matt and his family at his current home to understand the challenges of day-to-day and why a HFOT specially adapted home will be life changing. Kevin meets Buildings Project Manager Mike Duckett in Hopkinton, NH to see the plans for the DeWitt project. Norm, Tom and Kevin join builder Ken Dionne and his team to help with framing the exterior walls. Kevin meets the HFOT Chairman, Four Star General Richard Cody, to understand their mission. Kevin then travels to Florida to meet Justin Gaertner, another veteran who also received a specially adapted home from HFOT. Kevin rejoins the project in New Hampshire and finds that all the exterior walls are secured and the truss roof is going up.

Program #3425
The Veteran's Special House Project | Adaptation & Accessibility, Part 2 of 3
Thursday, May 21, 2015 at 8pm ET (check local listings)

Kevin meets Matt and his cycling team at the local bike shop, where we see that his disability doesn't limit his passion for cycling. Richard meets HFOT project manager Mike Duckett at the jobsite to understand some of the 150 requirements that are implemented on their ADA approved & Energy Star rated homes. Kevin meets HFOT recipients Alex and Holly Dillmann in Florida to see how their fully accessible home has allowed them to focus on starting a family. Richard travels to a plumbing manufacturer to see the technology behind the touchless faucets and toilets we'll be using at Matt's house. Back at the house, Mike Duckett shows Norm how tile contractor Steve Collette is using a beveled piece of marble to create an ADA-compliant threshold in the shower. Then they check out the technology behind the automatic door opener that's being used on many of the doors in the house. Kevin meets Cat in the kitchen to find that the cabinets and countertops are in. Cat reveals how the hybrid styled faucet will make life more manageable for Matt and the rest of the family.

Program #3426
The Veteran's Special House Project | A Home for Matt & Cat, Part 3 of 3
Thursday, May 28, 2015 at 8pm ET (check local listings)

Kevin finds Roger in the side yard, starting work on a high tunnel greenhouse that will allow Matt and his family to pursue their love of gardening. Tom and Norm are also on site to build the end wall and doors for the structure. Kevin meets HFOT Community Outreach coordinator Chris Mitchell, who explains why it's so important to involve the community. And today is no exception with over 150 local volunteers busy laying down the sod, mulching the beds and planting. Kevin visits Army veteran Joe Beimfohr at his home in Florida, an accessible environment that allows him to explore his passion for adaptive sports and welcome fellow athletes for gatherings. Meanwhile, closet builder Brian McSharry has been working with the DeWitts on a very special design for the master closet and today it's ready to be installed. Norm and Kevin work with Matt to design and build a dream rustic table for the DeWitts' new dining room. The table will be the perfect place to create new family memories. At the end of a long journey, the DeWitts finally move into their new home.