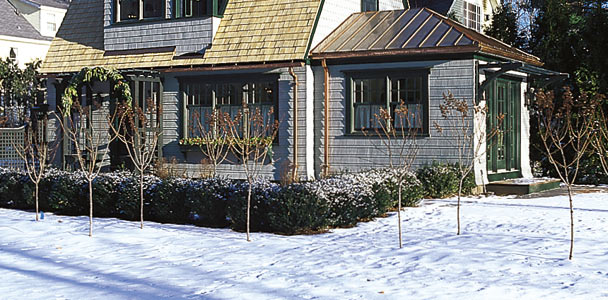 This Old House takes on adaptive reuse, as we convert a century-old barn, complete with horse stall, into a two-story jewel box of a home. It will be perfect for the in-laws today, and who knows who else in the future?.

To Jackie Buckley it probably seemed like an insignificant thing, a small word in a casual sentence. To Janet Bernard , though, it stood out like a neon sign. Jackie, who'd been shuttling back and forth between her nine-room Colonial and the newly converted cottage behind her daughter's house, said she was going home. And she meant the cottage.

"My mother said that home is where your family is," says Janet. "That big house was home for so long, she raised her family there, she lived with her husband there. Now the cottage feels like home to her already."

The south-facing cottage is drenched with morning sun, a dramatic change from the dark Colonial. From the kitchen banquette, Jackie can look out over the backyard to the park beyond and see neighborhood kids at play. And with the ingenious layout of the cottage, Jackie reports that everything is within easy reach, just as planned, and she loves it.

To be sure, it's a much different home than the one she shared for decades with her husband. Len Buckley died in November, and Janet says her mother misses him terribly. But one thing is for sure, even with Len gone: Jackie is not alone.

"She sees us all the time," says Janet. "It feels natural, we've had meals together, it feels right. Our son, Andrew, who's thirteen, went over to see her the other day after school. We didn't ask him to, he did it on his own. He offered to do whatever she needed — carry packages, do anything she wanted. He told her 'Nanny, we're going to be spending a lot of time together.' "

Now that's a place you can call home.
Watch Full Episodes

The Concord Cottage: Season 23, Broadcast 2003/2004/2013

Episode

Air Date

Cable

Satellite

Local Broadcast

Products & Services From This Project