House Tour:
The Concord Cottage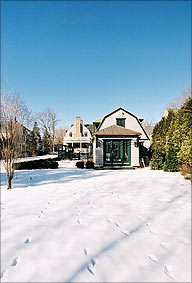 The gambrel roof of the cottage echoes that of the main house beyond, and the hip roofs on the sun room extension and dormers blend seamlessly into the design. Under the snow is a brick-bordered bluestone patio, perfect for anyone stepping out the French doors of the sun room. Newly planted trees will provide much-needed shade for the patio, from which the full backyard and park will be in view. A new shed, replacing the storage space once provided by the barn, presents a modest and attractive profile and will hold the lawn tools, bikes, and other "stuff" displaced in the renovation.
Go to:
First Floor
Second Floor
Continue The Concord Cottage

Copyright © 2016 Time Inc. All rights reserved. Reproduction in whole or in part without permission is prohibited.