House Tour:
The Concord Cottage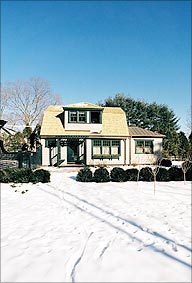 What was once the side of the barn is now the façade of the lovely new cottage. A freestanding arbor around the door didn't count against the zoning law's size restrictions, but it still provides some protection from the elements as well as side benches to set down packages. Adding a dormer enabled the architect to create a master bedroom suite out of the dark and cramped old hayloft. When the snows melt and spring arrives, the front of the cottage will come alive with an orchard of colorful tree-form hydrangeas.
Go to:
First Floor
Second Floor
Continue The Concord Cottage

Copyright © 2016 Time Inc. All rights reserved. Reproduction in whole or in part without permission is prohibited.