House Tour:
The Concord Cottage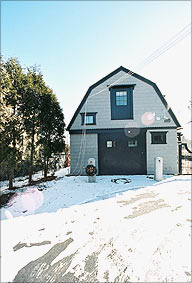 A visitor approaching from the driveway will see what was once the front of the barn, and it still looks authentic. The original rolling barn door and upstairs hayloft door are purely decorative now, but they maintain the impression of a rustic old barn. The granite bollards (with the look of old hitching posts) harken back to an earlier age, but they're actually new — they'll prevent errant drivers from unintentionally bumping into the house. The open lattice fence separates the parking court from the garden and provides privacy for residents of the main house and the cottage. It will also support a 100-year-old grapevine that was protected throughout the renovation. On the main house, steps leading up to the kitchen remain, but another set of steps that once led to the back porch were relocated to the other side of the house when the owners realized they'd lead directly into a parked car.
Go to:
First Floor
Second Floor
Continue The Concord Cottage

Copyright © 2016 Time Inc. All rights reserved. Reproduction in whole or in part without permission is prohibited.