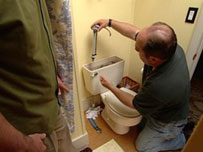 Original Air Date: Week of December 6, 2004
Plumbing and heating expert Richard Trethewey visits Stephen Davidson of Littleton, Massachusetts to find the source of a strange "fog horn" sound coming from his plumbing system. Then Rich, along with general contractor Tom Silva, landscaping contractor Roger Cook and host Kevin O'Connor asks, "What is it?" Back in the loft, Tom shows the three basic cuts necessary to install crown molding. And tile contractor Joe Ferrante helps homeowner Brandon Ingersoll of Cambridge, Massachusetts replace some hard-to-find broken bathroom tiles.


Noisy Toilet
Richard stops a toilet from making a noise that sounds like a fog-horn.
Where to Find It
Toilet fill-valves are available at your local home center or plumbing supply store
What Is It?
Tom shows a device for locating an electrical box behind wallboard.
Where to Find ItElectrical box finder:
The Box Finder available from
Simple Man Products
Tom cut the electrical box opening using a spiral saw:
Roto-zip
Robert Bosch Tool Corp.
Cutting Crown Molding
Tom demonstrates how to cut miters and cope cuts in crown molding using a power miter saw and a cope saw.
Where to Find It
Power miter saw: available from
Delta Machinery
800-223-7278
Coping saws can be purchased at your local home center
Replacing Broken Tile
Tile expert Joe Ferrante shows how to replace broken tile above a bathroom sink without damaging the surrounding tiles.
Where to Find It
Adhesive, grout, tile and tile-related tools can be purchased at your local home center or tile store