Ask This Old House
Show Descriptions
Showing results for
"Season 3 | Episode #308"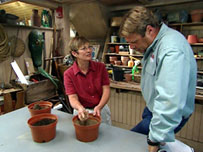 Original Air Date: Week of November 22, 2004
General contractor Tom Silva helps homeowners Rich and Sarah Paisner of Brighton, Massachusetts, get organized by installing adjustable shelves on the wall in their den. Back in the loft, Tom, along with plumbing and heating expert Richard Trethewey, landscaping contractor Roger Cook, and host Kevin O'Connor, ask "What is it?" Then Roger is joined by soil expert Roberta Clark from the University of Massachusetts for some tips on testing soil before planting. Then Richard gets Tewksbury, Massachusetts, homeowner Paige Impink into hot water by installing a hot water re-circulator pump in her upstairs bathroom.


Hanging Shelves
Tom showed a young couple how to install simple shelves in their small condominium. First, using a tape measure and level, he decided the exact positioning for the new shelves. He then drilled holes into the wall where the standards will be attached. He screwed in the standards using screws where there was structure behind the wall and toggle bolts where there was no structure. He then installed the brackets and new shelves. (For step-by-step instructions, see the Homeowner's Handbook on

Where to Find It
Shelf standards, brackets, shelves, and fasteners can be purchased at your local home center

What Is It?
Tom, Roger, Richard, and Kevin examined an unusual item and tried to guess how it's used.

Where to Find It
Roger showed a plastic guard that protects a tree trunk from a string trimmer. It was purchased at The Home Depot (manufacturer unknown).

Soil Testing
Roger and horticulturist Roberta Clark talked about why you should test your soil before planting. They showed different types of soil (sandy, loam, and clay) and talked about soil tests.

Where to Find It
Roger showed a do-it-yourself soil test kit. Soil test kits can be purchased at your local home center or garden center.

Hot Water Recirculator Richard installed a hot water recirculator for a homeowner tired of having to wait for hot water in her upstairs bathroom. The pump also helps to conserve water.

Hot water recirculating pump

401-942-8000
More On Ask This Old House...
Search Q & Archive
Project of the Week

How to Build a Simple Deck
Go
Your Old House
See 1000s of inspiring remodels from readers like you or show off your own remodel
Go

Calculate exactly how much material you need
Go

Meet Our Crew
Norm Abram: Master carpenter of This Old House since the series' 1979 premiere, and host of The New Yankee Workshop since its premiere a decade later, Norm Abram has inspired millions of homeowners to renovate and restore their homes. Seen across the … more
Copyright © 2013 Time Inc. All rights reserved. Reproduction in whole or in part without permission is prohibited.