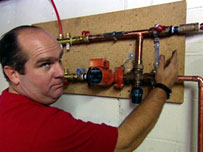 Original Air Date: Week of March 11
Plumbing and heating expert Richard Trethewey helps a homeowner remove a baseboard heater to prepare for a complete remodeling of his bathroom. After the bathroom is transformed, Richard returns to help the homeowner install radiant heat. Back in the loft, Richard, general contractor Tom Silva, landscape contractor Roger Cook, and host Kevin O'Connor try to identify unfamiliar objects in the "What is it?" segment. Then painting expert Jim Clark helps a homeowner prepare his aluminum siding for a brand-new paint job.


Installing Radiant Heat
First, Richard helped the homeowner remove the old copper fin baseboard. After the remodeling was completed, he returned to install radiant heat under the subfloor. Richard installed a circulator pump and mixing station near the boiler, and the homeowner installed the aluminum transfer plates and hydronic tubing in the joist bays under the bathroom.
Where to Find It
Under the subfloor, Richard installed Thermofin aluminum heat transfer plates manufactured by:
Radiant Engineering Inc.
406-587-3442
The hydronic tubing that Richard used between the floor joists was
⅜
-inch
Rehau Raupex PEX
.
The mixing station (including the radiant heat manifold, mixing valve, and Grundfos circulator pump) comes fully assembled. It costs about $700 and is available from:
Republic Plumbing Supply
800-696-3900
What Is It?
Tom, Roger, Richard, and Kevin examined an unusual item and tried to guess how it's used.
Where to Find It
Roger demonstrated a cable saw used for cutting PVC pipe. It is available in the plumbing department of many hardware stores and home centers and is manufactured by:
William H. Harvey Co.
800-228-9681
Preparing Aluminum Siding for Paint
The binding agents on the homeowner's aluminum siding had failed, leaving behind a chalky residue of paint pigment. There was also black mildew in some spots.
Where to Find It
Before cleaning the aluminum siding, Jim used a household lead testing kit (item #5250) manufactured by:
Homax Products, Inc.
800-729-9029
Jim prepared a homemade cleaning solution using one gallon of water, one cup of household bleach, and one cup of liquid TSP substitute, manufactured by:
The Savogran Company
800-225-9872
The next method Jim demonstrated was a 3600-psi pressure washer, model #ZR3600, manufactured by:
Ex-Cell Pressure Washers
800-888-2468
Finally, Jim used a random-orbit palm sander (model #421) with 100 grit sand paper, manufactured by:
Dewalt Industrial Tool Co.
800-433-9258
The sander was attached to a Turbo II dust extractor, model #9-55-13. It was upgraded with a .3 HEPA filter cartridge and manufactured by:
Fein Power Tools Inc.
800-441-9878